Sticky Toffee Pudding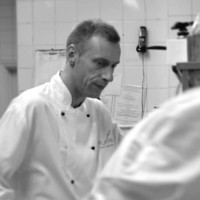 It's a pleasure to be donating recipes to the Noble Caledonia Travel Post from the Sky Ships. I will be publishing recipes that the guests most appreciate while on board. As a chef, my passion is having the luxury of being able to work with the raw ingredients to produce mouthwatering dishes every day.
Have a great weekend.
Darren Marchant
Head Chef – the Sky Fleet
Ingredients - makes 6 individual puddings
| | |
| --- | --- |
| Pudding | Toffee sauce |
| 50 Grams Soft Butter plus extra for greasing | 100g sugar |
| 175 Grams Soft Brown Sugar | 100g butter |
| 200 Grams Self Raising Flour plus extra for dusting | 200g double cream |
| 2 Eggs | |
| 1 tsp Vanilla Extract | |
| 200 Grams Pitted Dates | |
| 300 ml Water | |
| 1 tbsp Bicarbonate of Soda | |
Method
1. Grease six 227ml aluminium pudding moulds. Dust each mould with flour, then tap each mould upside down to remove the excess flour.
2. Pre heat the oven to 190 degrees.
3. Place the water in a saucepan and add the dates. Place on the stove and bring to a boil.
4. In a food mixer, mix the butter and the sugar. Add the vanilla extract and combine.
5. Add the eggs slowly then turn down the machine. Incorporate the flour to the mix and then switch off.
6. Remove the dates from the stove and blitz the date mixture. Add the bicarbonate of soda to the mixture.
7. Fold in the date mixture to the bowl which contains the other mixed ingredients.
8. Add the mixture into the moulds, giving the moulds a tap on the bottom to release any air bubbles.
9. Place in the oven and cook for 20 minutes until the tops are firm.
10. Remove from the oven leave to sit. Remove from the moulds and serve.
Method
1. Melt the butter and sugar in a pan until they start to boil and turn toffee coloured.
2. Add the cream and bring back to the boil. Remove and serve.