Skys Afternoon Tea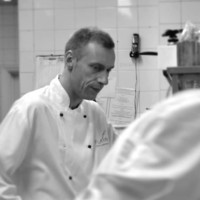 May is that time of the year in the British Isles, where the weather is reaching those longed for warmer temperatures and the gardens are coming out in full bloom. This week is based on lovely treats to be enjoyed in the afternoon.
Having had a long day travelling to join your ship, you're welcomed on board one of our beautiful Sky Ships, heading up the gangway to the lounge for that much needed cup of tea, smoked salmon finger sandwiches and the smell of warm scones fresh from the bakery.
Many thanks and hope you enjoy
Darren Marchant
Head Chef – the Sky Fleet
Freshly baked scones
This delightful afternoon tea cake originated back in the early 1500s in Scotland and named the Scottish Quick Bread. Traditionally made with oats and griddled. Today's version has been refined to using flour and rising agents and baked in the oven. Scones became popular in 1788, when one late afternoon the Duchess of Bedford ordered her servants to bring some sweetbreads which included scones. She then ordered it every day for afternoon tea.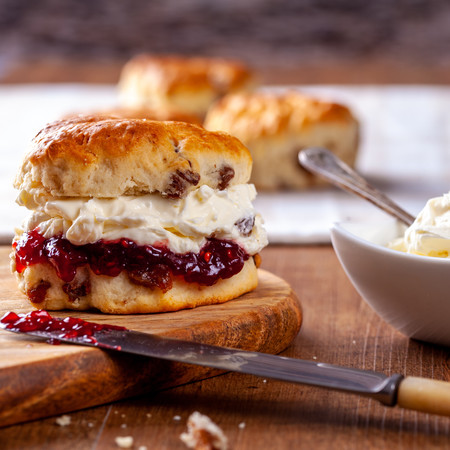 Recipe serves 4 (Yields 8)
200 Grams Self Raising Flour
5 Grams Baking Powder
25 Grams caster sugar
Pinch of salt
50 Grams Butter, cold
50 grams Sultanas
95ml Milk
1 Egg, whisked for Egg Washing
Method
1. Sieve the flour, baking powder and salt into a bowl. I normally do this 2 to 3 times to get the flour lighter
2. Add the butter into the bowl and with your fingertips rub in the butter until you reach a sandy, breadcrumb like texture
3. Add the sultanas and incorporate them in the mixture
4. Make a well in the centre of the bowl
5. Place the sugar into the milk and stir until the sugar has dissolved
6. Gradually add the milk to the flour mix until you have reached a dough (do not overwork the dough mixture)
7. Roll out the scone dough to around 1/2 inch thickness. Using the fluted cutter, cut out 8 scones. I normally dip my mould in flour then cut my scones out. This stops the dough from sticking to the mould. Do not twist the mould, just push down and pull up. This will help the scones to rise evenly
8. Place on greased proof paper, on a baking sheet, then egg wash. Try not to get egg mix down the side of the scones as this will result in an uneven scones once baked
9. Bake in a pre heated oven at 180-200 degrees for 15 -20 minutes until the scones have risen and have a golden top
10. Remove from the oven and place on wire rack and leave to cool
Serve with strawberry jam, clotted cream and fresh strawberries
Chocolate brownies
Recipe serves 8
250 Grams Butter
80 Grams Plain Flour
20 Grams Good Quality Cocoa Powder
350 Grams Dark Chocolate, 52-7% Cocoa Content
3 Medium Eggs
250 Grams Caster Sugar
1 Teaspoon Baking Powder
1 Pinch of Salt
Method
1. Pre heat the oven to 170 degrees
2. Grease a 23cm square cake tin and line the bottom with grease proof paper
3. Melt the chocolate and butter in a bowl over a saucepan of simmering of water
4. Put the eggs and sugar into a food mixer with a whisk attachment (or use a hand mixer) and place on a medium speed until the egg mixture has doubled in size and is light and fluffy texture
5. Gently add the chocolate mixture to the eggs, slowly
6. Sieve the flour, cocoa powder, baking powder and salt
7. Remove the mixture from the food mixer and then gently fold in the flour mix
8. Pour the batter into the cake tin and slightly tapping the bottom to level the mixture and release any air pockets
9. Place in the oven for 40 – 45 minutes until cooked
10. Remove from the oven and place the brownie on a wire rack and leave to cool. To serve cut into squares
Lemon Posset
Recipe serves 6
480 ML Double Cream
150 Grams Caster Sugar
Zest of 1 Lemon
7 tablespoons of freshly squeezed Lemon Juice
Method
1. Place the cream and sugar into a saucepan with the lemon zest. Bring to the boil and simmer to reduce the cream by half
2. Remove from the heat and add the freshly squeezed lemon juice
3. Leave to cool until the cream starts to form a skin
4. Strain the cream mixture into a jug
5. Fill up the ramekins or preferred glasses and leave to set in the fridge overnight
Serve with fresh soft berries such as raspberries or blueberries