Gingerbread Loaf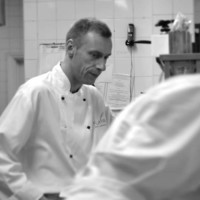 It's a pleasure to be donating recipes to the Noble Caledonia Travel Post from the Sky Ships. I will be publishing recipes that the guests most appreciate while on board. As a chef, my passion is having the luxury of being able to work with the raw ingredients to produce mouthwatering dishes every day.
I have a little treat for you this week, I am giving away the recipe for my mum's famous gingerbread loaf. I love making this as the aroma and the simplicity of the dish bring back so many memories.
Have a great weekend.
Darren Marchant
Head Chef – the Sky Fleet
Ingredients
250 Grams Self-Raising Flour
2 tsp Ground Ginger
1/2 tsp Ground Cinnamon
1 tsp Bicarbonate Soda
1 pinch of salt
200 Grams Golden Syrup
2 tbsp Ginger Syrup
125 Grams of dark Muscavado Sugar
125 Grams Butter
2 Large Eggs
240ml of milk
Method
1. Pre heat the oven to 180 degrees.
2. Line a 23 cm loaf tin with parchment paper.
3. Sieve the flour twice with the ginger, cinnamon, bicarbonate soda and salt in a bowl.
4. Place the golden syrup and ginger syrup in the saucepan with the butter and sugar and gently let the mixture bubble to dissolve the sugar.
5. In a separate bowl mix the eggs with the milk.
6. Remove the syrup from the stove and add to the flour mixture stirring consistently.
7. Add the milk mixture to the cake mixture and stir - the mixture should be a sloppy consistency.
8. Pour the mixture into the lined tin (small bread loaf tin).
9. Place in the oven and cook for 30 - 35 minutes until cooked. Insert a skewer into the middle and if it comes out clean the gingerbread is cooked.
10. Remove from the oven and place the tin on a wire rack to cool.
11. Wrap the gingerbread with parchment paper and then in foil and leave for a day to mature.