Cheese Board for the Table & Red Onion Chutney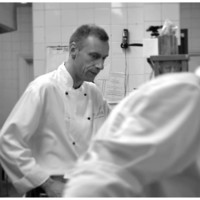 This week's episode of the Travel Post is about what I find hardest as a chef. You've finished that delicious meal my team and I have created for you but I still need to 'wow' you one more time. It's when that aroma filled Cheese Trolley is wheeled around the restaurants on the Sky Ships, with its huge selection of European and local cheeses for you to choose from. The display is accompanied with homemade chutneys, fresh grapes and dried fruits. This is truly the best way to spoil yourself and finish off the evening in style. My recipe for red onion chutney is ideal to serve alongside the cheese board. I have also included some ideas on choosing your cheese selection and how to present the perfect end to your dinner.
Have fun with this one!
Darren Marchant
Head Chef – the Sky Fleet
Cheese Board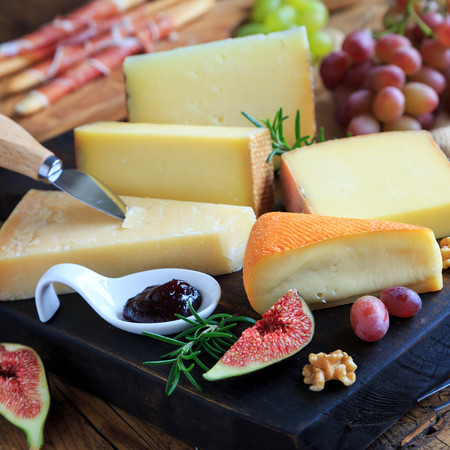 When choosing the selection of cheeses you like for yourself or a dinner party, don't just purchase from the supermarket, pop down to your local cheese store or local butchers. They will have a selection of local cheeses as well that will be in a peak condition for the table.When preparing your cheese board try to use as many textures, flavours and milk types for your cheese board as you can. Colours and shapes are only one thing to take in to account, as you don't want your cheeses just to be white and yellow. It's up to you to choose which types of cheese suit your palate. For me, I try to make my selection of cheeses interesting, choosing from various Countries from around the world just to give that extra appeal on the eye.
To get the best from your cheeses that you have selected it is best to prepare it at least an hour before the cheese is required. This will allow the cheese to reach its peak condition. Once prepared, cover the cheese with waxed paper. This will help the cheeses not to dry out and keep them in the optimum condition before eating.
'What about condiments?', I hear you say. Well, there are so many choices. Dress the board with some fresh grapes and figs or dried fruits. I like chutneys or jams but prefer the more traditional approach like Red Onion Chutney, Fig Jam or a Spiced Apple Compote. I personally like the style served by your local Tavern, the famous Ploughman's lunch. Served with mouth tingling pickled onions, crisp juicy apple and crusty bread. All these flavours blend so well on the palate. Alongside the cheese board serve a selection of crackers and maybe even some of my delicious walnut bread, sliced and toasted. You can find the recipe for this on my very first Travel Post write up. I have added this week a recipe for the Red Onion Chutney I mentioned previously.
Last but not least, the part everyone forgets. Served a glass of red wine with your cheese. How about a fruity, Merlot or a robust Pinot Noir. Or if you really want to impress, serve a tott of Vintage Port. Divine!
Red Onion Chutney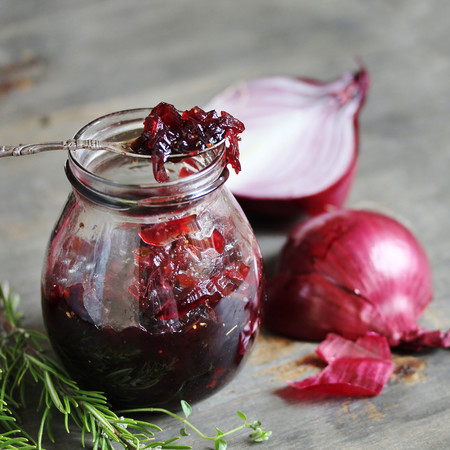 Ingredients
6 Medium Sized Red Onions
1 Red Chilli
2 Whole Cloves Garlic
2 Bay Leaves
150 Grams Demerara Sugar
1 Cinnamon Stick
1 Freshly Squeezed Orange
20ml Balsamic Vinegar
10ml Port
30ml Rapeseed Oil
8 Grams Sea Salt
Method
1. Peel the onion and top and tail. Cut the onion in half from top to bottom then thinly slice. Place in a bowl.
2. Peel the garlic and press through a garlic press and place in a separate bowl.
3. Cut the chilli in half and remove the seeds. Chop finely and add to the garlic.
4. Place a heavy bottom pan on the stove and add the rapeseed oil.
5. Over a medium heat add the onions to the pan and cook until they have gone translucent. This will take around 20 minutes, stirring occasionally. Don't let the onions burn (this way will bring out the onions naturally juices).
6. Add the garlic, chilli, cinnamon stick and orange juice and bay leaves. Cook out for a further 2 minutes.
7. Turn up the heat and add the sugar to the onions, stirring constantly until the sugar starts to bubble.
8. Add the vinegar, wine and port and cook until the onions are soft and the liquid has reduced to a jammy like consistency.
9. Remove from the heat, season with salt to your liking and leave to cool. Then place into sterilized Kilner jars. The onion chutney will keep in the fridge for at least 4 months.