Butternut Squash Soup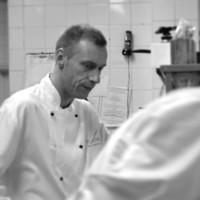 It's a pleasure to be donating recipes to the Noble Caledonia Travel Post from the Sky Ships. I will be publishing recipes that the guests most appreciate while on board. As a chef, my passion is having the luxury of being able to work with the raw ingredients to produce mouthwatering dishes every day. In this episode of the Travel Post, I would like to share with you my recipe for butternut squash soup, a tasty soup that is wonderfully warming for as the temperatures start to drop.
While I have been writing recipes for the Travel Post, every week I have been getting itchy feet and miss not being in the galley catering for guests on board our lovely Sky ships. So my partner and I recently opened a pop up restaurant in a local tavern in Hertfordshire were we have joined forces with the local landlord to bring some local and home cooked food to the village. We have named the restaurant 'Comforts Of The Ocean' and it has been a great success for the local village.
I have based my menus on the classics that we serve up on board the Sky ships from around the world. This helps me keep in touch with the lovely destinations the Sky vessels visit. Jane and I would like to welcome you all to visit us at our restaurant. I would love to sit and have a cup of coffee and talk about those lovely seas days we all enjoyed. And may there be many more in the future
We open on a Thursday to Sunday for lunch and dinner - please email darren725@hotmail.com for more information.
Have a great weekend.
Darren Marchant
Head Chef – the Sky Fleet
Ingredients - serves 4
500ml vegetable or chicken stock
6 shallots peeled and thinly sliced
450 grams butternut squash, peeled and cut into small pieces
1 medium potato, peeled and cut into small pieces
2 sprigs of thyme
200ml double cream
1 clove garlic
2 tablespoon olive oil
Knob of butter
Method
1. In a saucepan add the olive oil and knob of butter and fry the shallots and garlic without letting them brown.
2. Add the sprigs of thyme, butternut squash and potato and and fry for five minutes.
3. Add the vegetable or chicken stock and bring to the boil. Simmer until the butternut squash and potato are cooked.
4. Using a hand blender, blitz the soup until smooth. You can use a food blender - just make sure to fill one third full and cover with a lid (you will have to do this in batches).
5. Return the soup to the heat and add the cream. Once warm serve with chopped chives.