Asian style seared salmon, coconut sweet potato & Oriental vegetables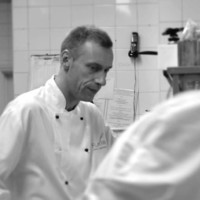 It's a pleasure to be donating recipes to the Noble Caledonia Travel Post from the Sky Ships. I will be publishing recipes that the guests most appreciate while on board. As a chef, my passion is having the luxury of being able to work with the raw ingredients to produce mouthwatering dishes every day.
This week I have provided a lovely recipe for an oriental style salmon. I decided upon his recipe whilst walking around our local market where I was reminiscing of some of the markets in exotic destinations we visit during cruises where we carefully select all the best local produce in order to showcase the local ingredients on the menu.
Have a great weekend.
Darren Marchant
Head Chef – the Sky Fleet
Ingredients - Serves 4
| | |
| --- | --- |
| 4 Salmon Supremes 170-180 Grams, Middle Cut | 100 Grams Shitake Mushrooms |
| 4 Sweet Potatoes | 200 Grams Sprouting Broccoli or Little Florets of Broccoli |
| 1 Pak Choi | 1 Red Onion Thinly Sliced |
| 1 Red Pepper | 1/4 Chinese Cabbage |
| Bunch Thai Basil | ¼ Teaspoon Lemon Grass Paste |
| Bunch Fresh Coriander | 1 Red Chilli |
| 1 Courgette | 1 Can of Coconut Milk |
| ½ Chinese Radish or Daikon | 2 Tablespoon Sesame Oil |
| ¼ Teaspoon of Fresh Ginger Paste | 2 Sheets of Nori (dried seaweed) |
| 2 Cloves of Garlic Crushed | 1 Freshly squeezed lime |
| | Dash of light soy sauce |
Method
1. Take the Nori, lime juice and red chilli and place in a liquidiser and blitz into a paste.
2. Add fresh ginger paste and lemongrasse paste and place in a bowl, add the salmon and marinate for about 30 minutes.
3. Peel the sweet potatoes and dice into suitable size, not too small.
4. Place in a saucepan and add enough coconut milk to cover. Cook until tender. Remove from coconut stock and place in a bowl and cling film.
5. Cut all the Asian vegetables into thin strips keeping all vegetables same thickness so they cook equally.
6. Take the salmon out of the marinade and pat dry, removing any excess water from the fish
7. Place the salmon in a non-stick frying pan with 1 tablespoon of sesame oil and cook for four minutes each side.
8. Take the sweet potato out of the bowl. Mix some chopped coriander in with the sweet potato and using a two inch pastry cutter make four potato cakes.
9. Heat a wok up on the stove, add the sesame oil and the vegetables and cook until tender. Towards the end add a dash of light soy sauce and add the remaining basil and coriander to the mix and stir.
10. Then serve.