Recipes from the Skys with Chef Darren
We are delighted that Darren Marchant, Corporate Chef for our Sky Ships will be contributing recipes regularly to Travel Post.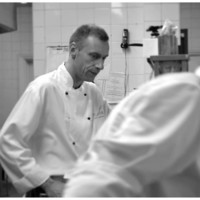 Darren has been employed as a Chef for over 30 years after initial training at Letchworth College. He spent his early years afloat as a Chef de Partie and Sous Chef then Head Chef with Hebridean Island Cruises and his first ship, almost 20 years ago, was Hebridean Spirit. Having left the sea in 2009, Darren was running the kitchens at a high class restaurant in Suffolk when the lure of the ocean became too much and he joined us on as Head Chef for our Sky ships in early 2019, and has since been promoted to Corporate Chef. He delights in passing on his skills to the next generation and in meeting the fascinating travellers aboard our ships, where he enjoys nothing more than discussing the cuisine aboard after a long day of producing the highest quality dishes for our discerning guests.