A day in the life of Darren Marchant, Executive Chef
I arrive in the Galley at around 5.30 am to the mouth watering smell of freshly baked breads and pastries. Having liaised with the Night Baker around what has been produced for the day and any other potential issues he has regarding the following day, my first job is tasting a Danish pastry fresh from the oven. It's called quality control! I then move through the Galley over to the Breakfast Chef, who is busy preparing the morning's delights. I confirm the specials to be offered this morning and check again any concerns he has for the following day. ow onto the stores. This is an important job, to be done thoroughly. I need to ensure my team have all the ingredients they need for the whole day's menus whilst also checking the quality of the produce to be used. Once I'm happy, it's time for a walk around the ship. I must check on all the outlets on the ship, making sure they are preparing for service. Are they missing anything? Is all the equipment needed, working? Any problems I encounter must be sorted, so a few phone calls are made. I'm not very popular today as it's only 6.30 am. Time is running away with me, so I return to my office to type up the menus for lunch, dinner and tomorrow's breakfast. My typing skills are proving to be an issue this morning or is it the computer? Why can't it spell??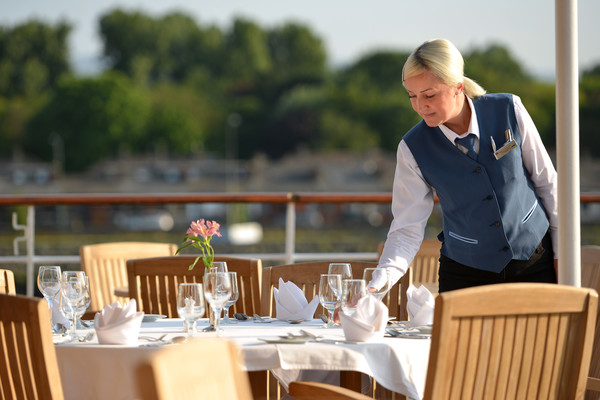 I arrive on the Lido Deck to help with breakfast service as we start to pick up pace. It's already 7.15 am. It's going to be one of those days! Once breakfast service is over, it's back to the Galley for a daily de-brief with the Sous Chef and the rest of the team. Preparation for lunch service is well on its way so I mustn't keep them too long. I then head off to find the Hotel Manager to brief him on the day's menus. It's almost 11 am and today the ship is in port so I meet with the Provisions Master so that we can go ashore to search for a few local ingredients to put on tonight's dinner menu. I'm thinking fresh fish - barramundi if I can get it. Our trip has taken longer than expected. Why am I not surprised? I get so carried away and want to buy everything. But I'm back in my chef's whites and ready for lunch service. I have such an amazing team that it's all ready to go, just one last check over from me. Move a few bowls of salad around…. I need to keep my team on their toes, don't I?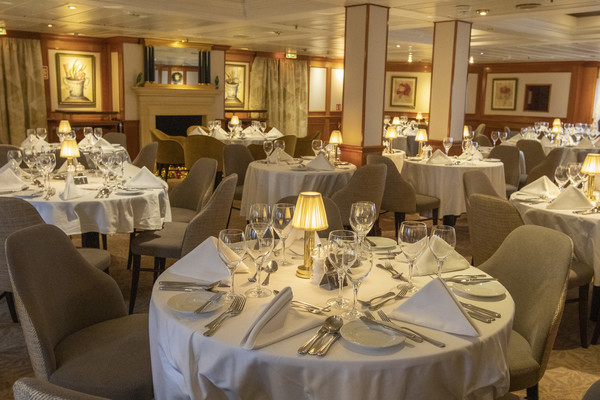 Once lunch service is over it's back to the Galley. I'm thinking about Afternoon Tea now. I need to check on the Pastry Chef and make sure those scones are looking good. Time for another bit of quality control...jam first or cream? You decide! We have new guests arriving today and this will be their first taste of what is on offer on board the Sky ships and you only get one chance to make a first impression. I help make a few finger sandwiches and a batch of shortbread, then it's back across the Galley to catch up with the Sous Chef. As always he has everything under control and I feel happy to start preparing my Barrumundi special for tonight. It's almost 3 pm. I've checked that the Lido Deck is all set up and ready. Roll on Afternoon Tea. Shame I can't sit and enjoy one myself but I'm needed back in the Galley. On my return it's another briefing with my team. Are we on track? A few taste tests on sauces, quality checks on desserts and the cleanliness of the kitchen. I'm satisfied with the hard work of the team today so we can all down tools for an hour. I need a cup of coffee. That hour goes too quickly and before I know it we're back in the Galley. It's nearing time for dinner service. I like to plate each dish from the menu so that I can brief the restaurant team on what the dishes look like: I invite them to taste them too so they can advise our discerning diners about what's on the menu tonight. I have time for one last look around the Restaurant. They're set and raring to go. The chefs have cleaned down, stocked up and are ready at the starting gate. 7.30 pm and the first order hits the pass. We're off! An hour later and we've sent the last meal out. A great service with amazing feedback from our new guests. I liaise with the Hotel Manager over the good, the bad and the ugly on today's service. What will we do differently tomorrow? I just have one last job to do. Introducing myself to some of our guests. I love this part of my job because it really helps me to understand what our guests want whilst on their holidays. I enjoy being the voice of my menus and relish the feedback. Sadly, tonight, I haven't been able to meet everyone but there's always tomorrow. It's 11 pm and time to retire to bed. It's been a long and busy day but I'm ready to do it all again in the morning.
Maybe just with not so many Danishes.