South African Bobotie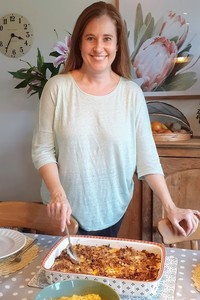 As a child, every few years my Mum would take us to visit her family who are sheep farmers in the Karoo, a beautiful semi-desert region of South Africa's Eastern Cape. I can remember whiling away the days with cousins, riding around on the back of the 'bakkie', taking long walks through the veldt and watching the monkeys and other wildlife as we would sit mesmerised on my grandmother's veranda. The flavours of this dish evoke memories of those happy times and, roast lamb aside, this mildly curried, fruity meat dish is my favourite comfort food.
The dish has an interesting history too, it is thought to have been imported to South African from Indonesia in the 17th century when the Dutch East India Company shipped over Malay, Javanese and Indian slaves to Cape Town. Since that time their descendants, the Cape Malay community, without access to some of their favourite ingredients adapted the recipe using spices from the ships plying the spice route and the European, mainly Dutch, cuisine that was available. The dish can now be enjoyed throughout the Cape and, with heritage dishes now very much part of the nation's food culture, there are many restaurants in Cape Town and along the Garden Route serving delicious, authentic bobotie.
The recipe below is from British-South African restauranteur and Bake Off star Pru Leith's latest book. It's easy to follow and very tasty and you can easily adapt it to your own tastes or those of your guests. For example, I often skip the apple, raisins and ginger or make it with what I have to hand – well that's my disclaimer for why my picture doesn't resemble the one in the book anyway! It is also great made from roast or braised lamb shoulder meat; it was in fact traditionally made that way as the Sunday roast meat was later combined with other leftovers and spices.
Bobotie is traditionally served with yellow rice (I use pilau or add a tsp of turmeric in with the cooking water) and, for colour, best accompanied with green veg or a salad. It is also served with 'sambals' – I serve it with little bows of raita or yogurt and mango chutney. Tomato and onion, cashew nuts and chopped bananas are also popular choices. A word of warning, if you are not a lover of fruit and meat together then steer clear, this is not the dish to convert you!
Claire Matin
Marketing Manager
Ingredients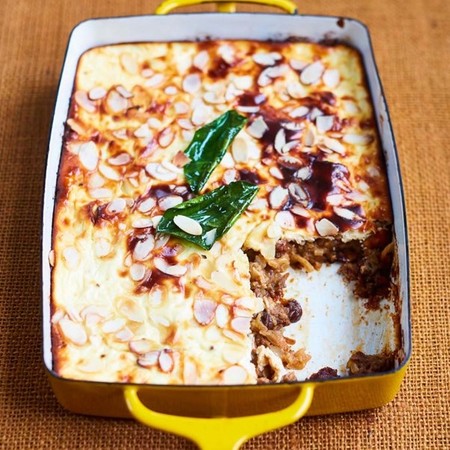 | | |
| --- | --- |
| 2 thick slices of white bread | 2 tbsp Worcestershire sauce |
| 150 ml milk | 1 tbsp tomato purée |
| 3 tbsp vegetable oil | a handful of sultanas |
| 2 large onions, finely chopped | salt and pepper to season |
| 2 garlic cloves, crushed | |
| 3 cm (1 in) piece of ginger, peeled and finely grated | For the topping |
| 1 tbsp mild curry powder | 2 medium eggs |
| 1 tsp ground coriander | 275 g Greek yoghurt |
| ½ tsp ground cumin | a handful of flaked almonds |
| 450 g lamb mince | 2 kaffir lime leaves or bay leaves |
| 1 small dessert apple, grated | |
| 75 g fruit chutney | |
Method
1. Put the bread into a small tray or shallow bowl and pour over the milk. Leave to soak. Heat the oven to 180°C/fan 160°C/gas mark 4.

2. Heat half the oil in a large, heavy-based saucepan over a medium-high heat. Add the onions and fry until soft and just golden. Add the garlic, ginger, curry powder, coriander and cumin and cook for a further minute or so. Transfer into a large bowl.

3. Wipe the saucepan clean and pour in the remaining oil. Turn the heat up and fry the lamb mince for 5–6 minutes, until golden brown. Press the meat down with a fish slice to encourage it to brown properly. When the meat is browned on all sides, add it to the spiced onions, along with the apple, chutney, Worcestershire sauce, tomato purée and sultanas. Add a little water if it looks too thick. Fork the wet bread into the mixture, season and gently combine. Pile the mixture into a 2-litre ovenproof dish and use the back of a wooden spoon to flatten it.

4. Mix the eggs with the yoghurt. Season with salt and pepper, then pour over the mixture. Scatter with the almonds, then place the kaffir leaves on top and bake for about 40–45 minutes, until the topping has set and browned. Remove the bobotie from the oven and let it stand for 10 minutes before serving.