Slimline Chicken & Vegetable Stew cooked in Cider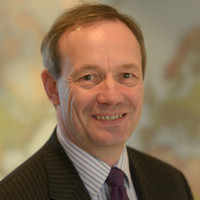 Food is a very important part of any sailor's life. Apart from anything else it punctuates what might otherwise be a monotonous day. I started my career on general cargo ships – back in the pre-containerisation days we had large crews and the food was a vital aspect of crew welfare and morale so was invariably excellent. Ships were known as "good feeders", especially if you were lucky enough to have skilled artisans of the culinary arts such as Andy MacDougall, Les Austin, Pat Prunty or Jeff White as Chief Cooks – these guys could have graced any fine dining eatery ashore and we didn't know how lucky we were. (I recall sailing with Andy, now cooking in that great Galley in the sky RIP) well : if you were foolish enough to steal a chip off the press and he happened to be stood behind it and saw, retribution in the form of a ladle across the back of the hand was swift!)
Those of you who went to sea yourselves might recall such delicacies as "Cheesy, Hammy, Eggy" (according to legend a dish, exactly as described, which was a staple of Royal Naval Wardrooms and remains so to this day), Kromeski A La Russe (mystical name for battered sausage covered in Tomato Ketchup – another recipe for you, two for the price of one – Bargain!) and everybody's favourite Thursday evening dinner "Engineers' Banquet" which was actually another name for Sausage, Egg and Chips – we knew how to live. However I wanted to share with you a cold weather favourite which just happens to be low in calories and warming so ideal for those cold winter evenings when there have been just too many trips to the treat cupboard in lockdown…..
Enjoy!
Mike Deegan
Head of Fleet Operations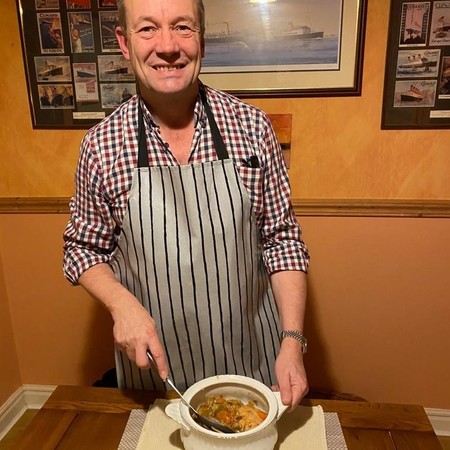 Ingredients
4 tbsp plain flour
2 tsp dried thyme
2 skinned chicken breast fillets
2 tbsp sunflower oil
4 rashers rindless back bacon
2 onions, chopped
2 celery sticks
150g chestnut mushrooms, sliced
500ml dry cider
300ml chicken stock (made with 1 chicken stock cube)
2 bay leaves
200g small carrots, peeled and sliced
1 leek, sliced
Salt
Ground black pepper
(I also threw in a handful of chopped basil which I happen to grow myself on the kitchen window sill!)
Method
1. Pre-heat the oven to 180°C / fan 160°C / Gas 4.
2. Mix the flour, salt, ground black pepper and thyme in a mixing bowl. Then add he chicken and cover liberally with the flour etc.
3. Heat the sunflower oil in a non-stick frying pan then fry the coated chicken until a nice golden-brown colour before placing it in a flame-proof casserole dish.
4. Trim any fat from the bacon and cut into 1cm strips. Then add it and the celery and the onions to the frying pan and fry for 4-5 minutes, stirring continuously. Add the mushrooms and fry for a further 2 minutes then tip everything into the casserole dish with the chicken. Add the remaining flour mixture and stir in.
5. Pour about half the cider into the frying pan and stir well to lift all the remaining pieces from the pan, simmering for a few seconds before pouring into the casserole dish. Add the rest of the cider, the stock, the carrots and bay leaves and simmer. This is where I threw in the basil.
6. Remove the casserole dish from the hob, add a lid and place into the middle of the oven to cook for an hour. Then remove to add in the leeks and stir before returning to the oven for a further 30 minutes when the chicken should be tender and the sauce should have thickened.
I like to serve with some steamed broccoli but it is equally tasty with green beans.