Passion fruit Pavlova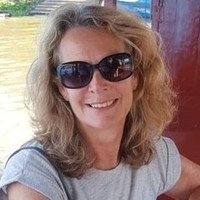 Having lived for a year in Australia and travelled extensively around this fascinating country with its huge skies, incredible landscapes, unique wildlife and spectacular reefs, this dessert always reminds me of relaxing BBQ evenings with friends after a hard day walking, diving, swimming or snorkelling.
Pavlova is the Queen of Australian desserts for very good reason, it tastes delicious, is very easy to make and even lets you imagine you are being healthy with your 5 a day! This is my go-to dessert for entertaining, I love that you can prepare it in advance (the meringue is best left overnight in the oven) and it can be finished off just before its needed. Best of all, it has that show-stopper wow factor. The recipe below (courtesy of Delia Smith) is my favourite combination, but you can be as inventive and creative as you like with the toppings.
Enjoy!
Sally McColgan
Head of HR & Trustee (NCCT)
Ingredients
3 Large Eggs (whites only)
175g Caster Sugar
275ml Whipped Cream
2 passion fruits
Strawberries, raspberries, blueberries and pomegranate seeds mixed
A little icing sugar
Method
1. Line a lightly oiled baking sheet with silicone paper
2. Preheat the oven to gas mark 2, 300F (150C)
3. Separate the eggs and place the whites in a large clean bowl
4. Measure out the sugar and set to one side ready
5. Whisk the egg whites until they form soft peaks and you can turn the bowl upside down without them sliding out (be careful not to over whisk)
6. When they are ready start to add the sugar approx. 25g (1oz) at a time, whisking after each addition until all the sugar is in
7. Using a metal tablespoon, spoon the meringue mixture onto the prepared baking sheet forming a circle approx. 20cm (8") in diameter
8. Then spoon round blobs next to each other so that they join to form a circle around the edge
9. Using the tip of a skewer make little swirls in the meringue all around the edge lifting the skewer up sharply each time to form tiny peaks
10. Place the baking sheet in the oven, then immediately turn the oven down to gas mark 1, 285F (140C) and leave it to cook for 1 hour
11. Then turn the heat right off but leave the Pavlova in the oven until its completely cold, preferably all night so it dries out
12. To serve the pavlova, lift it from the baking sheet, peel of the paper and place it on a serving dish
13. Just before serving, spread the whipped cream over the meringue, then a layer of passionfruit before arranging the fruit on top and sprinkle with pomegranate seeds
14. Dust with a little icing sugar