Banana, date & walnut bread (gluten free option)
I know it is having a revival in lockdown but banana bread has always been one of my favourite things to bake. Afterall, when else do you get to eat cake for breakfast!
Whenever I have been lucky enough to visit one of our ships, I have always been impressed at how well the galley cater to those on special diets and, in particular, how the gluten free bread and cakes and aren't dry and crumbly which is so often the case. This recipe is one of those that can be made gluten-free by substituting the flour (I recommend Dove's Farm) and still tastes moist and delicious.
This is a great way to use up any over-ripe bananas that you have lurking about and the brown/blacker the better. Whilst I love classic banana bread as well, in this recipe the walnuts give some extra texture and the addition of dates and the sweetness from the golden syrup make it extra indulgent.
Claire Matin
Marketing Manager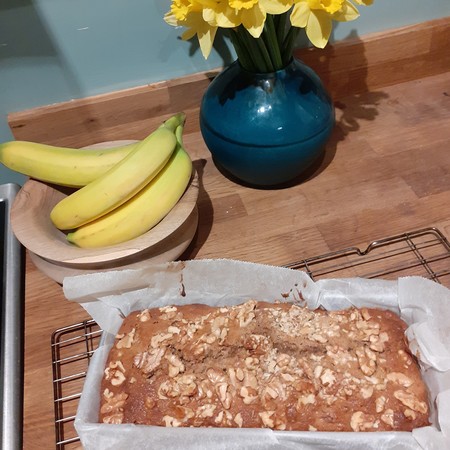 Ingredients
175 g softened butter or spread, plus extra to grease the tin
200 g self-raising flour (option to use gluten free self-raising flour)
100 g light muscovado sugar
2 large eggs, beaten
1 tsp cinnamon
2 tbsp golden syrup
3 small over-ripe bananas, around 320g with the skins on
120 g pitted dates, chopped
125 g walnuts, chopped
Method
1. Preheat the oven to 160C/140C fan/gas 3. Grease a loaf tin and then line with baking parchment.
2. Place the gluten free flour, spread or softened butter, cinnamon and sugar into a large mixing bowl and mix together. Then add the eggs and syrup and mix until it forms a light batter.
3. Mash the bananas and add to the mixture with the dates and 75g of the walnuts – reserve the remaining 50g of nuts to the side for topping later.

4. Stir the cake mixture until fully combined and then pour into the loaf tin. Sprinkle the remaining chopped walnuts on top.

5. Bake for 50-60 minutes in the centre of the oven, until the cake is golden and firm to the touch, and you can pull a skewer out clean from the centre.

6. Cool in the tin for 15-20 minutes before carefully removing and cooling on a wire rack. Slice up and serve with a cup of tea.