Recipes from the Skys with Head Chef Darren Marchant
We are delighted that Darren Marchant, Head Chef for our Skys Fleet will be contributing a weekly recipe to Travel Post.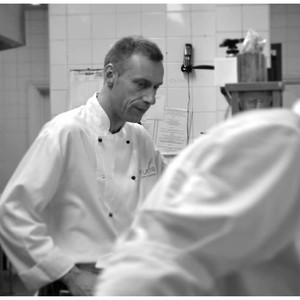 Darren has been employed as a Chef for over 30 years after initial training at Letchworth College. He spent his early years afloat as a Chef de Partie and Sous Chef then Head Chef with Hebridean Island Cruises and his first ship, almost 20 years ago, was Hebridean Spirit which is now Caledonian Sky – a ship to which Darren was delighted to return as Head Chef last year. Having left the sea in 2009, he was running the kitchens at a high class restaurant in Suffolk when the lure of the ocean became too much and he joined us on our Sky ships in early 2019, since when he has sailed as Head Chef in all three ships. He delights in passing on his skills to the next generation and in meeting the fascinating travellers aboard our ships, where he enjoys nothing more than discussing the cuisine aboard after a long day of producing the highest quality fayre for our discerning guests.
Anzac Biscuits and Scottish Shortbread
It's a pleasure to be donating recipes to the Noble Caledonia Travel Post from the Sky Ships. I will be publishing recipes that the guests most appreciate while on board. As a chef, my passion is having the luxury of being able to work with the raw ingredients to produce mouthwatering dishes every day.
As I'm compiling my recipes this week for Travel Post it seems that the weather in the British Isles is glorious with temperatures hitting a record highs. So this week I have introduced some biscuit recipes - the homemade ANZAC biscuits and shortbread you will find on the Lido or in the Lounge (perhaps whilst you are listening to one of our accomplished Guest Speakers) to accompany your cup of tea aboard the Sky vessels. These are very popular with our guests.
So dust off the food mixer and make some wonderful biscuits to enjoy in the garden with a lovely cup of tea.
Darren Marchant
Head Chef – the Sky Fleet
Anzac Biscuits
Anzac biscuits have long been associated with the Australian and New Zealand Army Corps (ANZAC) established in World War I. It has been claimed that biscuits were sent by wives and women's groups to soldiers abroad because the ingredients do not spoil easily, and the biscuits kept well during naval transportation.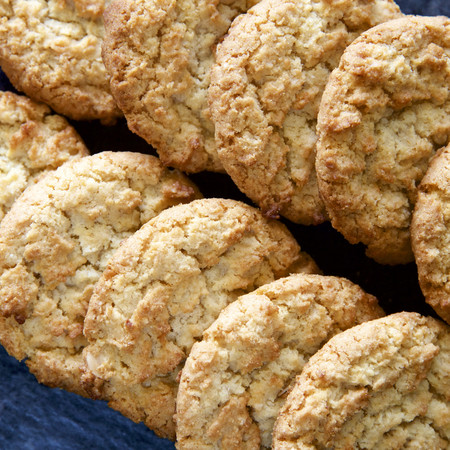 Ingredients - makes 20 biscuits
85 Grams Porridge Oats
85 Grams Desiccated Coconut
100 Grams Plain Flour
100 Grams Caster Sugar
100 Grams Golden Syrup
1 Tsp Bicarbonate Soda
Method
1. Pre heat oven to 180 degrees.
2. Place the flour, coconut and porridge oats in a bowl with the caster sugar.
3. In a saucepan place the butter and golden syrup and put on the stove to warm through.
4. Add two spoons of hot water to a cup and then add the bicarbonate soda to the water then add to the butter mixture.
5. Make a well in the dry mix and incorporate the butter mixture to the dry mix.
6. Place a piece of parchment paper on a baking tray.
7. Spoon a dessert spoon of mixture to the tray leaving a 1-inch gap to allow spreading during cooking.
8. Cook for 8-10 minutes until golden brown.
9. Remove from the oven and place biscuits on a wire rack to cool.
Scottish Shortbread
Historically this tasty treat played a part in welcoming new brides in the Shetland and Orkney Isles to their marital homes.... as the bride and groom crossed the threshold a decorated shortbread (called the 'Bride's Bonn) was broken over their heads!
It is also still one of the foods offered to 'first-footers' (those going door to door on Hogmanay to welcome in the New Year).
Shortbread petticoat tails were said to be one of Mary Queen of Scots' favourites, and she is given credit for increasing the popularity of shortbread in the 16th century.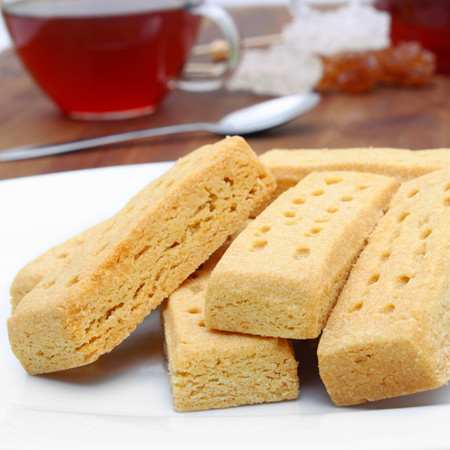 Ingredients
1lb Soft Butter
225 Grams Caster Sugar
1lb Plain Flour
8oz Rice Flour
Pinch of salt
Method
1. Pre heat the oven to 190 degrees.
2. Place a sheet of parchment paper on a baking tray.
3. Place the flour, rice flour and salt in a bowl and sift these 3 times.
4. In a separate bowl cream the butter and sugar until pale and fluffy consistency (this does take some time).
5. Add the sifted flour to the butter mixture and mix until you have reached a soft dough.
6. Then compress the mixture into a ball.
7. Place the dough on a lightly floured surface.
8. Using a rolling pin sparingly roll the mixture to half inch thickness in a rectangle shape then mark a finger approximately 3 inches by 1 and then prick with a fork.
9. Then place in the oven for 20 minutes then turn down the oven to 175 degrees for another 20 minutes approx. You want your shortbread to be a pale colour.
10. Once cooked remove from the oven and leave to cool then sprinkle caster sugar on top.
Previous weeks recipes