Recipes from the Skys with Head Chef Darren Marchant
We are delighted that Darren Marchant, Head Chef for our Skys Fleet will be contributing a weekly recipe to Travel Post.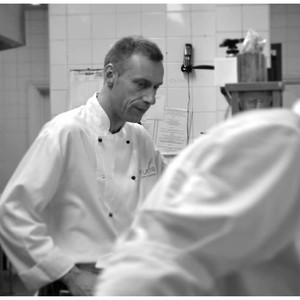 Darren has been employed as a Chef for over 30 years after initial training at Letchworth College. He spent his early years afloat as a Chef de Partie and Sous Chef then Head Chef with Hebridean Island Cruises and his first ship, almost 20 years ago, was Hebridean Spirit which is now Caledonian Sky – a ship to which Darren was delighted to return as Head Chef last year. Having left the sea in 2009, he was running the kitchens at a high class restaurant in Suffolk when the lure of the ocean became too much and he joined us on our Sky ships in early 2019, since when he has sailed as Head Chef in all three ships. He delights in passing on his skills to the next generation and in meeting the fascinating travellers aboard our ships, where he enjoys nothing more than discussing the cuisine aboard after a long day of producing the highest quality fayre for our discerning guests.
Spiced Parsnip Soup
It's a pleasure to be donating recipes to the Noble Caledonia Travel Post from the Sky Ships. I will be publishing recipes that the guests most appreciate while on board. As a chef, my passion is having the luxury of being able to work with the raw ingredients to produce mouthwatering dishes every day. In this episode of the Travel Post, I would like to share with you my favourite recipe for spiced parsnip soup. This soup is perfect for the upcoming chilly evenings as the spices give it a gentle heat making it extra warming.
While I have been writing recipes for the Travel Post, every week I have been getting itchy feet and miss not being in the galley catering for guests on board our lovely Sky ships. So my partner and I recently opened a pop up restaurant in a local tavern in Hertfordshire were we have joined forces with the local landlord to bring some local and home cooked food to the village. We have named the restaurant 'Comforts Of The Ocean' and it has been a great success for the local village.
I have based my menus on the classics that we serve up on board the Sky ships from around the world. This helps me keep in touch with the lovely destinations the Sky vessels visit. Jane and I would like to welcome you all to visit us at our restaurant. I would love to sit and have a cup of coffee and talk about those lovely seas days we all enjoyed. And may there be many more in the future
We open on a Thursday to Sunday for lunch and dinner - please email darren725@hotmail.com for more information.
Have a great weekend.
Darren Marchant
Head Chef – the Sky Fleet
Ingredients - serves 4
2 tbsp olive oil
1 tsp coriander seeds
1 tsp cumin seeds, plus extra to garnish
½ tsp ground turmeric
½ tsp mustard seeds
1 onion, diced
2 garlic cloves
75g parsnips, diced
1.2 litres vegetable stock
1 tbsp lemon juice
Method
1. Heat oven to 220C/fan 200C/gas 7.
2. In a bowl, mix together the olive oil and coriander seeds, cumin seeds, ground turmeric and mustard seeds.
3. Place the parsnips, garlic and onion into the bowl and mix well
4. Spread out in a lined baking tray and roast for 30 minutes until tender.
5. Spoon into a food processor or liquidiser with 600ml of the vegetable stock and blend until smooth.
6. Pour into a pan with the remaining 600ml of vegetable stock, season, then heat until barely simmering.
7. Remove from the heat and stir in 1 tbsp lemon juice. Garnish with cumin seeds.
Previous weeks recipes & posts