Meet our Captains
Captain Jose Fonseca
Hailing from Boquete, in the natural beauty of the highlands of Chiriqui province in Western Panama, Captain Jose Fonseca comes from a family with seafaring blood; thus, it is no surprise that he has ended up working on the seven seas.
He attended the Maritime Academy in Panama from 1999 – 2004 and immediately started his seafaring career after graduation. Serving firstly on board a cargo vessel, he sailed from Central America to Europe as a 3rd Officer. Eventually his career took him as Junior Officer and Cruise Chief Officer on a variety of cruise and expedition ships. After garnering a significant level of experience, he earned his Master license in 2011.
Jose joined Salen Ship Management in September 2013 as a Safety Officer on board MS Island Sky. He was promoted to Chief Officer in 2015 and his career flourished even further in early 2019, when he was promoted to Captain.
With a passion for exploring remote and unique destinations, he thrives on the flexibility built into each fascinating itinerary – the stunning South Pacific, the vibrant Caribbean and the breathtaking Chilean fjords are his personal cruise highlights. Moreover, as an Ice Master, the opportunity to command the ship through the Great White Continent – Antarctica, is a truly rewarding experience. "The welcoming atmosphere of the expedition vessels and the friendliness of the crew is the best part of this job" is his popular avowal.
"Live to ride, ride to live" is Jose's adage. With a passion for vehicles on two to four wheels, he enjoys taking his family out on the road. His pride is his Harley Davidson motorcycle which he maintains ready for his adventures to the spectacular destinations of his homeland.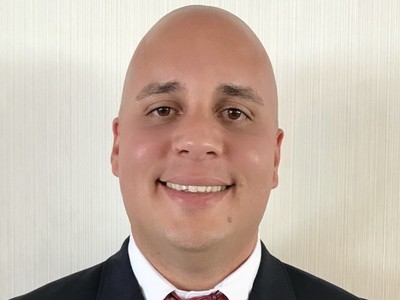 Captain Henrik Karlsson
As a young boy, Henrik Karlsson spent a lot of time with his Grandfather, who had been Captain on one of the big windjammers in the Grain Trade from Australia to the UK. Often visiting the Museum vessel Pommern in Mariehamn and the Maritime Museum, a career at Sea was the goal already at an early age.
Coming from a family of seafarers on the Åland Islands of Finland in the Northern Baltic, Captain Karlsson has spent many years on board sailing ships of various sizes. The Sea Cloud II, well-known to Noble Caledonia, was one of the ships under his command. He has also worked on cargo ships and various passenger vessels.
After a period as Vice-Rector at the Maritime Academy of Åland University of Applied Sciences, with shorter spells at sea in between, Captain Karlsson gave up his job on the shore to enjoy life at sea again full time. The operation of the Sky vessels is in many ways similar to the cruises on the Sea Clouds, apart from the sails. So when the offer to join the Island Sky as Captain came, it was impossible to resist. Many of the destinations are familiar, and some new, exotic places are yet to come.
Captain Karlsson is also closely connected to the famous Åland Islands Maritime Museum, where he served as director for a few years during an earlier "dry period". At home, he is secretary of the local Cape Horn Association and during the long Northern winters he enjoys sailing his ice-boat when conditions allow that.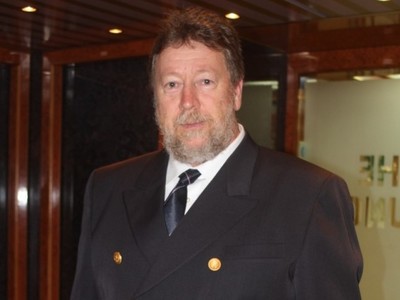 Captain Hakan Gustafsson
Hakan spent a lot of time at sea with his father, who was Captain on his own vessel, which was a small bulk carrier, a career at sea was the goal already at an early age.
Hakan begin his nautical career in 1989 and for the following 8 years worked on various kinds of cargo ships in numerous positions. In 2001, he decided to take an important career move and switched to expedition cruise ships where he started working for Lindblad Expeditions onboard the Endeavour which is well-known to Noble Caledonia as the former Caledonian Star. Then moving onto the National Geographic Explorer, where the expeditions were mainly to Antarctica and the Arctic.
When the offer to join the MS Island Sky came 2010 it was impossible to resist and Hakan has now been Captain on the MS Island Sky and MS Caledonian sky for the last 10 years. Many of the destinations are familiar, and some new, exotic places are yet to come.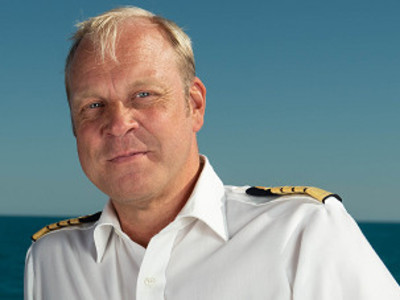 Captain Etien Bonacic
MASTER, MS SERENISSIMA
Captain Bonacic was born in Split, then in Yugoslavia but now a major seaport in Croatia, and from his earliest days realised that he was passionate about the sea, ships and "messing around in boats". Like the ship he commands, his career has spanned both the ferry and cruise industries although he cut his professional teeth in the cargo trades. The son of an architect, he excelled at rowing and sailing at school and despite family misgivings entered the Split Nautical Academy as soon as he was able.
He served his Cadetship and as a 3rd Officer in general cargo ships that were tramping worldwide. As was the practice at the time in Yugoslavia he undertook 16 months of national service which because of his career to date was in the Navy. He was the commander of a personnel transfer boat based in Kotor, now part of Montenegro – technically his first command.
After completion of national service, Captain Bonacic returned to his Merchant Navy roots and served in a variety of ship types, including tankers, RORO ships, general cargo ships and bulk carriers for the next several years. His first commercial command was a bulk carrier.
Captain Bonacic served for 3 years as Master on Transeuropa Ferries between Ramsgate and Ostend, commanding all their ships at different times and gaining Pilotage Exemption Certificates for both Ramsgate and Ostend. He then returned to bulk carriers for 2 years trading between Norway and Cyprus and spent some time of a ferry trading between Spain and Algeria.
In 2013 Captain Bonacic was offered command of Serenissima not long after she was rebuilt and renamed – he took command of her for the first time in Oban in May 2013. Working 4 months on 4 months off, he has been Master of her ever since and describes his love for the ship. His pride in her and her crew is evident when you speak to him – he describes Serenissima as "his beautiful old lady" and that he hopes to remain Master of her until his retirement, although thankfully that will not be for many years yet! He enjoys sailing with Noble Caledonia passengers who he says, being British, ie from a maritime nation, are all very interested in the history and heritage of his most traditional ship. He enjoys taking time to explain the history and workings of the ship to them.
On leave Captain Bonacic splits his time between Croatia and on his wife's family farm in Romania where they rear chickens and have a large vineyard. He enjoys walking with his dog and spending time with his son, now following in his father's footsteps as a Chief Officer on tankers and his 3 grandchildren.