Indian Ocean Island Odyssey
30th January to 12th February 2020
MS Serenissima
Thursday, 30th January 2020 – Port Louis, Mauritius

Landing in Mauritius came as a welcome relief after our long flight from London yesterday. Today, in the warm humid air, southwest wind, and beautiful blue sea, memories of bitter winds, sleet and cold began to fade quickly. As we walked along the wharf past the shipping containers, we discovered our precious little Serenissima resting peacefully at the farthest berth.
With a warm welcome from our Expedition Leader, JP, we were happy to be on board. A refreshing glass of champagne washed away any traces of travel weariness & warm welcoming smiles and tasty snacks were gratefully received as everyone made themselves at home, checked in and began exploring the various spaces and corners around our ship. Delightfully, we would be able to unpack just once for the entire journey ahead, so our very nicely appointed cabins were inspected and approved of! An 'introduction to the ship' meeting then drew us together in the Andrea Lounge, followed by a relaxed dinner paired with excellent wines, we retired to catch up on rest and prepare for the day ahead.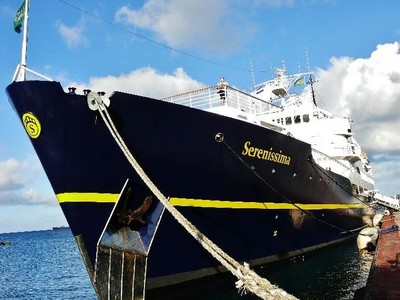 Friday, 31st January 2015 – Port Est, Reunion
Somewhere off the coast of Madagascar, 9000 kilometres from Paris, there is a little piece of France floating in the Indian Ocean which was our destination today. Known to the French as La Réunion, the island found its first settlers back in the 16th century when migrants from both France and Madagascar made their way to its shores. Despite being very, very far away from the homeland, Reunion Island is part of France whether you can wrap your head around it or not. The 51 kilometre wide island forms part of the African coast and is home to almost 900,000 people. Although it is officially an overseas department of France, it is one of the most culturally blended places in the world. It is also home to one of the Earth's most active volcanoes, Piton de la Fournaise, which regularly erupts and was our destination today. Located alongside the volcano are three cirques – Salazie, Cilaos, and Mafate. They were formed inside of Piton des Neiges, and further shaped by centuries of erosion. On our tour today we drove past the most expensive road in France. The coastal road in Saint-Denis is being built to solve the landslide problems that the island's port has been dealing with for years. The new road is 12.5km long and has so far cost €1.66 billion to build due to the columns that had to be built up from out of the ocean.

On the scenic drive it was the mountains and cirques offer up some of the most amazing view. We saw that the island is overflowing huge waterfalls, Le Voile de la Mariée (The Bride's Veil) was just stunning. Our ultimate destination was Piton de la Fournaise. Formed over half a million years ago and at a height of 2,632 metres, Piton de la Fournaise, is the most active volcano on the planet. Categorized as an 'shield' volcano, the spectacle when the lava fountains gush upwards is a brilliant show. Following a delicious creole lunch at a local restaurant we had ample time to explore the Cité du Volcan museum which highlighted the volatility of the volcano. A perfect day and the island's serene beauty cannot be denied.

Saturday, 1st February 2020 – Sea Day
We awoke to another perfect warm balmy morning on smooth seas, under skies dotted with white puffy clouds. Our morning was filled with interesting lectures, JP starting off with an overview of our voyage through the Indian Ocean and then followed this with a compulsory Zodiac briefing. Conrad led us to lunch with a snorkel briefing and snorkel gear handout. Lunch was delicious with the excellent restaurant team's usual splash of variety. Damon enthralled us in the afternoon by revealing the history and quirks of Madagascar. The sea continued to be kind to us as we headed west to Madagascar. Many of us enjoyed an evening drink in the bar before a scrumptious dinner by Chef Michael, with a variety of delicious courses.
Sunday, 2nd January 2020 – Ile Sainte Marie, Madagascar

Another perfect morning in paradise! Smooth seas, cool breezes under a warm tropical sun. No wind, no rain. Just endless hues of blue in many nuanced shades. Zodiacs!! Today was the first time we had the opportunity to ride a Zodiac as the Serenissima was anchored on the leeward side of Ile Sainte Marie just off Ambodifotatra. Our Zodiac drivers navigated their way across the sea to the town of Ambodifotatra. A morning tour around the capital of Ambodifotatra was on offer and, once ashore, we met our local guide for a walking tour of this historic town. Ile Sainte-Marie is only 50 kilometres long and 7 kilometres wide. The island was a pirate island in the 17th and 18th centuries when almost the entire population were pirates. This is where it all began. The pirate stronghold of Ambodifotatra; here pirates would take refuge far from the rest of society, a place they called home. Well, that is what history has led us to believe. The Portuguese gave the island the name Ile Sainte-Marie but the island is also known under the name Nosy Bohara. Today, Ambodifotatra is a scattered mix of metal shack bars, tiki restaurants and a few sprawling markets selling fresh fruits and animals. We explored the town and found it was an exciting mix of old French architecture and exotic goods. Continuing along we dodged chickens along the path and meandered through the local market selling everything from fresh fruit, fish, cloves, coconut rum, clothing, electrics and of course tourist handicrafts.

Arriving back on the ship for our tasty lunch, there was little rest time as we headed to the other side of the island to La Crique & Green Natiora's Resort, a sliver of paradise off Madagascar's northeast coast. The beach here is exactly what you imagine of a tropical beach, long, palm-shaded beaches, tropical rainforests and selection of rustic-chic cottages. The shallow waters and secluded bays offered us an excellent snorkelling opportunity with an enchanting underwater experience. The evening ended with a grand welcome aboard cocktail party, hosted by Captain Erikson Juranovic, who introduced the ship's officers, followed by a festive dinner in the restaurant.

Monday, 3rd February 2020 – Nosy Mangabe, Madagascar

Following an early breakfast, the day started with Zodiac shuttles from our anchorage off Nosy Mangabe Reserve in Antongil Bay about 2km off the coast. Once ashore, we met our local guide and then slowly meandered the trails through the lowland forest, ever watchful for the myriad of amazing creatures whose paths we might be lucky enough to cross. At times, we paused along the trail, each of us scouring a different small area of trees and leaf litter in an attempt to locate some of Madagascar's spectacular endemic wildlife. Then the call, "Chameleon!", interrupted the metallic chirping of frogs and the patter of water droplets on the leaves of the understory. A female panther chameleon stood on a narrow branch, motionless except for her eyes, each of which independently surveyed the scene around her. Her prehensile tail was carefully curled up behind her, as she waited patiently for insect prey to come within striking distance of her sticky tongue. What a sight, as we rapidly took lots of photos of this iconic species. Our guide introduced us to various trees; the hard wood trees of rosewood and ebony; the torchwood tree whose resin is used in making incense. With medical facilities being expensive and difficult to reach in this part of the world, people mainly rely on herbal cures. Stomach ailments are the main diseases; hence you have diarrheal remedies made from the Kildo tree, made from boiling the leaves and branches to make an infusion. Our guide also showed us a few of these medicinal herbs and he even showed us a herb with soft and hairy leaves which is used as natural toilet paper!

After a well-deserved lunch, there was some bad news, unfortunately the weather beat us. A severe storm came through, causing large swells and thus we were not able to use our Zodiacs. The Captain and JP very wisely made the decision to seek shelter on the other side of Madagascar and thus we headed straight to Diego Suarez. During the afternoon on board; Lea gave a fun and informative lecture on fish identification. Following afternoon tea Dave gave an interesting lecture on myths and fables of Madagascar. After recap and briefing for tomorrow's activities, we enjoyed our usual superb dinner in the elegant dining room of the Venice Restaurant.

Tuesday, 4th February 2020 – Antsiranana (Diego Suarez), Madagascar

It was a late breakfast this morning. By this time the ship was just about twenty miles off the northwest tip of Madagascar, and the seas became much calmer as we received the benefit of the island's shelter. First activity this morning was an enjoyable fruit carving demonstration by Chef Michael in the Venice Restaurant. Following this, Conrad gave some wonderful insight into the huge variety of plants in the Indian Ocean. By this point the Serenissima had tied up alongside the dock in Antsiranana and the officials were busy clearing us into the region. After lunch we all headed off to explore the nature of the region. It was a beautiful day with sun shining and hardly a cloud in the sky. This was very different from the day before and we docked alongside the wharf. Antsiranana, named Diego-Suarez prior to 1975, is the capital of Diana Region. It is situated in Antsiranana Bay, one of the largest deep-water harbours in the Indian Ocean, but due to its remote location and the bad road system it has never been used as a freight harbour.

This afternoon we headed off on long journey by 4WD to Amber Mountain. It would take us 2 hours to drive 90 kilometres, due to the quality of roads. When you picture Madagascar, it might be a lush evergreen rainforest with giant buttress roots, towering tree ferns and howling lemurs echoing through the thick tropical forests that comes to mind. The Amber Mountain National Park in Madagascar's remote north west couldn't be a better example of this vision. This wild and little visited region still holds the largest continuous block of primary (old growth) highland rainforest left on this fragile island. Established by the French in 1958, this volcanic massif and its surrounding forests is home to some extraordinary plant and animal life, in particular the chameleons. The huge ferns and strangler figs added drama to this park as we meandered along the beautiful walking trails which wind their way past stunning waterfalls. Along the way we saw even more chameleons, but it was the sound of shrieks from the treetops alerted us to the presence of a group of Sanford's Brown lemurs. These unique Madagascar primates were traveling quickly through the canopy, likely en-route to a fruiting tree for a meal. They leapt from branch to branch, tree to tree, demonstrating clearly to us how well adapted they are to their arboreal lifestyle. We were amazed at the way they didn't seem to even notice the rain; and then it occurred to us that we too, lost in the excitement of exploring Madagascar's lush rainforest, had for several hours hardly noticed the buckets of rain falling all around us. We soon arrived at the Sacred Waterfall where long vines dangled from rocky ledges as a shower of water fell from the rocks with a fern-ringed rock pool at the base. All too soon it was time to leave Amber Mountain National Park and enjoy some 90 kilometres of bumpy roads back to Antsiranana.

Wednesday, 5th February 2020 – Nosy Hara, Madagascar

It was a busy morning and we had a lot to pack in. The island of Nosy Hara provided us with breathtaking scenery and an idyllic beach setting. Due to a barrier reef in front of the beach and being low tide, the expedition team set up a platform on the outer reef and most of us took the opportunity to go for swim or snorkel. With just just a few fin strokes from the platform we unveiled a magical underwater world teeming with sea life. Colourful sponges and corals caught our eye and the crystal blue water allowed us to see deep down into the drop off. After lunch, the high tide allowed us access to the beach and thus Zodiac transfers began at 1:30pm, transferring us to the island where most of us headed off on a guided walk through the rainforest. The afternoon walk was really productive; our guide was an expert at finding wildlife including the Paradise Flycatcher, both male and female and both the male and female of the Panther Chameleon. Additionally, we saw the Mantella Frog, but the highlight of course was the Micra chameleon (Brookesia), the world's smallest chameleon. Following the hot and sweaty exploration the sea was beckoning. The water was crystal clear and the sun shining so perfect conditions for frolicking in the water. It was a long but interesting day for all of us.


Thursday, 6th February 2020 – Assumption Island, Seychelles

A relaxed morning at sea and after a tasty buffet breakfast, we had an opportunity to seize a short nap, which some folks enjoyed out on deck in the warm ocean breezes. We had some interesting lectures this morning, Becky explained what makes islands so special and some of their wildlife adaptation. Just before lunch, Damon gave us an entertaining view of the Seychelles. We arrived early to our anchorage at Assumption Island, one of the outer Seychelles Islands and part of the Aldabra Group. A small, crescent shaped coral island about 4.3 miles2 (11.07 sq km2) in size and lying approximately 600 miles (960 km) southwest of Mahe, in the Indian Ocean. In the heart of the Outer Islands of Seychelles, Assumption Island has become known as the gateway to these unique atolls and our port entry into the Seychelles. The local authorities had given us permission to explore the reef but not land. Thus, the expedition team set up a snorkel platform for an afternoon of water sports. Conditions were perfect on the reef. Powder-blue surgeonfish were in abundance and several species of parrotfish and wrasse were busy with their varied tasks on the reef. We saw white and black-tip reef sharks, a school of grazing surgeonfish, the Picasso triggerfish, and orange-spined unicornfish.

Friday, 7th February 2020 – Cosmoledo Island, Seychelles

The remote location makes Cosmoledo a place of wild natural splendour. This morning it was a long Zodiac ride around the reef to land on Cosmoledo Atoll. Cosmoledo itself comprises of a large, white sand lagoon surrounded by 18 islands, numerous pancake flats and 2 main channels, one of which we used to access Wizard Island. Wizard was named after a ship that explored the atoll during the Morseby Expedition in 1822 and Cosmoledo Atoll was named after a Portuguese navigator who was part of João da Nova's crew. On arrival at the beach we discovered Cosmoledo Atoll's pristine and untouched ecosystem as well as a wonderful lagoon. Most of us enjoyed a guided walk to a large and prominent sand dune which was nearly 32 metres (105 ft) high. Along the way we discovered various habitats including, sand dunes, expansive flats, grassland and a dramatically fluctuating lagoon which was full of wildlife, it really was a hotspot of biodiversity.

Following an extravagant BBQ on deck 5 by the hotel team we explored more of Cosmoledo Atoll. You did not have to be a bird enthusiast to enjoy the extended Zodiac cruise around Ile Sud Quest. There were several fluffy chicks peering from the nests resting within the branches of red mangroves. Several male frigatebirds had inflated their bright red gular sacs. Red-footed boobies were also nesting in and amongst the frigatebirds. Their young were older, almost fully fledged. Elegant white terns were also in abundance as where both red-tailed and white-tailed tropicbirds. There were many shore birds keeping us looking into the sky and trees; crab plovers, whimbrels, and grey herons searched the reef for a meal while brown and brown noddies, white terns and white-tailed tropicbirds flew overhead or perched in the trees. Even as we cruised around the lagoon, we saw large populations of Hawksbill and Green turtles swimming around us and a host of feisty fish species.

Saturday, 8th February 2020 – Aldabra Island, Seychelles

Known as the Galapagos of the Indian Ocean, Aldabra Island is a World Heritage Site, and one of the highlights of our adventure on this Indian Ocean Odyssey cruise. The local scientists and rangers joined us early this morning on board the Serenissima and gave an informative presentation about the unique destination; this was then followed by a biosecurity check. The tides dictated all our activities today. Several people chose to experience one of the world's best drift snorkels out the Grande Passe where they joined groupers, trevally, and parrotfish. Snorkellers were enticed by the strong current running out of the lagoon through Grande Passe. The snorkel started off quite fast and then, halfway through the channel the current subsided and changed direction. Huge potato cod, giant trevally, and numerous schools of fish accompanied us through the channel. Just the name Aldabra Island evoked visions of exotic, idyllic island life and this is just what we saw this afternoon as our Zodiacs cruised to Picard Island. With a perimeter of 70 miles, Aldabra is one of the largest atolls in the world, comprising four major islands separated by channels. Because of the atoll's extreme isolation, many of Aldabra's species are endemics.
Aldabra is sanctuary to the show-stopping Aldabra Giant Tortoise; estimated to number over 100,000, which roam wild over the islands. On Picard Island there is a small scientific research station and we were once again joined by some of the scientists and rangers. We headed off for a guided walk with the ranger and almost immediately, all of us took lots of photos of the mighty tortoises of this magical, isolated island. We then searched for the rare Aldabra white-throated rail, the only flightless bird found on any Indian Ocean island and were rewarded with a couple of sightings. Most of us were enthralled by the robber crabs (coconut crabs), as they scampered near the buildings, we learned that their claws are strong enough to crack coconuts. Later in the day, our Zodiacs cruised one of the navigable channels into the lagoon where we enjoyed a sunset Zodiac cruise into the world's largest lesser frigatebird colony. We cruised the narrow passes to drift through a landscape of fascinating, eroded limestone topography. The tides have sculpted small islets into fantastical formations known as champignons, or "mushrooms." Hundreds of frigatebirds, masked boobys and turtle doves soared overhead.

Sunday, 9th February 2020 – Assumption Island, Seychelles

Waking to a beautiful morning, we found ourselves anchored just off Assumption Island. We landed on the western shore which features an almost uninterrupted sandy beach of around 5 km. We could of name this beach 'the best beach in the world' for its white sand, crystalline waters, diversity of marine life and lack of crowds. Some of us decided to walk into the interior and discovered that due to the disruptive effect of guano mining which lasted until 1983, the island is dominated by expanses of bare rock and caves and is sparsely covered with low-growing vegetation. We learned that efforts are now underway by the Seychelles Islands Foundation, in conjunction with Island Conservation Society and the Islands Development Company, to restore the habitat of the island. The first successful step in this process was the removal of invasive, introduced bird species, Madagascar fody and red-whiskered bulbul. We had the opportunity to explore the historic remains of the island before transferring to our snorkel site. In the late morning we relocated to north-west of Assumption where the sea conditions were calmer. We had the opportunity to snorkel off the beach or simply slip into the cool water. The water was clear with great visibility looking over several large coral bommies. Schools of bluestripe snapper clung to the reef. The water was the clearest of the entire trip! Most of us took up this opportunity for some sand, sea and sun for the morning. We all gave a disappointed sigh as we left the beauty of this palm shaded beach and returned to the Serenissima to continue our journey north. An afternoon at sea with a wonderful lecture by Lea on the critters on the reef, where she looked at some reef critters and discussed their bizarre behaviour. After dinner we heard all about pirates in the Indian Ocean as Scott explained what is being done to protect ships from pirates in the modern era.
Monday, 10th February 2020 – At Sea

This was a time to relax after the hectic days in the Seychelles. Nonetheless, there were plenty of activities for those that wanted them. Becky started the ball rolling with her interesting talk on sea birds. Next came a briefing by Andrea on our plans for disembarkation in Dar Es Salaam. Then Beck and James gave a wonderful presentation on their life in the Seychelles which led us to lunch. Some of us enjoyed a naptime after lunch, while others retired to their cabins, or played a hand of bridge or picked out a good read from the tiny ship's library – the little yellow lounge is such an inviting place to relax. For those of us wishing to know more about the operations of the ship, there were engine room tours run by the chief engineer, Jusuf Sladic. All too soon it was time to don our finery and gather in the Andrea Lounge to thank the Captain and his fine crew for looking after us so well during our extensive travels through this beautiful part of the world. Everyone was ready for a celebratory drink to toast to such a festive occasion. A most successful & enjoyable day continued after dark with the formal Captains dinner in the Venice Restaurant. We all relished this fantastic evening meal before retiring to the Andrea Lounge for smooth sounds with pianist Rene.

Tuesday, 11th February 2020 – Zanibar Town, Zanzibar

This morning we arrived in the port city of Stone Town on main island Unguja in Zanzibar, a semi-autonomous region of Tanzania. Here in the capital is Zanzibar City, located on the island of Unguja we explored its historic centre is Stone Town, which is a World Heritage Site. A mesmerising mix of influences from Africa, Arabia, India and Europe. We wandered many of the winding streets and high townhouses of old Stone Town and quickly realised you could easily get lost in this ancient city; this charming UNESCO cultural heritage site in 2000 was basically a maze. There are street names, sort of, but no one really uses them. The bright side is that Stone Town is small and safe, and not knowing where you're going is part of the experience. However, our local guide expertly led us through these confusing streets, and we explored the sultan's palace, the Portuguese fort and the merchants' houses of the old city.
After a delicious lunch back on board the Serenissima, we headed along 38 kilometres southeast to the Jozani Forest, located in the centre of the Jozani-Chwaka Bay National Park. It is the only national park in Zanzibar and the largest remaining stand of near-natural forest on Zanzibar at 50 km2 (19 sq mi). The forest rests upon a reef limestone marine terrace. Habitats within the park and associated protected lands include a groundwater forest, coastal forest, and grassland, with mangroves and salt marsh at the coast. As the area is prone to flooding, it nurtures a lush swamp-like environment of moisture-loving trees and ferns. The forest is a great place to encounter many indigenous varieties of flora and fauna, including the Zanzibar red colobus monkey. The Zanzibar red colobus (Procolobus kirkii), is one of Africa's rarest primates, with perhaps only 1,500 existing. Isolated on this island for at least 1,000 years, this colobus is recognized as a distinct species, with different coat patterns, calls, and food habits from related colobus species on the mainland and one third of them live in and around Jozani Forest and is now adopted as the flagship species for conservation in Zanzibar.

After visiting the red colobus, we walked across to the Pete-Jozani Mangrove Boardwalk. This path entwined through coral thicket vegetation, mangrove forest and crossed a creek. We heard from our local guide that this mangrove forest is extremely crucial to Zanzibar's ecosystems, providing a habitat for many lizards, snakes and birdlife as well as preventing the coastal erosion. Instead of a visit to the Jozani Forest; some of us opted for the spice tour of a working plantation where we had the chance to observe the cultivation of cloves, vanilla, nutmeg, cinnamon, and other spices that have made Zanzibar famous. In particular, the islands produce cloves, nutmeg, cinnamon, and black pepper, which is exported and for this reason, the Zanzibar Archipelago, together with Tanzania's Mafia Island, are sometimes referred to locally as the "Spice Islands". Regardless of where we went today, we did notice that island life is slow. In Zanzibar, life moves pole pole – Swahili for slow. Things in Zanzibar don't always make sense, don't always work, or can take a while. But we soon discovered it was important to enjoy the calm chaos and take a cue from the unhurried pace. Following our final dinner on board the Serenissima, we watched the amazing slide show of our journey on this Indian Ocean Odyssey.

Wednesday, 12th February 2020 – Dar Es Salaam, Tanzania

After a truly wonderful expedition of so many varied surprises, so many different perspectives, cultures, landscapes, creatures, celebrations, conversations, presentations, so much sunny weather & good vibrations, it was time to wish our fellow travellers & new companions farewell – many good times & experiences shared. We would, we hoped, sooner or later, come across each other in some exotic place, out on the water, once again to enjoy a journey of peoples, places & wildlife, learn & see some new things in this beautiful world of ours & certainly share a good laugh or two along the way.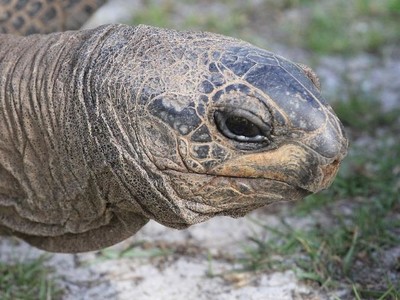 End of Voyage
For further inspiration, view slideshow of images taken during the voyage