Wandering and Wondering in Whitby
Good evening everybody. It's been a glorious Wednesday down here in Kent. For the first time in a very long time I have taken advantage of a day off. Obviously, that might seem a contradiction now that I am sat here thinking of what to write in this blog, but I view writing these blogs as a very enjoyable moment of the week. It is good to be able to, once a week, take a step back and think of what I've done in the previous week, and then also look at past and future cruise destinations. I've spent most of today wandering around Canterbury. The drive from Hythe to Canterbury is seventeen miles of mostly dead-straight road, so it is not surprising to discover that it follows the route of the Roman-built Stone Street, which then connected Durovernum (today's Canterbury) to Lemanis (today's Lympne). Canterbury is a joy to stroll around, and as they have wisely avoided building out-of-town shopping malls, the city centre is still very active and bustling.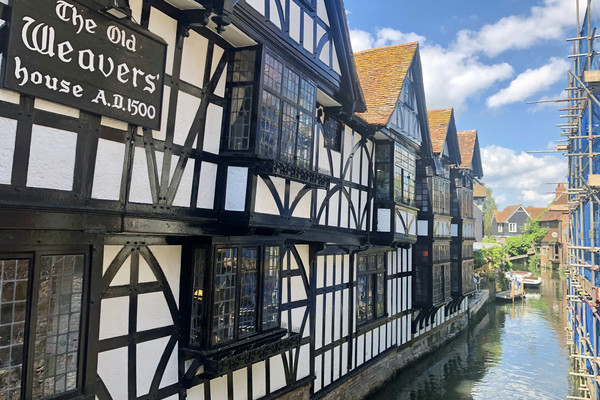 Meanderings in Canterbury. 9th June 2021.
The reason I was in Canterbury was to have lunch with a lady called Cathy. Readers of this blog will know that I have taken a seasonal job on my local railway, and one of the roles I have is that of guard. Wanting to do things properly, and look the part, I decided I should invest in a guard's bag. Whilst some companies produce reproductions, I was keen to have a genuine one from British Rail days. I found one that was for sale on an online auction site and nervously watched as the bidding increased. I was fortunate enough to have the winning bid, but it was quite far over my original budget. Having paid for the guard's bag, I decided it would be nice to write to the seller and tell them that their bag would be being put to good use in my role on the Romney, Hythe & Dymchurch Railway. I didn't expect anything to come of it, but I received a phone call a few days later from the mother-in-law of the chap who had sold it. It transpired that the bag belonged to her late husband, who had worked on the railways all his life. The family had regularly holidayed at nearby Camber Sands, and they had travelled on the railway. She was overjoyed to know that the bag would be used by me whilst working at the railway, and insisted that she would refund the money I had paid to purchase it. I graciously accepted the refund, and asked her to let me know if she and her family were going to be coming back to Camber Sands at some point. Fast forward a month or so, and yesterday they all came for a ride on the train, and I hired the Royal Saloon carriage as a surprise for them. As I was working as trainee signalman yesterday, I didn't get the chance for more than a quick hello, so it was decided that I should join them for lunch in Canterbury today. I was very grateful to do so as it gave me the opportunity to properly meet and thank Cathy and her wonderful family.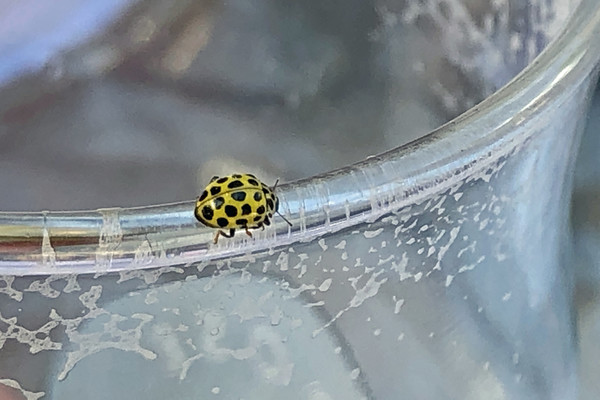 A wrongly coloured ladybird shares Cathy's drink in Canterbury. 9th June 2021.
Whilst having lunch with Cathy on this hot sunny day, it turned out that we were not the only ones who were needing to quench our thirst. The above ladybird landed on Cathy's glass and proceeded to gorge itself on the beer bubbles. Naturally, I've seen many ladybirds before, but I don't remember seeing one this colour. Please send your answers on a postcard to the usual address (or, perhaps better to email in) if you wish to enlighten me as to why Canterbury is deemed special enough to have different coloured ladybirds to elsewhere in Britain. As well as meeting Cathy yesterday, I also had two surprising and equally delightful encounters. I was called on the radio to come to the booking office at New Romney as someone was asking after me. Feeling slightly puzzled (and panicking that Cathy had gone to the wrong station to meet the train) I meandered along the platform. It turned out to be a Noble Caledonia passenger and loyal reader of this blog, who lives near Tenterden, and happened to be passing. He had popped in on the off-chance that I would be at New Romney, and so we had a good chat on the platform between trains. That in itself was rare enough, but then later the same day I heard someone call out my name from one of the carriages of an up train to Hythe. Knowing that I didn't have a name badge on, I wondered who might know me. Lightning had struck twice in one day, and it was a lovely couple who had sailed with me previously on board 'Serenissima' and told me that they enjoyed reading these blogs. We managed a quick chat across the tracks before their train continued on its way north. Thank you to both the couple and the gentleman who made themselves known to me – it's a small world, but a happy one when chance encounters like that occur.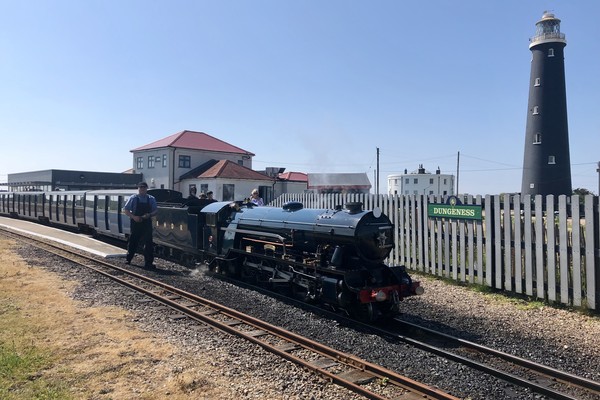 'Samson' waits to depart from Dungeness with the morning train to Hythe. 6th June 2021.
Since I last wrote it has been a busy week of combining the railway work with my now occasional shifts at the supermarket. I realised on 5th June that it was exactly one year since I started this new job. I remember feeling very mixed emotions as I was guided towards the room for new employees on that first day, and thinking about all the experience and knowledge I had garnered from my years on cruise ships, and how that industry had temporarily vanished. However, a year later and I am aware that both 'Hebridean Sky' and 'Island Sky' are currently off the coast of Portsmouth and busily preparing themselves to start the summer UK-based season. It has been a real fillip to know that my colleagues have returned to the ships and that very soon they will be welcoming the familiar faces of Noble Caledonia passengers back aboard. Whilst I was in Canterbury this afternoon, I sent a 'Bon Voyage' card, c/o our port agency in Portsmouth, to both Hannah Lawson and Phoebe Olsen. They are the Expedition Leaders on 'Hebridean Sky' and 'Island Sky' respectively. I wanted to wish them and their teams all the very best for this summer season, and to pass on my best wishes to all the crews. If the sea conditions and weather remain anything like they have been during this past week, then they are in for a spectacular season!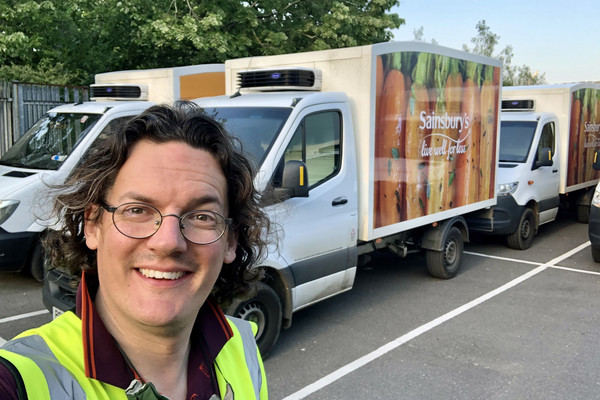 Celebrating one year at the supermarket, and one year since a haircut. 5th June 2021.
Last week I wrote about when I first started going to sea, now just over twenty years ago. I can remember one day when the CEO of the cruise line I was working for ran an open house Q&A with all the crew. The idea was that we could ask anything we liked and he would answer. Naturally, this was greeted by near silence, as no-one wanted to ask anything in front of all their colleagues. Me being me though, I decided that I would break that silence. I raised my hand and the CEO asked me for my question. I started by almost apologising that I had the audacity to ask a question, as I was still rather wet behind the ears. I asked why we didn't do any cruises that sailed around the UK, as surely there was a lot to see and there would be a market for it. The reply I received from the CEO was fairly short, and was that no-one would be interested in such cruises. Whether I planted a seed somewhere, I very much doubt, but a few years later said cruise line did start operating British-based cruises and have done so ever since. These past 15 months, where we have not been able to travel abroad, has made me appreciate these islands of ours even more than I did before. When you think that many tourist venues couldn't be open for the majority of that time, it further hammers home the point about how much there is to see and do in the UK. Today was only the second time I've spend a day in Canterbury, and yet it is only 17 miles from my house and there is more to see in that one city than in many sought-after destinations around the world! Thinking about the UK cruises that Noble Caledonia are offering this summer, my attention was drawn again to the "Best of British" 30th Anniversary cruises that are operating from/to Portsmouth in July (twice), August and September. I had originally planned to be on those cruises, but as readers will know, my time will have to wait. That does not stop me casting an envious eye over the itineraries. One of the places that catches my eye is on Day 13 of those cruises – Whitby in North Yorkshire.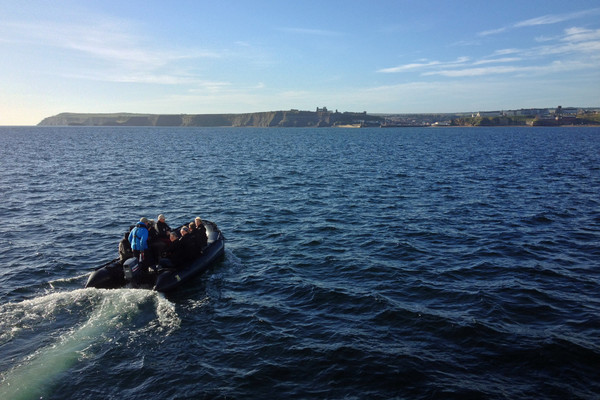 A morning Zodiac heads off to Whitby. 7.59am on 1st September 2016.
It was on Thursday 1st September 2016 that I made my one and, so far, only visit to Whitby. I remember feeling nervous about it. Nothing against the people of Whitby, but more to do with having to anchor in the North Sea and use the Zodiacs to reach the town. As you can see from the above photo, the anchorage position was a fair distance from the shore, but the weather Gods were clearly on our side. It was a beautiful morning as we utilised our fleet of Zodiacs to visit this splendid seaside town. I had fulfilled my usual role as Cruise Director on such occasions. That role being that I send the Expedition Team ashore first to meet with the local agent and check the landing site. Once they report back that all is ready, then I begin calling the passengers to the lounge and check they are "Zodiac ready". By the time they are ready, the first Zodiac is alongside the gangway and we are good to start. Once all the passengers have disembarked, I then usually join the last Zodiac and head ashore myself. I didn't know quite how tidal Whitby is, and to arrive there for the first time by Zodiac was a superb way to appreciate the scale of the harbour. The retaining walls and wooden supports towered above us as we made our way up the River Esk towards the inner reaches of the harbour.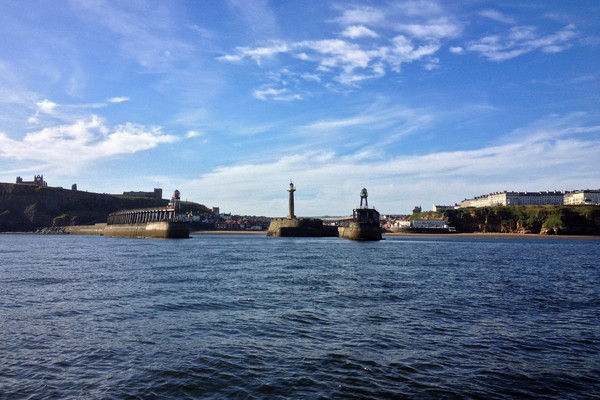 Whitby Abbey can be seen on the left as I make my approach to the imposing harbour entrance. 8.54am on 1st September 2016.
We only had a short morning call to Whitby on that occasion, and the guides led a walking tour up to the seventh-century Whitby Abbey, across the harbour via the 1909-built Whitby Swing Bridge, to reach the statue of Captain James Cook at West Cliff. Meanwhile, I had done my homework and had informed the passengers that a steam train would be departing from Whitby railway station at 10.00am, bound for Pickering on the North Yorkshire Moors Railway. Since our visit in 2016, the railway has garnered much publicity from the Channel 5 series "The Yorkshire Steam Railway: All Aboard". It has only been in the past few years that the North Yorkshire Moors Railway has been sensibly awarded running rights over the national rail network from Grosmont to Whitby, thereby sharing the 'main line' to Middlesbrough with local services. Quite a few passengers joined me on the end of the platform at Whitby to watch the 10.00am train depart, including Noble Caledonia regular and dear friend Judith. I am delighted to see that on the "Best of British" cruises, there will be the opportunity for a ride on the steam train. Obviously I am not envious at all, I just appear to be typing much harder than I usually do!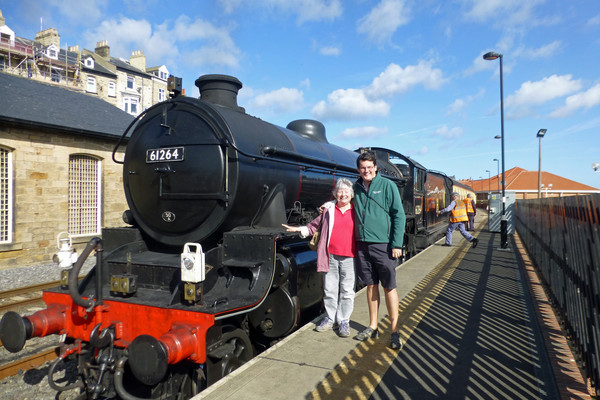 Judith and me standing by the 10am train from Whitby to Pickering. 9.56am on 1st September 2016.
On that occasion, our morning in Whitby started to come to an end. Naturally, I managed to find time to buy and send a postcard to my parents. At my suggestion, the Hotel Manager had come ashore and was haggling with the local fishermen in order to purchase some of the famous Whitby scampi. I can remember the fishermen being amused because when they asked where he would like it to be delivered, he pointed out to sea. "Are you saying you want us to put it back where we got it from?" said one puzzled fishermen. He explained that we were the dot on the horizon and they expressed their surprise and delight that a cruise ship had called in to their sunny seaside town. With scampi ordered (and subsequently delivered directly to the ship via a local fishing boat) it was time to head back to the ship. Immediately after the landing stage we passed under the rather delightful Whitby Swing Bridge.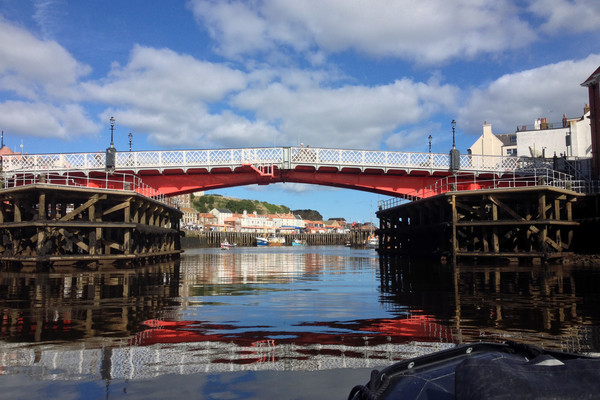 Passing underneath Whitby Swing Bridge. 10.32am on 1st September 2016.
This point has been a crossing place on the River Esk for centuries. King Edward III (reigned 1327-1377) granted permission for the collection of tolls, and there were subsequently fixed bridges, drawbridges, and more recently swing bridges put in place. Until 1980, the main A171 road passed over the bridge, but fortunately there is now a newer and higher crossing further upstream. Whilst it would have been rather grand to have the swing bridge opened to mark our arrival, I guess it wasn't really deemed necessary given that we were arriving and departing in our fleet of Zodiacs!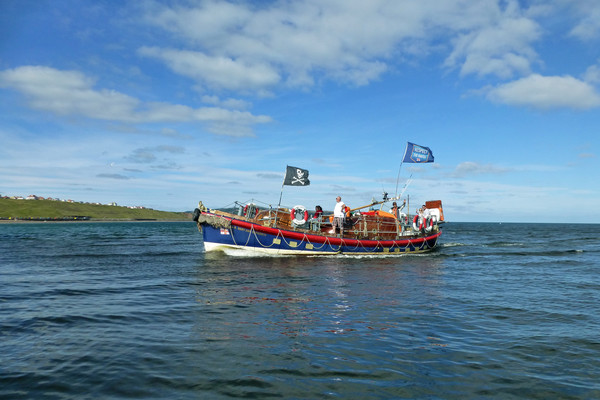 The friendly pirate ship "Mary Ann Hepworth" at sea off Whitby. 10.34am on 1st September 2016.
I took the tiller for my Zodiac as we departed Whitby and headed back to 'Serenissima'. We passed by the new RNLI station, wisely positioned within the shelter of the harbour walls and opened in 2007 by the Duchess of Kent. As we headed out to sea, I couldn't help but notice what appeared to be a boat with a pirate's flag heading towards us. On a Zodiac, we do not have much to arm ourselves with, so we were hopeful that they would be friendly pirates. We needn't have worried. It turned out that the pirate boat was a former Whitby lifeboat, "Mary Ann Hepworth" which had served Whitby from 1938 to 1957. The boat is now used for pleasure cruises up the River Esk, and occasionally out to sea, as it was on this occasion. Finally, we reached 'Serenissima'. She had spent the morning basking in the North Sea sunshine. We climbed aboard and were welcomed by the "welcome back girls" of Josyl and Jeaneth. Wherever we go, there is always a warm feeling when you walk back on board and have the crew smile and greet you with a refreshing drink and a hot or cold towel (depending on the outside temperature). I hope all those that are scheduled to visit Whitby this year have as enjoyable a time there as I did. I look forward to hearing how the train trip goes! Until next week, I'll leave you with this photo of 'Serenissima' as we waited for the gangway to become free so that we could bring our Zodiac alongside. Goodbye for now!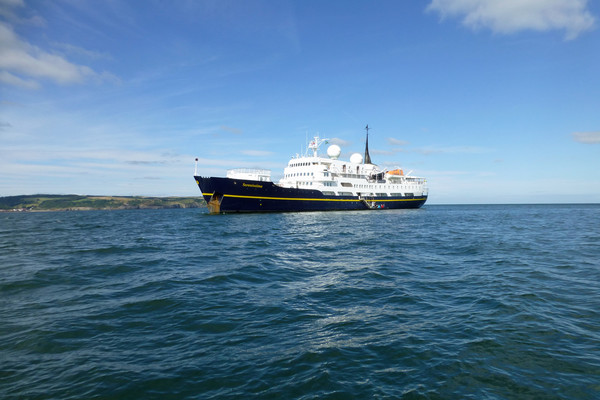 'Serenissima' at anchor off Whitby. 10.37am on 1st September 2016.
View details of our small ship cruises around the British Isles