To the Baltic with Blog
Good evening all! It's currently 6.30pm on Monday 10th August. After time seemed to be at a standstill during lockdown, now that I am working again it seems to resemble a winged chariot. (Yes, Andrew Marvell's poem "To His Coy Mistress" was one of the texts I studied for GCSE English Literature). I started very early this morning, having finally treated myself to a day of nothingness yesterday. Today saw the temperature rise to 35°C (95°F) as I hurried around Ashford, Pedlinge, Charing, Lympne and Bromley Green. For the first time, seeing my rather unkempt, hot and flustered appearance, I was offered a cool drink by one customer. Never have I felt so grateful. Perhaps downing the pint of water in one wasn't what the lady had expected to witness, but it needed to be done. Now I am back home, sat here with a litre of cool orange juice (with bits in) and turning my attention to all things cruising.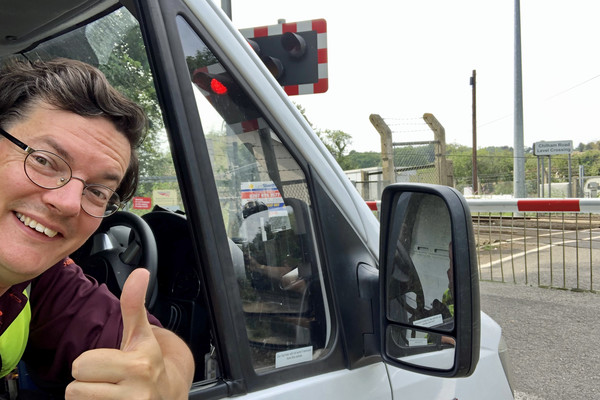 The only person in the world who is happy to get caught at a level crossing!
Firstly, another thank you for the emails you send in. As I just mentioned, I treated myself to a day of nothing yesterday. In all honesty, it felt too hot to do anything meaningful. I did pop along to the Hythe International Food Fair. There was a lot of online debate from the local residents' group about whether it should take place or not. I can see all sides of the argument, but to their credit the event was much smaller than usual, had a strict one-way system in place, all the stalls accepted card payments, and any queues were socially distanced. I sat belonely down a tree, and indulged in a freshly-made Mexican enchilada. I felt humbled, fat and small. A local musician was playing on a keyboard in a nearby pagoda. The little lady sing to me, I couldn't see at all. (Yes, John Lennon's poetry was also studied for GCSE English if you managed to spot it in there). As well as briefly attending the food fair to support the local traders, I took the opportunity to reply to all the emails that had been sitting patiently in my inbox. I must thank Joy Wilson. You'll recall a while ago that I wondered if anywhere other than Tanera Mòr and Lundy Island offered their own postage stamps. Joy has a vested interest in the island of Steep Holm, further up the Bristol Channel. She informed me that they too have their own stamps. The stamps are known as "Cinderella" stamps, in that you have to also have a Royal Mail stamp attached. The Steep Holm stamp will ensure safe passage to the mainland, and then the Royal Mail stamp takes over for the remainder of the journey. Tanera Mòr is the same situation. Only Lundy, from what I can gather, is the 'real deal' in terms of not requiring an additional Royal Mail stamp. Thank you Joy!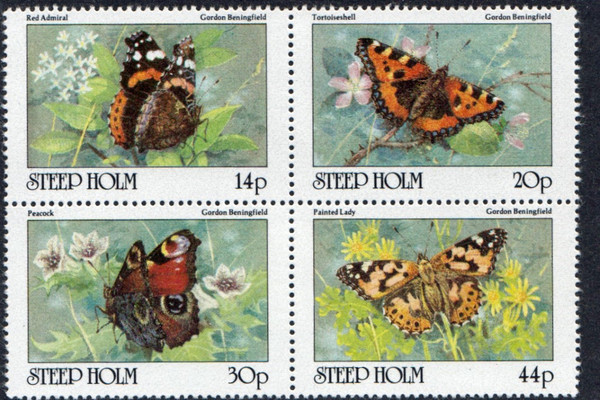 A sample of the stamps of Steep Holm

I also received an email asking if I felt that my days at university had contributed in any way to what I do (or, for this hopefully brief period, "used to do") at sea. I recognised the email address as being a friend from university who I haven't seen in at least twenty years. It really is surprising to learn who is reading these blogs! 'Ghostie', as he was nicknamed, was the year below me at what was then the Victoria University of Manchester (since merged with UMIST). We both lived in Dalton-Ellis Hall, originally Dalton Hall, which was the first purpose-built hall of residence outside of Oxbridge. Thinking of Ghostie's (or Michael's) question, the answer would have to be "yes", but I didn't realise it until thinking about it now. Whilst I was not the most academically-minded of students, reading Pure Mathematics did instil a process of logical thought which has stood me in good stead. Whenever I need to make an alteration to the cruise itinerary or the activities of the day, my first thoughts are to think it through from the passenger perspective and look for any flaws in the plan, or potential ambiguities in what I might announce. Similarly, I remember last summer I approached the Captain of one of our ships with a proposal to include an additional call the following day at Undredal whilst we sailed between Gudvangen and Flåm in Sognefjord, Norway. When I made my request, the Captain looked at me in frustration and declined to agree as he felt it would take a lot of organising. I had to point out that I wouldn't have come to him with the suggestion if I hadn't already checked it was possible. I had spent the day consulting with my local agent ashore, the harbour master in Flåm (who also covers Undredal), the two Norwegian pilots and the Chief Purser. I felt there was no point asking the Captain for permission, only to then discover that it wouldn't be possible anyway. Hence, when he realised that I had already spent a few hours gaining permissions and lining everything up for him, he changed his mind and acquiesced to my request. Another example of my time at university coming to the fore, was that I developed a knack at university of knowing what would work in terms of event management. I remember that, at the beginning of my third year, no-one had bothered to arrange anything for Freshers' Week for the new intake in our Hall. Therefore I came back to university of my own accord, two weeks before term, and quickly set up various events so that the new students felt welcomed. Some events worked out better than others… I personally organised two of the Annual Hall Balls. Both took place in the prestigious ballroom of (what was then known as) the Palace Hotel on Oxford Road. For the first Ball, towards the end of my third year in 1999, I wanted to have a comedian for the after-dinner entertainment. My best friend Simon and I had been to a comedy night in the Frog & Bucket on the northern side of the city a couple of months before. I took a punt on the person we thought was the best comedian that evening, and so we booked a young chap called Peter Kay. Yes, that Peter Kay. To my shame, his act didn't work in the palatial setting of the Ballroom. It's very difficult for a comedian to do his turn when his voice is echoing off the high ceiling and half the audience can't hear him properly. I saw him at another local venue a few days later and he said he owed me a gig, but I've never managed to hold him to that. Given that experience, the following year I decided a band would be better. All my fellow students were wanting a loud dance music DJ, but I wanted something more memorable than that. I thought about which band might agree to play for a relatively small budget, and had songs that people would know. In a moment of inspiration I approached "Black Lace". On the night we had the glorious sight of 300 tipsy students trying to remember the actions to "Agadoo" and various other hits from the past. Always keep 'em smiling and you can't go wrong. So yes, I think my appreciation of having a sense of knowing what will work and what won't work in terms of keeping people happy does stem from those heady university days. I still should have studied harder though – sorry mum.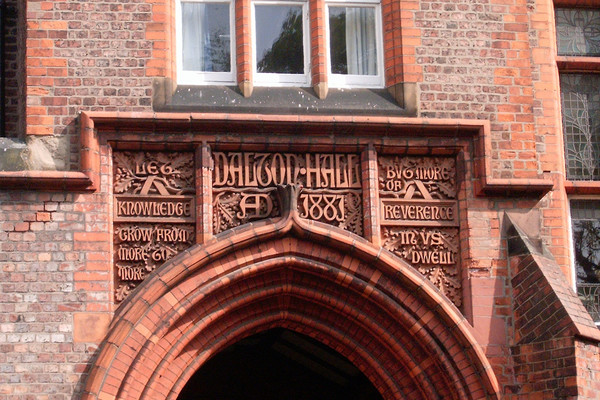 The imposing entrance to Dalton-Ellis Hall. I lived there for all four years at university. The motto reads, "Let knowledge grow from more to more, but more of reverence in us dwell".

So, already at the half-way point of the blog! In the parallel universe where Coronavirus is merely the name given to someone with a hangover from drinking too much Mexican beer, I would be in the Baltic Sea now. I was thinking about that a lot this morning. There I was, sweltering in the truck, when I would have given anything to have the coolness of a sea breeze as we sailed the mostly flat calm waters of the Baltic. I began to think about the highlights of the Baltic Sea. My first two cruises were round trips from Dover to North Cape, and Dover to St Petersburg. I still feel that, especially if you're a first-timer or perhaps unwilling to fly, they are the best cruises that you can do. For Norway – if the weather is poor, the scenery is still outstanding. And as the Norwegians often say, there is no such thing as bad weather, rather it is a bad choice of clothing. For the Baltic – you can easily visit eleven countries (that does include Åland as a country… it is Captain Henrik Karlsson's birthday today so I definitely wouldn't want to upset him) in one cruise, and each country offers something completely different from the last.
The eleven countries are Sweden, Denmark, Germany, Poland, Finland, Russia, Lithuania, Latvia, Estonia and Åland. I realise that only equals ten, as the eleventh, by geographical definition, is not in the Baltic Sea. However, Norway is all-but considered to be an honorary member of the group as it is often visited by ships that transit via the Skagerrak, rather than utilise the Kiel Canal. Thinking of those eleven countries, off the top of my head I can think of 30 Baltic ports that we have visited over the years. Where to write about first? Well, arguably the jewel in the Baltic's crown is St Petersburg. When I started cruising, I can well recall many passengers saying that they had only come on the cruise because of their desire to visit St Petersburg. Anywhere else, and that would have sounded blasé, but I remember passengers telling me that they had visited all the parts of the Baltic that were not behind the Iron Curtain on previous trips in the 1970s and 1980s, never thinking that they would one day be able to visit Leningrad, or St Petersburg as it had become by the time cruises were welcomed. I was quite moved by some of the stories the passengers, many now passed away, told me about visiting Russia before the Second World War and never thinking they would have the chance to return.
I have no doubt that many, probably even the majority, of those reading this blog have been to St Petersburg before – either with Noble Caledonia or on one of the many cruise ships that head up the Gulf of Finland during the summer. Therefore, I will not bore you with historical details about the place. If you want to know more along those lines, then I recommend booking a cruise for next summer! However, I will try and offer a few insights into why we, the crew who visit regularly, always have a special feeling when we visit.
For me, the excitement of visiting St Petersburg begins the night before we arrive. Although in recent years we have started to visit charming Kotka in Finland either before or after visiting St Petersburg, the majority of cruises will have visited Tallinn and Helsinki before or after St Petersburg. By chance, Tallinn and Helsinki are located a perfect overnight sailing distance from St Petersburg. In the relatively short time that I have been at sea, various things have changed about visiting St Petersburg. For a start, the time zones used to be all over the place. The UK would be BST, then Tallinn was BST+1, Helsinki was BST+2, and St Petersburg was BST+3. Therefore if you went from Helsinki to St Petersburg you would advance one hour, and then on the night you went from St Petersburg to Tallinn you would go back two hours! Common sense finally prevailed and Tallinn, Helsinki and St Petersburg all now operate on BST+2.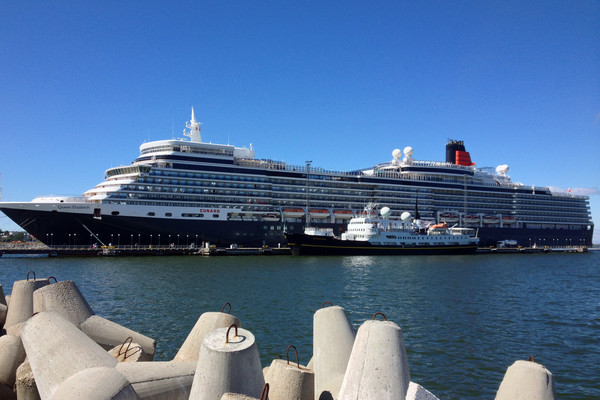 'Serenissima' on the berth in Tallinn, being dwarfed by Cunard's 'Queen Elizabeth'
In my opinion, the best way to run the Baltic cruise is to go in the Helsinki – St Petersburg – Tallinn order. Helsinki is quite similar to elsewhere in Scandinavia and Western Europe. It almost lulls you into a false sense of security. You gather together all your Moomin souvenirs for the grandchildren, perhaps change a few Euros into Roubles, and settle back for the evening sail to St Petersburg. I love to sit on the aft deck as we sail up the Gulf of Finland. The sun does set, but the sky remains light, often a variety of shades of gold, yellow and red, and from our vantage point on the aft deck you can see the flotilla of cruise ships heading the same way. Whilst the Gulf of Finland is very wide, the navigable channel is relatively small. Eventually you lose Finnish phone signal and make sure you have turned off data roaming before the Russian phone signal kicks in and wipes out your savings. During a night such as this last year, it coincided with the Cricket World Cup Final between England and New Zealand. We lost the phone signal, and therefore the latest updates, just as the match entered the final regulation over. I had to persuade our Russian captain (who understandably wasn't too sure of the importance of cricket) that I urgently needed to use the ship's satellite phone to call Simon, who was watching his television in Ainsdale, and have him relay the score to us so that I could announce it over the public address system. I couldn't believe that it was a draw and they were to have two further overs. I think the satellite phone costs something in the region of £8 per minute, so I confess that I might have gone rather over-budget as Simon informed me of Ben Stokes' heroics and I, in turn, informed the delighted passengers.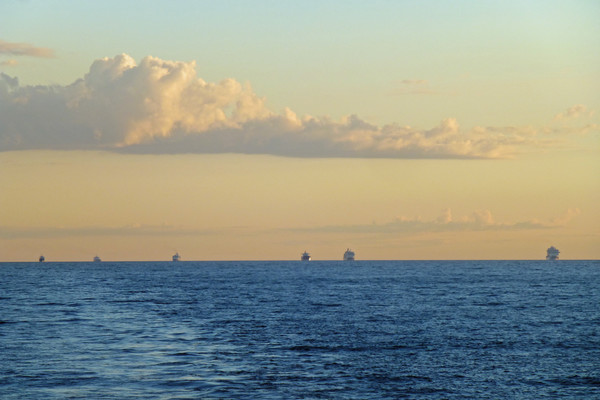 The flotilla of ships stretched across the horizon, all heading for St Petersburg
As you continue up the Gulf of Finland, you begin to pass remote islands. Thoughts always occur to me of what it must have been like to have been stationed in the barracks you can still make out, using binoculars, on these barren islands. As an old salty sea dog once said to me, "in days gone by, ships were made of wood and men of steel. Nowadays, it's the other way around!" The Gulf of Finland is almost always a completely flat calm, which helps explain why it freezes over every winter. With the ship on her way to Russia, we would all have one last look at the trailing armada and then retire for the evening.
Many passengers are up first thing to witness our sail into St Petersburg. I'm always keen to point out that we will leave via the same route, so they are welcome to witness our transit at a more sociable hour if they wish. We pick up the pilot from the mother-ship, and then head through the flood barrier that has been constructed on the island city of Kronstadt. The flood barrier is part of the new St Petersburg dam, which also acts as a levee-causeway to connect Kotlin island to St Petersburg. This area is always fascinating as you pass by the Russian naval shipyards. New and old warships sit side-by-side. Occasional submarines can be glimpsed, and the early morning sunlight reflects dramatically off the spectacular dome of the Naval Cathedral of St Nicholas. Island forts from throughout the ages are dotted either side of the channel as we sail beyond Kronstadt and head for St Petersburg itself.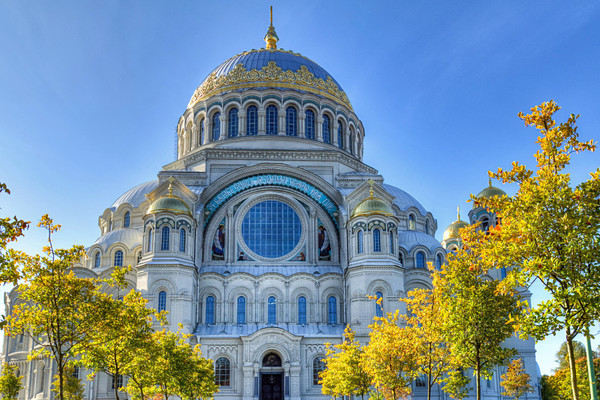 The beautiful Naval Cathedral of St Nicholas in Kronstadt, whose dome can be clearly seen as we pass byand.
The sea in this area is so shallow that I could stand up in much of it and comfortably have my head above water. This fact was both a help and a hindrance in the defence of Leningrad. The pride that the Russians have in the name 'Leningrad' is made evident by the huge concrete sign, spelling out 'Leningrad' in Russian, that greets all ships entering the port.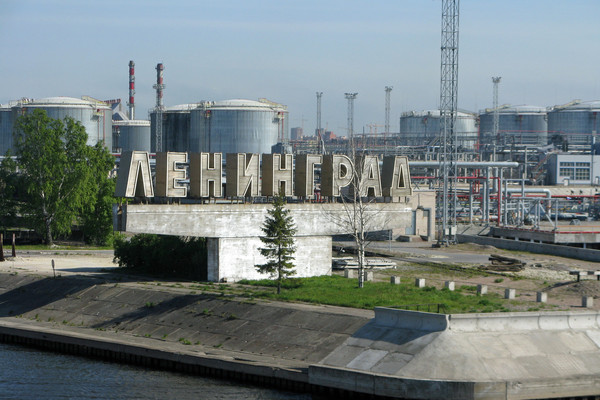 The "Leningrad" sign that still welcomes ships at the harbour entrance

By this stage, the larger ships have pulled off at an acute angle and headed to the new, soulless, out-of-town cruise ship harbour. We, on the other hand, are always determined to go further. I can well remember the time before the new harbour was built, and the large ships would expertly dock just a few inches apart along the eastern bank of the Neva River. It created a bustling scene as the coaches had to weave their way between the regular harbour traffic. Now those ships have gone, and you have a clear view of the busy harbour, with cargo ships and tug boats galore. A myriad of dock cranes stand over the harbour, as though they are keeping a close eye on everything that is taking place around them. Having sailed by the harbour, we make a sharp right turn, with the new cruise ship harbour already away in the distance and sail into the heart of St Petersburg. We pass by the new Arctic tug boats which seem to have been under construction for far too many years. There is a mix of diesel and nuclear powered vessels to admire. We continue past working shipyards, both naval and civil, and then, on our portside, we see a tug boat which is now a museum ship. The tug boat, "Krassin", was built by Armstrong Whitworth in Newcastle-upon-Tyne for the Imperial Russian Navy in 1916. She has an incredible history and, remarkably, was the most powerful ice-breaker in the world right up to the beginning of the 1950s.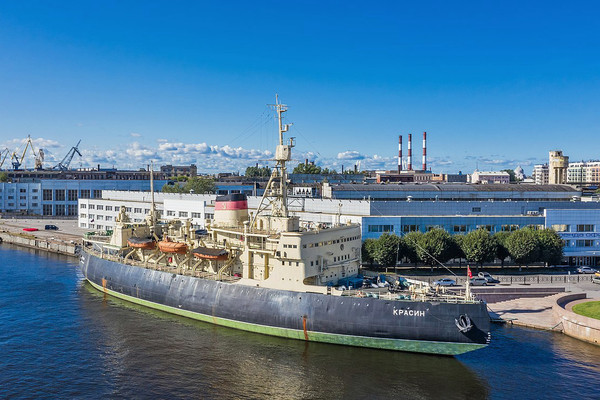 The British-built ice-breaker "Krassin" in St Petersburg

Finally, we reach our berth in the centre of St Petersburg. Depending on our berth allocation, we are either on the northern side, Lieutenant Schmidt Embankment, or the southern side, English Embankment. Both berths have a floating pontoon housing the customs and immigration officials who man the desks 24 hours a day while the ships are in port. We have made it to Russia! We have sailed up the Gulf of Finland as far as it is possible for us to go, as the first bridge across the River Neva is just a few yards in front of our bow. However, whilst we may have arrived, our adventures have only just begun. Until next time, I hope you are all coping in this heat and that you have a cool drink available for any deliveries you receive! Goodbye for now…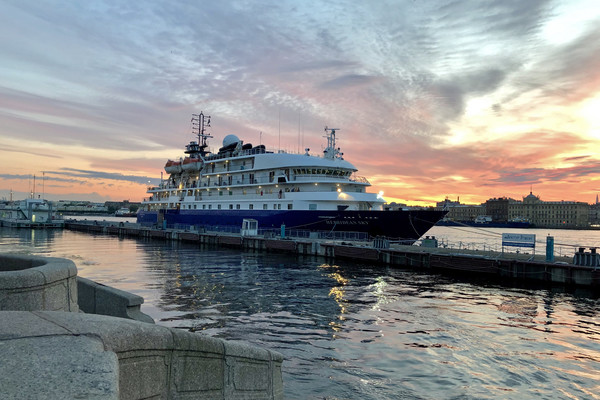 The Hebridean Sky on English Embankment in the heart of St Petersburg

Click here to view details of our small ship Baltic cruises