The Light at the End of the Tunnel
Good evening everyone! I hope everybody is doing well. After those few weeks of rather changeable weather, summer has now truly arrived. I fully intended to sit down and write this blog yesterday evening, but after a very long hot day in the signal box at New Romney I managed to fall asleep on my sofa almost as soon as I reached my home. The first train leaves at 8.50am, and the last one returns at 6.32pm. Trains are coming and going (or should be, if I'm doing my job correctly) throughout the day, so lunch has to be taken quickly, in the signal box, between trains. However, I noticed a spare plug the other day, and have now bought my own desktop plug-in mini-fridge, which has made things much more pleasant, if somewhat less manly!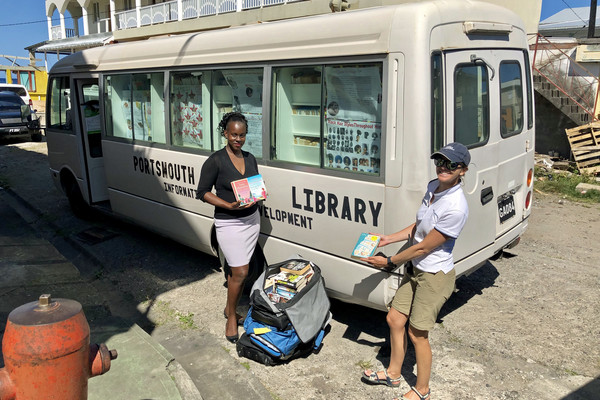 Pamela Le Noury helping me deliver books to the mobile library in Portsmouth, Dominica. 14th March 2019.
Another reason for holding back on writing the blog until now (11.45pm on Thursday 22nd July) is that I received some wonderful news this afternoon from my colleague Pamela Le Noury. Pamela is Head of Expedition Field Operations at Noble Caledonia, and will undoubtedly be familiar to many readers of the Travel Post. We have only sailed together once, back in March 2019 in the eastern Caribbean. Normally we are handing ships over to each other, so only meet fleetingly on occasional turnaround days. I was delighted to be invited to visit Portsmouth on 14th July to meet with my Noble boss, Captain Mike Deegan. Whilst I was delighted, I was also a little nervous as to why I was being invited for a chat. I was more than elated to discover that it was because Noble Caledonia would like me to return slightly earlier than originally planned. Mike and I had a good talk, and I explained that having previously obtained Noble Caledonia's consent I had committed to the railway for at least the school summer holidays, but would be extremely pleased to come back once they were complete. Mike said that Pam would be in touch once dates and rosters had been reviewed. The happy conclusion is that, if all continues to go to plan, I will join "Island Sky" on 26th September in Portsmouth. It will be such a joy to head back to sea and I'm not quite sure I will believe it is really happening until the moment I walk up that gangway, but I can guarantee there will be a lump in my throat when that time comes.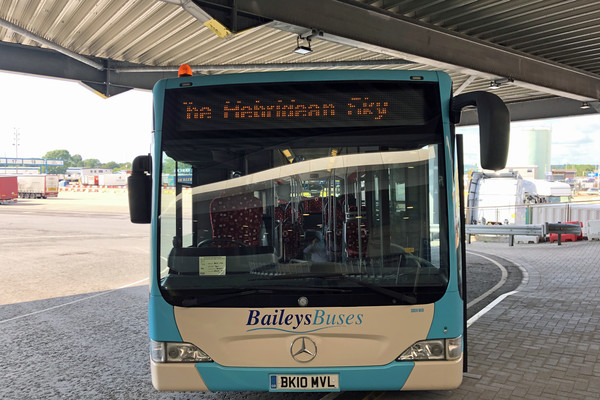 "The Hebridean Sky" in Portsmouth on 14th July 2021.
As you can see from the photo above – the work that has been done on the "Hebridean Sky" during the pandemic has involved cleverly disguising her as a shuttle bus so that she can venture further into ports than any ships previously could! Joking apart, on my visit to Portsmouth I was very impressed with the way all the protocols were carefully in place and strictly adhered to. Noble Caledonia Management in the form of Mike Deegan and Paul Mildon were both on hand to oversee everything, and the port staff at Portsmouth were excellent. Noble Caledonia's own turnaround day staff were formed of people who are usually ship-based but live near Portsmouth and were able to be there on the day, including Jane Mannerings, Pru Barlow and Nicola Cameron-Clarke. Lovely to have the opportunity to talk to them, from an appropriate social distance, and feel that familiar turnaround buzz again.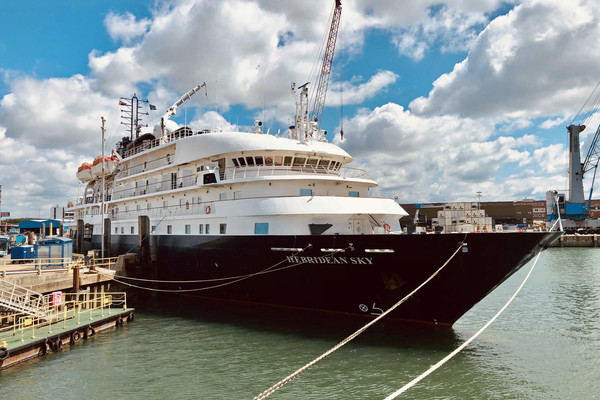 The real "Hebridean Sky" in Portsmouth on 14th July 2021.
As well as our beautiful "Hebridean Sky" in Portsmouth, there was another cruise ship in the port that day. Saga's new ship "Spirit of Adventure" was there, and it really made me stop in my tracks. Regular readers of this blog will know that I was on the original "Spirit of Adventure" from her inaugural cruise in March 2006 to her farewell cruise in May 2012. Many of the photos I have used and stories I have told in these blogs have come from the time I spent on that ship. Whilst I wish all those who work and sail on the new version the very best of luck, I feel a tinge of sadness that the new ship isn't being called "Spirit of Adventure II". I am aware that some other cruise lines do re-use names, but I personally feel it would have been more respectful to those of us who worked, and indeed those passengers who sailed, on the original to have adapted the name of the new ship in such a manner. I also find it strange to see such ships, which carry nearly a thousand passengers, being advertised as being small ships! The original "Spirit of Adventure" carried 350 passengers, and I considered that to be large in comparison with our beautifully appointed Noble Caledonia fleet. I guess that as the large American-based ships compete for size, the boundaries change in how you describe a ship. I'm certainly glad that I am not involved in marketing!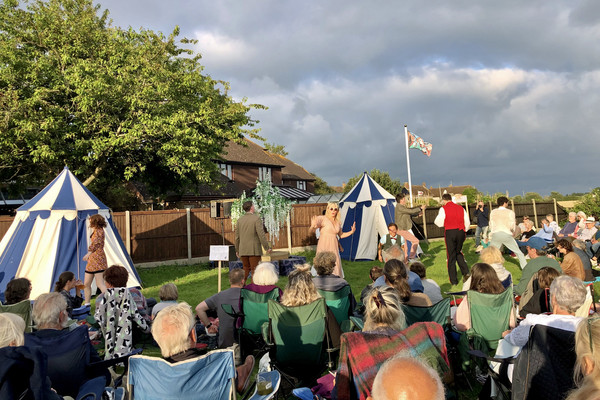 An open-air performance of "A Midsummer Night's Dream". 15th July 2021.
Since I last wrote, we all know that the social distancing rules in England have now been relaxed. Personally, and like many others, I am still choosing to wear a mask whilst inside public places. However, last week I was thrilled to be able to attend an outdoor theatrical performance at St Mary in the Marsh (such a wonderful name for a village). Each year there is a cultural festival on Romney Marsh, which includes art, photography, music, drama, etc. An annual highlight is an open-air performance by the Changeling Theatre Company. Two years ago I took myself to see their production of Jessica Swale's "Nell Gwynn". I hadn't realised that you were meant to bring your own chair and food, and spent the entire play sat sideways on a hard wooden bench and feeling hungry. However, I had come away that balmy evening having thoroughly enjoyed myself and been impressed with the talented cast. Two years later and I was more street-wise. I had my own chair with me, and had raided the discount shelf at my local supermarket for the necessary provisions. This year's play was Shakespeare's "A Midsummer Night's Dream". I confess I had never seen or read the play before. Once again, it was superbly performed. The venue on this occasion was the large beer garden of the village pub, opposite the church were Edith Nesbit of "The Railway Children" fame is buried. Dark clouds loomed overhead during the performance, but mercifully the rain held off and it was another joyous evening – and it felt so good to see a live performance of anything for the first time since March last year.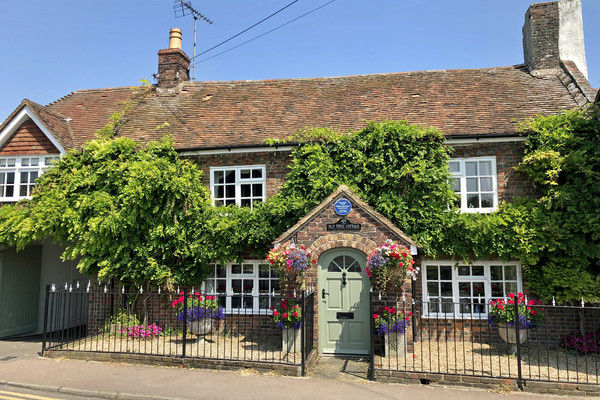 Old Tree Cottage in Dymchurch. 20th July 2021.
On Tuesday just gone, I had a rare day off. I say rare, because I am usually either working on the railway, doing supermarket deliveries, or writing for Noble Caledonia, or a combination of two or all three. I was pleased to be able to take advantage of a day off because I had noticed a walk being mentioned in a book that we are sailing at the railway. The book is called "Walks Following Steam Railways in the Southern Counties of England". The idea is that the book details interesting walks between stations on heritage railways, so that you could go one way by train and walk the other. I bought a copy for my sister-in-law for her birthday, in case she thinks she'd rather enjoy taking their dog for a walk than accompany my brother on a train ride. Included in the book is a walk from Dymchurch to Hythe, so I thought I would try it. I caught the 12.30pm from Hythe, and twenty minutes later I was alighting at Dymchurch on a hot sunny day. The short walk to Dymchurch sea wall takes you past the delightful cottage shown above. The blue plaque states that Actor/Director Milton Rosmer lived there in the 1920s. He lived from 1881 to 1971 and featured in many films, including "Goodbye, Mr. Chips" (1939), and "Wuthering Heights" (1920).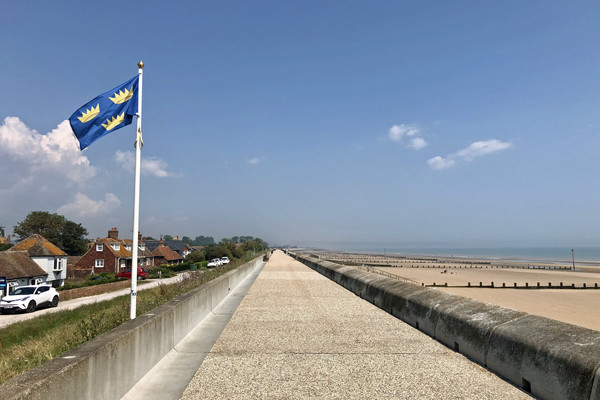 The Swedes are coming? Suspicious flag activity on Dymchurch sea wall. 20th July 2021.
The walk then took in 1¼ miles of the sea wall. Being on top of the wall does make you appreciate how Romney Marsh wouldn't be there at all without the existence of the wall and the various drainage channels that criss-cross the land. I hate to think what the insurance premium must be for the houses below sea level on the landward side of the wall. On a clear day, Folkestone would be visible in the distance, but it was rather hazy when I took my day trip. What did puzzle me was the flag that was being flown. Many people have landed at Dymchurch beach over the years, and continue to do so today, but you don't often hear of the Swedes coming over the Channel. Those of you who have sailed on the Sky ships will know that we often have Swedish captains and chief engineers. I took the flag to be a sign that Noble Caledonia were calling me back – and lo and behold they now have.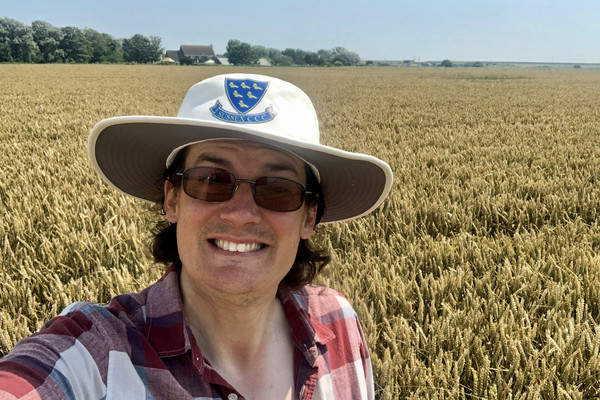 Proudly wearing my Sussex CCC hat as I navigate through the corn fields. 20th July 2021.
After leaving the sea wall, the walk headed inland and across fields. This is where things went a little awry. I have never been one for rambling, but I naïvely thought that a footpath had to be marked across a farmer's field. I could not have been more wrong. Having felt pleased with my progress so far, I slowed down significantly as I discovered I had to head towards a distant telegraph pole across a field of corn. I should point out that I was wearing shorts for this, which was a schoolboy error. My legs are still itchy and sore now from where I was scratched by the corn and weeds in the field. I doused myself in some form of iodine last night, which I still had in my medical kit from my visits to New Zealand's Fiordland back in early 2020. The photo above may look as though I am smiling, but I think it is more of a grimace as I realised that I was only halfway through the 5½ mile trek. Having crossed the railway line, and watched two trains go past in the process, I depressingly came across another field of corn. After wading through that, the welcome relief of grazing land took over, with Romney Marsh sheep scattering in all directions. Finally, I arrived at Botolph's Bridge Inn. I had managed to time my arrival with the last half-hour of their kitchen being open for lunch. I felt this level of timing and planning was an example of why I became a Cruise Director. Having been refreshed it was time to head out again…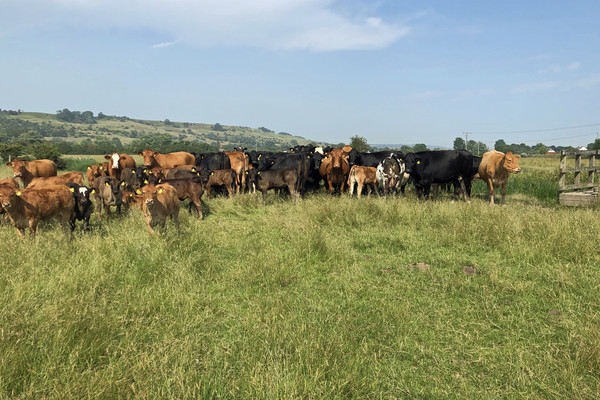 "You Shall Not Pass" the cows silently say to themselves. 20th July 2021.
More grazing land led me to the only footbridge that led out of the field. However, as you can see it was heavily guarded. Every step I took closer to the bridge led to the cows taking a step closer to me. It appeared to become some sort of game. If I stopped moving, so did they. If I took a step forward, so did they. I started to think that the cows might be being remotely controlled. They were clearly quite protective of their footbridge, so rather pathetically I made a dash for it and managed to clamber on and reach the other side. I looked back and immediately the cows had overcome their excitement and returned to chewing the grass. Clearly that was more than enough amusement for them for one day. The walk continued along the towpath of the Napoleonic-era Royal Military Canal and then I was back at Hythe station, a mere 4½ hours after I had left. Whilst I was glad to have completed the walk, I think I will simply buy a return ticket in future – or at least wear long trousers!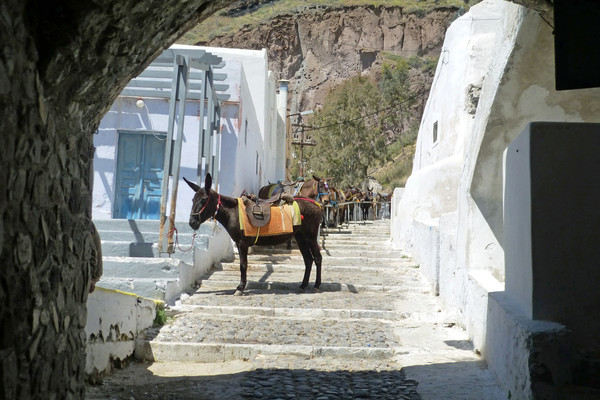 A donkey waits patiently at the foot of Fira, Santorini. 12th April 2014.
With Noble Caledonia and other cruise lines starting to operate again, friends and colleagues of mine have begun to share stories with me of their recent travel experiences. One that particularly caught my ear is a good friend of mine who is currently in Santorini. She is noticing something that is becoming more and more prevalent in the world's tourist destinations. She told me that she was walking the still relatively quiet cobbled streets of Santorini one lunchtime, in blistering heat, and kept passing young ladies in full make-up wearing evening dresses. Was a fashion show taking place somewhere? Perhaps a company was making adverts for their clothes in a glamorous setting? No. It turned out that they were all young ladies on holiday, but spent their days trying to take the best possible photo of themselves in beautiful locations. Of course, there is no harm in that whatsoever, and each to their own, but it does seem such a shame that many younger people are now going on holiday and are more concerned with taking such photos to gain 'followers' on social media, than actually taking the time to appreciate the places they are visiting. I remember when I first had a social media account and I would post photos of myself in exotic places. A former girlfriend of mine wrote and told me that, "the places look amazing but why do you spoil it by having yourself in it?" Never a truer was spoken, and I've taken heed ever since. I had hoped that with us all not being able to travel in these last sixteen months, that everyone would take more notice of where they do end up visiting. I know I certainly will, but maybe that is something that will come with time for younger generations?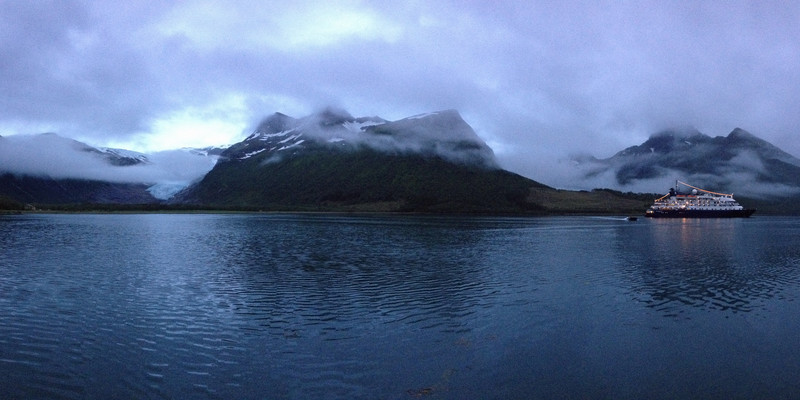 "Island Sky" anchors off Svartisen glacier as a zodiac heads ashore. 30th July 2015.
To finish this blog, I thought I'd go back to mentioning the "Island Sky". Above is a photo I took of her late one evening as we visited the Svartisen glacier within Arctic Norway. It was a true delight to see her sister vessel, the MS Hebridean Sky in Portsmouth, and I should also mention how kind it was to have some of you come up to me and tell me that you'd been enthusiastically reading the blog. Thank you to you all and I am so thrilled that I am a big step closer to embarking again, and can't wait to meet you all in the welcoming comfortable surroundings of our ships. Goodbye for now and thank you for reading.