The Final Chapter on New Zealand
Good afternoon everyone! It's a warm 28°C / 82°F here in Hythe on a sunny afternoon. I've only written that one sentence and my mind has already gone off on a tangent, as writing the phrase "sunny afternoon" immediately made me think of The Kinks' musical. Mum and I went to see it at the Theatre Royal in Brighton a few years ago and it was brilliant. It seems anarchic at times, and then you realise that the true story of Ray and Dave Davies makes Liam and Noel Gallagher seem like children in comparison. Definitely one to see if you enjoy The Kinks' music, which is played superbly live on stage by the cast. Last year, one sunny day in spring, I was in the Noble Caledonia office in Belgravia. I had bought one of those cheaper train tickets where you can't travel in the rush hour, and my meeting had finished earlier than expected. With time to kill I decided to do what Ray Davies had done in 1967 and walked across Waterloo Bridge at sunset. I had The Kinks' classic playing on my iPod and felt that The Kinks' drummer, Mick Avory, was right when he said, "There is something powerful about the sunset over Waterloo. Unlike many parts of London, it isn't hidden behind buildings – there's a gap, so you can see the big red sun reflected in the river." I wasn't fortunate enough to see The Kinks in concert, but I have seen (now Sir) Ray Davies a couple of times – at festivals in Southsea and at Hop Farm, near Tonbridge. On Sunday, Ray turned 76 and is still a wonderful performer who I highly recommend.
Since I last wrote, exactly a week ago, I've been keeping busy. The following day, Thursday, I had a day off from my new work and so I answered the call for volunteers to help wash the carriages on the railway as they edge towards re-opening when the government allows. The last time I had been on carriage washing duty at New Romney was 23 years ago, but it felt good to be useful again. The day started overcast with light showers, but had cleared to become a glorious afternoon by the time we finished.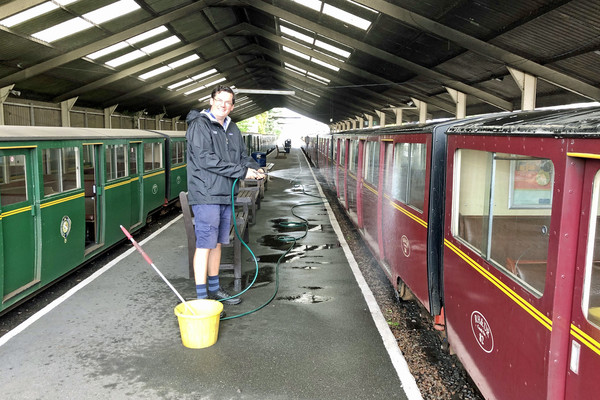 Washing carriages at New Romney last Wednesday
Still keen to complete litter-picking the entire line before re-opening, I drove down to Dungeness as the Dungeness Estate has now re-opened. There really isn't anywhere quite like it in the UK. I grabbed my sacks and litter-picker and walked the route from Dungeness station, in the shadow of the two lighthouses, round the loop to The Pilot Inn, and then back again. On the way back, I strolled along the road and paused to admire the garden at Prospect Cottage, famously once owned by Derek Jarman. I took a couple of photos that I will include here. On the drive back to Hythe I emptied the bins at Dymchurch and my good turns for the day were done.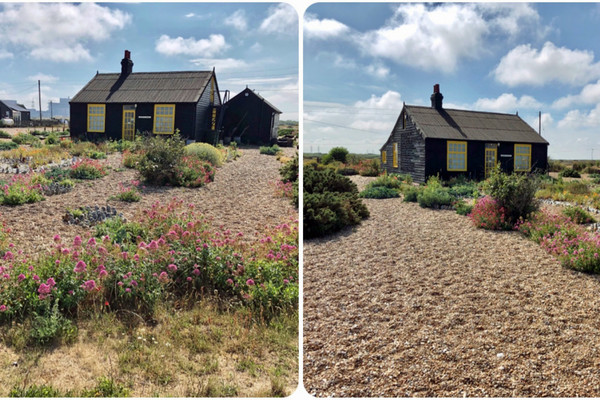 Views of Prospect Cottage and gardens at Dungeness last Wednesday
I have been quite busy at work this past week. Friday, Saturday and Sunday all saw me working the afternoon and evening shifts. I ended up as far west as Royal Tunbridge Wells on Sunday night. I'm glad that I started the job at this time of year, as the very long hours of daylight make it much easier to spot house names from the road. Also, being higher up in the cab than you would be in a car, means you can see over most of the hedgerows and the views are often glorious. I delivered to one farmhouse which was located down a maze of country lanes. At one point I stopped and looked out over miles of fields, woods and hedges, and the only buildings you could see were the tops of oast houses. If nothing else, I'll always be grateful for having that view.
Saturday was a very exciting day for me as not only did the Premier League start again, but Brighton & Hove Albion managed to record their first victory of 2020. There is no better way to win a match than coming from behind to score the winner in the last minute of injury time. My apologies to any Arsenal supporters who are reading this! The only source of entertainment in the cab of the delivery truck is the radio. I should therefore also apologise to the residents of Sellindge who may have witnessed a delivery truck passing through their village with the horn beeping in the seconds after Brighton's winner hit the back of the net.
On Monday I officially had the roof of my conservatory replaced. I say 'officially' because I haven't got a conservatory, but the people who carried out the work didn't really fancy putting 'lean-to' on the sign they've erected on my front garden fence. My house is one that originally had an outside toilet, but that is now connected via said lean-to to what was the back wall of the house. It's usefully created an extra room which acts as my utility room. However, the previous owner had installed a clear plastic roof so it became unbearably hot in the summer and freezing cold in the winter. I've now had an insulated roof installed and it looks so much better and the temperature is far more bearable. My only nervousness now is that I committed to this huge expense well before Covid-19 had thrown us into chaos. I am very grateful that there is an interest-free period of a year before I have to pay, as by then I hope I will have long been back at sea!
Yesterday I was back at work after my day off and, for the first time, I was put on 'Click and Collect' duty. Rather than delivering, this is where customers come to the supermarket and collect their pre-paid shopping from a delivery truck in the car park. I was told to drive to the supermarket in Folkestone and run the operation. It sounds simple enough, doesn't it? However, I hadn't realised that the supermarket has two branches in Folkestone. Needless to say, I didn't think it through and ended up at the wrong one. I was a few yards from turning into their car park when I noticed that the height restriction barrier was lower than my truck. I thought this was a bit strange, given I was to be delivering from there. I checked the paperwork and realised that there was another branch, located out-of-town. Having persuaded the mercifully patient drivers behind me to back up, I reversed out and swung into the main road. I was understandably running late by now, and so I came round the corner a little faster than usual and had to brake swiftly as I saw the funeral procession in front of me at walking pace. I quickly switched off the radio and tried to look solemn and hope that no-one noticed the large bright orange truck following the hearse along the A259. When I eventually made it to the correct supermarket car park, the people who were waiting there re-christened me Frank, in tribute to Frank Spencer, when they heard the tale I had to tell them for why I was behind time.
Today, Wednesday, is another day at home before I begin a string of 6am starts for the rest of this week. I had thought of going down to Lydd-on-Sea to finish off the last section of the railway that I haven't litter-picked yet, but I feel it's just too hot today, and I wanted to write this blog without being in a rush. So, as usual, I'm already over half-way to the limit and I've not properly started yet…
To continue: I was sat with Margaret in her house in Rotorua and told her I had been on the train from Auckland to Wellington the previous day. Margaret cast her mind back to when she was 26 years old. The year was 1953 and, on 23rd December, the beautiful, young, Queen Elizabeth II and HRH Prince Phillip disembarked SS Gothic and were feverishly welcomed in Auckland. Earlier that year, in May, Edmund Hillary had scaled Mount Everest, and the visit of the Queen appeared to complete an incredible year for New Zealand. Margaret told me how thousands greeted the first reigning monarch to visit New Zealand. It was claimed that three-quarters of all New Zealanders saw her and the dashing prince as they toured the country, attending 110 separate functions in 46 towns and cities. She recalled how sheep were dyed red, white and blue. Cars all sported Union Jacks, buildings were covered in bunting, unsightly buildings were covered up, and instructions had been given months before on when and how to plant blue lobelias, red salvias and white begonias so they bloomed to coincide with the royal visit. Christmas is a special time anywhere in the world, but in New Zealand, with it coinciding with the start of the school summer holidays and the longest hours of daylight, it is especially anticipated.

The Queen arrives in Timaru on 25th January 1954 during her tour of New Zealand
A mere 24 hours after the Queen's arrival, at 3pm on Christmas Eve, a train departed from Wellington, bound for Auckland as the overnight express. It was due to arrive in Auckland on Christmas Day morning, but never reached its destination. At approximately 8.02pm, the rim of Mount Ruapehu's crater lake gave way, releasing a lahar. A lahar is a violent type of mudflow composed of a slurry of pyroclastic material, rocky debris and water. They can travel at speeds of up to 100mph and tend to destroy anything that lies in their path. Shortly before 10.10pm, the fourth pier of Tangiwai railway bridge was met by the full force of the lahar. Tangiwai is a Māori name meaning "Weeping Waters". The bridge had been slightly weakened by previous volcanic activity, but it didn't stand a chance against this brutal force, and the bridge collapsed, leaving the rails suspended in mid-air. A mere six minutes later, the Wellington to Auckland express reached the remains of the bridge and, in spite of a last minute emergency brake application, plunged into the raging torrent. Of the 285 passengers and crew on board, 151 died in what is still New Zealand's worst railway accident. In the 20th century, only the Hawke's Bay earthquake in 1931, which led to the re-building of Napier in art-deco style, had a greater death toll on New Zealand soil. The timing made the event all the more tragic. Naturally, most of those on the train were heading home for Christmas Day, armed with presents for friends and family. Those waiting to meet their loved ones at the various stations up the line had no sense of the tragedy that had unfolded on the volcanic plateau. Over the following days, searchers found many battered, mud-soaked presents, toys and teddy bears on the banks of the Whangaehu River.
No newspapers are published on Christmas Day, so the first that most New Zealanders heard of the disaster was a Christmas Day radio address by then Prime Minister, Sidney Holland. Various acts of heroism were revealed in the subsequent inquiry. Cyril Ellis, from Taihape, had been forced to stop his car at the nearby road bridge which had become submerged, and on seeing the train approaching the railway bridge, he had run along the track towards it, frantically waving his torch to try and warn the driver. Ellis and William Inglis, the train's guard, then climbed onto a carriage that was hanging off the remains of the bridge and warned the passengers to move back to the next carriage. In that moment the carriage broke free and fell into the river. When it came to rest, Ellis, Inglis and John Holman, one of the passengers, managed to assist all but one of the carriage's 22 passengers out through the broken windows and onto the side of the carriage. As the floodwaters receded, the survivors were able to form a human chain and make their way to the bank.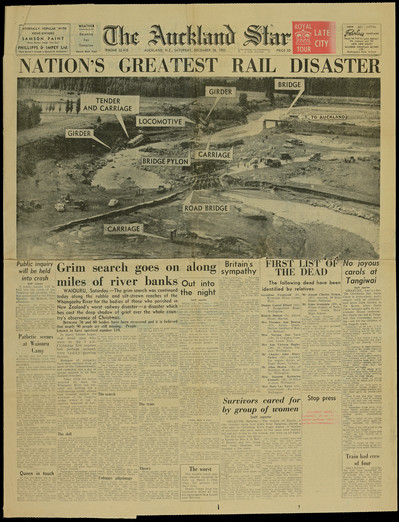 The Boxing Day front page of The Auckland Star newspaper
Arthur Bell and his wife had also stopped at the flooded road bridge and witnessed the crash. As his wife went to raise the alarm, Arthur helped rescue survivors from another carriage that had landed on the riverbank. In 1953 there was no national rescue organisation. Members of the New Zealand Forest Service, Ministry of Works, police, navy personnel, groups of farmers and other local volunteers worked throughout the night in treacherous circumstances. Oil and silt covered passengers and rescuers alike. Daybreak revealed a scene of utter devastation. The river and surrounding area resembled a muddy estuary at low tide. Twisted and splintered carriages lay everywhere.
From the scenes of jubilation at the Queen's arrival two days before, the contrast to Christmas Day could not have been greater. The Christmas Day services gave New Zealanders the opportunity to express their collective grief. The Commonwealth heard of the tragedy not through television or newspapers, but via the Queen's Christmas Message. Unlike current times, where the message is recorded in advance, in 1953 the Queen broadcast live to the Commonwealth. I have managed to find a transcript of the broadcast from Government House in Auckland. Her Majesty began by saying, "Last Christmas I spoke to you from England; this year I am doing so from New Zealand. Auckland, which I reached only two days ago, is, I suppose, as far as any city in the world from London, and I have travelled some thousands of miles through many changing scenes and climates on my voyage here. Despite all that, however, I find myself today completely and most happily at home. Of course, we all want our children at Christmas time - for that is the season above all others when each family gathers at its own hearth. I hope that perhaps mine are listening to me now and I am sure that when the time comes they, too, will be great travellers." At the end of the Christmas message, the Queen addressed the disaster that had occurred. "And now I want to say something to my people in New Zealand. Last night a most grievous railway accident took place at Tangiwai which will have brought tragedy into many homes and sorrow into all upon this Christmas day. I know there is no one in New Zealand, and indeed throughout the Commonwealth, who will not join with my husband and me in sending to those who mourn a message of sympathy in their loss. I pray that they and all who have been injured may be comforted and strengthened."
Margaret told me how she vividly remembered hearing the words the Queen spoke to her grieving nation, and how it did offer genuine comfort to all New Zealanders. Having been told about this disaster by Margaret, I realised that only the day before I arrived at Margaret's house I had passed over the same route, albeit in reverse, as that train on that fateful night. I found a copy of the Auckland Star newspaper from Boxing Day 1953, carrying messages of condolence from the Queen Mother, Sir Winston Churchill and Lord Bledisloe. Bearing in mind that the population of New Zealand in 1953 was a mere two million people, it is not surprising that many people had a direct relationship with someone involved in the tragedy. I also noted on that front page that the list of confirmed deaths included two members of the Benton family. I suddenly felt cold, because Margaret's surname was Benton. It was one of those moments where you don't know if you should ask the question. I decided not to, and instead researched it myself. The two families most affected by the disaster were the Nicholls family from Palmerston North, and the Benton family from Marton, which each lost five members. The next time I went to New Zealand, to join the 'Caledonian Sky' in December 2018, I did ask Margaret about it. We were picking strawberries together in the Bay of Plenty at the time, and she told me that she would tell me about her husband's family involvement on my next visit.
In December last year I was shopping in Hythe High Street, and that morning I had sent a bouquet of flowers to Margaret to arrive just before Christmas, with a message saying how I looked forward to seeing her and finally finding out what had happened to her family on that fateful night in 1953. My phone rang whilst in the shop and it was Margaret's daughter. Looking at my watch I realised it was the middle of the night in New Zealand. After a short illness, Margaret had passed away, at the age of 92, surrounded by her family. One of her last wishes was that I should be personally told of her passing and that she was sorry that she wasn't able to stick around a while longer until I was due to arrive in New Zealand. I asked the people in the shop to look after what I'd bought, and I walked up to St Leonard's Church, on the hill in Hythe, and sat there alone on a pew and cried my eyes out. It felt so strange. Here was a lady who, in honesty, I barely knew and had only stayed with twice, and yet she already meant so much to me. She was like a little window into a parallel universe. She brought photos of my early 20th century relatives to life. What I will forever be grateful for is that Margaret, as the head of the family in New Zealand, welcomed me with open arms, and so did the entire rest of the family. I mentioned in the last blog that one of her sons, Erik, lives in Vancouver. The last time I saw Margaret was whilst I stayed with Erik and his wife, Val, immediately before a Noble Caledonia Alaska cruise last August. Erik had facetimed Margaret as we strolled through Granville Island and we had laughed and joked together. She had been thrilled that, in meeting Erik, I had now met all four of her children. Margaret's eldest grandchild (and therefore my third cousin), Kylie and I have become really close as a result of me getting to know the distant relatives. A couple of years ago Kylie was travelling through Europe with her boyfriend and I came up to London to meet them at King's Cross. Since then, Kylie has had a beautiful daughter, Sienna, who is the very proud owner of two Brighton & Hove Albion teddies and a Brighton & Hove Albion-themed dress. I know that Margaret is looking down and is so very happy that the family is re-connected and always will be.
In loving memory of 'Cousin Margaret', seen here with me and her eldest granddaughter, Kylie, and eldest son, Richard, in Rotorua on 14th January 2015