The End (of 2020) is Nigh!
Hello everyone! The final blog of 2020. I've decided that, rather than write about cruising topics, I would instead write about festive things in this blog. I promise to be back to cruising topics next week, but to end what has been a horrible year (although with some unexpected positives) I thought I would aim for some light relief on this occasion. I will chronologically add in some of my favourite photos that I took during 2020, and pray for a bright new start for 2021. Here goes…
The Caledonian Sky sits at anchor off Stewart Island on a beautiful day in New Zealand. 15th January.
"'Twas two nights before Christmas, and near Paddock Wood,
There in a wheat field, a lonely snowman stood,
In one more delivery, his shift would be done,
Soon to drive home, and begin festive fun.
But the sat-nav had decided, with a mind of its own,
To choose a strange route, one most unknown.
The snowman had driven with care down the lane
But wait, a locked gate? Oh what a pain!
The main road he was aiming for was there to be seen
But the gate was padlocked, and he wanted to scream.
"Think carefully" he said, "there must be a way,
To retrace your steps and finish your day".
With nowhere to turn, he started to reverse
And under his breath, he probably cursed.
After a while, he was still going slow,
So he decided to turn, or at least give it a go.
The lane had become wider, so he had a try,
The rear wheels in the field, the stars in the sky,
The front wheels on the lane, ready to grip
And then it happened, slip, slip, slip.
The snowman was sad, and wanted to cry,
Just one more delivery, and he'd be home and dry.
But try as he might, he was completely stuck,
He was going nowhere, and neither was his truck."
And that, ladies and gentlemen, is how I ended up stood in the middle of a wheat field, dressed head-to-toe in my snowman outfit, and wondering how I would explain to my superiors that their 3½ ton truck was currently doing an impression of a scarecrow. The words of Gordon in the first book in the Thomas series as he hauled a dirty goods train came to mind, "Oh the shame of it!" I tried everything I could think of, including trying to use some nearby branches to give the rear wheels some grip. Nothing would get her to move. I humbly called the depot and they were very kind. The response was along the lines of, "you aren't the first and you certainly won't be the last". The recovery people called me to say they would be with me within an hour and a half. The recovery team asked me if I could walk the 1½ miles to the start of the lane so that I could guide them in. They requested that I should try and make myself noticeable so that I was easy to spot when they arrived. I pointed out that I was dressed as a snowman and wearing a high-visibility jacket. Once the laughing had subsided on their part, the operator said, "oh, we'll have a field day with you!" I pointed out that I was already having my own field day, and would much be having a nice smooth road day. I called the one remaining customer and explained that I was stuck. Fortunately he was fine about it and was happy to wait. I called my parents, and confessed what I had done. I called my uncle who said I should engage low gear and ease her forward. Tricky in an automatic, but I gave it a failing go. Half an hour into my predicament and a 4x4 pulled up at the locked gate. The driver opened the gate and came over to me. "You alright there?" he asked. I had a sneaky suspicion that he already knew the answer. I stepped out of my cab. He smiled and said, "Wow, it's a bit mild for a snowman. If you come back when the ground is frozen then you wouldn't get stuck!" I smiled in that way that indicated that I was resigned to his observations. Fortunately, he turned out to the local farmer, and was an utterly lovely chap. I had no idea where the towing eye hook was on the truck, but found it under the floor of the passenger-side foot well. He attached it, brought out a couple of chains from his truck, and suddenly I was free again. Never has a snowman felt so much gratitude to a local farmer before (or possibly ever will again). I called my parents again to reassure them that I was free. I gave the steering wheel a little hug and promised I would never put a truck through such pain and anguish again. It was 11.15pm when I finally made it back to Ashford, and then with the motorway still resembling a lorry-park, it was a further hour until I had unpacked everything and made it home. So as I write this, it is now Christmas Eve, and I'm grateful to be home and not still stuck in that field!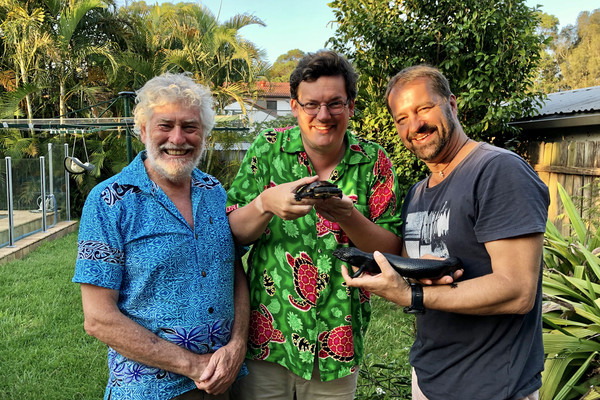 In Sydney, Australia, with Noble Caledonia colleagues Peter Harlow (l) and Darek Figa (r), and a selection from Peter's menagerie. 1st February.
Fast forward three days and it is now the evening of Sunday 27th December. I hope everybody managed to have some form of Christmas celebration given all the various restrictions. I am sure that I am not alone in having read and re-read the government website to check what was and was not allowed. I discovered that, given I live on my own and my support bubble is my parents, I was allowed to visit them on Christmas Day to do a present-exchange. To be on the extra safe side of things, I took a Coronavirus test on the morning of the 21st, so that I would have the results before I headed off to visit them. Some of you reading this may well have experienced a Coronavirus swab test. I can't say I recommend it. Whilst we are all eternally grateful that such a test was created, I can confirm that it wasn't the most pleasant experience I've ever encountered, especially when sat in a cold pre-fab hut in a car park in Folkestone on a wet Monday morning! I was then extra cautious – face mask at all times (inside and outside), keeping the social distance when delivering, always wiping down surfaces and wearing gloves. The test came back negative, and so I felt confident to head to my parents on Christmas Day morning.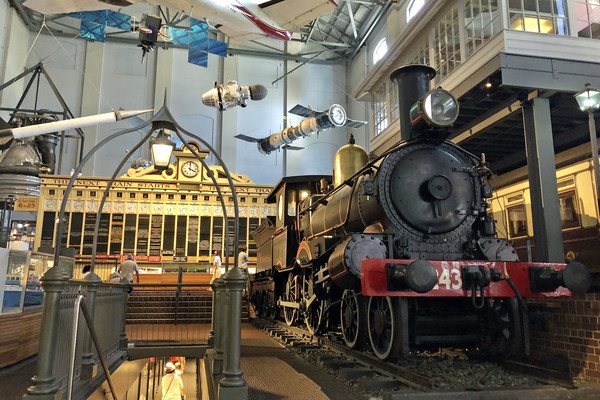 Enjoying a visit to the Museum of Applied Arts and Sciences in Sydney, Australia. 3rd February.
It was the first time in my living memory that I have woken up on Christmas Day morning in my own bed – I have always been either in Suffolk or at sea. As I began the drive from Hythe, heading up the hill to join the M20 at Junction 11, I began to think how unfortunate (but understandable) it was that we were being deprived of our usual Christmas. All those thoughts vanished from my mind as I joined the M20, heading towards London. On the opposite carriageway I passed mile after mile of 'Operation Stack', with all the lorries waiting to be allowed to proceed to Dover. I realised that rather than feel deprived of not having a normal Christmas, at least I was able to go and see my parents. Those poor lorry drivers, stuck on a motorway in a foreign land. My heart went out to them. The army (who have a heavy presence here in Hythe and down at Lydd, which both house firing ranges) were out in force. An uplifting sight was that, each time I passed underneath a bridge, there were people on the bridge lowering bags down to the lorry drivers on the eastbound carriageway. I thought it was joyous to know that people were giving time on Christmas Day morning to go outside and share some things with the stranded drivers. I have no doubt that the drivers appreciated the kind gesture.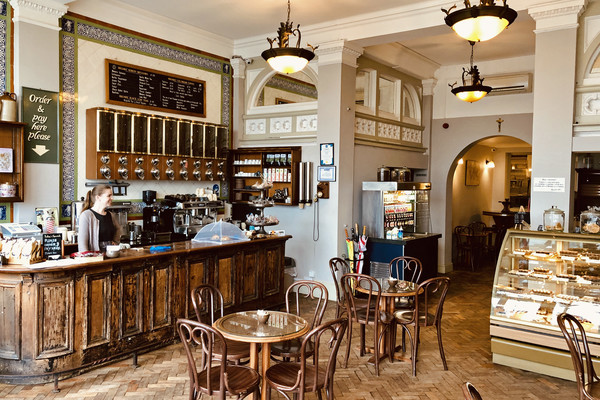 Spending Valentine's Day on the Isle of Wight, and discovering the Chocolate Apothecary on Ryde Esplanade. 14th February.
I had gathered together a selection of music to enjoy on the two-and-a-bit hours drive to West Sussex. However, when I turned on the radio, it was Anneka Rice presenting a programme called "Junior Choice". I didn't know this was a Christmas tradition. I couldn't turn it off. I knew the words to almost every single song. Anneka herself became quite emotional when introducing The Seekers' "Morningtown Ride". As I write this I can tell you that I was on the roundabout at Ashford, near Junction 9 (having been diverted off the motorway due to the lorries queuing), when the song started playing and I had a lump in my throat and couldn't sing the first verse. There really is something magical about Judith Durham's voice. I think hers is the most clear female voice I've ever heard, whilst Art Garfunkel would take the prize for the men. With an obvious interest in trains from a very early age, I find that "Morningtown Ride" is the musical version of a comfort blanket. I think I might even have shed a small tear at the feeling of warmth that that song somehow envelopes you with. I thought that would be it, but then Anneka played almost every song I remembered from either my childhood, or my father's record collection. I didn't realise I still knew every word to Keith Michell's "Captain Beaky". Ronnie Hilton's "A Windmill in Old Amsterdam" – I just presumed that was a song we sang at school and never realised there was a proper recorded version of it! "Bad Guys" from Bugsy Malone – a dear friend of mine is a comedian called Jeff Stevenson who I think has worked on every cruise ship that has ever sailed. He was one of the child stars in Alan Parker's film, a member of Fat Sam's gang, and I always think of him and laugh when I hear that song. Many a time I've been driving my delivery truck along country roads and have sung the line, "We could have been anything that we wanted to be" out loud with a sense of irony.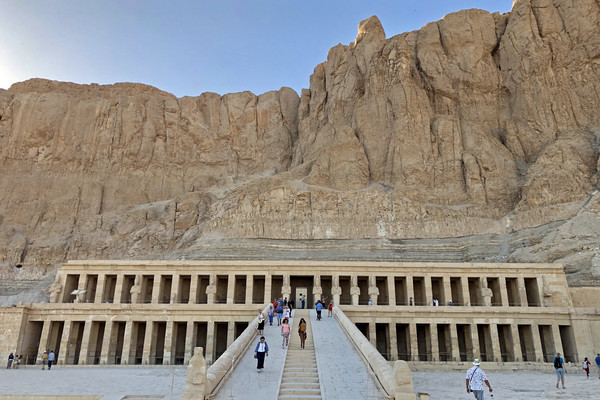 Strolling up to the incredible Mortuary Temple of Hatshepsut, Luxor. 7th March.
Bernard Cribbins' "Right Said Fred"; Peter, Paul & Mary's "Puff the Magic Dragon"; The Toy Dolls' "Nelly The Elephant"; Allan Sherman's hysterical "Hello Muddah, Hello Fadduh"; the list of classic songs went on. I remember re-writing the latter and performing it at an end-of-cruise cabaret many years ago. I had seen a lady writing an email in the ship's library, and she was struggling with the computer. She asked me to help her. This ended up with me typing out the entire email for her. Her opening line was, "Hello daughter, hello grandson". That planted the seed in my head. That evening I told the story of how I'd helped someone with their email and I took Allan Sherman's song and performed it with the new lyrics I'd written. I remember it started, "Hello daughter, hello grandson. Here is grandma, upon the ocean…" I would continue but I'm not sure it would get past the censors. If you're on a future cruise with me, perhaps I'll privately tell you the rest of it! And finally, the one song I really did sing out loud in the car was Terry Scott's "My Brother". Many of you will know that I have only one sibling, and he is an older brother. Hence, that song always had a special place in my heart when I was growing up!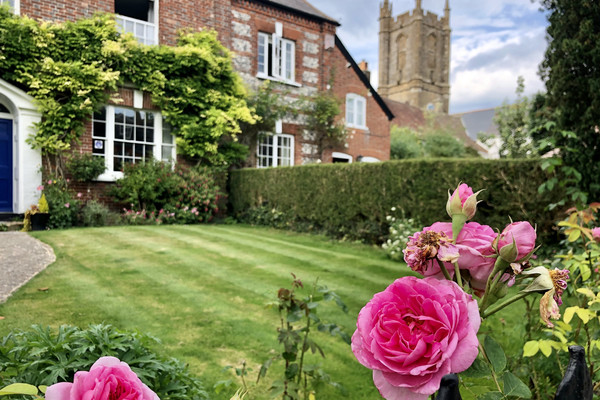 A beautiful day wandering around the pretty Dorset village of Cerne Abbas. 31st July.
By midday I had reached Littlehampton. It was wonderful to have the opportunity to briefly see my parents, swop presents, and then head home again. Obviously a year unlike any other, but it's the same for everyone and we'll get through it together. Boxing Day came and went. The family tradition when I was growing up was always to go to the Theatre Royal in Bury St. Edmunds to see the pantomime on Boxing Day. Every year the dame would call up about five members of the audience and go along the line talking to them. As you can imagine, I was keen to be picked, but it never really happened. And then, aged about six, the dame pointed at me and invited me up. It was the first time I'd been on a stage. I can remember being blinded by the stage lights, but I managed to compose myself. The dame was going along the line of us five children. I was at the end. As it was Boxing Day, the dame was asking us what we had received for Christmas. All of us were saying the usual things like sweets, a toy, etc. The penultimate child was the girl who was stood next to me. Even though I was only six I can remember she had quite a snooty voice. When the dame asked her what she had received for Christmas, she replied, "Mama and Papa have bought me skiing lessons for when we visit our chalet in Courchevel next week". The dame was slightly surprised, and moved on to me. "You'll have to have been a very good boy to top that", the dame said as he lowered his/her microphone to me. "What have you received for Christmas young man?" I've no idea why I said it, but I rather mournfully replied, "My parents said I could go to Bognor if I'm good". I can remember the audience collapsing in laughter and the dame struggling to speak. After the response from the previous child, I had accidentally struck comedy gold. There was an element of truth in my answer, but I'd left out the vital word "Butlins". My parents did always say that one day they would take me and my brother to Bognor Butlins. (At the age of 42 I am still waiting, and occasionally remind them of this!) Looking back now, it was my first taste of making an audience laugh, even if I didn't intend to, and I can remember feeling uplifted by it. When I returned to my seat I think my parents were busy explaining to the people in the seats around us that we lived near Bognor and that I meant the Butlins.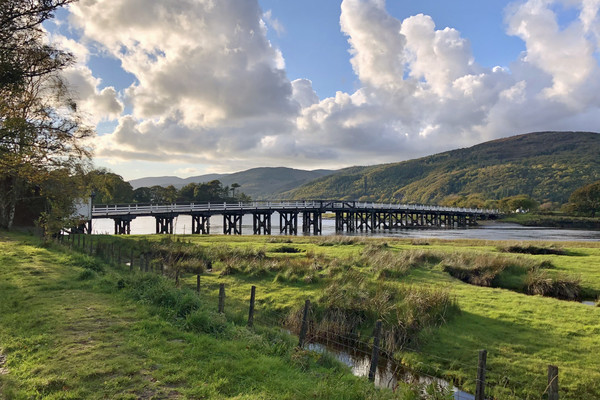 The view of the Grade II listed Penmaenpool Toll Bridge as we headed to Barmouth for a holiday. 8th October.
As I write this, it is now the evening of Sunday 27th December. Storm Bella came through last night, and was still raging as I went to work early this morning. It had calmed down by the time I hit the road with my truck. However, the aftermath was there for all to see. From my high vantage point I could see all the flooded fields. Indeed, I passed by one row of houses where the fire brigade were pumping them out. You could see how upset the residents were as they were bailing out their homes. It must be so awful for them. I almost took the truck for a swim under a flooded railway bridge between Wadhurst and Frant, and ploughed through another flooded section on the approach to Smarden. It certainly made for an interesting run. Meanwhile, I listened to the radio as Brighton snatched a draw from the jaws of victory against West Ham. I also found myself back in Paddock Wood, and so I stopped at a petrol station, bought a (now discounted) selection box, and took them to the farmer who had pulled me out of his field four days previously. He was surprised to see me again, and graciously accepted my gift as a thank you.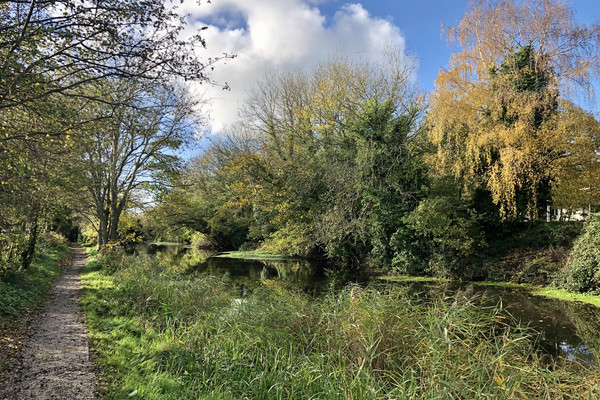 The Royal Military Canal towpath in Hythe. 12th November. Being forced to stay at home has definitely renewed my appreciation of where I live.
To conclude, I sincerely hope that all those who are reading this have been able to mark Christmas in some way or another. I know full well that there may be those reading this who were alone this Christmas. I delivered to two addresses today where I was the first person the lone resident had seen in a week. I took my time with their deliveries so that we could have a socially distanced chat, as I could sense they were enjoying having someone there to talk to. Whatever your circumstances, I hope you will join me in feeling positive about the end of 2020 and the beginning of a New Year. There is much to be optimistic about as the new vaccines take up the battle, and sooner, rather than later, I hope we are back at sea doing what we do best. In the meantime, good riddance to 2020 and a bright hello to 2021.
Happy New Year everyone!