Taking the High Road and the Low Road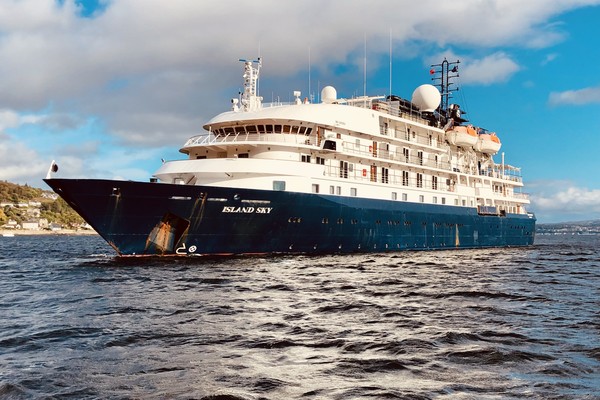 It's good to be back! A view of "Island Sky" from my Zodiac in Holy Loch. 3rd October 2021.
Hello everyone! A very warm welcome back to everybody who was a previous reader of these blogs, and an especially warm welcome to anyone who is joining me for the first time. In case you are in the latter category, I should explain that my name is Neil and I am fortunate enough to be one of the regular Cruise Directors (or Expedition Leaders, depending on which hat I'm wearing) aboard Noble Caledonia's ships. I returned home on Sunday (28th November) from a two-month stint aboard "Island Sky", sailing from Portsmouth to Cyprus via ports in England, Scotland, Northern Ireland, Wales, Spain, Portugal, Gibraltar, France, Italy, Greece and Cyprus. This was my first time on board a ship since I bade farewell to "Serenissima" in Alanya, Turkey on 15th March 2020 – just as the world was closing down with the onset of the pandemic. Between leaving "Serenissima" and embarking "Island Sky", I had been a supermarket delivery driver, a railway signalman, a travel blogger and a quiz compiler, but there was no better feeling than finally walking up that gangway in Portsmouth on 26th September. For a long time it had felt like a day that would never come. I paused for a moment at the foot of the gangway and looked up to see familiar faces among the crew, ready to welcome me aboard. My over-riding emotion was one of relief. Relief to see that so many of the crew had now returned (with more returning during my time on board) and knowing that they too had 'survived' the pandemic in both a physical and financial sense, and were more than ever enthused to do our passengers proud.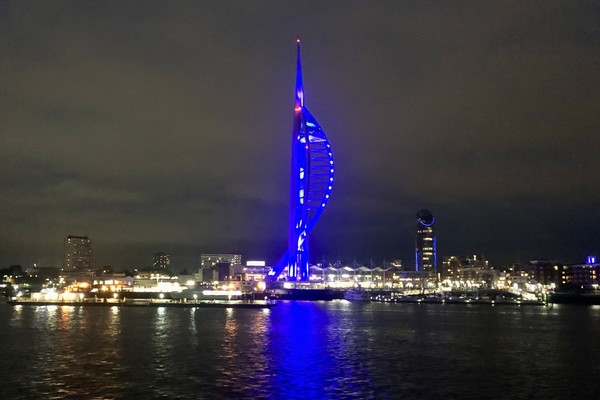 A sight I thought I might not see again – sailing past the Spinnaker Tower as we leave Portsmouth on my first day back on board. 26th September 2021.
Also embarking in Portsmouth was a man I had not met before – Captain Jörgen Cardestig. Formerly a Captain on various ships, he had spent many years as a pilot in Gothenburg, but had now come back to sea full-time. My first three cruises were 'Expedition Cruising' and as such, the relationship between the Captain and the Expedition Leader is a vital one. As with any walk of life, some working relationships are more difficult than others, and naturally the situation is the same with life on board. However, I was absolutely delighted that Captain Cardestig and I hit it off from day one. He was (and is) superb. Personable, approachable, jolly, professional, considerate – everything you need in a small-ship Captain. Our cruises were port intensive, with little in the way of day time at sea. Our first call was to Portland in Dorset. I stayed on board during the morning as I was still coming to terms with the new style of cruising, taking into account all the Covid-related protocols that were now in place. It was very much a case of, "the same, but different" in how ship-life had altered. During the afternoon I took the shuttle bus into Weymouth, and admired a beautiful rainbow over Weymouth Quay – sadly without the Channel Island boat trains snaking their way along the streets any more. We continued on to Fowey, and managed to find the "lost" gardens at Heligan. Whilst there, my Assistant Expedition Leader, Reba, and I had a catch-up with Tour Manager Elaine Weddick and her husband, who happened to be holidaying nearby. Always good to see a familiar face.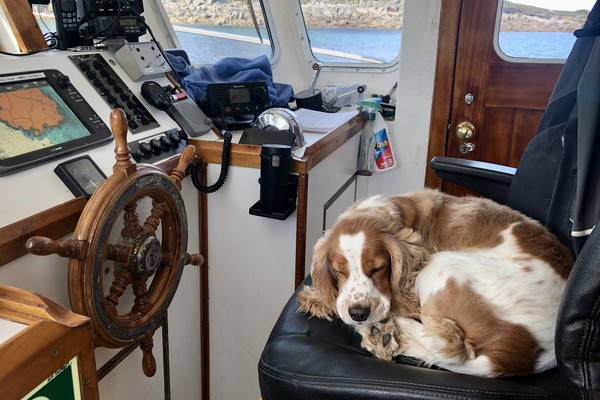 Asleep at the wheel. Four-year-old Carla takes a well-earned nap between duties on our Isles of Scilly tender. 29th September 2021.
Fowey had been a rather wet day, but the weather broke magnificently on the following day to reveal the Isles of Scilly in their glorious splendour. Tresco has always been a favourite place to visit, and the day proved no exception. Tresco Abbey Gardens Curator Mike Nelhams had been looking after a Noble Caledonia group who had been staying on Bryher the previous week, but had business on the mainland to attend to during our visit. Mike's charming wife, Isobel, kindly looked after us. The gardens looked spectacular in the sun, and the coffee shop did a roaring trade, with many little birds eager to assist in clearing the crumbs. The afternoon saw us offer a transfer to St Mary's, with the option of free time or guided walks, and then, with time to spare in the evening, the Captain took us round Bishop Rock lighthouse as we headed towards Swansea. I had never been on a ship to Swansea before. My only previous encounter with the city was a very long day trip from my then home in Littlehampton to watch Brighton play at Swansea. A last-minute change of shore excursion saw us visit the National Botanic Garden of Wales, complete with its vast glass roof.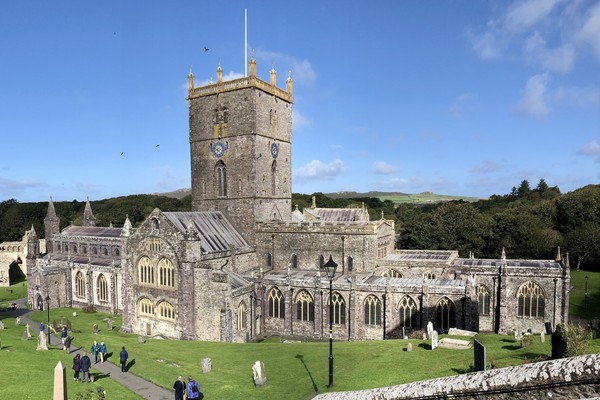 St David's Cathedral in the UK's smallest city. 1st October 2021.
After leaving Swansea we nipped round the corner to arrive in Fishguard the following morning. We always receive a wonderful welcome in Fishguard. The Fishguard Friendly Faces are a fabulous group of volunteers who turn out to greet us, many in costume, and on this occasion they were joined by the Mayor of Fishguard & Goodwick. I felt a little embarrassed as, in spite of their kind greetings, our shore excursions drove straight through Fishguard, rather than stopping to explore the place. However, when you have the Pembrokeshire Coastal Path and the city of St David's to visit, I'm sure they understood. As you can see from my photo above, the wet weather we experienced the day before in Swansea had given way to glorious sunshine in St David's. More miraculous was that I sent my parents a postcard (as I did from every port) using a second class stamp – and it arrived in Littlehampton the following day. Our couple of days in Wales had been delightful. I have no idea why, but I always feel relaxed and happy when we visit west Wales. Maybe it has something to do with the plethora of narrow-gauge railways that are located there. Either way, I hope to return again some sunny day.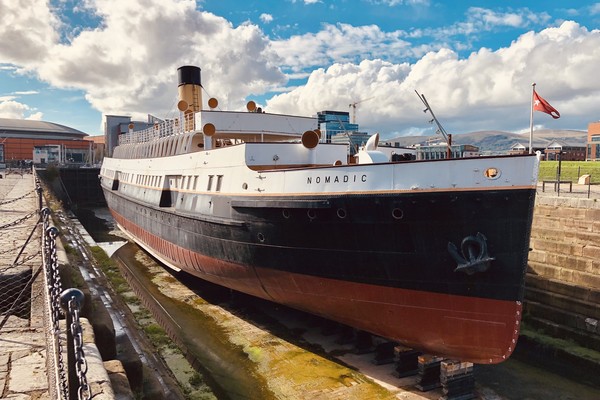 Titanic's tender, "Nomadic", in her dry-dock in Belfast. 2nd October 2021.
After leaving Fishguard we headed north, passing the Isle of Man during the night, before arriving in Larne, Northern Ireland in the morning. The passengers had the opportunity to enjoy a morning tour to a stately home, and an afternoon tour to Belfast. I was keen to join the latter, and managed to finish the office work during the morning so that I could accompany the trip to Belfast. The trip included admission to Belfast's "Titanic Experience". This might seem a strange choice for those on a cruise, but it was pointed out to me that the brass band on the quayside, as we left Portsmouth, had played Celine Dion's "My Heart Will Go On", so perhaps it was a sign that we were meant to visit there! Whilst the exhibition was very good, I was particularly taken with the above exhibit located in front of the building. "Nomadic" was built by White Star Line to serve as a tender in Cherbourg, as "Titanic" was too large to dock there. On the evening of 10th April 1912, "Nomadic" and her sister tender "Traffic" came out to "Titanic". "Traffic" carried 102 third-class passengers, whilst "Nomadic" carried 28 second-class and 151 first-class travellers. The most well-known of the first class passengers being American millionaire (or billionaire by today's standards) John Jacob Astor IV. Luxury French products, including champagne, wines and cheeses were also embarked. Standing on her beautifully restored decks, and trying to visualise the excitement of over 109 years ago… it's hard to comprehend now, but how fortunate that the tender has survived and can continue to tell her remarkable story forevermore.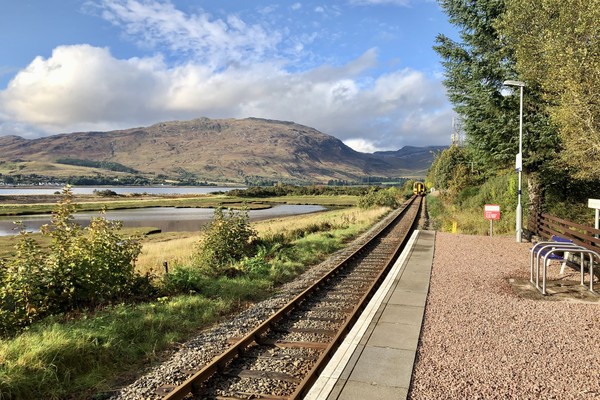 The most scenic railway station in the UK? Waiting for the train at Attadale station. 9th October 2021.
From Northern Ireland we headed further north to Scotland, in whose waters we remained until 21st October. Our Scottish base was the port of Troon. I would love to tell you all about the beauty of Troon, but as we were only there on our 'turnaround' days, I did not have the chance to get off and explore. Speaking of turnaround days, I must take a moment to mention the wonderful support we received from those who worked hard to ensure that those days ran smoothly. With passengers arriving at different times and PCR tests having to be carried out, it was no mean feat to keep everything flowing and embark safely and on time. Some of the ship's personnel helped out, as well as some Noble Caledonia field staff who lived relatively near the turnaround ports. Captain Deegan, Noble Caledonia's Fleet Operations Director, would usually be there to oversee the operation as well. All in all, we felt in very safe hands. Our two Troon to Troon cruises were all Zodiac landings, with the exception of one visit to Rothesay on the Isle of Bute where the tidal conditions meant we could come alongside. I was very grateful to have an experienced Expedition Team with me, led by Assistant Expedition Leader Reba Minett and Zodiac Master Colin Munro. I also occasionally leant a hand on the Zodiac front – if conditions were favourable. On one such occasion, I needed to pop over to the glorious Attadale Gardens, but also be back in Plockton before the tour returned so that I could assist with the Zodiacs. By chance, Attadale Gardens has a railway station adjacent to it, on the Inverness to Kyle of Lochalsh line. Trains are few and far between, and currently non-existent on a Sunday, but I worked out that the coach would arrive at the gardens with just enough time for me to return to Plockton on the train. As you can see from above, I managed to catch the train from the most gloriously-located railway platform I think I've ever stood on. I've been up to Thurso on the train before, but never over to Kyle of Lochalsh. I think I might have to rectify that in the future!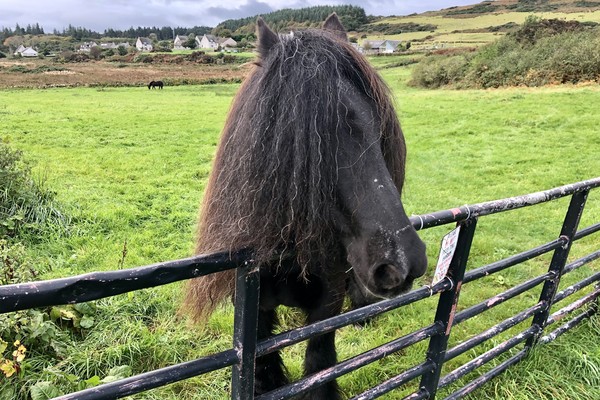 Someone's copied my hairstyle! A friendly horse welcomes us to Gigha. 12th October 2021.
Our Scottish explorations included the likes of Tobermory on the Isle of Mull, and Armadale on the Isle of Skye. We would never normally be cruising these areas in mid-October, as the weather is variable in the height of summer, let alone later in the year. However, by and large we had fortune on our side. I was impressed that we managed to complete every Zodiac landing. The day I was most nervous about was our last full day in Scotland, when we were scheduled to visit Islay and Gigha. However, having used the experience of our previous visit, I knew that the anchorage on Gigha was much less exposed than that on Islay, and so given that the weather system was due to make things difficult in the afternoon, I managed to get permission from the port authorities to change the order of the landings round to allow us the best chance to make it work – and very happily it paid off! I love landing on these Scottish islands. It is very much a free-for-all. Take Gigha for example. The reason for landing there was so that passengers could walk to Achamore Gardens. However, many passengers chose to explore the peaceful island themselves, and the local village shop (which was also the post office, grocer, petrol station and everything else besides) did a roaring trade. If, and I appreciate that it is a huge "if", you get the weather, then there really is nowhere more glorious to cruise than the west coast of Scotland.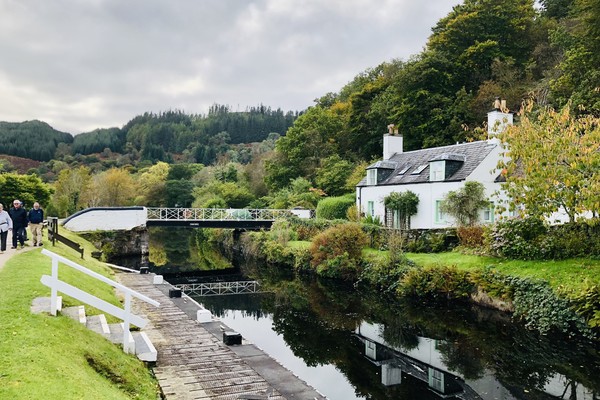 Walking the Crinan Canal towpath. 15th October 2021.
Speaking of the weather, our second visit to Crinan, from Ardfern, was a case in point. On our first Troon to Troon cruise, we experienced downpours all day whilst in Ardfern. Understandably, this put a huge dampener on the day, and led to difficulties with all aspects of the shore excursion operation. I was informed by the office that the port was listed as the least favourite of those visited on the passengers' questionnaires. Fast forward eight days and we were back in Ardfern in glorious sunshine. The result? On this cruise the port was rated the favourite of all those we visited. What a difference a clear sky can make. I went on both the morning and afternoon shore excursions on our second visit. The morning trip took us to the National Trust for Scotland garden at Crarae. During the afternoon we ventured out to Crinan and I led a walk, with trusty ex-Royal Marine Kev bringing up the rear, along the towpath of the Crinan canal. I decided I could quite happily live in the cottage by the swing bridge shown in my photo above. If only we could fit "Island Sky" along the canal!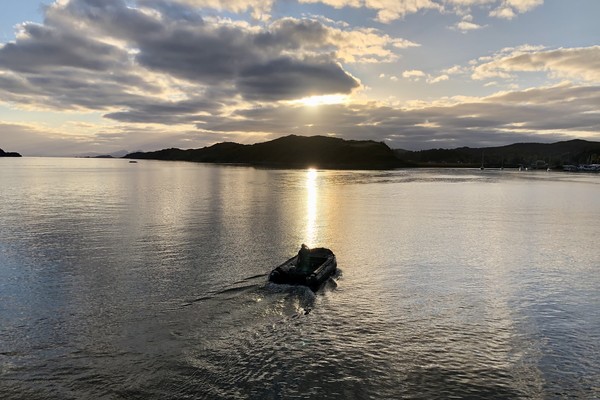 The last Zodiac heads ashore on our second visit to Ardfern. 15th October 2021.
I've included the above photo as I was walking around the deck that evening and the sun happened to appear between a gap in the clouds. It is mid-October in Scotland and the Zodiac driver is in short sleeves and shielding his eyes from the sun. If I didn't produce this photo, you might not believe what I was typing. That is one of the many beauties of cruising the west coast of Scotland. There are always sheltered spots that you can nip into and allow weather systems to pass. No itinerary can be guaranteed, but the coastline does offer than precious element of flexibility. As for the huge advantage of cruising Scotland in mid-October… there were no midges!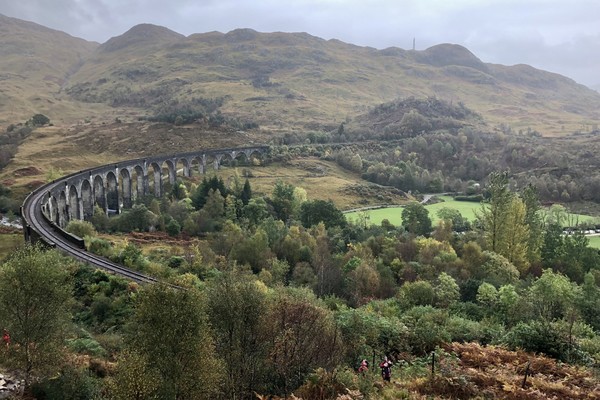 Glenfinnan Viaduct on a very wet day – with many tourists out of shot to the left. 19th October 2021.
One noticeable change from previous years was that much more planning had to be done, and permissions sought, in order to do anything in Scotland. The days of deciding to change things at the last moment are definitely paused whilst we allow the pandemic to pass. Naturally, this is entirely understandable, but it still took me some getting used to. For example, whilst in Fort William I was keen that we offered the chance to watch the daily steam-hauled 'Jacobite' train go across Glenfinnan viaduct. For our first cruise, it wasn't possible as various rules stated that coach bookings had to be made so far in advance, and numbers were limited at the sites. However, for the second cruise it was possible. Sadly, my idea only came to fruition on a very wet day. Still, I was determined to make the most of it and whilst the majority of people watched the train from down below, I hiked up the hillside thinking I would reach a unique vantage point – only to be met there by many Harry Potter fans from all over the world. Even on a wet day like this, you couldn't shake off the magic of Hogwarts. With my black-rimmed round spectacles I signed a few autographs and then watched the Black 5 steam engine haul the train towards Mallaig, knowing that a few of our intrepid passengers had managed to get seats on board. I managed to hide my jealousy for at least a few seconds!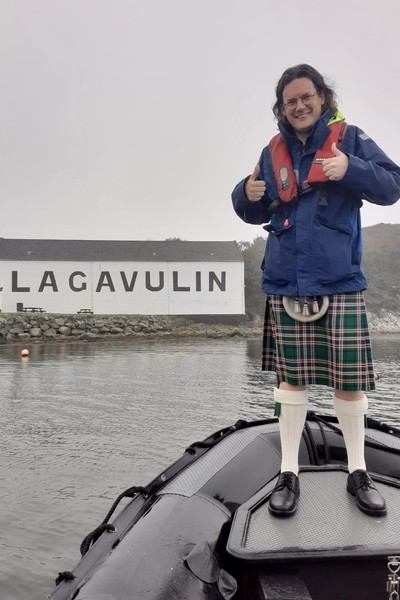 A perfect end to our Scottish season. Heading back to the ship from the Lagavulin Distillery. 12th October 2021.
I think our visits to the Lagavulin Distillery were arguably my greatest achievement of the Scottish season. Our last full day in Scotland saw us visit Lagavulin on the morning of 20th October, as mentioned earlier in order to avoid an incoming weather system. However, on the first Scottish cruise, we landed at Gigha in the morning, as planned, and then we were meant to be landing in Port Ellen on Islay in the afternoon. However, the islanders had different ideas, and sadly would not make any transport available to us. This scuppered our plans to visit a distillery and do a tour of Islay. I looked at alternatives, including Jura, but was determined to see if there was some way we could still include Islay. With assistance from the ever-knowledgeable John Love, and many phone calls and looking at navigational charts, it was realised that the distillery at Lagavulin had its own sheltered jetty where we could potentially land a Zodiac. The anchorage also had some protection. Negotiations with the distillery led to them kindly agreeing to host a whisky tasting for all those who would like to partake, and so the plan was hatched. I made a light-hearted comment to the lady I was dealing with on the phone that, if we managed to pull off this landing, I would come over in my kilt. I didn't expect her to hold me to that promise, but I was so thrilled that we had made it ashore on Islay that I changed for the occasion. For those who are wondering, the tartan is the Hunting MacFarlane. My great-grandmother was a MacFarlane, and my grandfather had MacFarlane as his middle name. He passed away a few months before I first set foot on a cruise ship, so it is a nod of the hat from me to him. As you can see from my face, I was so happy that we had achieved the ambition of landing everywhere, and I really enjoyed the time we spent in Scotland. After disembarking the passengers in Troon we headed 'empty' down to Portsmouth to begin our epic "Passage South" cruise – which I'll write about in the next edition. Thank you for reading this far, and as always, I hope that you are well and not already bored of Christmas! Until next week, goodbye for now.