Snow, Swans and Central America.
Good evening everyone. It's 8.17pm on Tuesday 9th February and I hope everyone is doing well out there. I'm writing this whilst feeling slightly dazed and confused. I went to work yesterday, clocking-in at 2pm for my shift (until 11pm), and then didn't end up clocking-out until 7.39 this morning! Yes, THIS morning. The 'Beast from the East' arrived in all its glory last night. My delivery run started off with no problems, and I was enjoying running around Hythe and Dymchurch. There was only light snow, and the vast majority of the roads had been treated beforehand. However, I had one delivery that was off the usual route, and it was to a small village called Bodsham, about half-way between Hythe and Canterbury. I tried the route the sat-nav suggested, but couldn't gain enough traction up the country lane. Determined to make it through, I worked out that my better option would be to go up along Stone Street (the Roman Road that connects Hythe and Canterbury) and then approach Bodsham side-on, as it were. I was rather chuffed that the plan worked, and the lady I delivered to was equally impressed that I'd made it. However, on leaving her to head back to Folkestone, the plan unravelled. I had aimed to re-trace my steps, thinking that would mean I would know the way was clear. However, with heavy snow falling, and signs unreadable, I made the mistake of following the sat-nav's advice, and it led me on a half-mile shortcut that was anything but. Two-thirds of the way along, I became embedded in a snowdrift.
A snowy Fisherman's Beach, Hythe, a few hours before I became stuck later in the shift. 4.11pm, 8th February 2021.
I had already delivered 15 of my 20 assignments, and so the truck was relatively light and I couldn't budge her. There was one isolated cottage opposite where I had got stuck, and I knocked on their door. The kindly gentleman offered me use of his shovel, and I set about trying to dig the truck out. I also called all my remaining customers to apologise and kept them updated until it became obvious that their deliveries wouldn't be possible today. The thought did occur to me, as I was kneeling on the icy road, trying to shovel snow from underneath my forlorn truck, that perhaps wearing shorts hadn't been the best idea. Fortunately, I remembered that I had a pair of waterproof trousers in my bag, which made life a little more bearable. After much digging and trying to remove the snow quicker than it was falling, I surprised myself by managing to free the truck from the snow. There was no way I could reverse back up the hill, so I carried on down to a wide level area. I felt that would make it easier for the recovery vehicle to access either side of me. This wide level area turned out to the local farmhouse. Although it was getting late, I could see someone was moving around inside and so I knocked on their door. They called out, "who is it?" and I replied that it was a supermarket delivery man. They said that their delivery isn't due until tomorrow. I pointed out that I was stuck and wondered if they might have a tractor about their person. Sadly, they didn't.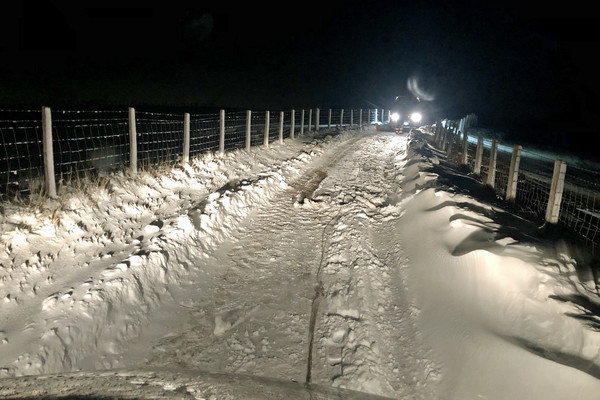 The second recovery attempt underway. Roy flashes his lights to tell me that the winching is about to start. 3.33am, 9th February 2021.
I commented that I could see tractor marks in the snow, and they told me that said tractor had come from afar and been used earlier that afternoon to haul out the postman. "Earlier that afternoon" being when there was a lot less snow and the temperature wasn't quite so freezing. This didn't bode well. At around 10.30pm the recovery van arrived. We tried every option that he had available, which consisted of towing me and throwing grit and salt onto the road, but we couldn't get back up the hill. The chap also had a jack-knifed lorry to attend to, and decided to abandon my rescue and ask the recovery co-ordinators to send someone else with a specialist 4x4. In the attempt at towing me, I'd got stuck again next to the cottage where I'd been stuck previously. Once again, I borrowed the shovel and set about digging out the truck. I think it was whilst I was lying on the icy road, poking the shovel under the bonnet to try and free the wedge of compacted snow, that I remembered that I should have been on the Pacific coast of Central America today.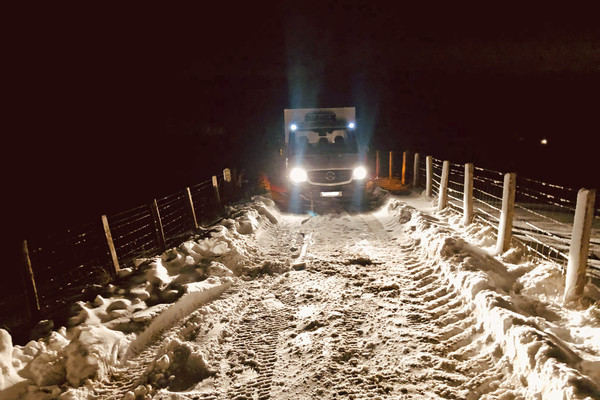 Progress being made as I gradually climb up the hill. 4.45am, 9th February 2021.
After 45 minutes of digging in the freezing wind and heavy snow, I managed to free the truck again and guide her back down to the level ground. Fortunately, there was enough diesel in the tank to mean that I could keep the engine running and drive back and forth, about ten yards each way, with the heater on full blast. The second recovery vehicle, a fully kitted-out 4x4 Land Rover, arrived at 2.20am. We had a go at towing, but again, we only made it as far as the cottage. I thought we would then have to abandon proceedings, but Roy, who became a dear friend over the next few hours, was determined. He managed to negotiate the lane, turn around, come back down, and then attach the winch on the front of his Land Rover to the truck. Over the course of the next three hours, we winched the truck an inch at a time for the third-of-a-mile up the hill and back to the village. We would winch for about ten yards, then stop, adjust the cabling, and winch again. After doing this three times, Roy would then have to back up his Land Rover, dig it in, put the chocks in place, and re-lay all the cables. His patience, whilst doing all this in driving snow and bitterly cold cross-winds, was incredible. Just before 6am, we reached the crest of the hill and he was able to head to the village, turn around, and then come back and tow me to Bodsham. I was very relieved to then be able to follow him back to the main road, as his Land Rover cut a path through the drifting snow which I tried my best to stick to. I arrived back at the depot at 7.11am, just as the morning shift drivers were leaving. You may be wondering if I had any food or drink with me. Well, to add to the sorry tale, I always take a small pork pie in a Tupperware container with me when I go to work. However, I couldn't find it on this occasion, and can only presume that I'd accidentally delivered it to one of my customers earlier on the route! I drank a hot tomato soup in the staff canteen, and then made my way home. One warm bath and a snooze later, and here I am writing this blog. I was meant to be working this afternoon and evening, but obviously my 'driver hours' were now so skewed that I was not allowed to. However, I'll be back again tomorrow, and fingers crossed that all goes well. I should also mention that, throughout all of this, I was called every half an hour by both the supermarket (who had someone stay all night on the other end of the phone) and by the recovery co-ordinators to make sure that I was ok. On the advice of my Noble Caledonia colleague Danny Edmunds, I might take a sleeping bag with me in future!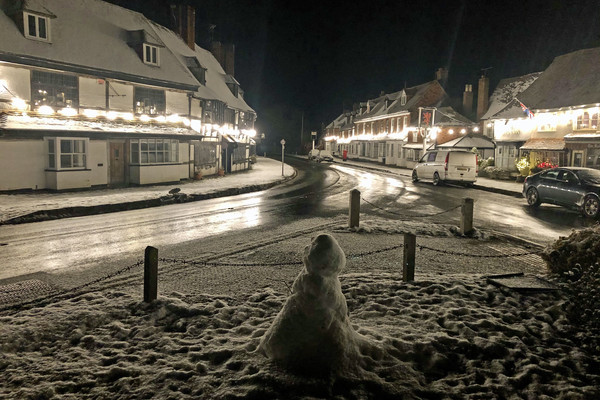 A snowman looks towards the charmingly lit High Street of Biddenden, Kent. 10th February 2021.
As mentioned earlier in this blog, I should have been on the Pacific coast of Central America today. A quick glance at a weather website tells me that it has been a sunny and delightful 29°C with a gentle breeze on the west coast of Costa Rica today. Certainly warmer than here! Of all the Central American countries, the one that I most look forward to visiting is Costa Rica – whether it be on the Pacific or Caribbean side. There really is something rather special about the place. Apart from the incredible diversity of their natural history, there is so much more to admire. I remember being told by our guide that Costa Rica had decided it didn't need an army any more, and spent the money on education instead. Certainly, without exception, every single guide in Costa Rica always seems to have a degree in their chosen field and is perfectly bilingual.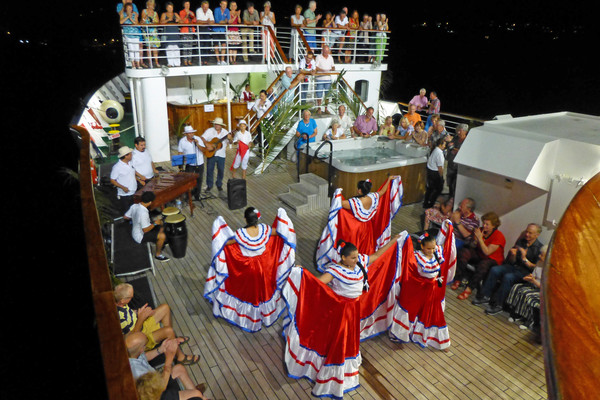 A colourful local show entertains the passengers on board 'Serenissima' on New Year's Day 2016, whilst at anchor off Puerto Quepos, Costa Rica.
Looking through my photos of visits to Costa Rica has made me realise just how many ports and islands we have visited in my years with Noble Caledonia. On the Caribbean side there is only really one place that is accessible to cruise ships, and that is Puerto Limón. Undoubtedly, that is one of my favourite destinations in the world. It might be because it involves a mix of sloths and trains, but I'll tell you more about that in my next blog. For now, we'll focus on the Pacific side. Places we tend to visit on the west coast of Costa Rica include Puntarenas, Puerto Caldera, Puerto Quepos, Gulfo Dulce, Isla Tortugas and probably some others that I can't remember! I found myself smiling and laughing as I meandered through my photos from my two visits to Isla Tortuga in January 2016.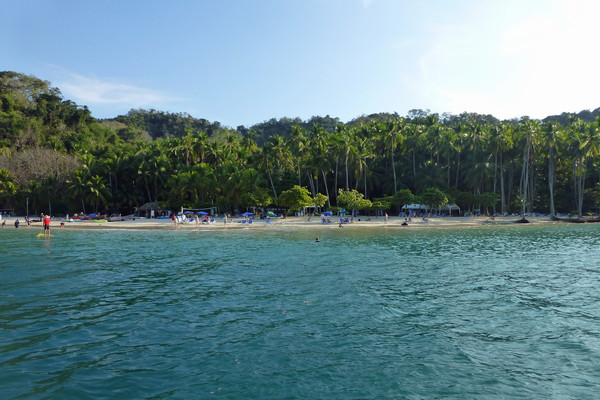 Approaching Isla Tortugas beach in the zodiac. 11th January 2016.
Our visit to Isla Tortugas would be a half-day call, with the other half of the day being spent at the nearby Curú Wildlife Refuge. Many of you reading this will have come across Noble Caledonia naturalist Conrad Weston. A native of Costa Rica, that once you have sailed with him, you'll never forget him. An encyclopaedic knowledge of Costa Rican flora and fauna, combined with limitless energy and enthusiasm, make him one of the first names I look out for whenever I am allocated a cruise in that area. As a Cruise Director (or in this region Expedition Leader) one of my initial duties is to assign the various roles on the cruise to the members of the team. Tasks include compiling the photographic slideshow, writing the cruise log, creating a list of wildlife that we have seen, tending to the snorkelling equipment, and much more. I always hope that Conrad will be willing to take charge of the wildlife list, as he is often the person that passengers go to in order to have creatures that they have photographed identified.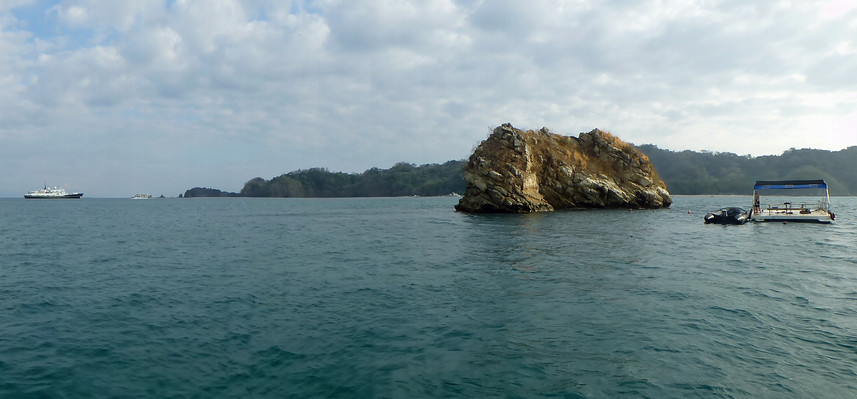 Snorkelling off Isla Tortugas, with the 'Serenissima' at anchor on the left. 30th January 2016.
On our first visit to Isla Tortugas, I noticed that the watersports operator at our beach landing had built a snorkel platform, and anchored it close to a nearby islet. I dispatched Conrad ashore to use his skills at negotiation with a fellow Costa Rican, and a deal was struck whereby we could use the Zodiac platform, as shown above. Whilst it might not look too impressive above the water, I was told by the passengers that they felt like they were swimming through a tropical fish tank once they had donned their snorkel masks and taken to the water. Naturally, Conrad was able to identify every species of fish, and even managed to find Nemo. That evening we were having the briefing and recap in the lounge. Conrad had placed the wildlife list on the noticeboard in such a way that passengers and members of the expedition team could add species that they had seen, that might have bypassed Conrad. During his recap, Conrad asked who had seen a 'Mute Swan' as such a bird had been added to the list. The passengers sniggered and looked around at each other, but no one came forward. Slowly, I sheepishly raised my hand. Conrad asked me if I could prove that I had seen a mute swan, and I said that I could. He claimed it was impossible to have seen one in Costa Rica. I then turned over to the next slide in the recap to reveal what I had seen…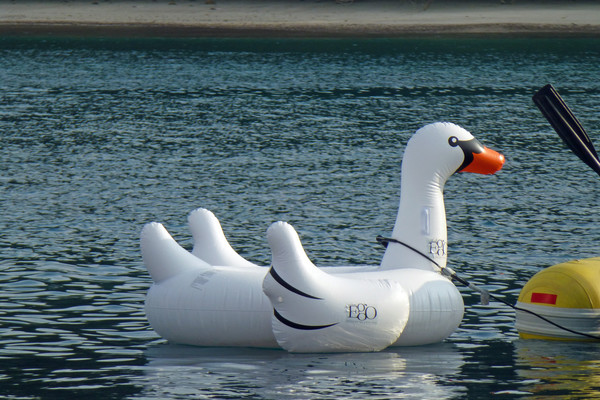 My cheeky addition to the wildlife list. Isla Tortugas, 30th January 2016.
Fortunately Conrad and the passengers saw the funny side, although I did remove the swan from the wildlife list that was published for the passengers to take home at the end of the cruise. As mentioned earlier, on the same day as visiting Isla Tortugas, we would also operate a half-day call at the Curú Wildlife Refuge. This is listed in the National Parks of Costa Rica, but is in fact a private island. The owners of the large island have used a third of the land for cattle breeding and growing crops, including soursop, guava, banana, mango and African oil palm. The remaining two-thirds of the island retain the natural vegetation, and are home to many types of birds, as well as animals such as white-tailed deer, mantled howler monkeys, Panamanian white-faced capuchin monkeys, coyotes, armadillos and friendly snakes. I say "friendly" snakes, as our guide assured us that they were, and I was very happy to believe him. On our first visit to Curú Wildlife Refuge, the news had broken that morning that music legend David Bowie had passed away the day before. One of my favourite pieces of music is the song "Life on Mars?" which, to me, is like an artwork that happens to be in the form of music. I don't really know why, but I took a big stick and a fallen coconut and wrote the words "Life on Mars?" in the sand, knowing that the tide would eventually wash them away. I think it was partly because I hoped that if David was looking down, he might now finally know the answer to that question that he posed in 1971.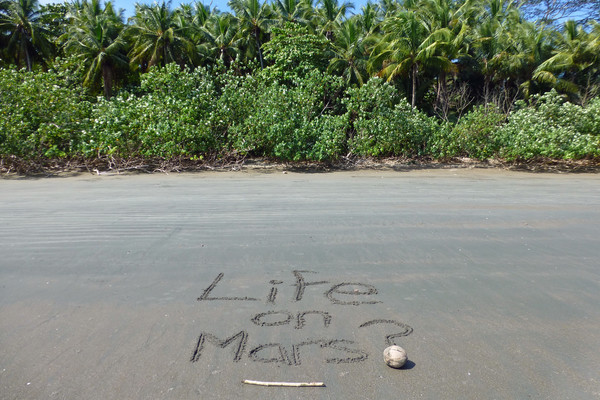 "Life on Mars?" written by me on the beach of Curú Wildlife Refuge. 11th January 2016.
As I write this it is now half-past midnight on Thursday 11th February. I've just got back from my first shift since the escapade that I told you about in the first part of this blog. Although there is heavy snow falling, I'm happy to report that I managed to get round in one piece tonight. From Ashford to Staplehurst, Ticehurst, Royal Tunbridge Wells and back to Ashford. My knees still feel painful from having to kneel down on the snow and ice to dig out the truck on Monday night, but I am relieved that that is all that I have to deal with. In the next blog I will continue looking at Costa Rica, and maybe delve in to other parts of Central America too. And finally… whilst I did get stuck in the snow, I did manage to avoid a large flood a few evenings earlier. I was driving near Smarden and, with it being a wet evening, I had already seen many flooded but passable areas. However, I wisely decided to do an about-turn when I came across this…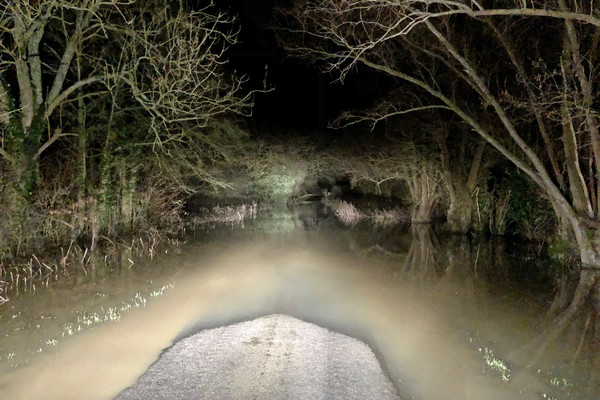 I would love to get back to sea, but maybe this isn't the way to do it! A flooded road too far, near Smarden, Kent. 3rd February 2021
When you cannot work out where the flood ends and the road starts again, it is definitely better to find another way! Goodnight for now and I hope everyone keeps dry and warm in this weather.