Saltwood and Salty Seas
Good evening everyone. It's just gone 6pm on Tuesday 26th January. From what I have seen on the news, the majority of the UK has been dealing with snow in the past week. Sadly (although for me, happily) we have not had any here in this southeast corner of Kent. Severe frosts, but no snow. That hasn't meant that it has not been bitterly cold on the early morning starts. But, being the Noble Caledonia trained trooper that I am, I'm still wearing shorts whilst on my rounds. Last week was a flurry of evening shifts, whilst this week has been daytime shifts. Always much better to be able to see the names or numbers of houses, rather than have to guess in the dark. I delivered to a farm near Biddenden last Friday, and whilst it was chilly, it was a gloriously sunny day. Having asked permission from the farmer, I stopped my truck as I left and took a photo. There is something timeless about the oast houses, and the inquisitive sheep just added to the rural scene.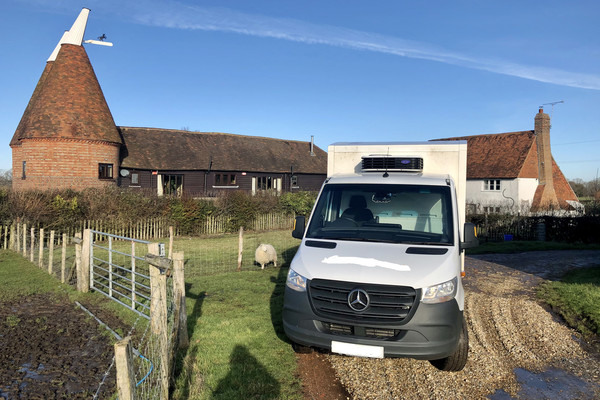 A sunny day for delivering in Biddenden. 22nd January 2021
I continued working throughout the weekend, and then had a day off yesterday (Monday). It is rather useful to have a weekday as a day off, as opposed to a Sunday when little is open. Normally, I would cherish my day off by staying in bed as long as possible, and then just potter around the house doing various chores and trying to think of something to write about for the blog. However, yesterday was my car's MOT day, so back to Ashford I went. To apply with the Covid regulations, I could have the MOT, but I could not wait inside the garage. The garage is on a large industrial estate, so I found myself sat on a chair (which I was kindly lent) in the freezing corner of their car park. I had been warned that this would be the case, and so I had wrapped up to such an extent that I resembled the Michelin Man. Fortunately the time soon passed and all was well. It was a beautiful sunny day, although the ground was still frozen in most places, and so I decided that I would take advantage of being up early on my day off and have a long walk. I chose to try and walk the trackbed of the former Hythe & Sandgate Railway. Whilst much is private land, there are footpaths that run alongside it, and it made for a pleasant and interesting walk. Dominating the skyline was the splendid Saltwood Castle, famously home to the military historian, diarist and politician, The Rt. Hon. Alan Clark (1928-1999). His widow, Jane Clark, still lives in the castle and parts are occasionally opened to the public. I zig-zagged across frosty fields as I tried to stay as close to the old trackbed as I could. A long embankment, an overbridge, and then Saltwood cutting. Sadly, like many old railway cuttings, it was infilled after the railway ceased operation in 1951. I had hoped to find traces of the two large three-arched bridges that spanned the cutting, but all I could find were the tops of the parapets, the infilling being to that extent. And then, a long way down a steep slope, I could see the eastern portal of the one tunnel on the branch line. I considered making my way down there to take a closer look. A rope had even been handily tied to a sturdy tree so that you could abseil down. However, being on my own, I realised it was not the most sensible idea to risk the slippery slope, and decided to continue over the hill and come down the other side.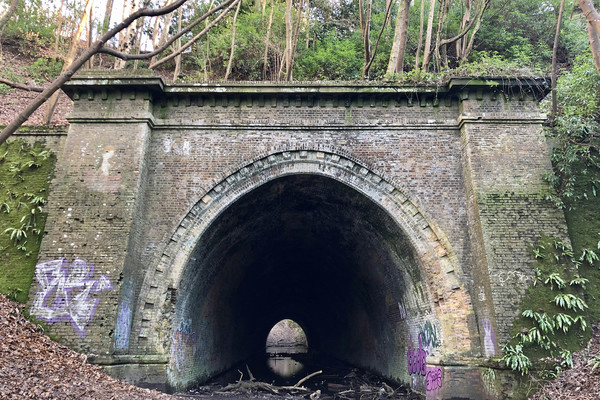 A portal to the continent? Sadly that dream was never realised. Hayne Tunnel on the former Sandgate branch from Sandling Junction. 25th January 2021.
Normally, this area is a quagmire, but the hard frost had frozen the mud and so I could walk up to the tunnel entrance and take the photo above. What puzzled me is that the tunnel portal is so ornate. This was, after all, just a three-mile long branch line from Sandling Junction to Sandgate, with one intermediate station at Hythe. All three stations were a fair distance from any sizeable population, and yet the line had clearly been built to a very high standard, and had a grand opening in 1874. Eventually I walked home (having waited for a bus that never arrived) and undertook some research. The reason for such grandeur was that the South Eastern Railway (as it was then) had planned to extend the branch line all the way to Folkestone Harbour, and thus provide a direct route from London to the Continent! They built it as far as Sandgate, and received parliamentary consent for the extension to Folkestone Harbour in 1876, but a formidable landowner in the form of William Pleydell-Bouverie, 5th Earl of Radnor, styled as Viscount Folkestone, proved to be a stumbling block that could not be overcome, and the extension was never built. Forevermore, trains from London had to awkwardly pause in a siding above Folkestone, and then reverse down a steep gradient into Folkestone Harbour. Safe with that knowledge in hand, I felt good to have had a long walk, and learnt something at the same time. Personally, I like the way the tunnel still stands, looking splendid, as to me it acts as a form of everlasting tribute to the men who built it nearly 150 years ago.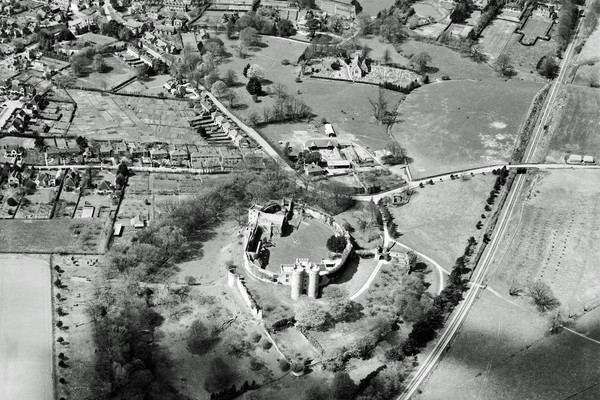 A 1940s black-and-white aerial view of Saltwood Castle, with the railway line I tried to follow towards the right of the image.

In the most recent blogs we have been exploring South Georgia and the Falkland Islands. Now that it has turned chilly here in the UK, I have decided that we should warm ourselves up and look at places with sunnier memories. The question that is always one that is asked of me, many times in a cruise, is that of where is my favourite place to visit. There is no single answer. A similar question I am asked is to say which is my favourite ship. I have mulled over both these questions for many a year now, and can offer answers. For my favourite ship, obviously I should reply by saying it is whichever ship I am on at that time. However, I'm too honest. I appreciate that some passengers and crew do have a single ship that is their favourite, but my answer is that I would like to take parts of many different ships and add them together. I would like to take the forward-facing bar from one ship, add it to the lido deck of another, include the crew mess from a third ship, have the grand piano from another ship, and so on, until I would have my favourite ship. With regard to the former question about a favourite place, my answer is that it is impossible to compare the likes of Antarctica to the Caribbean and everywhere else. Therefore, I tend to say that I have developed favourite places in various parts of the world. For example, in the UK I would say that Lunga, with the puffins in close proximity, is a favourite. In Norway it would be Sognefjord (home to Flåm, Gudvangen, Ballestrand, Undredal and more). In the Baltic it would be Visby on Gotland, as it is so incredibly well preserved and friendly. At the time of writing, I should be in Central America and the Caribbean. Thinking about that region, favourite places include Puerto Limón in Costa Rica, Cabrits in Dominica, Santiago and Cienfuegos in Cuba, Port Antonio in Jamaica, Oranjestad in St Eustatius, but the one place in the Caribbean that stands out for me is the British Virgin Islands.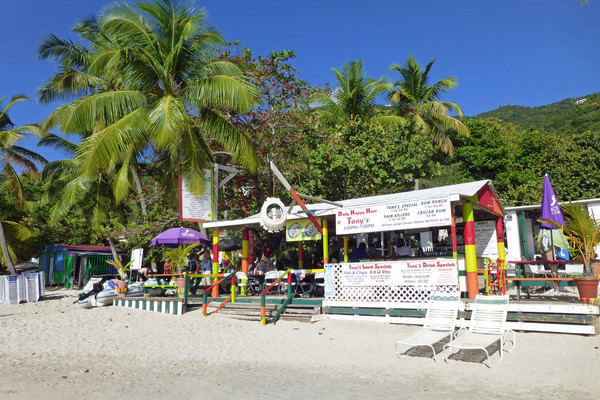 A warm welcome in the British Virgin Islands. One of the beachfront bars at Cane Garden Bay on the island of Tortola. 11th March 2017.
Why the British Virgin Islands? It is a combination of factors. When I started cruising in 2001, for those first few winters I would be based in the Caribbean. Our cruises turned around in Barbados, and we had two different circuits around the Caribbean Sea, and the occasional jaunt up the Amazon. The contracts were four months long, and the Norwegian captain was fond of the BVI, so he would sail as fast as he could so that we would have a bonus overnight stop in Tortola. I'm sitting here smiling thinking back on all those spontaneous, unexpected, sublime nights out with my crewmates. Happy Days! The BVI was also the one place where us Brits in the crew could stock up on treats from home. There was a single shop, within walking distance from the cruise pier, which took delivery every fortnight of a shipping container full of things from 'home'. I think I would buy every Curly Wurly they had and hope that they would last me until our next visit!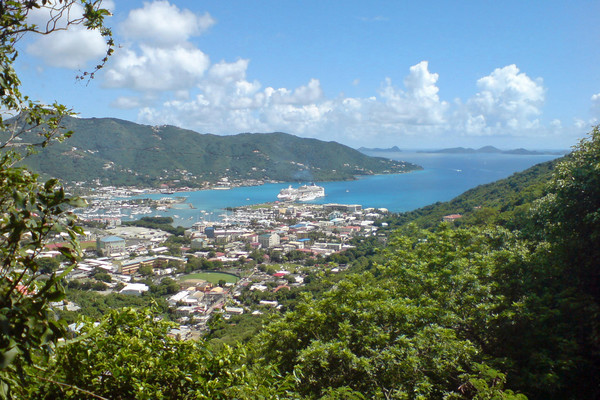 Looking down on the capital of the British Virgin Islands, Road Town on Tortola. The cruise ship pier in the centre of the photo, with Sir Francis Drake Channel in the distance. 5th November 2007.
In more recent years, since I have been with Noble Caledonia, I have been delighted to be able to explore the archipelago in greater depth. Our typical visit stretches over one-and-a-half days. Naturally, it would be easiest to dock in one place and stay there the whole time, but as always we are keen to utilise the size of the ship and reach places that other ships could only dream of. There is only one berth in the BVI that a cruise ship can use, and that is in the capital Road Town, on the main island, Tortola. As you know, I like to try and offer as much as possible to the passengers, and therefore I normally try and have us dock overnight in Road Town so that we can offer some local entertainment. My ideal scenario is that we anchor off Jost Van Dyke on the first afternoon (having spent the morning at sea en route to the BVI). After visiting Jost Van Dyke, we transfer over to the berth in Road Town during dinner and then remain alongside overnight. The next morning we have the tour of Tortola, and then, whilst the passengers are having lunch, we transfer to the anchorage for Virgin Gorda for an afternoon visit. Personally, I feel that Jost Van Dyke is the perfect introduction to this archipelago that proudly markets itself as "Nature's Little Secrets".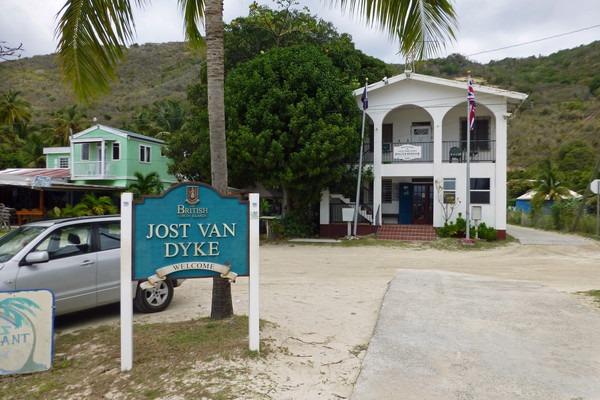 Welcome to Jost Van Dyke! The police station (with the post office at the rear) stands at the end of the pier. The Union Jack proudly flies from their flagpole. 15th March 2016.
"Jost Van Dyke" – it's quite a strange name for a British Virgin Island. The most obvious answer as to the etymology is that a 17th century Dutch privateer, Joost van Dyk, used the island as a hideout – but there is no definitive proof that that is where the island's name came from. It sounds like a good bet to me though. Another slight naming puzzle is that when we anchor off Jost Van Dyke, the location of our anchorage is 'Great Harbour'. I may sound slightly flippant here, but I have had the joy of visiting many great harbours in my time at sea, and I think this one could be better described as 'Very Pleasant and Charming Bay'. However, perhaps my version would take up too much space on the navigational charts. Having said that, Great Harbour is a key destination for many yachts. I have often had passengers ask me why we don't visit this place or that place. One of the factors is the need to have customs and immigration officials available. Each country designates which ports are "entry ports". Sadly, the days are long gone since you could simply turn up with a ship and land your passengers. Each itinerary is carefully planned by our team in Belgravia, as we can only enter a country at places that said country designates as being allowed. Once we have entered, we are often then free to explore as we wish, but that initial visit must be somewhere that is acceptable to the local authorities. Fortunately, at Jost Van Dyke, there is a small police station, which also serves as the post office, and they conduct immigration clearance procedures.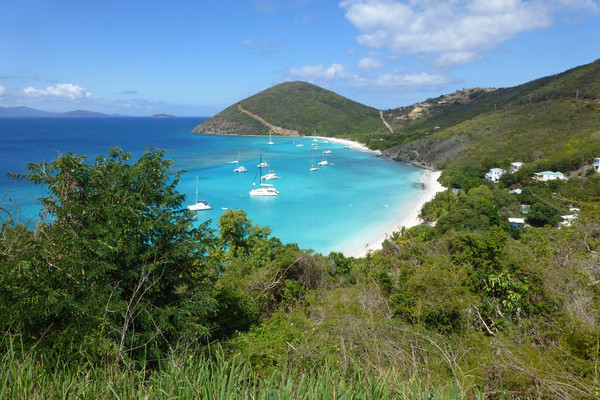 Looking down on White Bay as we make our way over the headland from Great Harbour, Jost Van Dyke. 15th March 2016.
When the clearance port is an anchorage, that can be a source of confusion and amusement to all concerned. In some ports, the local authorities have their own boat, and will come out to meet us and go through the paperwork. In other ports, they might arrive with the pilot. However, in more remote ports they will require us to launch a Zodiac to go ashore and collect them. The irony is not lost on us that we are asked to send someone ashore to collect the local authorities, so that we can have permission to send someone ashore! This may sound simple, but having driven the initial Zodiac myself, you can spend a while trying to find the local officials. I remember anchoring off Le Marin in Martinique and driving the Zodiac into the bay. I had been told that "the officials will be waiting on the pier". I then realised that there was a huge marina in front of me, and approximately 87 separate piers jutting out into the bay. It took a long time to weave between them all to find the officials – and when you have shore excursions needing to depart, it can become a little fraught.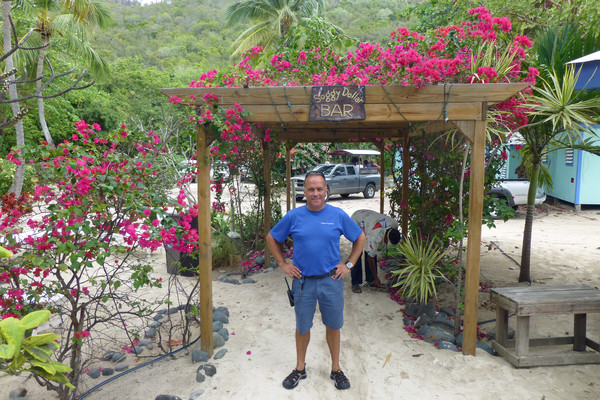 Noble Caledonia legend Colin Baird poses at the colourful entrance to the Soggy Dollar Bar.
I watched Boris, the Serenissima's charismatic First Officer, take the Zodiac ashore and weave between the various yachts to collect the officials. We welcomed them on board and, as is often the case once they see how professionally the Chief Purser has laid out the paperwork, we were cleared almost as soon as they stepped on board. We began to take the passengers ashore and they could choose to remain in the Great Harbour area, with its numerous quaint waterfront bars and cafés, or use the local charabanc-style 4x4s for a complimentary trip over the hill to the stunning White Bay. The bay is home to the famous 'Soggy Dollar Bar' – so named because those arriving on yachts would anchor off the bay and then swim ashore, and hence pay for their drinks with their soggy dollars. The island is a lovely introduction to the British Virgin Islands.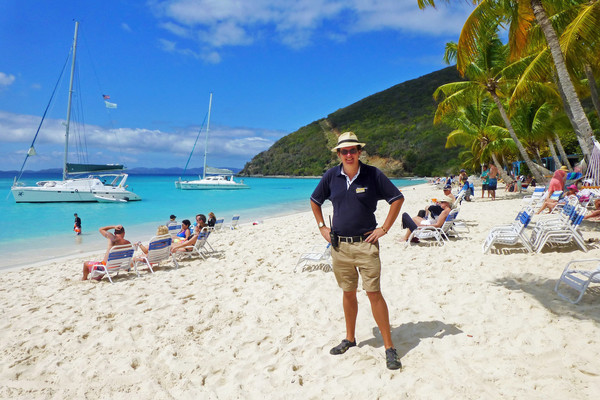 One of my favourite ever photos of me, standing in full uniform on the sands of White Bay, Jost Van Dyke. 15th March 2016.

Whilst the Zodiacs are a superb part of our style of cruising, they are understandably operated with safety as the primary concern, and one of the restrictions is that we are instructed to finish zodiac operations in daylight. Looking online, sunset today is at 6.10pm in Jost Van Dyke (and it is currently an enviable 29°C and partly sunny). We would therefore aim to have all the passengers back on board by sunset. A pre-dinner briefing would take place, reflecting on our first visit to the BVI, and whilst the passengers were enjoying dinner, the ship would meander over to the berth in Road Town for an overnight mooring. And with that, I will continue next week with tales of Tortola and Virgin Gorda. As I write this, Brighton & Hove Albion have just kicked off against Fulham, so I was keen to finish this blog before the radio commentary started – to ensure that I wrote it in a positive mood! Goodbye for now and stay safe and well.