Remembering
Good evening everyone. How are we all doing with this second lockdown? Obviously, I know that readers in different parts of the country may well have been in a second lockdown situation already, but I hope wherever you are and whatever you are doing, that you're making the best of it. I will be honest, and say that other than non-essential shops being closed, I cannot see any difference between this week and last week. The roads are just as busy, especially if I'm unfortunate enough to be delivering to an address near a school at the beginning or end of the academic day. Since I last wrote, we have had both Remembrance Sunday, and today (as I write it is Wednesday 11th November) is of course Remembrance Day itself. I was pleased that my 2020 pin-badge arrived in time from the Royal British Legion. It features both a poppy, and the crest of Brighton & Hove Albion football club. It is an initiative that Premier League teams started, as a further way to support the Poppy Appeal. I was out delivering on a long run on Sunday morning, but kept a close eye on the clock. At 10.55am I found myself in the quaint village of Wye, between Canterbury and Ashford. The next delivery was in Boughton Lees, and scheduled for 11.10am. I made the conscious decision to be a little delayed, and parked my truck near the church in Wye, where people were gathering for a socially-distanced outdoor service. It was a beautiful sunny Autumnal morning. Many gathered round, as best they could in the circumstances, and a young lad nervously played "The Last Post". I was taken back to when, as a Scout, we would march through Littlehampton to the War Memorial and play our part in the annual service. The service was movingly performed by an elderly veteran, and then I was able to continue with my delivery round in good time. Well, that's not strictly true. Wye is one of the very few places left in the country which still has a manually operated level crossing. Unlike electronic gates, which are automatically triggered by approaching trains, the crossing at Wye involves a Network Rail employee being rung up and told to close the gate. He or she then has a large key 'released' by a distant signal box, which is inserted into the frame of the two open-air levers that control the crossing. Once the level is pulled, he or she then closes the gates against the traffic. The villagers delight in telling me that, on a weekday, the gates are closed for an average of 29 minutes in each hour. It has even got to the point where one of the villagers has developed an app for the phone so that the locals can know when the gates should be open and closed, and can then plan their escape or return accordingly! I did indeed get caught in the queue – and looked on enviously at the crossing keeper, as that was one of the jobs I applied to Network Rail for, only to be told that I hadn't shown enough interest in railways.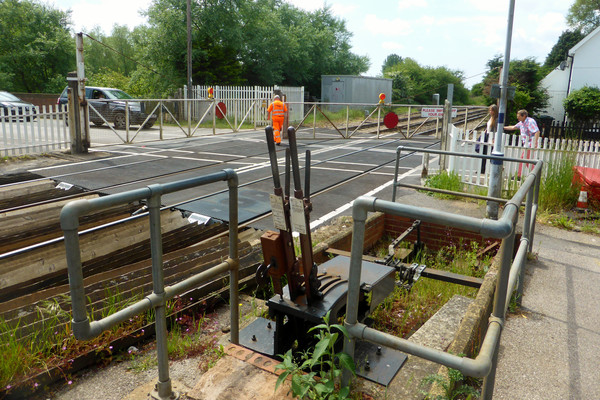 A trip back to the 19th Century at Wye Level Crossing
Today, at 11am, I was again on my delivery round. This morning's route took me to Lydd, Lydd-on-Sea, Greatstone-on-Sea and Littlestone-on-Sea. The road that runs from Littlestone-on-Sea to Dungeness is called The Parade, and then half-way along, for no apparent reason, changes its name to Coast Drive. I had given a friendly toot of the horn as I passed the permanent way gang, who were out working on the railway near the famous Pilot Inn. On some occasions, the schedule we are set for our deliveries is not rushed at all. This is purely dependent on which time slots have been booked. You may be very busy in one hour, and then have a more relaxed pace in the next hour, and so on. This morning seemed to be quite relaxed for the entire run. So it was that, with some time in hand, I was able to pause my truck just before 11am. I was on the coast road at the time, and decided to walk thirty yards and stand on top of Greatstone Dunes and look out to sea to observe the two-minute silence. After the two minutes had passed, I took this photo in order to show you were I was standing:
Greatstone Dunes, 11.02am on Remembrance Day

In the distance, slightly to the right and out at sea, you can just about see a remnant of "Mulberry Harbour". This is one of the Phoenix caissons that would have made up part of the temporary artificial harbours that assisted in the Allied landings after D-Day. This one portion was left behind as it could not be re-floated to be towed to France, and has remained off the coast of Littlestone-on-Sea ever since. Also today, the service took place at Westminster Abbey to mark the centenary of the internment of the Unknown Warrior. The first ever port that I sailed from was Dover Cruise Terminal. Not surprisingly, I can remember the day very well, walking nervously with my suitcase along the long and winding corridor that led to the 'Black Watch'. One of the things I remember about that day is being made to wait a long time before being allowed to board, and being told to sit in Cruise Terminal 1. Many of you reading this will have sailed from, or arrived at, Dover Cruise Terminal 1. It is the former Dover Western Docks (known as Dover Marine until 1979) railway station, closed in 1994 once the Channel Tunnel had opened and Boat Trains were no longer required. Fortunately, the station has been beautiful restored, albeit primarily as a covered car park, to accommodate the cruise terminal. Whilst I was waiting to board 'Black Watch', I looked around the Cruise Terminal and remember finding a plaque and photograph on the wall. The plaque read, "Near this spot on the 10th November 1920 the body of the Unknown Warrior was brought ashore from HMS Verdun on the way to its final resting place at Westminster Abbey". Ever since that day, whenever we have been sailing into Dover, I have always made a point of mentioning this in my Briefing. It still stuns me to know that, at the burial service a hundred years ago today, the guests of honour were nearly one hundred women, because each of them had not only lost their husband in the war, but also all of their sons. It is hard to imagine one wife and mother having to experience that, let alone almost a hundred. I hope they all found solace in the service on this day in 1920.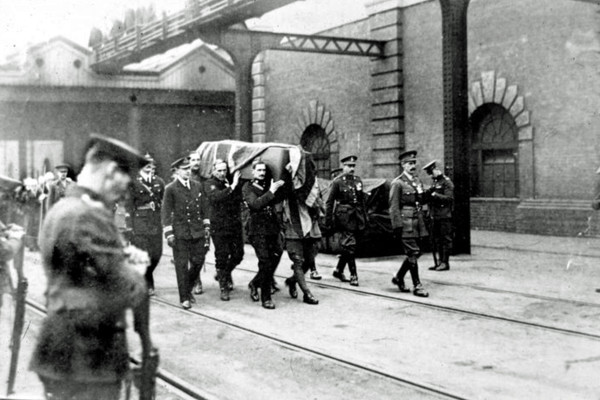 The Unknown Warrior at Dover Marine, 10th November 1920
Yesterday I saw another connection with World War I. I've been having a few issues with one of the tyres on my car. It's been choosing to slowly deflate of its own accord. Around one pound of pressure per day. I took it to be repaired a fortnight ago, but it is still happening, and so on my day off yesterday I returned to Ashford, deposited the car at the garage for the mechanics to take a closer look, and caught the local bus into the town. No offence to Ashford, as I'm sure it's the same in all town centres at the moment, but without the non-essential shops being open there isn't much to do for six hours! Even the chance to merely sit down with a coffee has vanished, although I did find a socially distanced space on a bench to place myself for a while. Thank heavens it was good weather. I spent a while meandering around the town centre, and the main item of interest I stumbled upon was a World War I tank. I had no idea that there was one on display in Ashford. It turned out to be a British Mark IV 'Female' tank. I had half-hoped it might be my courtesy car – would certainly solve any parking issues! It transpired that 265 of them were gifted to the towns that had raised the most via the National War Savings Appeal. She arrived on 1st August 1919 in Ashford, by train, and was driven by the Tank Corps Crew to where she has been on display ever since. Apparently she is the sole surviving example on public display in the country! According to the display board, 1,220 were built, of which 420 were 'males', 595 were 'females' and 205 were Tank Tenders. This, naturally, had be wondering what the difference was between a male and a female tank. To my rescue came Noble Caledonian guest speaker, Major Gordon Corrigan MBE. Via his fellow guest speaker, and wife, Imogen Corrigan, I was informed that a World War I 'male' tank had two 20 pounder cannons, one on each side; whereas a 'female' tank had machine guns only. It is rather splendid to have such knowledgeable friends and colleagues to call upon!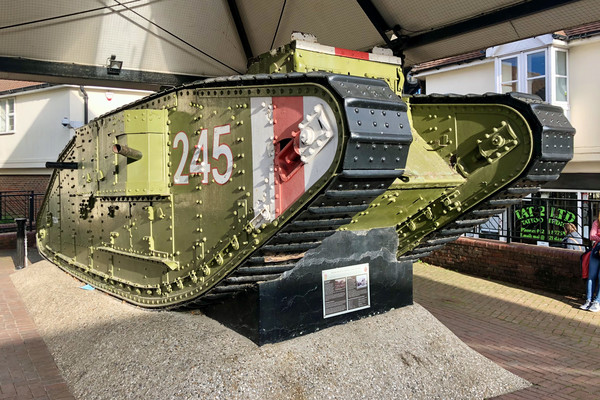 The World War I tank on display in Ashford town centre, 10th November 2020
I was thinking about where to write about this week, and then a moment of inspiration came. One of the perks of being a Cruise Director or Expedition Leader is that you end up with friends all over the world. However, one of the downsides is that, in a 'normal' year, you or they could be travelling anywhere so you have no idea which time zone they are in. As a result, I often receive messages at all hours of the day and night, and have learnt to keep my phone on silent when I go to sleep. For example, when it is time to go to sleep here, the Philippines are waking up, my Kiwi relatives are having lunch, whilst my American and Canadian friends are enjoying their dinner. Just as I was about to fall asleep the other day, I received a message from our local agent on the Caribbean side of Honduras. Carla is a brilliant, talented, entrepreneurial lady. We forged a wonderful friendship in 2015 and it was lovely to hear from her again. The friendship was established because Carla was looking after our call on 'Serenissima' to the Honduran island of Guanaja. When you think of the islands of Honduras, the only one that cruise ships normally visit is Roatán. The islands north of mainland Honduras are collectively known as the Bay Islands. These include the remote (and uninhabited) Swan Islands; the three main Bay Islands of Roatán, Guanaja and Útila and their respective islets; and the archipelago of Cayos Cochinos, closer to the mainland.
Whilst Roatán is a charming island, the two main ports are rather commercialised. Indeed, one of them was built by a major cruise line purely to serve their ships. That kind of destination, whilst welcome to some, is not the way we aim to do things at Noble Caledonia. We were originally scheduled to go to Roatán on 11th February 2015, but had been informed that all the cruise ship berths were taken and we would have to zodiac ashore from a distance anchorage. That did not sound appealing, and hence the idea came about of visiting one of the neighbouring islands instead. You may recall from previous blogs how I have mentioned that the welcome you receive at these rarely-visited ports is much more enthusiastic and personable than if you were simply another ship on another day in one of these major ports. Guanaja was the perfect example of just that scenario.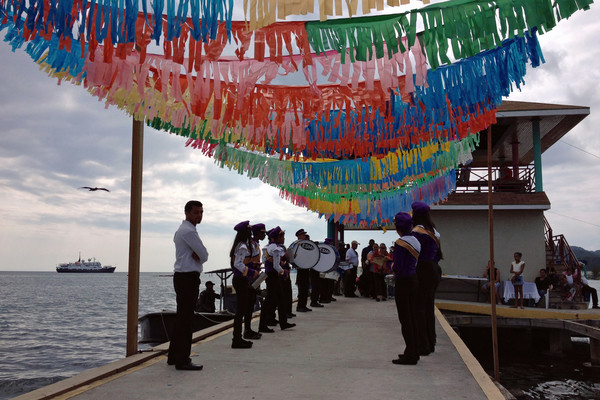 A pelican flies over 'Serenissima' as the local high school band prepare to welcome our passengers to Bonacca, Guanaja. 11th February 2015.

I had been in email contact with Carla before we arrived. When you are making a maiden call, the proposals given to you by the locals can often vary from what I would consider to be possible from a logistical perspective. That is where the diplomatic hat is quickly worn. Whilst you are grateful for the ideas, you want to be realistic in what can be achieved. For example, I have visited places where the local agent has allowed five minutes for all the passengers to disembark by zodiac. Whilst that idea is lovely, it's not very practical! Carla and I immediately struck up a friendship via email and phone calls. She explained to me what Guanaja had to offer, and I worked out how best to incorporate said offerings for our passengers. I also then have to tie-in the logistics of how many zodiac drivers we need, if we are also using local tenders, when we can offer lunch, and much more. Contrary to popular belief, whilst some is made up "on the hoof", there is definitely a method to the madness. Looking back now, as I just have done, at the daily programmes that I wrote for our visits in 2015, 2016 and 2017, I can see how they evolved each time, learning from our experience. If you take an aerial photo of Guanaja, the island looks like this: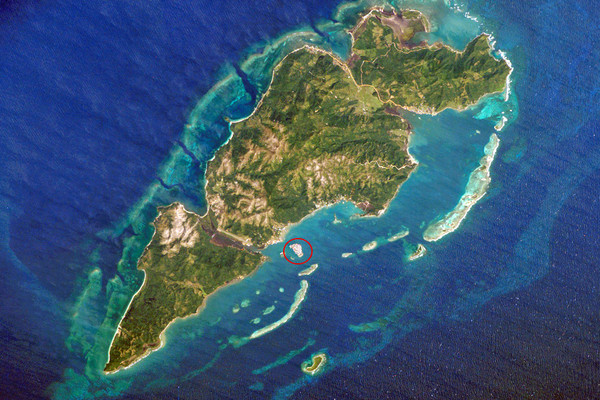 An aerial view of the island of Guanaja, with the main town circled.
A brief history would be that Columbus called Guanaja the Island of Pines, but Hurricane Mitch (October 1998) swept most of them away. Since then, a great re-planting effort has been completed and, until the pines have fully re-grown, flowering and fruiting plants thrive on the island. The island was declared a forest reserve in 1961, and is now designated a national marine park. The first English settler was Robert Haylock, who arrived in 1856 with a land title to part of the island, the two cayes that now form the main settlement of Bonacca and some of the Mosquito coast. He was followed in 1866 by John Kirkconnell who purchased Hog Caye, where the Haylocks raised pigs away from the sand flies. These two families became sailors, boat builders and landowners, and formed the basis of the present population.
Much of Guanaja town, locally known as Bonacca and covering a small caye off the coast, is built on stilts above sea water, with boardwalks and concrete pathways, hence its nickname: the 'Venice of Honduras'. It struck me as slightly bizarre that almost the entire island's population live in a village on stilts off the shore of the main island. I have drawn a red circle to mark Bonacca on the photo.
Looking back at our visit in 2017, we split the passengers into groups as we had various activities on offer. During the morning, everyone had the chance to visit the town of Bonacca, and then also to choose from either a nature walk on the main island, or the chance to go snorkelling. Everyone was back on board for lunch, and then the afternoon consisted of a transfer to the paradise of "Graham's Place". Sadly, that brings me to the end of the space I have for this blog, so I will save the photos and the story of our time in Guanaja for next week. In the meantime, I hope everyone is keeping well. Certainly, the news of a potential vaccine breakthrough has given us all new hope that there is indeed a light at the end of this tunnel. Fingers are crossed! Writing these blogs really does make me appreciate the job I had more and more, and has inspired me to want to deliver an even better product once we can operate again. Until next week… goodbye for now!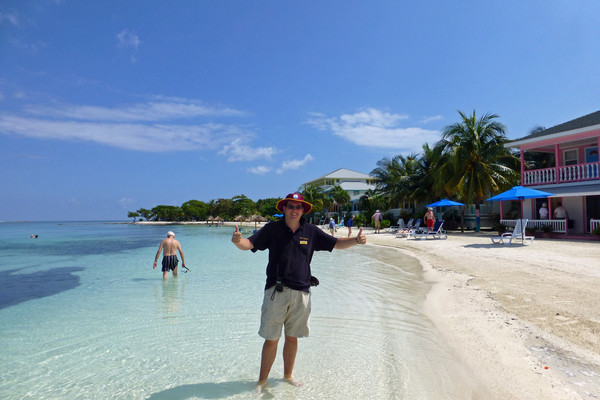 Living the Dream! Me at Graham's Place on the afternoon of 11th February 2015.