Passage South (and East)
Good evening everyone. As I write this it is 11.06pm on Tuesday 14th December. I made it home an hour ago, having spent the day having lunch with my fellow Cruise Director Tina, and Tour Manager Nicola in Portsmouth. You might be of the impression that we had a very long lunch, but it was due to me trying to be careful with my pennies that it has taken me a while to return home. Whilst trains via London are quite expensive, trains along the south coast are very cheap if you go after 10am (when you can use a railcard). Therefore it was an early start this morning and I drove to Cooden Beach, where I know there is free parking. Then it was on the train to Portsmouth Harbour, with changes at Eastbourne, Brighton, Barnham, Portsmouth & Southsea, and finally Portsmouth Harbour. I was warned of congestion in Brighton on my return, so instead went from Portsmouth Harbour to Cosham to Gatwick Airport to Cooden Beach. All for £13 return. It may have been quicker to drive the whole way, but whilst on the way to Cooden Beach in the morning I was listening to BBC Radio 2 and Richie Anderson informed me that the M20 was closed – so perhaps it is quicker by train after all! It was wonderful to catch-up with Tina and Nicola. With Tina now being a Cruise Director we only see each other if we are handing a ship over. Tina was recently on "Hebridean Sky" whilst I was on "Island Sky". Nicola and I have known each other for many years, and realised that ten years ago today we were together on a ship in Brisbane, Australia, visiting the Lone Pine Koala Sanctuary. Perhaps we are finally getting old!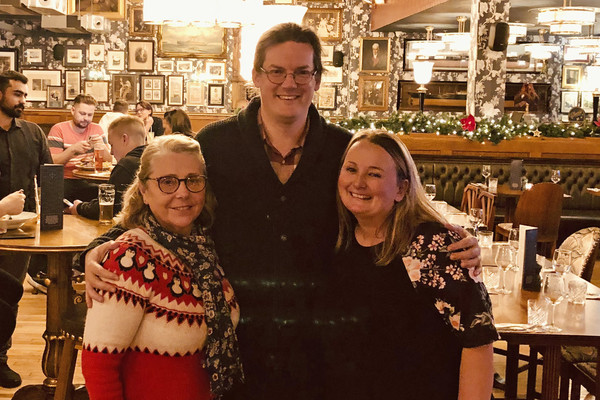 The Long and the Short of it! Tina Harrison, me and Nicola Cameron-Clarke in Portsmouth. 14th December 2021.
Since the last blog, which was written shortly after returning from "Island Sky" I should probably say that I have been relaxing at home and sorting out all the various tasks that need doing. However, in the style that I've become accustomed to, I've kept myself busier than ever. I've been to watch Brighton draw at West Ham in the former Olympic Stadium. I then headed up north and was treated to a splendid concert by the BBC Philharmonic at the Victoria Hall in Hanley. The programme included works by Mozart, Beethoven and Haydn, with virtuoso pianist Stephen Hough as special guest. The following evening I accompanied a dear friend of mine, soprano Rachael Russell, in a charity musical soirée organised by Noble Caledonia Lecturer Ernie Rea and his wife, Gaynor, in Alderley Edge. Then a couple of days later I flew out of Manchester (just as Storm Barra was arriving) and spent a few days in Istanbul with a friend from St Petersburg, before landing back at Gatwick on Saturday evening. With the 'PCR test on arrival' being negative, I've been able to get my booster jab and finally write and send some of my Christmas Cards. Not surprisingly, I'm now starting to feel a little run-down, but this is the life of a seafarer – you make the most of the time you have on land as you are (usually) away for at least half the year.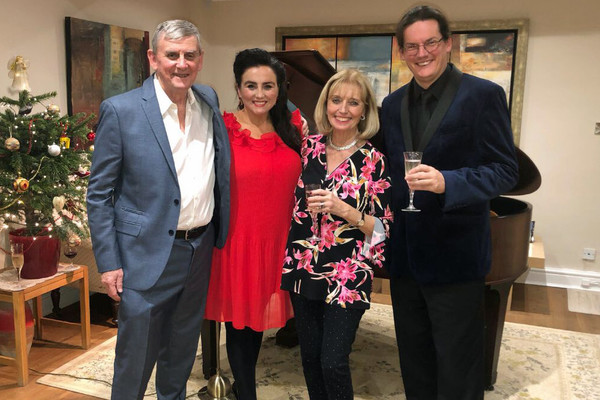 Ernie Rea, Rachael Russell, Gaynor Rea and me after our charity musical soirée. 4th December 2021.
At the end of the last blog, I promised I would write about the "Passage South" cruise. This was a 36-night cruise from Portsmouth to Cyprus – calling into Spain, Portugal, Gibraltar, France, Italy and Greece along the way. The half-way point, Málaga, saw around half the passengers' changeover. We therefore had a mix of those doing the first half, the second half, or the whole voyage. I'm sure I will be corrected if I am wrong, but I don't think Noble Caledonia had ever offered a single destination-based cruise of that length before. The last time I had been on a cruise of that length was when I sailed from Southampton to Hong Kong on the first half of the inaugural World Cruise for 'Saga Ruby' back in early 2006.
The Lisbon tram wends its way through the narrow streets. 29th October 2021.
We sailed from Portsmouth and after a couple of days at sea we arrived in what was my first overseas port since mid-March last year. From Vilagarcía de Arousa the passengers headed off to Santiago de Compostela. The welcome I received from our local agent was almost overwhelming. Whilst we all have our own personal stories to tell of how we had worked through the previous year-and-a-half, I had almost forgotten how the pandemic has caused havoc for everyone associated with the industry. All our local agents were so happy to see us coming back – even at this relatively unseasonal time of year – and in many cases it was a chance to renew friendships which are now even stronger. Our solitary call to Atlantic Spain led us on to three calls on mainland Portugal: Leixões (for Porto), Figueira da Foz (for Coimbra) and Lisbon. Of all the sights and sounds of mainland Portugal, one of the most abiding memories for the passengers was when our local agent appeared with three large boxes full of freshly based 'pastéis de nata'. Due to social-distancing restrictions, we could not pay our usual visit to the bakery, but we had especially arranged that the bakers would come in to work and we would collect their wares and then distribute them to the passengers whilst outside the Jerónimos Monastery, where the egg custard pastry was first created in the seventeenth-century. Apparently it was meant to be two per person, but I never received that memo and enjoyed my five. During the free afternoon, I ventured off to walk some of the tram routes, and finally found a location that I climbed many a hill to find, so that I could take the photo shown above.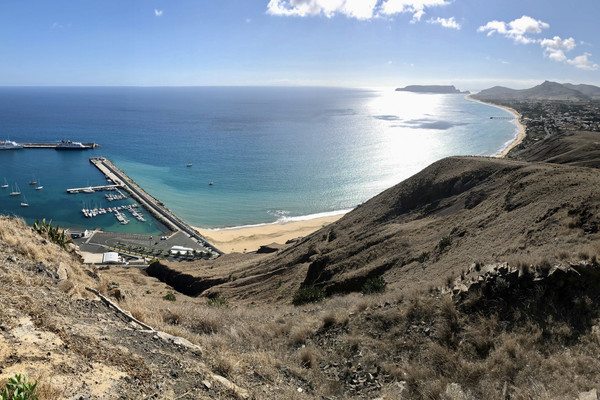 An overview of Porto Santo, with 'Island Sky' docked to the left. 31st October 2021.
After our visit to mainland Portugal, it was time to go island-hopping in Madeira and the Canaries. Many people don't realise that whilst Madeira is the name of the island 'Madeira', it is also the general name for the entire archipelago, which includes Porto Santo and the deserted Desertas islands. I had docked in Funchal many times, but never visited the island of Porto Santo before. I really enjoyed our afternoon there. Someone described it as "Madeira's Isle of Wight", and I could see what they meant. As you can spot in the photo above, the island has a long golden sandy beach stretching all the way along its southern coast. In contrast, Madeira only has a few small black volcanic sandy beaches. The spare berth in the ferry port was perfect for our size of the ship, and the guides were keen to show off their island to us. Always good to visit somewhere that the larger ships couldn't even contemplate!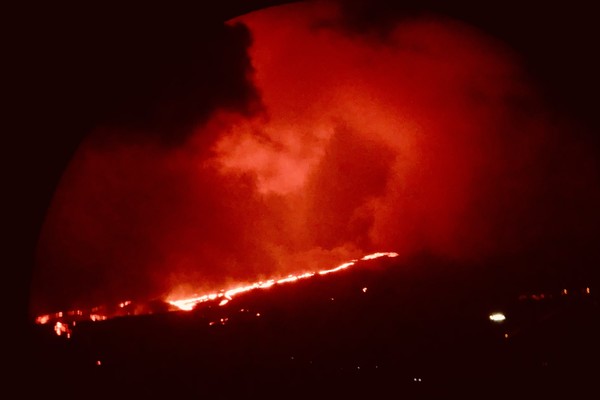 Las Palmas continues to erupt, as seen through a binocular lens. 4th November 2021.
A delightful overnight stay in Funchal then followed, with the ship berthed in a new terminal within a very short walking distance of the town centre. I handed out a complimentary Blandy's Wine as we departed Madeira and headed south to the Canary Islands. It will not come as a surprise to learn that we had to cancel our visit to La Palma, since their volcano had rather inconveniently erupted since the brochure had been published. However, we still visited the small islands of El Hierro and La Gomera, as well the larger islands of Tenerife and Gran Canaria. Not surprisingly, many passengers hoped that we might be able to sail by La Palma one evening to view the volcano. Captain Cardestig was incredibly obliging in doing so, but I felt guilty for the crew who spent eight hours cleaning the volcanic ash off the ship the following day. Sorry chaps!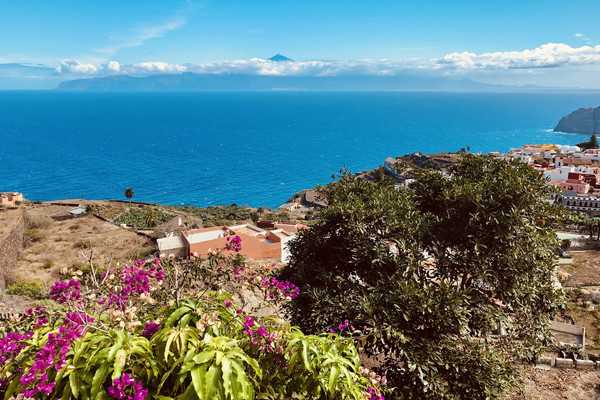 Looking across to Tenerife, with Mount Teide's summit poking through the clouds, from La Gomera. 5th November 2021.
One of the unexpected highlights of our time in the Canaries occurred during our lunch stop in La Gomera. We were treated to a demonstration of their unique whistling language, Silbo Gomera. I was sat with two of my tour managers, Christiane and Susan, and prior to the demonstration they were adamant that it was something that was made-up to amuse us tourists. However, their opinion was transformed once they had seen the demonstration. Words were clearly discernible in the whistling that the local chap performed. The language is now a compulsory subject in local schools to ensure that the tradition does not die out. When you saw the incredibly hilly landscape of La Gomera, the use of the creation of the language made sense, and it was even used as the language of the resistance during Franco's reign. Ingenious!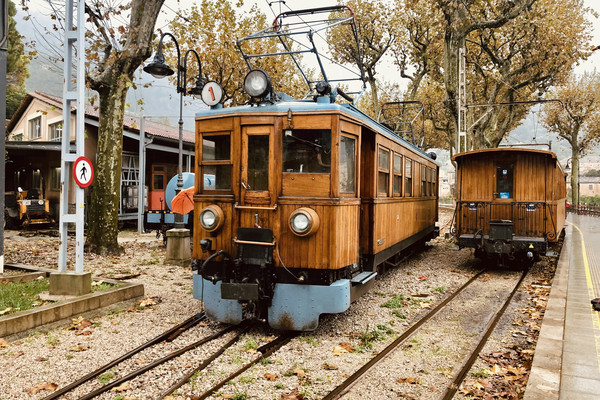 The only train ride of the cruise, from Palma to Sóller in Mallorca. 12th November 2021.
After our landings on four of the Canary Islands, it was time to head due northeast to Gibraltar. The Moroccan authorities sadly denied entry to all cruise ships, so Casablanca proved to not be possible, so we extended our stay in Gibraltar to a full day and evening. Gibraltar can, somewhat unfairly, garner a reputation as being not the most scenic and endearing of places. However, on this day the sun shone, we had the cruise terminal to ourselves, and even the apes behaved themselves. The morning included the overview tour of The Rock, and then the afternoon had the bonus offering of a dolphin safari or a trip to the botanical gardens and Garrison Library. I popped into one of the many duty-free shops and bought four bottles of Pussers' Rum so that we could have a toast during dinner to both Nelson, and also to mark the last night of the first half of the cruise. The next day was changeover day for half the passengers in Málaga, and with more passengers on for the second half, we set off with a day at sea before arriving into Palma de Mallorca. The day at sea happened to coincide with Remembrance Day, 11th November. With Rear Admiral John Lippiett as our Guest Speaker from Málaga onwards, he was the perfect chap to lead the Remembrance Day service on the aft deck, with a two minutes' silence at 11am, ended by the sounding of the ship's horn. The weather was glorious and the sea a flat calm. I had set-up the keyboard on the deck so that I could play the hymns, and switch to trumpet mode for 'The Last Post'. It was a beautifully moving service and poignant to be at sea at the time. The following day, in Mallorca, was the only wet-weather day we experienced between Portsmouth and Cyprus. However, much of the day was spent on the vintage electric train, or in the lunch venue, so it wasn't too inconvenient. My Assistant Cruise Director, Genna, managed to keep my excitement in check as we rode on the train. I looked as mournfully as I could at the locomotive driver but there was no offer to ride on the footplate. I'll try harder next time!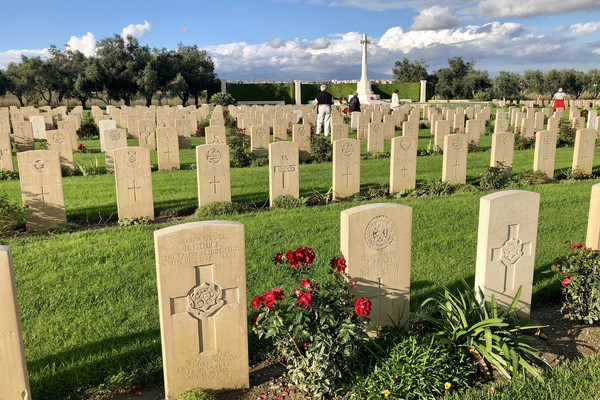 The Commonwealth War Grave Cemetery in Catania, Sicily. 18th November 2021.
After our day at sea prior to Mallorca, we were in port every day until the day before we arrived in Cyprus. Our busy schedule saw us call into the wonderful natural harbour of Menorca, and enjoy a sailaway gin and tonic with bottles of Menorcan gin that I had purchased – a charming legacy from their period of British rule. Onwards to Porto-Vecchio, our only French port of call, on the southeast coast of Corsica so that we could visit Bonifacio. It was particularly out-of-season in Bonifacio, and bizarrely the authorities had said we couldn't dock there but had to go 'round the corner' to Porto-Vecchio and then come back via coach. A couple of Sardinian ports then followed, namely Porto Torres (for Alghero) and Cagliari. Onwards to Sicily and stops in Palermo, Catania and Syracuse. Palermo proved quite exciting as the city tour stumbled across a student protest (which seemed fair enough as they were protesting about their school roof collapsing the day before). The guides appeared determined to follow their usual route, but Genna managed to convince them that avoiding the flares and smoke bombs would be a better idea. I went on the afternoon tour to Monreale Cathedral, and I was amazed to see the place almost deserted apart from our group. I have spent many hours in past years, queuing to enter these places – but we were simply strolling into every venue we came across. Whilst it can't be good for the local economies, from a tour agent perspective it was heavenly! From Catania we visited Taormina in the morning, and then in the afternoon we all paid a visit to the Commonwealth War Grave Cemetery. This allowed us the opportunity to lay the wreath that we had used a week earlier in the Remembrance Day service. With a snow-capped Mount Etna as the backdrop, it really is a beautiful and humbling place to be.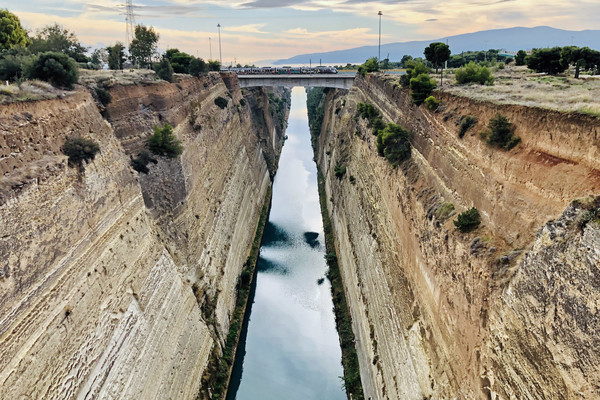 Looking down on the blocked Corinth Canal, Greece, as a train crosses the bridge. 22nd November 2021.
We stayed alongside in Catania until late so that we could enjoy a barbecue dinner in the shelter of the harbour. The restrictions of the pandemic understandably meant we couldn't have local entertainers come on board, so instead I asked the brilliant Hotel Manager, Antony Chorley, if he could have some of the talented crew perform instead. They rose to the occasion magnificently – as did Antony himself with his legendary rendition of a Louis Armstrong classic. A morning in stunning Syracuse then followed before an afternoon and a morning at sea took us across the foot of Italy and to the western shores of Greece. We landed at Katakolo and took the passengers to Ancient Olympia. I raced our trainee Tour Manager, Sven, who is only 20 compared to me at 43, and either I won, or he wisely let me win. We politely declined the suggestion by some of the passengers that we should follow tradition and race naked! After Katakolo we sailed round the Peloponnese, in light of the Corinth Canal still being closed due to a rock fall earlier in the year (which is still visible above the waterline). We made a maiden call (for me) to Kalamata so that the passengers could visit Mystras. I remained in Kalamata and led a small group of fellow enthusiasts to the nearby "Municipal Railway Park" where a number of steam locomotives were on static display. My ideal kind of task! After Kalamata we continued round the coast to Nafplio and enjoyed an overnight stay in this former capital of Greece. The tour on the first day included the sites of Mycenae, Nemea, a winery and, as an extra, a photostop overlooking the Corinth Canal. I was wary of including the latter, as it was naturally a disappointment that there have been unexpected delays in re-opening the canal, but it turned out to be a most worthwhile idea. Many passengers had sailed through the canal before, as had I on numerous occasions, but never seen it from above. It's almost a case of "blink and you'll miss it" if you're driving on one of the roads that crosses it.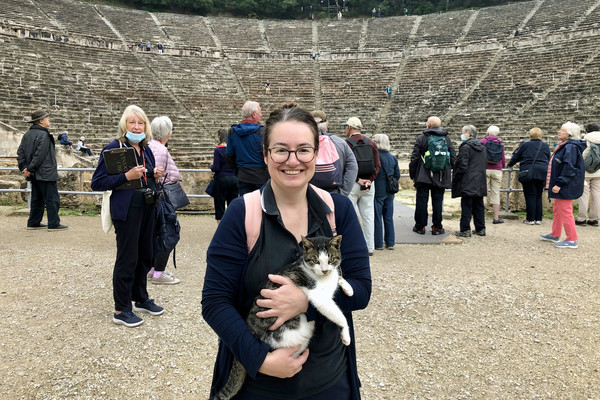 Assistant Cruise Director Genna, with Tour Manager Sue Stampe looking on, at Epidaurus. 23rd November 2021.
I ventured ashore that evening and enjoyed dinner in a Greek taverna. I half-hoped that Meryl Streep would appear and we'd be treated to ensemble singing of Abba's greatest hits, but sadly it transpires that not all Greek towns and villages are the same as 'Mamma Mia!' The next day the tour headed out to Ancient Epidaurus, including its magnificent theatre with near-perfect acoustics. We had learnt during the cruise that Sven has a good operatic voice, and with no other tour groups present we persuaded the local authorities to allow Sven to sing a few phrases. The sound was mesmerising as it was crystal-clear from the very back of the theatre. Incredible feat of engineering, given it dates back to the 4th century BC. As for the photo above, I had been photographing the theatre and turned round to see Genna with a stray cat in her arms. Anyone who's been to Greece will know that there are semi-stray cats and dogs everywhere. I say "semi-stray" because although they don't belong to a person, at many of the historical sites they appeared to be cared for by the staff there, and so it has become something of a permanent home for them. Genna claimed that this particular cat had "leapt into her arms". I will let you decide whether you think that might be true! Either way, both Genna and the cat were very content.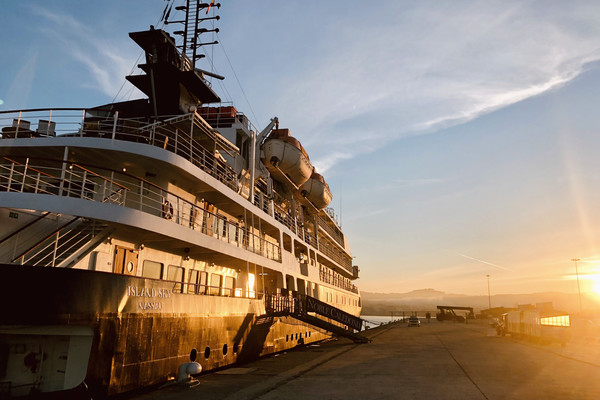 Sunrise on the "Island Sky" in Vilagarcía de Arousa, Spain. 26th October 2021.
From Nafplio we visited Piraeus (for Athens) which included the chance for the crew to go on their own tour to the Acropolis, having not been able to go ashore in Italy due to the local regulations. We then left the Greek mainland and headed to Heraklion in Crete. The all-day tour began at the beautifully tranquil Palace of Knossos, before heading out into the Cretan countryside, and featuring the best lunch ashore of the entire cruise. From Crete we had our last day at sea, complete with a sextant demonstration by the Rear Admiral, before arriving into Limassol, Cyprus for our last full day of the cruise. The evening proved quite eventful, as whilst we were having dinner on board, Boris Johnson was holding a press conference saying that everyone returning to the UK from aboard would have to have a PCR test "from now". I was almost screaming at the television to try and convince one of the assembled journalists to ask Boris what the word "now" meant – because if it really did mean "now", then we would have to re-do all the paperwork ahead of the planned flight home the following day. A nervous wait ensued as the senior management at Noble Caledonia contacted various government departments to try and get answers, until finally word reached us the next morning that the new rule would not come into force until two days after we returned to the UK. The last night on board saw a rare treat as both the Hotel Manager and the Captain came by to join me at the piano in the Club to sing for the passengers. The atmosphere on board had been brilliant from start to finish, and this was because of the perfect mix of ship's staff, crew, Noble Caledonia team, and most importantly the passengers themselves. Genna and I stood at the luggage carousel at Heathrow and made sure that everyone had all their belongings. It was wonderful to receive so many heartfelt kind words of gratitude as, one-by-one, our passengers said goodbye. With every passenger and suitcase accounted for, Genna and I headed out into the Arrivals Hall and said farewell to each other. If you'd told me two years ago that I would have been the Cruise Director for a 36-night Noble Caledonia destination-based cruise, I would have thought such a thing would never happen, but I am so pleased that we did it, and with that brilliant combination of teamwork from all parties, it was such a success. I hope there are a few years until the next one though, as I will need a lot more new material by then!