Pancakes and Limón.
Good evening everyone! Firstly, apologies for the awful pun in the title of this week's blog. As I write this, it is 7.32pm on the evening of Shrove Tuesday (16th February 2021). I've just cooked and eaten my dinner, and have spent a while staring at the carton of ready-made pancake mix that I bought yesterday. It says that you simply add water to the carton, shake it, and then pour it out into the pan. It sounds simple. That's because it is simple. But I still feel slightly terrified. However, I have been braver than usual. Whilst shopping yesterday, I initially picked up a pack of six pancakes that you simply had to pop into the microwave and then wait fifty seconds. When I then saw the carton of pancake mix, I thought I should give it a go, and so I returned the pre-made pancakes to the shelf. Maybe in next week's blog I'll tell you whether or not it was a success. Fortunately, I have a smoke alarm in the kitchen which doubles as my timer, so I'll know when they're ready. Meanwhile, back on Saturday, I decided to litter-pick the section of the Royal Military Canal that runs from behind my house to the Romney, Hythe & Dymchurch Railway Station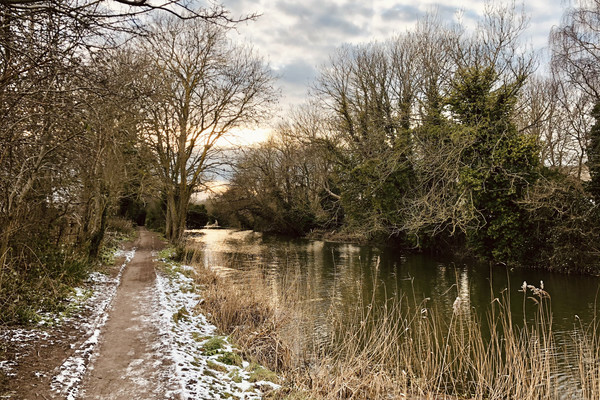 The Royal Military Canal in Hythe, Kent on 13th February 2021.
As you can see, most of the snow had gone from down here in Hythe, but as soon as you ventured out of town (which involves going up hills in all directions unless you are heading towards Dungeness), then the snow and ice was still hazardous. Thank you very much for the emails of concern regarding my extended overnight stay in the truck last Monday. I'm officially on 'holiday' this week, but with the current restrictions I cannot go anywhere or see anyone, so I have offered myself for overtime. To be honest, I am always available for over time. Being at home and not living with anyone, I tend to be free! I picked up an additional shift on Sunday, and the roads were still impassable in places. The major snag was the ice. I stopped at one delivery, in a rather grand new housing estate, but the houses were rather tall around the parking area, and the wintery sun had not been able to reach the ice. My two back wheels were caught on a small patch of ice, and that meant that I couldn't move. I felt rather embarrassed to ask the chap I had just delivered to if he would mind giving me a little push. He was very kind, but I felt nervous as he placed his walking stick to one side and carefully leant against the bonnet. Fortunately, it only needed a few millimetres of movement and I had gained traction again. I think I was more relieved that the gentleman was fine. He was very chirpy and told me that he looked forward to telling his great-grandchildren of his new found strength and capabilities!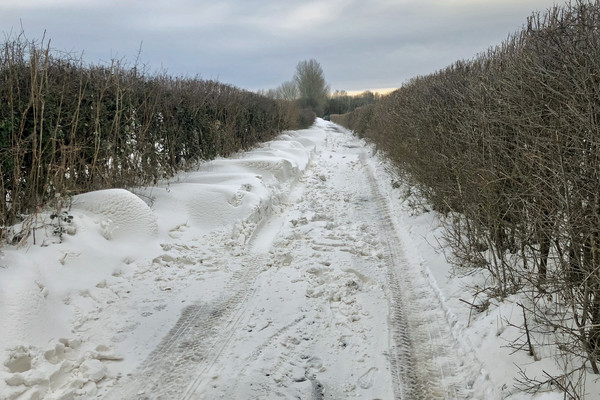 Trying to reach Westwell, Kent on Valentine's Day 2021.
Later on in the shift, heading for my last delivery of 17, I was trying to reach Westwell. The village is quite remote, and there are three country lanes that lead to it. I opted for the one shown above. It wasn't a good idea. However, as you can't quite see in the photo, I had stopped where the road was still clear and then walked forward twenty yards to take this photo. A stranded car was blocking the road in the distance. I clambered back into my truck and the radio started playing The Who's "Won't Get Fooled Again". That was my cue to decide that I would not attempt that route, and reversed back to the main road. The other route I found was still covered in ice, but passable, and so I made it to my final delivery and then back to the depôt. Yesterday morning, I covered a short four-hour shift, and what a difference a day made. With the temperature improving overnight, there was hardly any ice or snow around. Long may that be the case – but in many ways I am also glad to have experienced those conditions.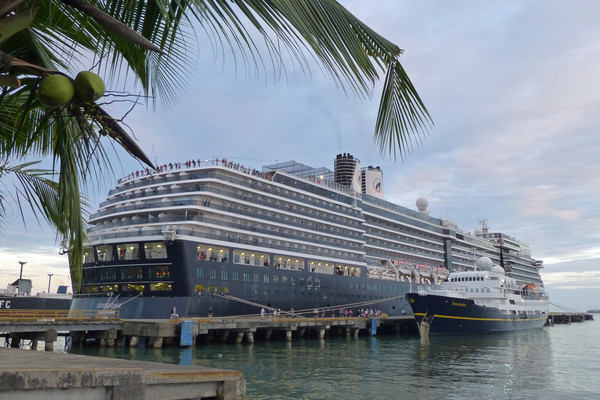 'Serenissima' alongside the Holland America ship 'Zuiderdam' in Puerto Limón, 21st January 2016.
Above is one of those photos that everyone tries to capture. It also perfectly illustrates the problem I have when I tell people that I work on a cruise ship. They immediately think of ships like the huge beast on the left, as opposed to the beautifully formed vessel on the right. Having referred to 'Zuiderdam' as huge, I should point that she "only" carries 2,000 passengers. The largest cruise ships in the world have the capacity to carry 6,780 passengers (and 2,200 crew). I can remember walking back along the quay side to the 'Serenissma', just as she was starting her engines. We had been in port for three days, with the middle day being our turnaround day between cruises. Naturally, as with any engine, when you start her up having been idle for three days, this involves some smoke appearing from the funnel for a short time. By chance, the 'Zuiderdam' was down-wind of us, and I watched as their passengers, who were all sunbathing on their balconies, made a dash for cover. 'Serenissima' may be small, but she's certainly powerful!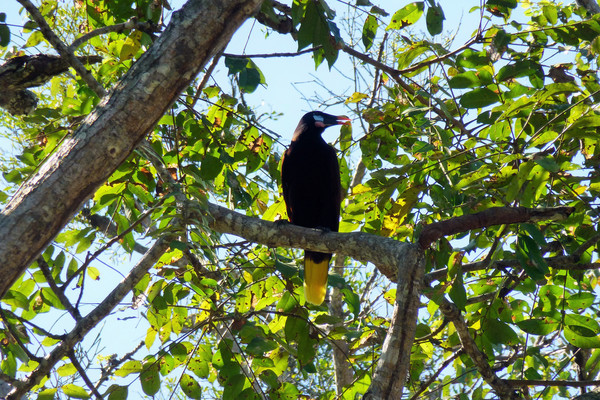 A Montezuma Oropendola perches high above our train in Limón. 7th February 2016.
Last week I focused on the Pacific side of Costa Rica – where I should be right now. This week, I've decided to cross the country and visit the Caribbean side. The only port, to my knowledge, that accommodates cruise ships on the Caribbean side is Puerto Limón. Not wishing to sound rude, but there is not much in the town itself to visit. It is very much a working port, with a town attached. However, the places you can reach from the port are fabulous. One of my absolute favourite excursions takes place from Puerto Limón, as it includes stunning wildlife and, you won't be surprised to learn, a train! In order to make the most of our time on the tour, we usually split the passengers in half. Not literally, as that would result in too much paperwork, but half of the passengers take the canal cruise and then the train ride, whilst the other half do it in reverse. Somehow, and I'm never sure how this happens, but I tend to do the train first, and then miss the waiting coaches, and have to take the train back again. However, occasionally I have resisted such temptation and completed both parts.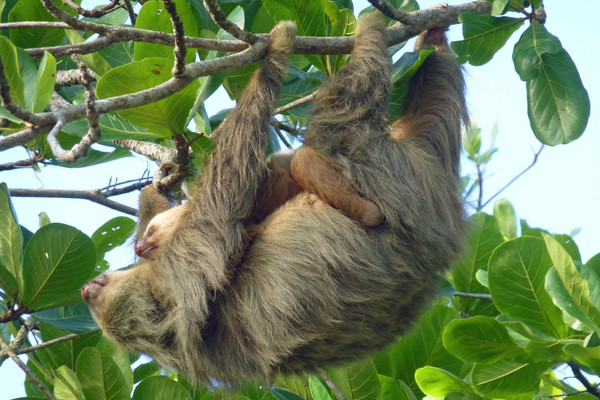 A mother and baby three-toed sloth relax in a tree above our train. 11th February 2017.
We would set off from Puerto Limón in our coaches, with our expert and learned guide, and arrive next to an area where Dole bananas are transferred to the waiting ships for exportation. A train of banana wagons would be on one track, whilst a locomotive and two comfortable passenger carriages would be on the other. With everyone safely aboard, we would set off into the jungle. I would tend to persuade the locomotive driver and his second-man to allow me to ride in the cab with them. Not only were the two chaps always friendly and charming, but they had eyesight which beggared belief. From a few hundred yards they could detect wildlife up in the far reaches of the swaying palms. They would bring the train to a halt, and call back to our accompanying guides to let them know what they could see and where we should all look. Many times we would disembark from the train to admire monkeys, sloths, and all manner of tropical birds. Perhaps not surprisingly, the sloths were always the star of the show, and I do particularly like the photo that I took and is shown above.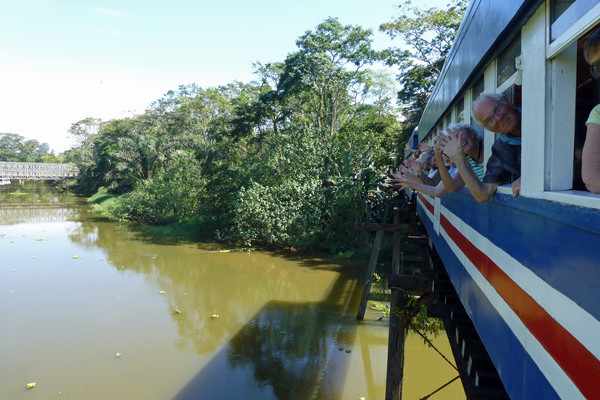 Looking down on the Tortuguero Canal from the train. 7th February 2016.
As you can see above, the train would then pass over the canal. Occasionally, the timings were such that the other half of the passengers would be able to wave from their boat below. The train would continue, often passing over railway lines that couldn't be seen due to being overgrown. I remember one occasion when a palm tree had fallen across the track. Thinking that we would have to prematurely end the excursion, or reverse back to Puerto Limón, I was amazed when the engine driver and his second-man produced a machete from their equipment locker and set about hacking at the tree until it was cleared from our path. Later on, with the help of our bilingual guide, I explained to them that I was in awe of their flexibility, because in the UK a train is not usually able to pass over a leaf, let alone have the driver and second-man remove a tree by themselves!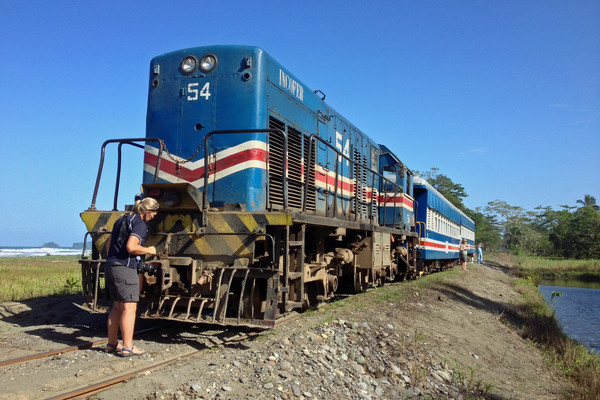 Fellow railway enthusiast Kristine Hannon inspects our train at the beach stop. 11th February 2017.
After our pause at the beach, with passengers being able to disembark the train and stroll across the dark sands to the Pacific Ocean, we would climb back aboard and then reverse to the area where our coaches could reach us. Meanwhile, the boat trip on the canal would have come to an end, and the coaches would pass each other as the two groups changed location. As mentioned before, I would often remain with the train crew in order to selfishly enjoy the ride again with the second group. However, sometimes we would operate the entire excursion one-way, if capacity was restricted due to large ships being in the port. On one such occasion I did accompany the group as we made our way to the canal.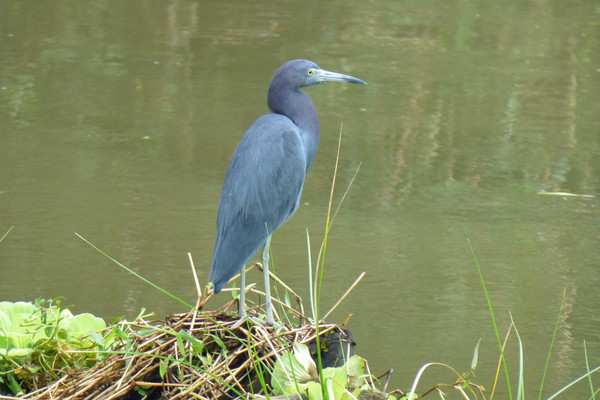 A Little Blue Heron looks out across the Tortuguero Canal. 21st January 2016.
One of the hardest parts of writing this blog is deciding which photographs to use. It has been both heart-breaking and delightful to look back through my photos from previous visits to these places. Heart-breaking because I should be visiting them again instead of being here at home, but also delightful to have such memories and be in a position to be able to share them with you. I took so many photos on this excursion that I could easily fill up several blogs! However, whilst a little blue heron may not be the most exciting subject, I simply enjoy its graceful and elegant lines. The drivers of the canal boats, which had been expertly designed to maximise the chance for everyone to see the full panorama of the scenery, knew exactly where we were most likely to encounter wildlife. Our guides also came into their own at this point, and somehow made their enthusiasm become transcendent on us all – as though they were seeing these creatures for the first time. Their sharp eyes were sensational. I can remember viewing what appeared to be an ordinary tree, but on closer inspection there were tiny bats in a perfectly straight line going up the bark. Suddenly our attention would be broken by a splashing noise as a Jesus Lizard (or Common Basilisk) would dart across the water. These lizards are nick-named the Jesus Lizard because of their ability to skip across the surface of water. A very neat trick, but one that is difficult to capture in a photograph.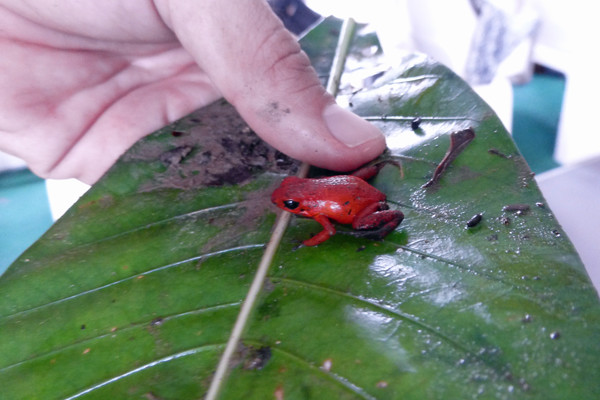 A Strawberry Poison-Dart Frog, being gently held by our guide. 21st January 2016

On another occasion, our guide pointed out the above frog to our guests. Given its size, it is perhaps not surprising that everyone was finding it hard to spot on the riverbank. Not a problem for our versatile guide. He asked the boat driver to nudge the bow into the bank, and then stepped ashore and managed to catch the frog on a leaf and delicately hold it in place so that he could show everyone. Effort like that is what small-ship cruising is all about. Also, having the guide's thumb in the photo helped to illustrate the minuteness of the frog. It did amuse me that he referred to the frog as the "Strawberry Dart Frog", carefully omitting one vital word. Once he had released it back into the wild, he then mentioned its full name. Rather him than me!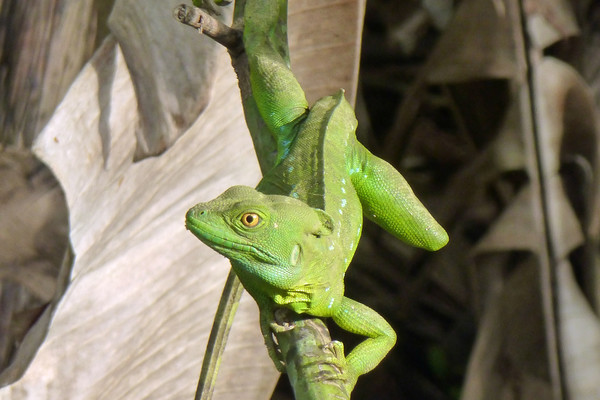 A Green Iguana catches the sun on our canal trip. 21st January 2016
More monkeys, sloths, birds, lizards and such things would appear as we continued to wend our way along the canal system. This green iguana stood out. He didn't seem to mind at all that a boat load of tourists were all aiming their cameras at him. He or she was more concerned with capturing the energy of the sun and making the most of the perfect weather. Having seen all we could see, the boat was turned around and we headed back to the landing stage, ready for the opportunity to purchase some locally made souvenirs and sample some of the fruits of the forest before heading back to the ship. Having had the passengers split into two groups led to a thriving atmosphere at dinner as each group relayed to the other what they had seen. No two trips are ever the same! I can recall sitting in the warm evening air on the aft deck of 'Serenissima' as we left port, and thinking about what a wonderful day it had been. Everyone from the charming locomotive driver, the happy coach driver, the engaging guides, our own expert Expedition Team, and above all our enthusiastic passengers had all combined to make it a perfect small-ship day. All my fingers are crossed that we will be back sooner rather than later and that I will be able to join many of you in making these trips. Some of you will have been to these places before, but will know that no two visits are the same, and there is always more to see. Until that time comes, I wish you all the very best and thank you once again for the kind emails, and for taking the time to read these musings of mine. I better go and make an attempt at these pancakes. Before I go, a quick thank you to my dear friend, naturalist Dr Kevin Elsby, who I sent the photos to earlier this evening so that he could identify the wildlife for me. Not only is he a wonderful naturalist and photographer, but he is also a passionate Liverpool FC fan who congratulated me on Brighton's surprising victory at Anfield earlier this month. Until next week, goodbye for now.