Looking ahead to Scottish Island Hopping!
Good evening everybody. After a bizarre two-weeks since my last blog of near constant rain showers, summer returned today. I have spent today (Tuesday 3rd August) as the signalman at New Romney. I started off by wearing the company polo shirt, but in the early afternoon I changed into a white shirt, tie and traditional railwayman's waistcoat. An ITV film crew were visiting to record a feature for the local news. I had been warned that they might be interested in interviewing me, and so had brought my yet-to-be-worn traditional outfit with me. The precise moment the film crew appeared happened to coincide with a very busy period of shunting. This involved me running to and fro between the signal box and the trains, and leaning down between carriages to couple and uncouple. By the time I had finished, I very much doubt I was still clean for the camera. At least I will look authentic! I have no idea if the part where they interviewed me will be used, but I did try to accidentally-on-purpose mention "Noble Caledonia" during one of my answers. Fingers crossed!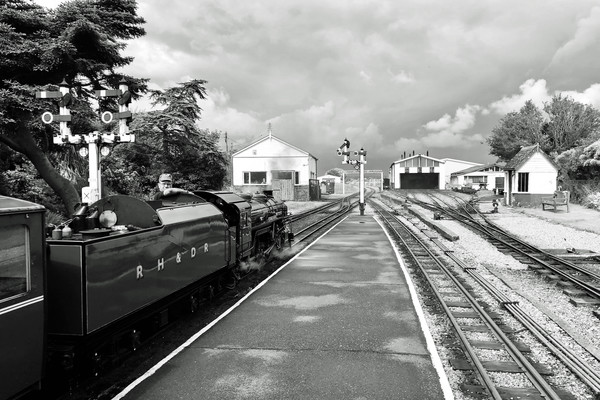 "Winston Churchill" awaits the 'right away' with a stormy backdrop. 1st August 2021.
One of the many blessings of being associated with Noble Caledonia is that I have a wonderfully vast and varied number of learned friends in all fields of science and nature. If ever I see a creature and I do not know what it is, then I take a photo and put it online, and within seconds an answer appears from one of the field staff. I think that is one of the main attractions of the expedition and semi-expedition cruises that we offer – that there is always someone on hand who can identify what you are seeing. A couple of years ago, I started to add a session on a sea day afternoon where passengers could bring their cameras to the lounge and have the field staff identify what they had taken photos of. I remember Conrad, in particular, being sat there all the way through afternoon tea as passengers eagerly catalogued their photos via his encyclopaedic knowledge. So it was the other day, whilst working as Hythe Station Master that I spotted a moth by the dog water bowl. I had never seen such a colourful moth before.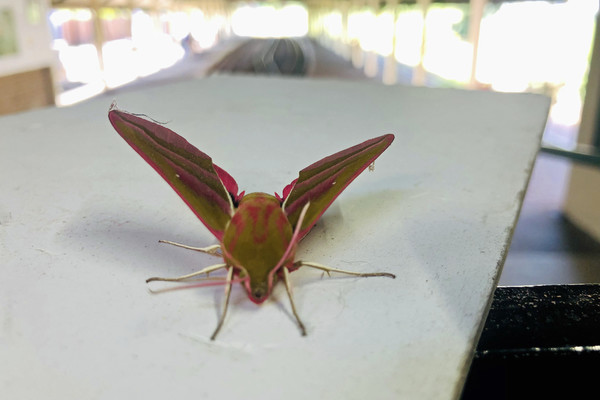 An Elephant Hawk Moth at Hythe station. 23rd July 2021.
After gently nudging it to see if it would fly away, it appeared to be a rather dead moth. However, as I manoeuvred it carefully onto a white board, it showed signs of life. I can only presume it was in a deep sleep – although given its location, I'm stunned that it hadn't been trodden on or eaten by a dog! I cautiously removed the dust from its wings and carried it to a sheltered, shady bush and it gladly clung onto a branch. As predicted, within seconds of me posting the above photo, I was informed that it was an elephant hawk moth. One person disagreed, and said it was a Deilephila elpenor. It turned that is simply the Latin name for the same creature. I could not recall ever seeing a moth so brightly coloured, and felt it must be a rare sighting. My colleagues informed me that they are rather common in England. Not to be downhearted, I still felt proud that I had rescued the moth from a passing dog.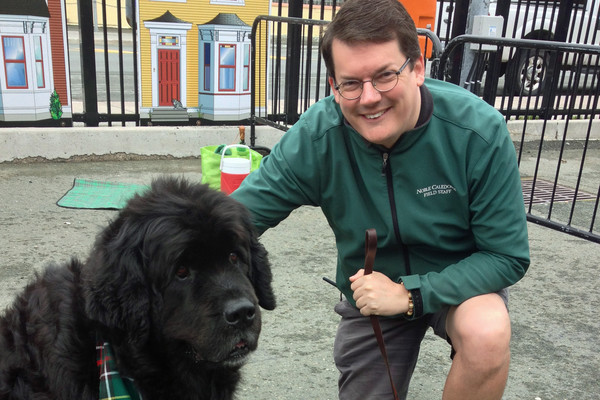 Me with a welcoming Newfoundland dog in St. John's, Newfoundland. 3rd June 2018.
Speaking of dogs, for only the second time in my life I saw a Newfoundland dog last week. The only previous occasion was, appropriately enough, when we visited St. John's, Newfoundland with the 'Hebridean Sky' on 3rd June 2018. On the railway, we used to charge a small amount for a dog ticket. Nowadays, we allow them to travel for free, because they don't take up much space. I don't think we had envisaged a Newfoundland visiting us. The dog was travelling with a family of three, in a four-seat compartment. I reckon the dog took up about three of the seats, with the family all huddled together on the other one! One of my duties as signalman is to carefully watch the Hythe-bound trains depart from New Romney, looking out for any potential defects. At the same time, I am also waving to the passengers. Rather unprofessionally, I burst out laughing when I spotted the huge head of a rather sullen looking Newfoundland poking out of the window, with the family all squeezed in behind. I'm sure the dog will have enjoyed taking the family for a walk down at Dungeness!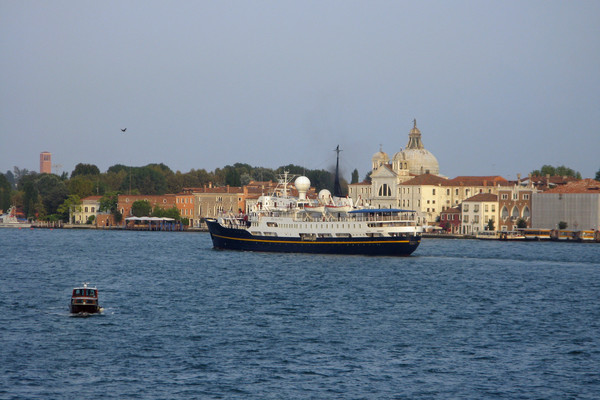 A surprise find in my photo collection. I took this photo of another ship as we sailed into Venice on 3rd September 2008. The ship is called "Andrea" – later to be re-named "Serenissima".
Moving onto more cruise-related items, I heard on the news the other day that the Venetian authorities have decided to ban cruise ships which are over 25,000 tonnes. No doubt all readers of this blog will be pleased to note that the 'Sky' ships are not even one-fifth of that weight. I have been to Venice a number of times, and it is undoubtedly one of the most dramatic sail-ins that you can ever experience. I have stood on the Bridge wing whilst the guest speaker has pointed out St Mark's Square, the Bridge of Sighs, the Doge's Palace and much more. However, I have also seen the massive cruise ships sailing along the same route and casting a long shadow over the glories of Venice. If I remember rightly, a few years ago this same cause of action was taken, but was then overturned by those representing the people who rely on the cruise trade for their employment. I have spoken on the ships before about how lucky we are to be able to visit places that are out-of-reach to the large cruise ships, and how the likes of Barcelona, Rhodes, Dubrovnik and Venice are places where the residents can be understandably upset by the mass tourism that large cruise ships generate. However, my thinking is that it is mostly the ports themselves that are to blame. Why? Because it is the port authority that accepts the booking in the first place. I have visited other ports where there is a strict limit on the number of ships (or more appropriately, the number of passengers) who are allowed into the port each day. All bookings are done on a first-come-first-served basis, and that seems a fair way to resolve the issue in my opinion. Would the major cruise lines think twice about building ever-larger ships? I doubt it. There will always be somewhere that is willing to receive them, but if more ports took a stance, then perhaps the image of large ship cruising would improve. One of the best solutions I have seen is that in St Petersburg – where they constructed a large out-of-town purpose-built cruise ship port that all the large ships have to use, whilst smaller ships like ours can still sail into the heart of the city and dock by the first bridge. That really is one of the joys of small-ship cruising.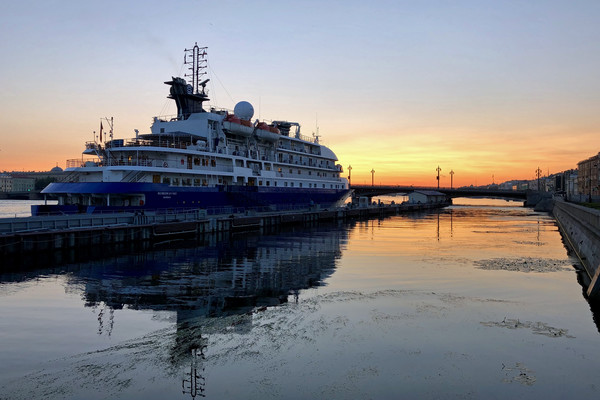 The sun rises on 'Hebridean Sky', berthed at English Embankment in the heart of St Petersburg, Russia. 16th July 2019 (at 4.06am).
Since I last wrote, another task has been creating the Travel Quiz that you will find elsewhere in the Travel Post. As an inspiration, I took the itineraries of the cruises I will be directing when I return to sea in late-September. Just reading through the list of ports, before I even look at the included shore excursions, excites me… Portsmouth, Portland, Fowey, Tresco, St Mary's, Swansea, Fishguard, Larne, Holy Loch, Bute, Troon, Crinan, Loch Sunart, Tobermory, Loch Torridon, Plockton, Skye, Knoydart, Fort William, Gigha and Islay. Some might understandably be wary of the itineraries taking place in October, but from the experiences of visiting many gardens whilst on Noble Caledonia cruises, I find that spring and autumn are definitely the most interesting times to visit. I have sometimes made the mistake of visiting gardens in the height of summer and realising that everything is simply a slight variation on green – whereas the autumn colours make the same setting look outstanding. The vast majority of places we will be visiting have gardens located there because they are sheltered spots within the numerous nooks and crannies that comprise the west coast of Scotland. I, for one, cannot wait to get started!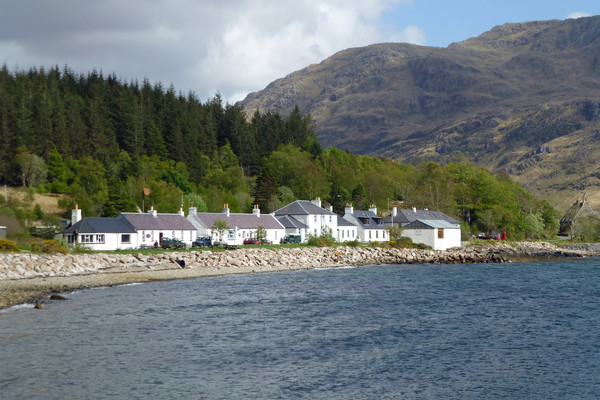 The remote settlement of Inverie catches the afternoon sun. 22nd May 2013.
One of the places listed above is Knoydart. At first, this didn't ring much of a bell, but then I read the brochure and how it talks about visiting Inverie. The sound of a mythical clanging bell rung in my ears as I remembered visiting this amazing place back in 2013. As stated in the brochure, it is the largest settlement in the UK with no road connection to the rest of the country. Don't be fooled – there is a road along the waterfront and several vehicles in use, but they are all simply to transfer people and goods to the dwellings that only connect to Inverie. I note that the expedition team will be leading walks in the surrounding forest, with great views down to Loch Nevis. The brochure continues, "Alternatively, choose to explore the town and visit the Old Forge which is listed as mainland Britain's most remote pub". I have bravely already made the decision that I will personally lead those passengers who wish to visit the pub, rather than walk through the surrounding forest.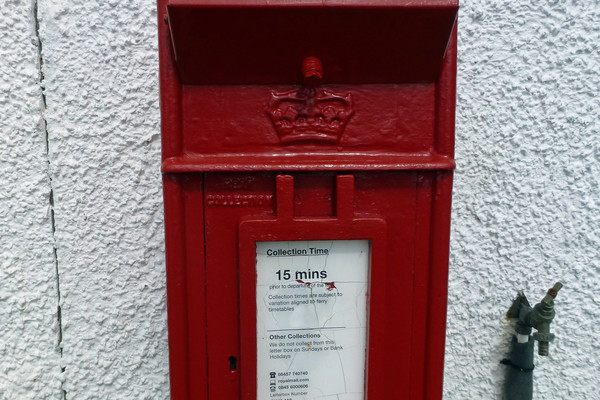 No idea when my postcard will reach home! The post box on Inverie. 22nd May 2013.
As with all ports we visit, I was determined to send my parents a postcard from the remotest part of mainland UK. I bought my postcard from the village shop and went to find the post box. As you can see from the photo above, the post collection times were rather unusual: "15 minutes prior to departure of the ferry. Collection times are subject to variation aligned to ferry timetables". One of the things I particularly liked about Inverie was that all the amenities and facilities were in one small central strip. You could then walk for just a couple of minutes and be rewarded with magnificent views without a dwelling to be seen. On the day I visited, the weather started out rather wet and dreary, but after a hearty lunch in the Old Forge, the sun broke through and the afternoon was glorious. I would have been tempted for a swim in the calm waters from the pebbled beach, but sadly I had left my swimming costume on the ship. Nearly 8½ years after my first visit, I am very much looking forward to returning – I just hope I can remember which postcard I sent my parents all those years ago, because if I send the same one twice, they somehow remember!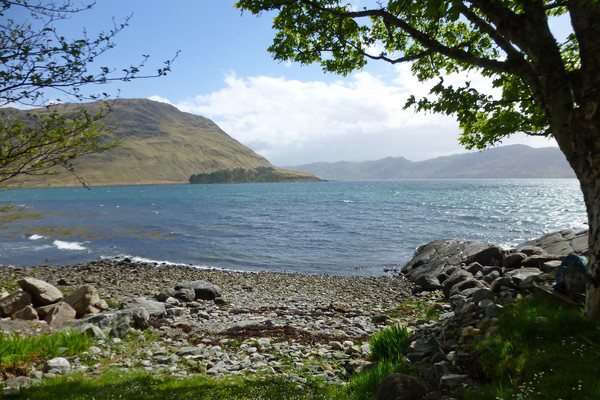 The stunning Knoydart Peninsula, about 200 yards from Inverie. 22nd May 2013.
Moving away from the UK mainland – the last full day of the two Troon to Troon cruises will be spent on two islands that I have loved visiting, namely Gigha and Islay. Of course, being a less-travelled chap at the time, I mispronounced them as "Gig-ha" and "Is-lay". I soon learnt that they were pronounced "Gear" and "Eye-la". I have only been to Gigha once, and as recounted in the quiz answers, my main memory is that of taking on the role of go-between to help arrange a deal between the local crab fisherman and our Executive Chef. We will be spending the morning on Gigha. I can also remember going to the local shop and attempting to purchase the daily newspapers. I was told that they would be arriving on the local ferry during the afternoon, but I could purchase yesterday's papers at half price. Thoughts of looking like an old man walking back to the pier with yesterday's papers telling yesterday's news (apologies to Ralph McTell) came to mind! On this occasion, we intend to land the Zodiacs within walking distance of the stunning Achamore Gardens. Whilst preparing this blog, I asked the owner of the gardens, Isle of Gigha Heritage Trust, what we can expect. They replied, "Achamore Gardens is the home of a renowned Rhododendron and Camellia collection. Flourishing in Gigha's warm microclimate, the 54-acre gardens host many notable and unusual plants and trees from around the world. The woodland walks with Rhododendrons, Azaleas, Camellias, New Zealand tree ferns, Hydrangeas and Fuchsias complement the walled gardens with its tender exotics, herbaceous borders and a Bamboo Maze for all to enjoy. The Garden Viewpoint has stunning exposed views over to the islands of Islay and Jura while the pond area offers a secluded oasis." Whilst looking across to the island of Islay, it'll be good to know that we will have the chance to enjoy a relaxing lunch on board as we sail across to Islay.
The vibrant colours of Achamore Gardens on Gigha. (Courtesy of Isle of Gigha Heritage Trust).
And finally for this blog, the island of Islay. I had the pleasure of visiting Islay back in 2009 and 2013. On both occasions we anchored off Port Ellen, mainly because the Caledonian MacBrayne ferry was occupying the solitary berth. Surely, with "Caledonian" in our name, they will let us have priority when we visit? Islay formed another question in the most recent quiz, and I took the opportunity to list the numerous distilleries that occupy the island. Our tour will include a visit to one of them, although the one that is visited varies between them. I very much enjoyed the visits to all the Scottish distilleries. My favourite of all being the time we visited the distillery on Jura in 2019 – but I think that was because we had never intended to go there in the first place, so it was a fabulous bonus. No doubt whichever of Islay's many distilleries we visit, it will offer a very warm welcome and be both informative and enjoyable. Personally, my main memories of visiting Islay are simply of spending a wonderful afternoon pottering around the beautiful settlement of Port Ellen. The town is wrapped around Leodamais Bay and is quite a contrast to the towns of other Scottish islands. Whilst the likes of Tobermory are deliberately colourful, almost all of the houses on Port Ellen's waterfront are either white or the original unpainted stone. Combined with the white sand of the beach, it makes for quite a spectacle. Former NATO Secretary General, George Robertson (now "The Rt Hon The Lord Robertson of Port Ellen KT GCMG PC FRSA FRSE") was born and raised in Port Ellen and has published photographic books of Islay and Jura – and commented how both islands continue to have such an influence upon him. Having meandered around Port Ellen, I could see why the place continues to mean so much to him.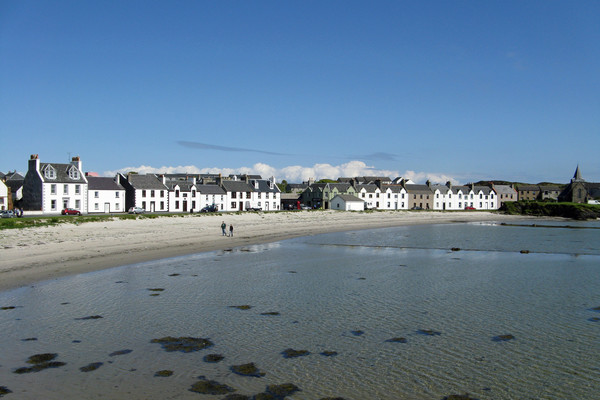 The beautiful clear waters of Port Ellen, Islay. 21st May 2009.

I should finish off this blog and head to bed. Tomorrow I have a day off from the railway, but one of the drivers popped into the signal box earlier today and asked me if I would like to go out on the footplate with him tomorrow. I tried my very best to keep my cool, but inside I was jumping for joy. My first ever footplate ride on the railway was back on 30th July 1993 as an enthusiastic fifteen-year-old. Whilst it may well be nearly 30 years later, the enthusiasm is still there, and I can't wait to experience it again tomorrow. In the meantime, thank you as always for reading the blog and I hope to see you on an upcoming cruise soon. Goodnight all.