"It was 20 years ago today…"
Good afternoon everybody! Yes, whilst it was famously said to be twenty years ago today that Sergeant Pepper taught the band to play, as alluded to at the end of my previous blog, a few days ago I marked the twentieth anniversary of when I first boarded a cruise ship. I can remember the day all too well – 30th May 2001. My parents drove me from Littlehampton to Dover, and I stepped aboard the 'Black Watch' for the first time, having never been on a cruise before. Up until then, the only countries I had visited were France and Belgium. The definition of what is and what is not a country appears to have now become defined by viewers of 'Pointless'. Richard Osman always states, "by 'country' we mean a sovereign state that's a member of the UN in its own right". There are 193 member states of the UN, and two observer states (Vatican City and Palestine). If we take the total to therefore be 195, I have just added up my personal total and it equals 126. That's quite a step up from my total of just the UK, France and Belgium when I first joined a ship. To mark the occasion, I decided to drive by Dover Cruise Terminal on the evening of 30th May for a moment of reflection and thanks.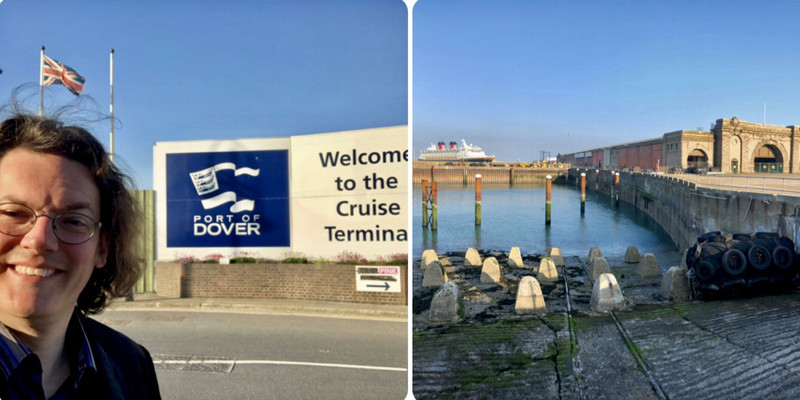 Going back to where it all began. Dover Cruise Terminal. 30th May 2021.
Going back to that first day. I can recall the long walk along the gangway at Dover to reach 'Black Watch'. Dover is very tidal, so the gangway has to be something of a maze as it is raised and lowered throughout the day. My parents helped my drag my suitcase around as we were shown the ship. I had been employed as part of the team that would be launching 'Braemar' on 11th August 2001, and we had these two cruises on board 'Black Watch' to learn what to do. The late and incredibly great Michael Burke was my Cruise Director, and he is undoubtedly still the very best I have ever worked under. I have taken many leaves out of his book over time, and he was always very encouraging. As we sailed from Dover, I remember him telling these new recruits to go and walk around the aft deck and talk to the passengers. I recall thinking, "why would anyone want to talk to me?" I saw cruising as something that people who were of a much higher class than me did, and therefore why would they want to converse with me. However, I was instantly proved wrong. In my smart red blazer, freshly polished shoes and ironed shirt and trousers, I nervously stepped out onto the aft deck. Immediately some passengers came over to me, introduced themselves, told me that they hadn't seen me on board before, and wanted to tell me everything about the ship. Ever since that day, I have never felt any nerves speaking with passengers, and it's one of my favourite parts of the job.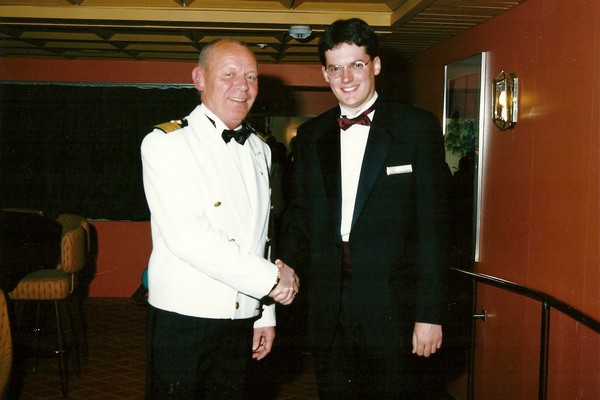 Captain's Welcome Cocktail Party with Captain Arne Solberg on 'Black Watch'. 31st May 2001.
On that first day on board, we were treated to a cocktail in the bar at the end of the evening, and finally had the chance to properly meet the 'resident' front-of-house team. I had been allocated a passenger cabin (which I foolishly thought might be the standard crew accommodation) and, for reasons that I'm still not sure of, decided to knock on the door of my neighbouring cabin to let them know that I was next to them. I can remember the gentleman answering the door in his dressing gown and feeling rather mortified that I had disturbed them in order to tell them that I hoped I wouldn't disturb them! However, that couple, Leslie and Jim, became very close friends with me and we still write to each other frequently and I have been fortunate enough to be able to visit them if I am on a ship that calls into Edinburgh. I included the photo above as it must be the earliest photo in my possession from my time at sea. It was the Captain's Welcome Cocktail Party on my first cruise, so I am presuming that it was 31st May 2001. I remember the cruise left Dover on 30th May. Our next port was Lerwick in the Shetland Islands, so we will have had a day at sea in between. I hadn't been shown the staff entrance to the show lounge, where the cocktail party was taking place. As a result, I came in the main entrance and the Captain didn't notice my name badge. He shook my hand, welcomed me to his ship, and the ship's photographer took the above photo. I then shook hands with all the senior officers down the line, until I reached Michael Burke who was bent double with laughter. I'm very happy that I made that mistake as it is lovely to still have that photographic record.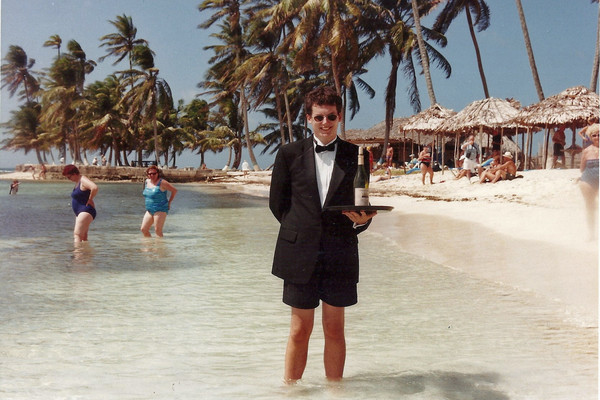 Service in style in the San Blas archipelago, Panama. Autumn 2002.
The two cruises on 'Black Watch' were educational and enjoyable. As mentioned, our first stop after Dover was Lerwick in the Shetland Islands. I can remember being out on deck on the evening of the second day, when we must have been level with Aberdeen, and leaning over the side of the ship to see it illuminated by the bright flames of the rigs we were passing. We anchored off Lerwick, and I recall we were very late departing. A cable had got caught in the anchor and, no matter what the Captain tried, every time they raised the anchor it was still there. I better not say how it was resolved, but I think all the lights went out on the neighbouring island and we left as fast we could for Norway. My first overseas port was Molde, and then the next day we arrived in Olden in Nordfjord. I was on the mid-morning shift and was still rather bleary-eyed as I stepped onto the back deck. I can close my eyes now and my memory is crystal clear. I looked up, having minded my step on the raised threshold, and my jaw literally dropped open. I had never been to the fjords before, and the scenery was stunning. The air was so fresh. The place was so tranquil. Thank heavens for Norway. That first cruise then continued up to North Cape, whilst the second cruise, also a round trip from Dover, took us through the Baltic Sea to St Petersburg. I then had a short time at home before I joined 'Braemar', which was to become my home until 2004. The photo above is from my time on 'Braemar', during one of our visits to the San Blas archipelago off the coast of Panama. Even then, the lengths I went to for the passengers were extraordinary!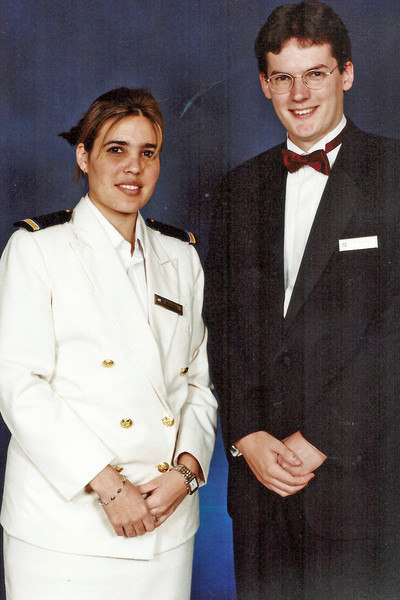 Keytia and me on board 'Braemar' in 2001.
During those first few months I met Keytia, who is shown above with me. Keytia worked as a Receptionist and was from Cuba. We had a fun mix of crew on that ship – a combination of British, Filipino, Cuban and Thai. The only drawback was at crew parties. As soon as any salsa music came on, the Cuban chaps took to the dance floor, and boy oh boy, every single one of them had incredible rhythm. Some of us Brits tried to get revenge by performing Morris Dancing, but we didn't have a chance of impressing the ladies! However, Keytia and I developed a beautiful friendship during our brief time on 'Braemar'. In December 2001 I went home on shore leave, and was due to fly back in January 2002. I had never been to Heathrow Airport before, and had certainly never driven a hire car there. I wasn't aware that you had to drop off the hire car a long way from the airport, and then catch a shuttle bus to the terminal building. As a result of my naivety, I missed my flight out to join the ship. Fortunately, the cruise line took pity on me. The ship was staying overnight in Barbados, and so I flew out the next day instead. However, that next day, Keytia was flying home. The ship was scheduled to visit the USA and therefore no Cuban crew were allowed to remain on board. Keytia left 'Braemar' an hour before I eventually arrived, and with postal and internet communications in Cuba being so poor, I was never able to hear from her again. All I had left was a beautiful email that she had written to me on her final shift at the Reception desk, using the ship's email account, telling me never to forget her. I tried asking Cuban officials about her on my subsequent visits to Havana, but they couldn't help me. However… in the middle of last year I recounted this tale to a friend of mine, and they commented that it sounded like someone they had worked with. Lo and behold, I discovered that Keytia still works in the cruise industry, and we managed to get back in touch. After 19 years, it felt very emotional to speak to her again. To put our lives in perspective, I am busy working at a narrow gauge railway, writing a blog, occasionally delivering groceries, and still trying to convince myself that I am too young to settle down. Meanwhile, Keytia is shortly to become a grandmother, and I am slightly older than her! There is an unwritten rule to cruise ship life… "you don't know who your friends are until two years after you've sailed with them". It is very true. When you are working together, in some ways you are forced to be friends because you share accommodation and facilities. It is those people that you are still in touch with a few years later who are your true friends. Keytia is the truest there will ever be, and we are both looking forward to the day when we finally meet again in some foreign port.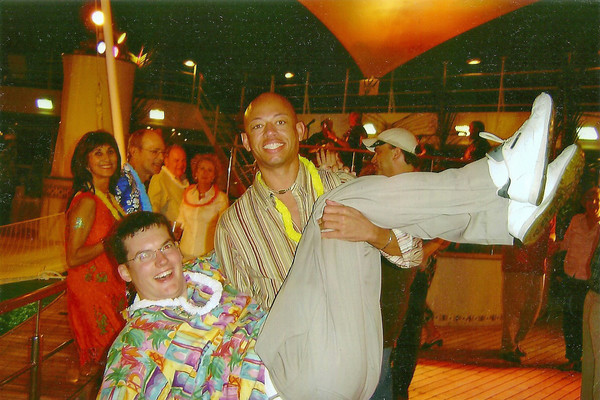 Me and Keith on board 'Galaxy' in early 2005, somewhere in the Caribbean.
After 'Braemar', my next two ships were 'Constellation' and 'Galaxy'. I was 26 at the time and wanted to experience what the American style of cruising was like. I completed one six-month contract with the company, across the two ships, and it made me appreciate more about the industry. 'Constellation' was then the pride of their fleet, and in the summer of 2004 it sailed out of Dover on the Baltic run. I had originally been given a contract for 'Explorer of the Seas' and was to buy my own flight to Miami to pick up that ship. However, a last-minute crew change meant I received a phone call asking me if I would be willing to join 'Constellation' in Dover instead. Naturally, it was a no-brainer. However, the ship would be leaving in two days' time! When I took the phone call, I was on a train from Thurso to Inverness. I was making the most of my last week with a Young Person's Railcard and going by train from Littlehampton to Land's End to John O'Groats to Littlehampton. I called my parents and asked them if they could help me by washing a few bits and pieces and then giving me a lift to Dover in a couple of days. Kindly, they did help me out and all was well. After our Baltic season was complete, we sailed over to New York. There are so many stories coming to mind, but I'll have to skip over them, and save them for evenings at the bar on the Noble Caledonia ships! Everyone was out on deck at 5am as we watched New York appear over the horizon. I had never been to New York before, and was one of the most excited to see the bright lights appear. On 'Galaxy' I met a man who has become one of my dearest and closest friends. Pictured above, we are up to no good at a Caribbean-themed deck party on board 'Galaxy' in early 2005. Keith was in the US Marine Corps, serving in Somalia among other places. His next job after leaving the army was performing in 'The Lion King' on Broadway. Not the usual career path. I have been over to stay with him in Harlem a few times and he is the ultimate host. Whilst I never expected to be working on that cruise ship, meeting Keith was one of the best things to happen in my life and I can't wait to get back to New York some day and see him again.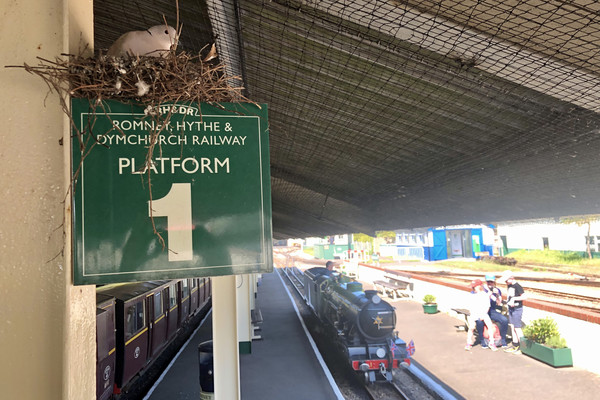 Why have a Station Cat when you can have a Station Dove? 1st June 2021.
Having flown home from Houston (whilst being docked in Galveston, Texas) on Valentine's Day 2005, I then joined 'Saga Rose' in Southampton that April. It felt wonderful to be back on British-orientated cruise ships, and I adored the classic stylings of 'Saga Rose'. Shortly after I arrived, she was joined by her sister, 'Saga Ruby', and then in March 2006 I embarked 'Spirit of Adventure', where I stayed until she retired in May 2012. Those six years tend to make up most of the stories I tell in my after-dinner talk, as we really did put the emphasis on 'adventure', and not always wisely! 'Quest for Adventure' followed from May 2012 to October 2013, and then I was fortunate to have both 'Noble Caledonia' and 'Voyages to Antiquity' show an interest in me. I spent 2014 and part of 2015 working for both cruise lines, although not at the same time. From the beginning of 2016 I have been exclusively with Noble Caledonia and I have never been happier in my cruising life. You may well expect me to say that, given I am writing this blog on their website, but Laura Cochrane encourages me to be open and honest. I adore the way that the Cruise Director and/or Expedition Leader is left to make the decisions. All the other cruise lines I have worked for would expect you to wait until business hours in whichever country the head office is based, and then call them to ask permission to do something. By then, it is too late. With Noble Caledonia, there is a wonderful understanding that as long as the Cruise Director and/or Expedition Leader thinks it is something that the passengers will appreciate, then you have their blessing to do it. I've never experienced that level of trust anywhere, and it is something that many cruise lines would benefit from.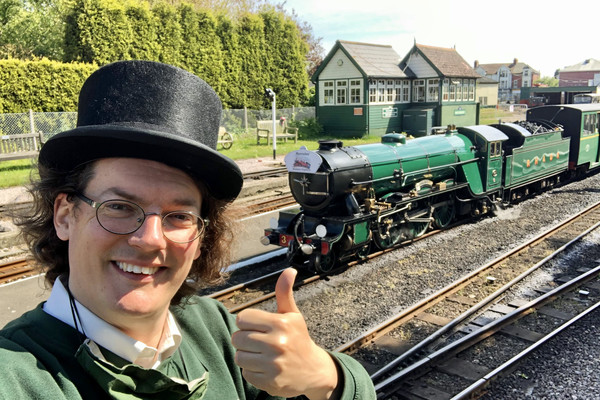 Trying to add a touch of Sir Topham Hatt to proceedings at New Romney. 29th May 2021.
The two photos above are from my recent days as an 'Explorer Guide' at New Romney station. I asked one family what their highlight of the day had been, and rather than point to any of the steam locomotives or such things, the child pointed at the dove's nest! The dove sits there all day, watching the locomotives and passengers passing to and fro, and never flinches once. As for the chap in the top hat, I thought I would try and make myself a little more obvious to the passengers when they arrive. I was aiming to be a version of the Reverend Awdry's "Sir Topham Hatt". Sadly, wearing so much green and standing by a green engine, I appeared to resemble a cross between a leprechaun and Noddy Holder. And finally, thank you for joining me in looking back over twenty years at sea. Naturally, I had hoped to be able to celebrate in your good company in a faraway land. Instead, I'm here in Hythe, but it's a beautifully sunny day and, with zero Covid deaths reported for the first time yesterday, let's hope things are looking up. To conclude, I would like to thank all the passengers and crew of (in the order I first worked on them): Black Watch, Braemar, Constellation, Galaxy, Saga Rose, Saga Ruby, Spirit of Adventure, Quest for Adventure, Caledonian Sky, Aegean Odyssey, Serenissima, Island Sky, Sea Explorer I/Hebridean Sky, Ocean Diamond, Royal Eleganza, Panorama II, Le Bougainville, Le Soléal, and the rivers ships AmaDante and Princesse d'Aquitaine, for all their kindness over the last twenty years. See you all out there on the seven seas again some sunny day!