How a Noble Caledonia holiday could make you a Millionaire!
Good afternoon everyone. It's Tuesday 15th September and a beautiful sunny afternoon down here. Yesterday was almost too hot. Is it my imagination or does the weather always seem to improve once all the children have gone back to school? It looks like it's going to be rather pleasant for the remainder of the week. After many consecutive days at work I've had a couple of delightful days off since I last wrote. I had been scheduled to volunteer at Hythe station last Friday, but an early morning phone call saw me transferred to being the guard for the day instead. Rather pleasant to ride up and down all day and blow the whistle and wave the flag and such things. Although that sounds rather twee, it is a safety critical role. The vast majority of passengers wouldn't realise what responsibilities there are. These include checking that the vacuum brake is operational throughout the entire length of the train, that there is a tailboard marking the end of the train, that the passenger alarm system is fully functional – and then responding to it, should it be activated. Of course, there is also the task of ensuring that you only allow your train to depart once everyone is on board and the signal is clear. That's the basics, but then other events can always come along. On Friday, two delightful older chaps and their dogs managed to miss their train back to Hythe from Dungeness. Its remoteness ensures that Dungeness is not blessed with public transport connections (other than the railway itself). I was on the following train and we found them a space, but then I realised that they were still trying to reach Hythe whilst we were terminating at New Romney. Feeling sorry for them, I offered to drive them all back to Hythe. Obviously it's rather tricky to do this whilst socially-distanced, so we must have looked rather amusing as the three of us with two enthusiastic dogs all wore face-masks as I drove us to Hythe to reunite them with their car. They were very grateful and it was certainly a different way to end my day!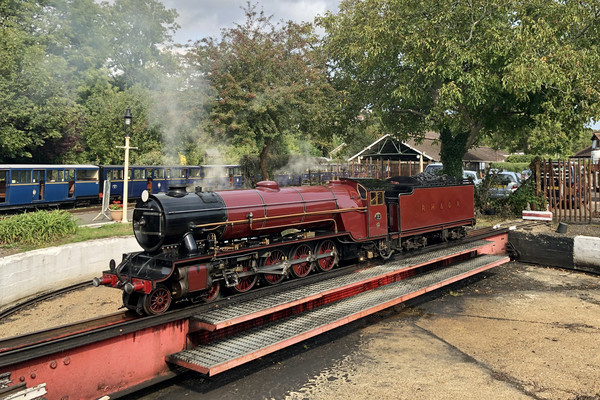 Hercules basks in the sun at Hythe, having been turned for the journey to Dungeness

On Saturday, I was back at Hythe station to attend my first ever Annual General Meeting of the railway's plc. I'd never been to a shareholder AGM before. Recently, it has always coincided with when I was at sea. It was fortunate that it took place before Monday so that we could be accommodated before the new 'six' rule came in to force, but we were all wearing masks and socially distanced. I bravely raised a couple of points. I noticed that one of the more senior members who raised a question before me from the floor had started by saying, "Mr Chairman", and then continuing with his point. I didn't know of such protocol and so I said it too. Always a good tip – if in doubt, watch what more experienced folk do and learn from that. You could argue that that is how you become a Cruise Director. There is no 'Cruise Director Course' that one can enrol on. As a new recruit on the ships nearly twenty years ago, we often had duties such as manning the spotlights during the evening shows. Whilst this was often tedious, it did present a wonderful opportunity to see the Cruise Director and various acts at work on stage. You start to realise what works and what doesn't work and then, when the time finally comes for you to be stage front, you can incorporate the styles that you feel are best suited to the occasion, whilst adding in some of your own ideas and personality. I remember the first time I was asked to introduce a show. I was the Assistant Cruise Director at the time. The Cruise Director was backstage. I worked out what I would say and went on stage and said it and came off. The Cruise Director said it was very good, but perhaps I shouldn't have done it all in one breath! I think it was because I was desperate to remember everything I wanted to say. From that moment on, I didn't bother learning a script and, to this day, when I am delivering my briefings, a lecture, or an occasional dollop of evening entertainment, I don't do anything scripted. That way you can respond proactively to any situations or questions as they arise, and it gives a much more honest and genuine approach.
Saturday and Sunday afternoons and evenings were both seeing me ploughing my way around the roads of Kent delivering essential supplies of Bombay Sapphire and Fever-Tree. Yesterday was another day off and I found myself being the guard again for the day. To my surprise and delight, I was told we would have a film crew joining us at New Romney on our return run from Hythe to Dungeness. Sure enough, we pulled into New Romney station and an extra carriage was added complete with film crew, and then Paul O'Grady strolled along the platform, saying hello to the passengers, and boarded the train. He lives nearby in Aldington, next to where Noël Coward had his country pile, and has regularly made mention of his views across Romney Marsh from his home on his radio shows. Upon arrival at Dungeness, having finished filming the shots his crew were after, we had a good chat. He explained that he should have been filming in Thailand this week, but obviously that proved to be impossible, and so he was filming a programme regarding Kent for broadcast on ITV in November. A few passengers asked for selfies with him, and he was very obliging, but quite rightly made sure that they were socially distanced. I thought it would rude not to take the opportunity…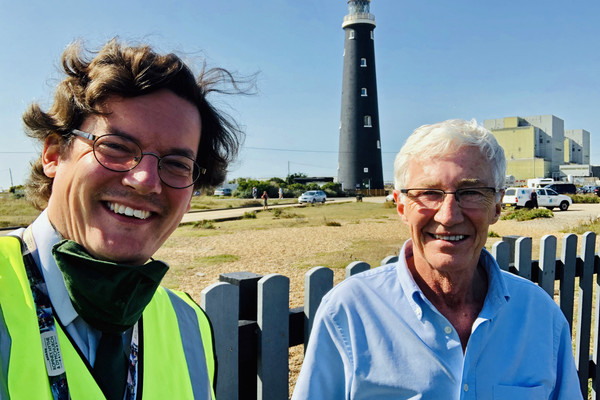 Quick selfie with Paul O'Grady whilst he was filming at Dungeness. The Old Lighthouse is in the background.

Making the most of my day off, I finally managed to meet up with the only other former Noble Caledonia staff member I know who lives nearby. Emma Stokes worked as part of the team that would answer the phones when you ring up to book or enquire about a holiday. Naturally, those of us on board the ships rarely see these people. I always find it amusing that they know about us, as passengers will kindly say things to them about what they've enjoyed on previous cruises, but we don't know who they are. Occasionally, I was always very happy when head office staff would be sent to join the ships in order to become more familiar with the product. Some cruise lines just send their office staff to view the ships whilst they are empty in the middle of a turnaround day. Yes, that does show you the ship infrastructure, but a ship is a living thing, and it only comes alive when people are on board. The only way to get a feeling of how a ship operates and the atmosphere is to sail on her. Emma and Issy embarked 'Serenissima' in October last year as we sailed from Valletta to Dubrovnik. They did the first half of the cruise, and then Elisa came out from the office to experience the second half. The weather was glorious, although my main memory of the cruise was having to find ingenious ways for the passengers to watch Wales and England's progresses in the Rugby World Cup! I ended up with separate transport arrangements and having normally closed bars open especially early to accommodate us. Emma lives in Tenterden and so we met for dinner last night in Bethersden. Wonderful to have the opportunity to eat outside in this perfect weather and to catch-up, whilst sitting far enough apart to obey the rules. I returned home last night just in time to see Brighton lose their opening match of the season against Chelsea. Ah well, fingers crossed they learn from that and move on pretty sharpish!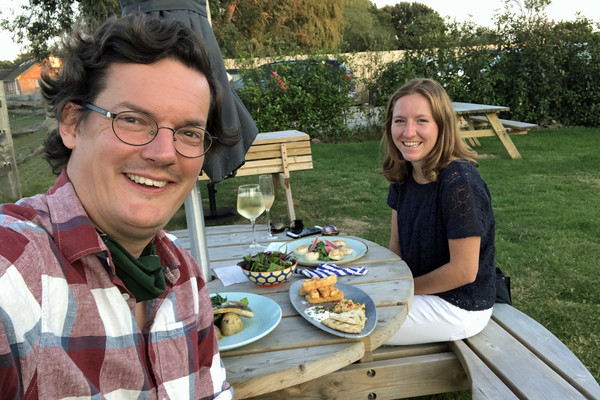 Dinner with former colleague Emma in a country pub in Bethersden
What also caught my eye this week was the news that someone had won the £1,000,000 top prize on Jeremy Clarkson's new version of 'Who Wants to be a Millionaire?' It wasn't the fact that somebody won it that caught my eye, but rather the question that they faced for the million pounds. The question was: "In 1718, which pirate died in battle off the coast of what is now North Carolina?" The possible answers were Calico Jack, Blackbeard, Bartholomew Roberts or Captain Kidd. I couldn't believe it! Before I start saying that this is concrete evidence that I am worth a million pounds, I should point out that, having seen the questions leading up to this point, I would have never made it that far. However, as soon as the question came up I knew the answer without having to see the options.
You might recall from a previous blog that, back in May 2018, I sailed with 'Hebridean Sky' up the east coast of the USA, all the way from Florida to Maine. On the 12th May, with me looking a day over 40, we arrived in Morehead City, North Carolina. What was the activity that day? It was an event to mark the 300th anniversary of the death of Blackbeard in the nearby waters. However, let me take you back to February that year to explain a little more…
The sailing up the east coast of the USA was a trip that Noble Caledonia had not done for a while, and we were determined to include some smaller ports that we had never visited before, as well as the usual larger destinations. Whilst the likes of New York, Philadelphia, Charleston, etc were to be included, we also ventured into lesser-known places including Wilmington, Morehead City, New London and many more. When you include new places, it is vital to develop a good and solid understanding with the local agent as to what we, as a cruise line, want to achieve from our visit. Whilst the local agents are very good, if we haven't used them before then they need to be able to develop an understanding of what our passengers expect and what kind of demographic they will be accommodating. As we were including new ports which were fairly close together, it was decided that I would fly out in February, hire a car, and visit Charleston, Savannah, Wilmington and Morehead City to meet the local agents and run through the plans for our visits. The last call on my schedule was to be Morehead City. I had left Wilmington on US Route 17, following the coast of North Carolina and arrived two hours later in darkness in Morehead City on Friday 9th February. I dropped my belongings off at the hotel and meandered down to the waterfront to sample the nightlife. Walking alone into a bar where no-one knows your name is daunting enough at the best of times, but every person I met on that trip was a delight. I bought a local beer and enjoyed the live band and had a couple of folk come up and talk to me. One of them started with the classic, "you ain't from round here boy" line, but then smiled and told me he says that to everyone. I remember being surprised that I didn't recognise a single song the band played. I checked with the barman that they weren't playing original songs, and he told me that they were indeed playing popular hits. It was a blend of rock but with a country twinge to it. In this day and age of music being instantly accessible wherever you are in the world, it felt good to know that local styles and variations can still be heard and everyone doesn't have to follow the mainstream.
After a good night's sleep, I was greeted by our Morehead City agent, Jonathan, and his colleague, 'Angus', the next morning. You know it's going to be an interesting day when this is how they turn up to greet you…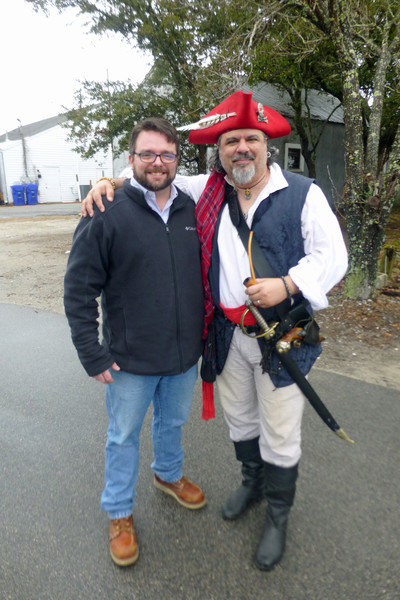 I meet our local agents, Jonathan and Angus, for the first time in Beaufort. February 2018.
They had not dealt with a cruise ship before, but that was mainly because cruise ships don't call at Morehead City. They were excited to be looking after the maiden call and were keen to show me what the area had to offer. We immediately struck up a good friendship that I continue to treasure. I noticed that one of Jonathan's enterprises was that he ran an 'Escape Room'. The devilish thought occurred to me that we could challenge the passengers to see how long they took to figure out the way to freedom. However, common sense prevailed. Whilst it is always good to see what an area has to offer, one of my key factors in researching places we visit is to find out if there are any anniversaries to significant events in the surrounding area. Jonathan and Angus took me over the bridge to neighbouring historic Beaufort. This is where we would be visiting, as Morehead City was the closest place where we could berth. As you may have spotted, Angus is dressed as a pirate. It turned out that, 300 years prior to my visit, Blackbeard had been killed at Ocracoke, just around the corner from Cape Lookout, on 22nd November 1718. Blackbeard had a heavy association with the entire coastline in these parts, and Beaufort was keen to mark the anniversary. Jonathan and Angus showed me the area where they intended to host a re-enactment, which included some historical buildings, and then we walked around Beaufort itself. The town was delightful, and even in February it was fairly warm weather. We went for coffee in a beautiful wooden bar to finalise the plans. It's not every day that you walk into a bar with a pirate with a Scottish accent, and no-one bats an eyelid. I spoke with my proper BBC Radio 4 accent to order the coffees, and the lady behind the bar, who had the fabulous name of Zatara, smiled back and told me that she'd be happy to sit back whilst I read the phone book to her! As I said, everyone on my road trip could not have been more welcoming. With all the plans finalised, Jonathan drove me back to the hotel so I could collect my car and drive off to the airport for the flight home. As we were about to leave, I asked Jonathan what Angus's real name was and where he was originally from. Jonathan called Angus over and asked him to speak normally, and suddenly I was chatting with Joey with his broad New Jersey accent! It was a brilliant moment that still makes me laugh to this day.
On 12th May we returned with the ship. Jonathan had hired every coach available to bring us from Morehead to Beaufort – including a Diamonds International bus, complete with revolving disco ball attached to the ceiling! The weather was glorious, and we sat in the centre of the historic village and were treated to Jonathan, Angus and Blackbeard, played superbly by their friend Eric Vasbinder, performing the story of Blackbeard and how he met his end in the coastal waters around "these 'ere parts".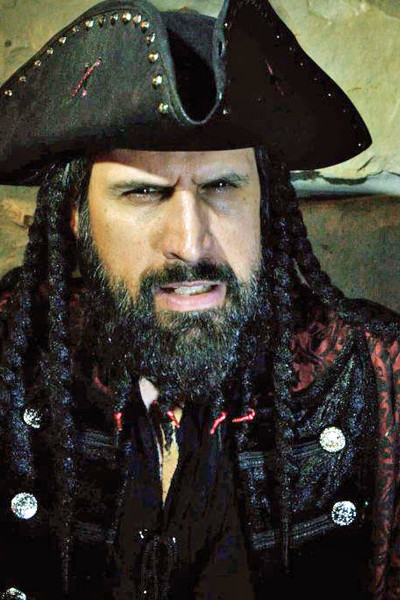 'Blackbeard' as superbly portrayed by Eric Vasbinder
We then were shown around the various historical buildings, including the school, apothecary and many more. One of the beauties of Beaufort was that everything was within easy walking distance. The passengers then continued to the excellent North Carolina Maritime Museum. Many stopped for coffee in the same bar that I had frequented back in February. I arrived with a copy of the Yellow Pages to read to Zatara, but sadly she was too busy serving our passengers to have me read it to her. I took a few passengers to see the poignant memorial on the waterfront to Captain Michael John Smith, who was born in Beaufort in 1945. He was one of the brave astronauts on the ill-fated Space Shuttle Challenger that disintegrated shortly after lift-off on 28th January 1986.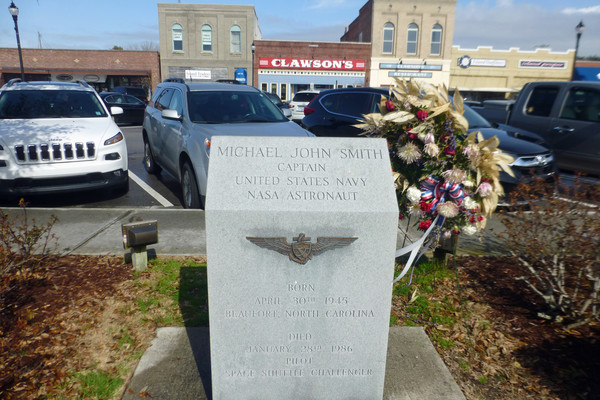 The memorial to NASA Astronaut Captain Michael John Smith

Having been treated to the pirate re-enactment, the Maritime Museum, and strolled along the Beaufort Historical Trail, it was time to head back to the ship. Jonathan and Joey, as I was now allowed to call him, came to the gangway and waved us off, and I can remember being out on deck and feeling that warm buzz that I feel when I know that a visit has gone as well as it possibly could – and the research has paid off. The morale of this tale… always take your holidays with Noble Caledonia, because 2½ years later it might make you a millionaire! To end this blog here is a photo of me on that day in Beaufort with Jonathan, Blackbeard and Angus. If you ever get the chance to visit Beaufort then you're guaranteed a friendly welcome – I sincerely hope to be back some sunny day.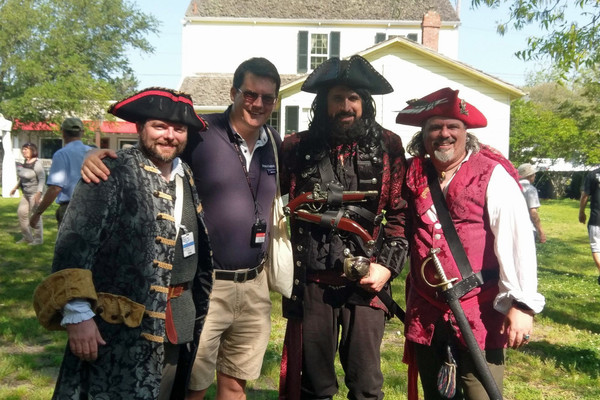 A wonderful end to a beautiful day in Beaufort. 12th May 2018.