Home Sweet Home
Good afternoon! I hope everyone is doing well, and those that ventured out to bars or restaurants over the weekend had an enjoyable time. It was a wet and windy day here on Saturday, but I spent it volunteering at Dungeness station on the first day of re-opening of the railway. Obviously the experience is rather different than previous, but it was a joy to see the happiness on the faces of the travelling public – most simply relieved to be able to do something different for a change. I was back to work on Sunday, and stationed in the supermarket car park at Folkestone. I was wonderfully surprised to spot Noble Caledonia lecturer Imogen Corrigan going about her weekly shop. From a suitable social distance we had a quick catch-up and I found out that Imogen and Gordon are both doing well and, like the rest of us, looking forward to being able to start cruising again. I always think of 'episcopal tassels' when I see Imogen. She does a superb lecture on understanding what you are seeing in the churches of the world that we visit. The number of tassels around the heraldic shield indicates the rank of the person. If you would like to know more details, then I have no doubt that Imogen would be more than happy to oblige on a future cruise.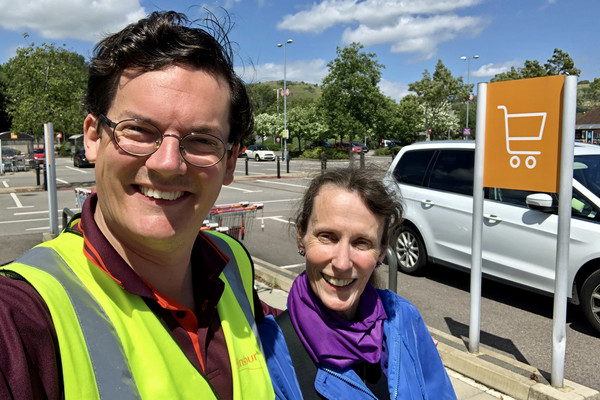 Early July always makes me think of the places we visit in Northern Europe. No doubt we would normally have passengers up in the Midnight Sun around Svalbard, or enjoying the Norwegian fjords. Perhaps a run around the Baltic Sea, or visiting the highlights of the British Isles. The Mediterranean would be busy too. Off all those choices, and they are all fabulous destinations, I think the British Isles are at their best in early July. In normal times, you would have the advantage that the weather is generally good, all the tourist facilities are open, but the schools in England and Wales wouldn't have broken up for the summer yet. Perfect timing. Everywhere open, but nowhere overcrowded. Clearly I do not have particularly strong paternal instincts to be thinking that way! Obviously, with our esteemed clientele, even if it is the school holidays it hardly matters, as we are not in the business of taking our passengers to crowded water parks or amusement arcades, so any time from May to September makes for glorious opportunities to explore the UK.
I remember when I started cruising, back on 30th May 2001 from Dover, that after a short time I asked why we didn't really visit anywhere in the UK. The general philosophy appeared to be that the bosses felt there would be no market for taking British passengers to see other parts of the UK. I said we should try, and was swiftly reminded of my position. Fast forward nearly twenty years and the UK-based cruises are among the most popular we offer. A few years ago I was sitting by the River Arun in my hometown of Littlehampton, watching a cargo vessel arrive in the harbour. I thought to myself how it would be fun to bring a passenger ship into Littlehampton one day, but then what on earth would the passengers do? It is amazing how easily we underestimate how varied Britain is, and how much there is to do. Within a ten mile radius of Littlehampton you have the delights of Chichester, complete with the Cathedral and Festival Theatre, the nature reserve of Pagham Harbour, the sheer majestic beauty of Arundel Castle, the fascinating working museum at Amberley, Glorious Goodwood, Boxgrove (where a man was found in 1993), Bognor Regis (highly thought of by King George V) and so much more. I then think of some of the places I have taken ships in other parts of the world and we have had to drive for hours to see something worthwhile. We have so much to offer in this country, and this thought has been coming back to me again and again over the last few days as tourist facilities have slowly but surely been given the green light to open again, with the necessary safety measures in place. I sincerely hope that many people take advantage of the UK this summer, and what it has to offer, rather than just use one of the "air bridges" and sit by a pool in an overseas resort.
Thinking about this cast my mind back to September last year. I was a fairly last-minute appointment as Cruise Director / Expedition Leader on a cruise from Oban to Plymouth aboard 'Serenissima'. Whilst I am indeed one of the only people at Noble Caledonia who has a foot in both the Cruise camp and the Expedition camp, I am much more akin to the cruise side than the expedition side. I have been driving zodiacs since 2007, but the knowledge that our team of Expedition Leaders has, including the likes of Pam, Jane, Craig, Chris, Colin, Emma etc is truly outstanding. Occasionally I have been on a cruise where we have had both a Cruise Director and an Expedition Leader. That tends to be at Christmas, so that I, as Cruise Director, can concentrate on the festivities and daily events, whilst the Expedition Leader can focus on the landings and briefings. I spent a wonderful Christmas as Cruise Director to Jean-Pierre Els as Expedition Leader on the 'Serenissima' in 2017, visiting Dar es-Salaam, Zanzibar, the Seychelles, Madagascar, Réunion and Mauritius. On Christmas Day we landed on Aldabra Atoll, the only place with any inhabitants that we had visited for about a week. At the end of the landing, once all the passengers were back on board, I persuaded Jean-Pierre to take me ashore in the zodiac to surprise the locals, who all worked at the lodge that looked after the atoll. On the transfer to shore I dressed up in the Father Christmas outfit and then let out a huge "ho ho ho" upon landing on the beach. The lodge staff came running out and were so surprised and elated to see Father Christmas on their atoll on Christmas Day. I think I have a photo somewhere…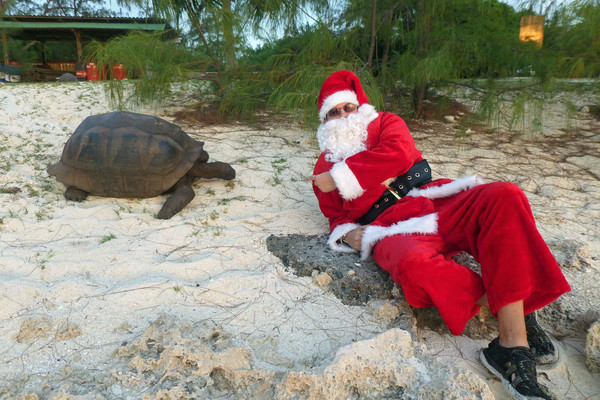 A Giant Tortoise and Father Christmas on Aldabra, Seychelles. Christmas Day 2017
Meanwhile, back to September last year. The cruise had originally been earmarked for an Expedition Leader, but all the landings were to be on fixed jetties or pontoons, and either use the zodiacs or local boats, so it was felt that I would be best suited to cover it. I had been visiting my Auntie Joyce in Partington, Cheshire on 31st August, whilst on my way to watch Brighton be defeated 4-0 at Manchester City. Amazing to realise that that football season is still taking place! I had gone to the football with my best friend, Simon, who lives near Southport. We met back in 1996 during our first year at Manchester University. After the football, Simon and I stayed on in Manchester and met more friends from our university days. The next morning, I somehow made it to Preston railway station and was picked up by our Head of Fleet Operations, Captain Mike Deegan, who drove us to Oban. I think I only said "are we nearly there yet" once. The route is just short of 300 miles, but the scenery is spectacular. After our overnight stay in Oban, we were up bright and early, ready to embark 'Serenissima'. Mike was just visiting for the day, but I was to take the ship on a cruise to Plymouth, including further stops in Scotland, Isle of Man, Wales, Isles of Scilly and England. We had arrived in Oban the night before to a glorious sunset. Sadly, turnaround day was to be in the pouring rain. One of the main roles of a Cruise Director is that of Chief Diplomat. I remember the local security officer telling me that he would need all the passengers to line up in the rain, with their luggage, as he searched each case one-by-one. You can only begin to imagine how I felt about this. However, the best way to be is courteous, jovial and kind. I said that perhaps we could discuss the security arrangements and how we, as the ship's staff, could assist. The security officer looked apprehensive. I then said we could discuss it over a coffee in the ship's lounge. A smile appeared and on board we went. By the end of the second coffee (and biscuits) it had been agreed that only the legally-required percentage of passengers would be checked, and that the passengers would be allowed to remain on their coaches until they were either called to directly embark or have their luggage checked in the warm, dry confines of the enclosed security office. Problem solved. It is these little things that go on behind the scenes that passengers often don't realise, and understandably so, but they are vital things. First impressions are so important, and I am always keen for everyone to arrive calm and relaxed, even if it is raining!
Getting ready to depart from Oban on 2nd September 2019
With everyone aboard we headed northeast to our next destination, Fort William. I had taken a ship to nearby Corpach before, but not to Fort William itself. The passengers were all eating dinner and getting know each other, but I was on the Bridge wing as I wanted to witness us passing through the Corran Narrows. This is a point in Loch Linnhe where the loch reduces from being around a mile wide to being just 600ft wide. The effect on the waters is clearly visible and you need to maintain a good speed as you pass through. I had advised the passengers that we were to be going through the Narrows, and you clearly felt the ship go from being on a flat calm to swaying gently from side to side as the churning waters toyed with us. We soon reached the anchorage at Fort William and settled down for the night.
The next morning, the passengers headed out on the zodiacs to the purpose-built landing jetty. Local volunteers were there to offer tourist advice, and I was impressed with our welcome. Shops in the town had signs in the window saying 'Welcome Serenissima'.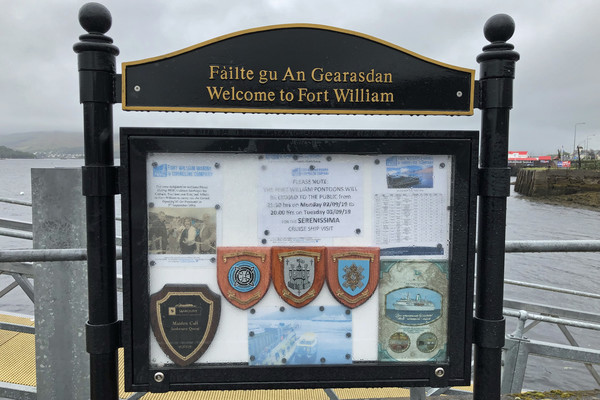 Welcome to Fort William Serenissima
One of the shore excursions included Glencoe, a view of the Caledonian Canal, and the chance to admire the statue which commemorates Bonnie Prince Charlie and the failed Jacobite rising of 1745. Nearby, the passengers were then taken to a wonderful vantage point to view 'The Jacobite' steam train cross the famous Glenfinnan Viaduct. The viaduct was constructed by Robert McAlpine in 1897/8 and built using mass concrete (rather than reinforced concrete) and has become an iconic structure – in recent times due to it being featured in four of the Harry Potter films. British Transport Police had to warn fans of Harry Potter to not walk across the viaduct after a few near misses with trespassers! The other excursion was a hike through Glen Nevis, leading to the impressive Steall Falls. I had lunch back on board the ship and Captain Bonačić asked to see me. We were due to sail that evening to visit Canna and Loch Scavaig the following day. However, along with the Captain, I had also been keeping an eye on the weather forecast and it was not looking good. Very strong south-westerly winds were causing havoc on the islands. I had noticed a sign at Fort William railway station stating that the ferry from Mallaig to Canna would not be operating. When the local ferries are refusing to sail, then you know that there is an issue. The Captain and I agreed that the best course of action would be to remain overnight in Fort William, spend another day here, and that should allow the worst of the weather to pass. With this in mind, I went ashore again after lunch and visited the local tourist office to gather as much information as I could for ideas as to what the passengers could do with an extra day. The majority of the passengers had chosen to go on the all-day tour to Glencoe and Glenfinnan, so I knew they had not seen much of Fort William itself.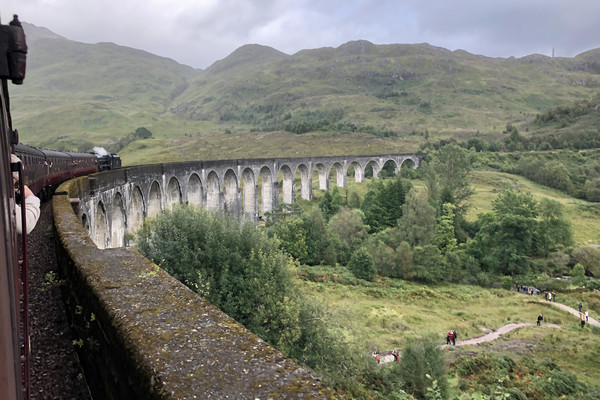 The world famous Glenfinnan Viaduct
As well as investigating what to do in Fort William, I was also keen to arrange a shore excursion going further afield for anyone who would like to have a coach trip. I decided on Urquhart Castle, and entered into negotiations as to how we could facilitate having our passengers visit there. Obviously it is quite tricky to do this because you have to constantly guess things. I wouldn't be able to tell them how many people would be coming until I had explained the situation at the pre-dinner briefing and had the passengers sign-up. I had guessed that I would need two coaches, but that meant that one coach would be back for lunch on board, whilst the second coach would need a packed lunch due to the staggered departure times. Hence, negotiations then took place with the Hotel Manager, but as with everything on 'Serenissima', nothing is too much trouble. I also made comprehensive notes regarding what the passengers could explore independently the following day. That evening was the Captain's Welcome Cocktail Party and Dinner. Once the Captain had carried out his introductions I took over the microphone and showed the passengers the latest forecast (complete with scary looking colours coming in from the west) and explained that we had decided to remain in Fort William overnight. I explained the new options for the following day, but then added a surprise. During my wandering in the town in the afternoon, checking out the local museum and other potential recommendations, I bought myself a couple of postcards and sat in a bar to write them. Two young musicians were playing in the corner. In that way that I do, I meandered over to them and asked them about the local music scene. They were highly amiable and explained how they were newlyweds and that they gigged together around the Fort William area. Liam played the accordion, and Marianne played the guitar and sang. I asked them what they were doing on this Tuesday night and they replied that they had intended just to rehearse together. An idea hatched in my brain and I called the Captain and the Fort William Harbour Master. Both kindly agreed that Liam and Marianne could come on board that evening and play for the passengers after dinner. So it was, that having told the passengers of the new arrangements the following day in the Briefing, I ended my talk by telling them that we'd have live Scottish music in the Andrea Lounge after dinner. I am always nervous as to whether a local show will arrive, especially one that has been arranged only a few hours previously, but Liam and Marianne were highly professional and were ready on the pontoon for the zodiac ride to the ship. They performed brilliantly and I was delighted to be told by the office, after the cruise, that they had been mentioned by many passengers in the end-of-cruise questionnaires. I did feel slightly sorry for them as they had dressed well for the occasion and, as dusk fell, they found themselves bobbing around on a zodiac heading back to the shore via torchlight after the gig. I hope that whenever I am next in Fort William that I will be able to see them. That is one of the things I enjoy most about being Cruise Director on Noble Caledonia – you are trusted to do whatever you think is best for the passengers. Other companies would not have allowed me to bring on a local show, or would have insisted on arranging it themselves, when things like that can't be done the same from a remote office as they can be done by the person on the ground.
Two-thirds of the passengers headed out to Urquhart Castle on the Wednesday, whilst the other third did a variety of things. Some caught 'The Jacobite' train to Mallaig and explored the fishing village that the railways built. Others pottered around Fort William. At least one walked to the summit of Ben Nevis and back down again! Our last zodiac from the shore was at 6.30pm, but the vast majority were back on board earlier to hear lecturer John Love talk about the History and Benefits of Crofting. For my part, I spent the morning working out where we could go on Thursday (the original plan of Colonsay was looking doubtful because of the exposed anchorage and the storm not moving as quickly as we had hoped it would). The only island we could find which had a harbour on what would be the sheltered east coast was Jura. Having conferred with the Captain, we decided it would be Jura. I took my mobile phone with me and began calling every contact I had on Jura to work out what we could do there. With all these changes taking place I decided I should treat myself as well, and so I caught the afternoon 'Jacobite' steam train departure from Fort William, and was given special permission to cross the tracks at Glenfinnan station and catch the immediate return train from the opposite platform. Fort William had looked after us for 48 hours with great kindness and I look forward to returning one day to see what it looks like in the sunshine!
With that, my limit is reached for this blog. However, I'll pick up from where I finished next week. In the meantime, have a wonderful week, whatever you get up to, and very best wishes from me.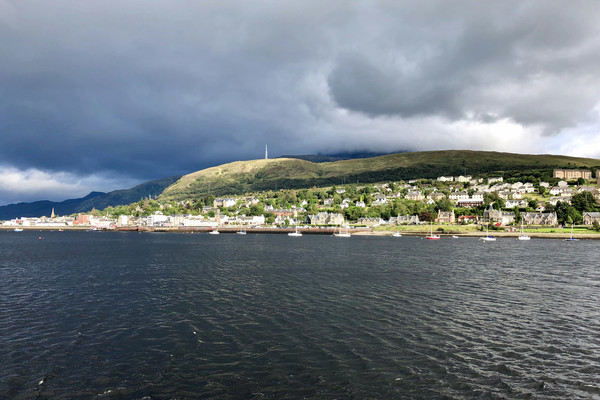 The sun finally breaks through as we prepare to depart Fort William
Click here to view details of expedition cruises around the UK