Happy New Year!
Happy New Year! I feel slightly cheeky writing that, as it is currently late afternoon on Thursday 30th December 2021. It is just over two weeks since I last wrote a blog, and not surprisingly quite a lot has been going on in the meantime. The weekend after my previous blog (18th & 19th December) I took myself up to Manchester on the train. I had planned to take my best friend from university, Simon, with me to watch Brighton play at Manchester United. However, sadly the match was postponed due to United not being able to field a team. I've no doubt that the sensible approach would have been not to travel up to Manchester, but the snag is that while you receive a refund for the match ticket, I had non-refundable train tickets and a hotel stay. We had also arranged to meet a couple of friends from our university days while we were there. So, whilst I felt disheartened at the match being postponed, we still had a good time back in the city where I studied from 1996 to 2000. I feel a close affinity with Manchester. As my surname perhaps suggests, my father's side of the family all come from there, and I still have an auntie, uncle and numerous cousins in the area. After arriving at Piccadilly station I decided to walk to Deansgate to stretch my legs. I reached the crossroads of Whitworth Street and Oxford Road, sandwiched between the Palace Hotel (now called the Kimpton Clocktower Hotel) and the Palace Theatre, and a young merry student asked me if I knew the way to a pub called "The Moon Under Water". To my surprise I found myself giving directions – even though it is now 25 years since I was in the first year at the University of Manchester. It was as though I was talking to a younger version of myself!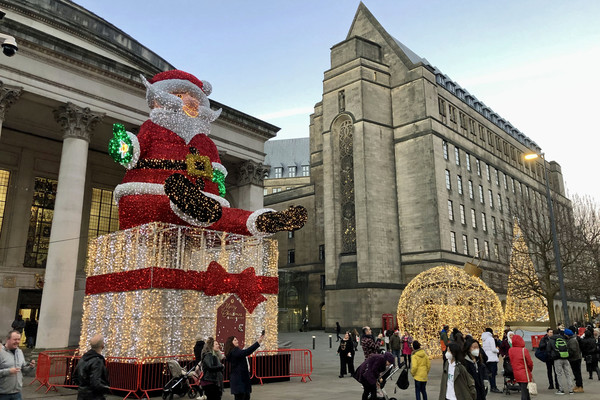 St Peter's Square in Manchester. 18th December 2021.
So many landmarks hold so many memories, but perhaps none more so than the Palace Hotel, where I organised our Hall Ball in 1999 and 2000. I genuinely feel that this was the true beginning of my cruising career. It was certainly a baptism of fire in event management, but a quick learning curve to discover what would work and, arguably more importantly, what wouldn't. In search of a headline act at our Ball in 1999 I had been to the 'Frog & Bucket Comedy Club' in the Northern Quarter a few weeks before and one stand-up act in particular had impressed me. I called his agent, and was delighted when then little-known Peter Kay agreed to perform for us. However, I hadn't taken the venue into account – a cavernous ballroom which created an echo. Not the best acoustics when you're trying to do comedy to tipsy students. The following year, I decided to book a band instead. My peers all wanted a DJ, but I was reluctant as that is not much of a spectacle. I went back to my childhood and managed to book 80s legends "Black Lace". There was a look of bewilderment among the students, but then once they struck up "Agadoo" after a few glasses of wine, everyone was singing and dancing. Happy days!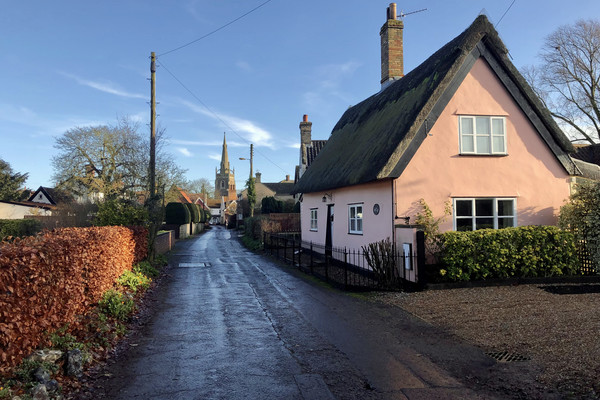 Christmas Eve 2021 in Woolpit, Suffolk, as I head towards the church.
After returning from Manchester I had a few days of card writing and present wrapping, and then I was off to my parents' on 22nd December, and then driving us all up to deepest, darkest Suffolk the following day so that we could spend Christmas with my grandma. The above photo is taken on the short walk from my grandma's house to the centre of the village. It really is a picturesque location when the sun shines – and the photo was taken on the one morning when it did! My brother came over from Hertfordshire on the morning of the 27th, and so for the first time in just over two years, the five of us were together again. Grandma is now 96, but bright as a button. There are always new snippets of information about her life each time we visit. On this occasion, I learnt that, as a three-year-old, she went by train from San Francisco to New York, including a visit to Yosemite National Park, and she and her parents sailed away from New York just days before the Wall Street Crash of 1929. And I used to think that I had the exciting life!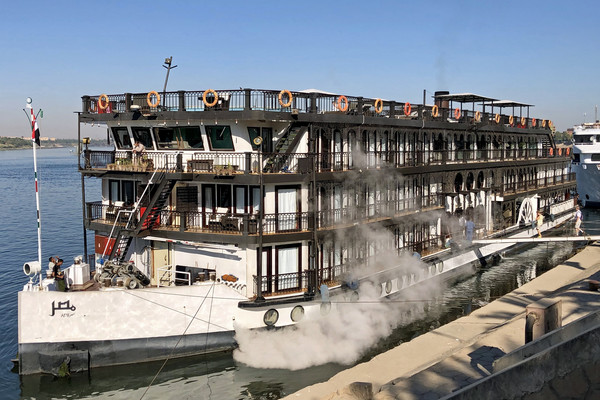 SS "Misr" at Kom Ombo, Egypt. 28th November 2018.
Having taken mum and dad home on 28th December, I returned home yesterday, and then went straight back out again to go and watch Brighton play against Chelsea at Stamford Bridge. Never in our history had we scored at Chelsea, so to come away with a 1-1 draw after we equalised in the 91st minute made for a very enjoyable journey home. Whilst passing through St Pancras station, I called into Hatchards and picked up four travel books – Egypt, Namibia, South Africa and Cape Verde. Whilst this new variant of Covid is upon us, I'm still determined to think positively and begin preparing for the trips I have lined up at the beginning of 2022. The first two of those are scheduled to be on the ship shown above, the glorious "Misr". I was last on her in November 2018, and she completely won me over to Nile cruising.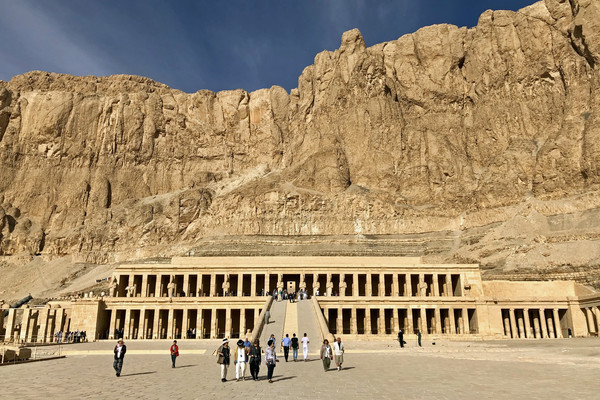 The Temple of Hatshetsup on our visit to Luxor. 2nd December 2018.
Regular readers of this blog will know of my enthusiasm for steam locomotives, but anything that is operated by steam perks my interest. To sail on SS "Misr" was a true delight. When I sailed on her in 2018, she was celebrating her 100th birthday. Built in Preston, Lancashire, she served in World War I, then became a troop transporter, and finally reinvented herself as the private yacht of Egypt's last monarch, King Farouk. When the monarchy was overthrown in 1952, no-one really knew what to do with her, and she languished in a Cairo shipyard. However, in 2003 she was purchased and, using the original drawings from the previous conversion to King Farouk's yacht, she was restored to her 1930s and 40s glory. Whilst the Egyptology was fascinating, I did find myself even more excited by the prospect of seeing the engine room. To look down, as we all did, on the cylinders and pistons in motion, and see the original dials and gauges with the British manufacturers printed on them, made me feel quite honoured to be sailing on her. With Nile cruising, I soon learnt that the best way to do it is to get up early, see the sights whilst the weather is at its best and before any mass of tourists arrive, and then spend time during the day sailing along the river and admiring the views. Splendid!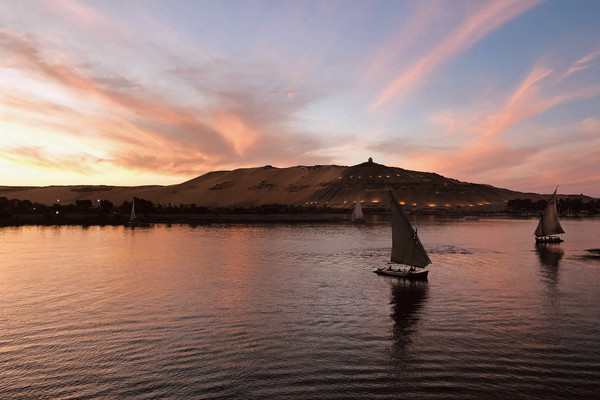 Sunset over the Nile, as seen from the top deck of 'Misr' in Aswan. 28th November 2018.
On one of our days in Aswan, we had enjoyed a busy day – particularly the day with the very early start to be able to reach the incredible sight of Abu Simbel. I was in my cabin doing some paperwork when I looked out of my window to see the sky had started to change colour. I went up on deck and sat there watching the sun set over the Nile with the small sailing boats passing by. It really is something of a timeless scene. The lights on the western shore indicate where tombs are located. My favourite question of the entire holiday being when someone asked our expert guides, "How many undiscovered tombs are there?" To which he replied, "17" and continued with his story. I am lucky enough to currently be scheduled for escorting two trips on board SS "Misr", one beginning at the start of February, and a second beginning at the end of February. I should then have around ten days at home before I head back to Africa, but to the southern end, and hope to witness views like this…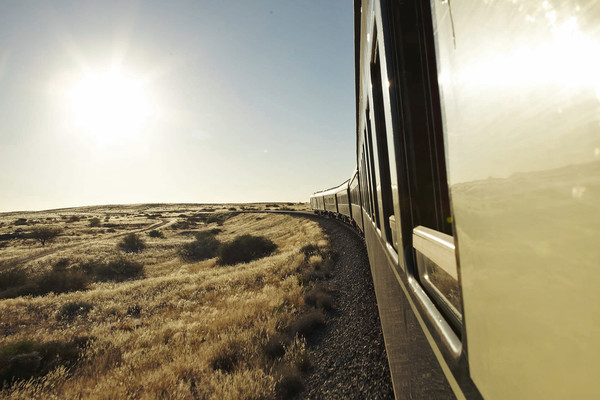 A photo from the window of the Shongololo Express.
I have never been offered the chance to escort a train trip before, so when the offer to escort those going on the Shongololo Express was presented to me, Mike Deegan had barely finished the question before I'd said yes. Recently, whilst eagerly undertaking research, I discovered that "Shongololo" is a Zulu word that means large brown millipede. Quite a clever name for a long train! As I have mentioned in previous blogs, I have only ever visited the shoreline of Namibia – Walvis Bay and Lüderitz. Whilst in those ports we ventured a little way inland, but to now have the chance to visit the likes of Etosha National Park, Windhoek, Keetmanshoop, Fish River Canyon, Kimberley and Pretoria is one of the reasons the likes of myself do this job. Hence I was buying guide books of Namibia and South Africa yesterday so that I can begin to gather some background knowledge. Naturally, when the UK government recently introduced their "Red List" and had Namibia and South Africa on it, my heart did sink. However, I am now relieved to see that they have been removed from the list, and I am hoping and praying that by the time these tours are due to take place, there will be no further obstacles on our path. Fingers crossed!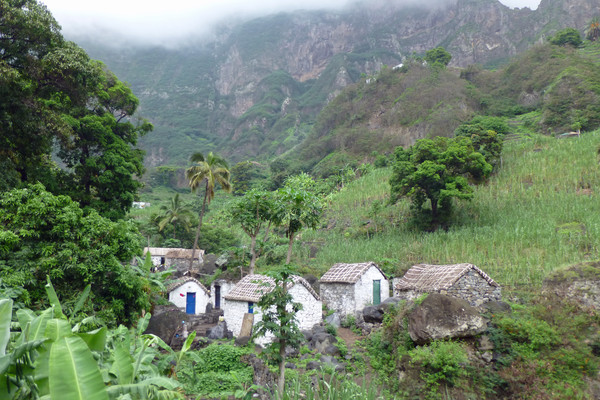 A rural village scene on the island of Santo Antão, Cape Verde. 27th September 2015.
The next time I set foot back on a ship is currently scheduled to be 9th April in Cape Verde. The last time I explored Cape Verde was on board a ship called "Sea Explorer I". Maybe some of you sailed on board that ship. What I am sure, is that everyone knows that it was then renamed "Hebridean Sky" with Hebrides expert John Love and our own Laura Cochrane being the godparents. When I head back to Cape Verde, 6½ years since my last exploration around there, I'm delighted it will be on "Hebridean Sky" again. The islands we are due to visit include Santa Antão, São Nicolau, Sal and others. If you look back in these blogs you will spot three separate entries dealing with the differences between the ten islands that make up Cape Verde. When you go to Cape Verde, please go with an open mind. Some people understandably think of the islands as hot and sandy with people trying to sell you timeshares. This could not be further from the reality. Only a couple of the islands are relatively low-lying. The rest are volcanic, dramatic landscapes that are a joy to explore, and house many traditional ways of live, as witnessed when we paused by the hamlet shown in the photo above on our day on Santo Antão.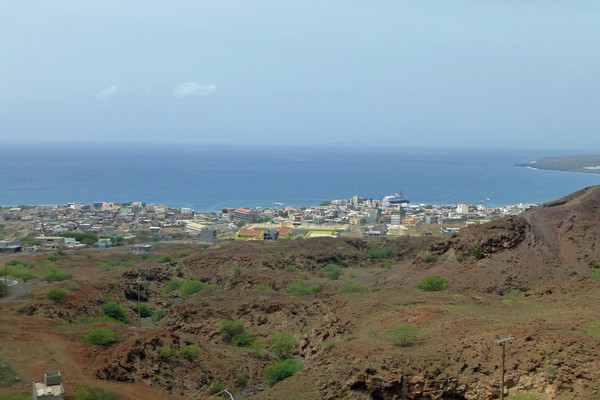 "Hebridean Sky" (then "Sea Explorer I") can be seen on the berth during our visit to São Nicolau. 10th October 2015.
On another of the islands, as seen above, you can clearly see how volcanic in origin they are. We would often find that the towns by the sea are fairly recent in architectural styles. We would then board the minivans and wend our way up the mountain roads to the old town in the hills. These were the 'old towns' because they were strategically built where pirates could not reach them. It was almost as though the towns by the sea were deliberately built in a more flimsy manner so that they could be swiftly rebuilt after a pirate attack. You hear of places suffering from mass tourism, but that is an accusation that could never be levelled at those islands of Cape Verde that are of volcanic origin. When we visit, we almost become an attraction in ourselves, and the locals are thrilled to offer their warm hospitality to us.
The beachfront at Santa Maria, Sal. 29th September 2015.
The last Cape Verde destination on the "Island Hopping in the Canary Islands & Cape Verde" cruise will be Sal. This island is one of the two Cape Verde islands (the other being Boa Vista) which are flatter and sandier than the others. Whilst the more volcanic islands have more diversity of flora and fauna, there is still much to discover about Sal. A huge runway dominates the island, partly built to offer a landing place for the space shuttles in this remote area of the world. Illustrated above is one of the many soft sandy beaches. Fortunately, the authorities in these areas have been strict and whilst major hotel chains have opened near the beaches, they have been forbidden from building within a certain distance of the coastline. This is in order to protect the turtle population. Indeed, teams of volunteers were on hand on my last visit, and you can see the public on the right, gathered round a fenced-off area, by a turtle hatchery. The volunteers were actively explaining the work they do to protect these stunning creatures. When you consider the size of the Atlantic Ocean, I can't begin to imagine how they manage to return to the same beach on which they were born. It really is incredible. Another feature of Sal is the salt pans, as modelled beautifully below…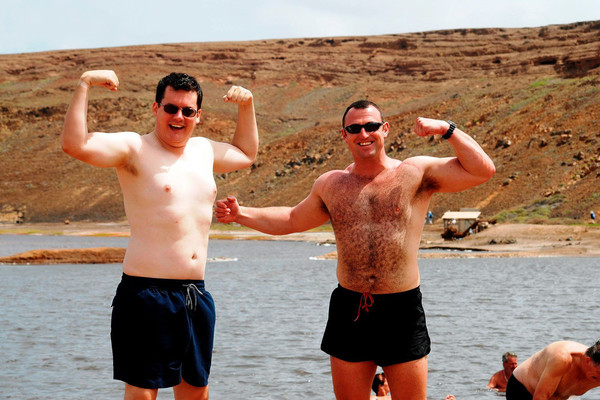 Me and Chris Lockie enjoying the salt pans on the island of Sal. 29th September 2015.
My main embarrassment with that photo is that I remember how much I was breathing in when it was taken! Chris was one of our team who had previously served as a Royal Marine Commando and then been part of our security team for our Gulf of Aden transits. He's now settled in the USA, where he probably has to provide subtitles for his wonderfully strong Yorkshire accent. The salt pans provided an important export for Sal and all of Cape Verde in their heyday. Now, they have been converted into a tourist attraction and you can float on the waters without having to use any energy. For the occasion of the photo above, I had arranged for a coach to bring as many of the crew as we could allow off the ship to come to the salt pans and enjoy the floating experience. I will never forget standing at the side of the pans wondering why they hadn't entered the water. It turned out they were waiting for the then maître d'hôtel to go first. They had decided that he was the largest of the crew members in attendance, and if he floated, they knew they would. Sure enough, he did, and they all piled in and had a wonderful afternoon. I am very much looking forward to returning to the salt pans and having another float, before we then head north to the Canary Islands. With that, it brings me to the end of this blog, and therefore the last one of 2021. By the time you read this, it will be 2022 and I hope you have had enjoyable New Year celebrations. At the end of 2020 I remember us all saying that next year must be better. Well, perhaps the message is the same, but I have a lot more faith and belief in it now. Onwards and upwards and Happy New Year!!