Halfway to Paradise
Good evening everybody! It felt rather strange to not be writing to you all last week, but you probably won't be surprised to know that I've been keeping myself busy since I last wrote. I continue with my one day and occasional evenings each week with the supermarket. The day that they are guaranteed my services is a Monday, and so it was yesterday (5th July) that I was out and about. I wish that the weather would make its mind up. My run was from 2pm to 11pm, and started off in glorious sunshine. However, part way through the shift the wind picked up and the rain swept in. Whilst it is surprisingly delightful to be driving round Kent country lanes in the late summer evening, particularly from my high vantage point with clear views over the hedgerows – it's not quite the same when the wipers are on full speed and you're trying to stop the windscreen from steaming up. All the other days of the week are spent either working for the railway or writing these blogs, quizzes and other such things. Most recently, I've been undergoing training to become a qualified signalman at New Romney. I'm delighted to say that on Saturday I "passed out" at the second attempt, and tomorrow, Wednesday, will be my first day 'flying solo'. It also coincides with the day that Her Majesty's Railway Inspector is due to visit. No pressure then!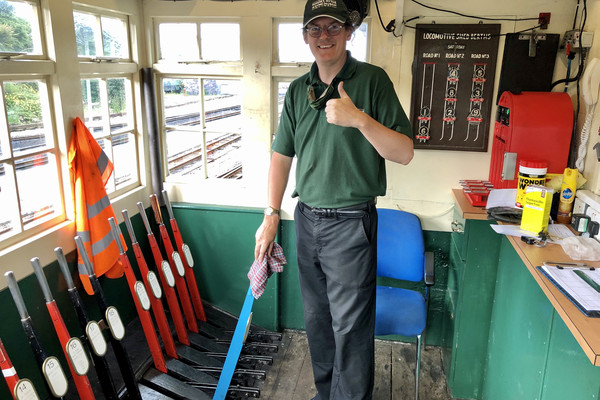 Me in the signal box at New Romney having just qualified. 3rd July 2021.
Today I have been on guard duty on the train. In total I covered 65 miles, which is a fair distance on a gauge of only 15 inches. As with previous days, we began with gale force winds, and had to stop the train a couple of times to deal with fallen branches. However, by mid-afternoon it had become very pleasant with sunshine dominating at Dungeness. I also spotted that the "new" lighthouse (built in 1961) was being painted. A suitably curved trolley was hung from the light with a couple of chaps looking as though they wished they'd checked the wind forecast before they had lowered themselves into position. I am sometimes asked at Dungeness why there are two lighthouses. The somewhat amusing answer is that the former lighthouse (built in 1904) was perfectly fine in 1961, and would still be in use today, but when the first nuclear power station was built nearby, it was realised that the superstructure of the power station would obstruct part of the beam of the light. Therefore, a new lighthouse was built about 400 yards to the east. Also, hindsight tells us that the power station is built on the wrong side of the peninsula. Every year, thousands of tonnes of shingle has to be dumped in front of the power stations to counter the effect of longshore drift. If the nuclear scientists had spoken to any local fishermen before they built it, then perhaps they would have spotted the problem before it was too late!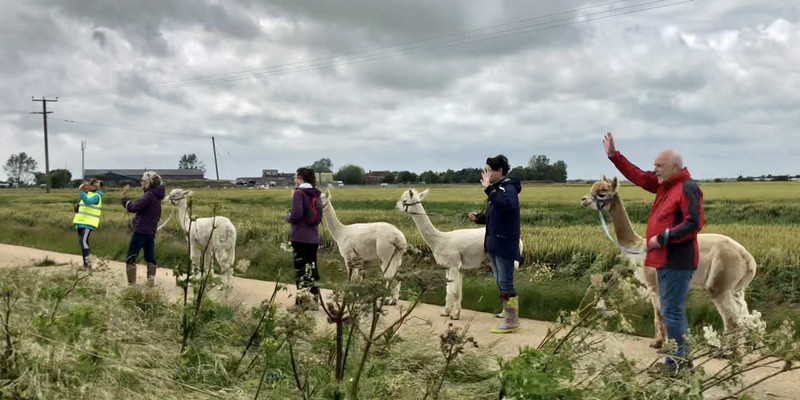 Alpacas being taken for a walk alongside the railway line. 6th July 2021.
As well as carrying out my guarding duties today, I was also hosting one of the guided tours at New Romney. I asked the children if they had seen any interesting animals on their journey from Hythe, and fortunately some of them had spotted the "funny looking sheep" being taken for a walk near Dymchurch. I informed the children that they were alpacas. Some children then mentioned that they had seen ostriches in a field with some sheep. To be fair, this was a very good guess, but it is in fact a flock (or "mob") of rheas. I then proceeded with the turntable demonstration and told them all about the locomotive and the railway. Around ten minutes later I asked if there were any questions. One young chap put his hand up and so I pointed to him and told him to say it out loud. "What's the difference between an ostrich and an emu and a rhea?" he said. My heart sank. I have absolutely no idea. I promised him I would let him know later on. What I didn't define was the word "later". I am hoping he will visit again in a few years' time so that I will have had the chance to ask one of my learned friends in the Expedition Teams by then.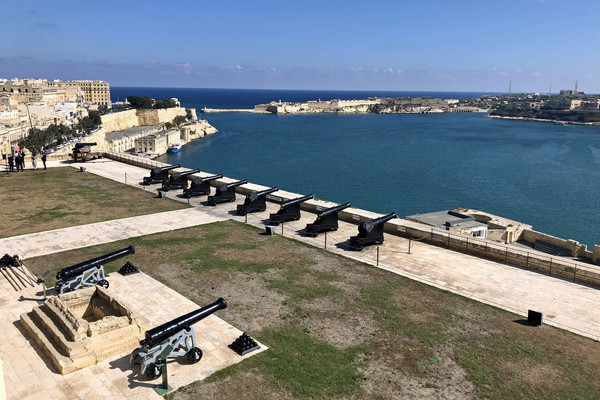 Overlooking Grand Harbour, Valletta, Malta. 22nd October 2019.
Yesterday, I heard on the news that the National Health Service has collectively been awarded the George Cross. My brain immediately started formulating a quiz question, "Name all the recipients of the George Cross who have been awarded it collectively". I remembered that the Royal Ulster Constabulary had been awarded the George Cross in 1999, before it became the Police Service of Northern Ireland. I also knew, from frequent visits with ships to the island, that the people of Malta had been awarded the George Cross in 1942. I wondered if there were any more collective recipients, but the news broadcast confirmed that they were the only others. If I know the answer to a potential quiz question without having to do any research, then that tends to mean the question is too easy. On Thursday last week I was very pleased to have the second dose of the Covid vaccine administered to me by a member of NHS staff in the old school museum at New Romney. I made a point of thanking all the staff and volunteers there for their help during these times. To see crowds starting to return to live sports events, and hear that social distancing rules will most likely be eased on 19th July, does make me proud to be part of a country that has a National Health Service. Friends who live in countries that don't have such a service always think it is such a good idea when I tell them that we have a system whereby everybody pays into a service so that everyone can use it. I hope anyone who reads this who is either a current or former member of NHS staff rightly takes pride in the award. Congratulations to all.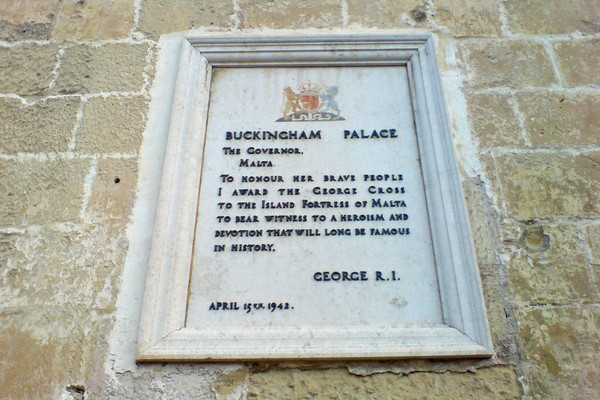 The engraving marking the awarding of the George Cross to the people of Malta. 2nd December 2008.
The above photo was taken on a visit to Valletta on 2nd December 2008. I had seen the George Cross in the corner of the Maltese flag, and wondered if it was on display anywhere. It turned out that the medal and king's letter are on display in Fort Saint Elmo, Valletta. I didn't realise that at the time, and so I settled for photographing the above engraving instead. As I write this, it is now approaching midnight so I ought to wend my way to bed so that I am fresh for the 9½ hour shift in the signal box tomorrow. Fingers crossed that all goes well, and I will continue tomorrow, with the aim of completing the blog before the England match against Denmark kicks off.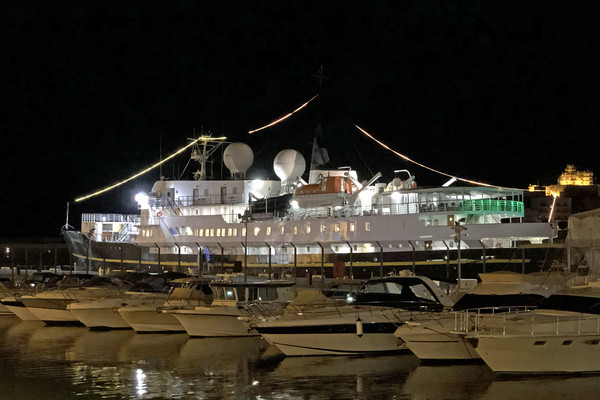 "Serenissima" enjoys an overnight stop in Grand Harbour, Valletta. 4th October 2019.
Hello again everyone. I am back safe and sound from my first day as an official signalman at New Romney. I felt like Brian Hanrahan at the end of the day as I had counted all the locomotives out, and was very pleased to count them all back. It brought back memories of that first drive you do in a car after you pass your test and there is no-one next to you. There was a large group of primary school children who were at the station for the best part of four hours. Whilst signalman was my main duty, I did all I could to find ways to entertain said children. I don't think the engine driver of 'Hercules' was expecting to go round the turntable three times – but the children enjoyed it! As I write this, there is 1½ hours until kick-off between England and Denmark. Memories of that glorious summer of 1996 keep coming back to me. I was 18 at the time, and it is something of, or rather should be something of, a wonderful summer when you have finished your A-Levels and are awaiting the results prior to going to university. It seems beautifully ironic that I spent the summer of 1996 in my first paid employment – as a member of the railway's seasonal staff. What goes around really does come around in the most unexpected manner.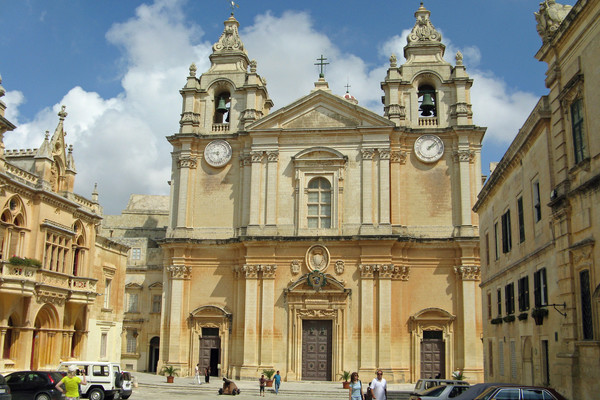 The Metropolitan Cathedral of Saint Paul, Mdina, Malta. 14th September 2009.
Last night I had reached the part where I was talking about the NHS being awarded the George Cross, and how the first collective recipient of that award was the people of Malta in 1942. I was fascinated to hear about the incredible story of the MV "Ohio" and how, strapped between two warships, she arrived in Grand Harbour on 15th August 1942 carrying her precious cargo of fuel oil, paraffin and aviation spirit. If she hadn't made it through, there is a high probability that Malta would have fallen to the Axis forces and World War II would have taken an unthinkable turn. The arrival of "Ohio" enabled the island fortress's aircraft and warships to strike back at Axis forces that had seemed to be winning the battle for domination of the Mediterranean and the struggle to supply Axis forces in North Africa. One of the crew of "Ohio", then a ship's carpenter, was awarded the Distinguished Service Medal for his actions. His name was Norman Warden Owen, and a few years ago I found myself serving as Cruise Director to his son, David, who was the Captain of our ship. Noble Caledonia regularly use Malta as a turnaround port, as it has excellent flight connections. However, I would strongly recommend that if you are embarking or disembarking in Malta, that you take advantage of any offers to spend a few extra days there. The above photo is one I took on a day trip to the "Silent City of Mdina". When I visited the inland city, I was puzzled as to why it had the name "silent", when that wasn't the case. It is thought that the nickname came about because Mdina was chosen as the original capital due it being inland, and therefore safe from pirate raids. It is also surrounded by a defensive wall. However, eventually the capital moved to Valletta, and so did much of the trade, and therefore there was an exodus from Mdina. This led to the city becoming something a ghost town, and the nickname "Silent City" was born. The population has since increased, but the beautiful architecture, including the cathedral shown above, make it a very worthwhile visit.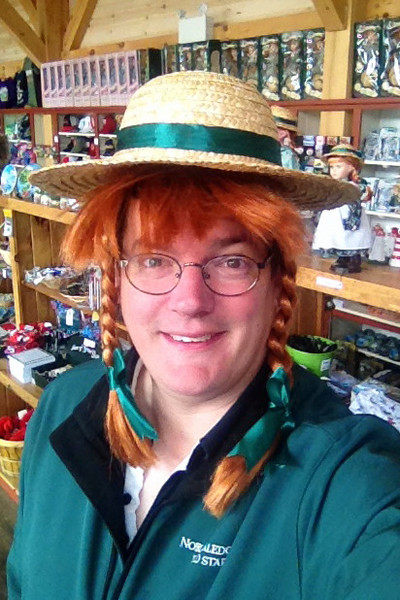 "Anne of Green Gables" on Prince Edward Island, Canada. 9th June 2018.
Just under a week ago we marked Canada Day (1st July). I sent a few messages to my Canadian friends to wish them an enjoyable day. I'm sure many of you who read this blog will have seen on the news about the incredible temperatures that western Canada has been experiencing. On 29th June, a record temperature of 49.6°C (121.3°F) was recorded in Lytton, British Columbia. By comparison, the highest temperature ever recorded in the UK was in Cambridge on 25th July 2019, when the mercury reached 38.7°C (101.7°F). I can't even begin to imagine how we would cope as a nation if temperatures in the UK reached those they have experienced in British Columbia. I chose the photo above as it comes from a wonderful day when we were docked overnight in Charlottetown, Prince Edward Island, and went to visit the house of Anne of Green Gables. I was on the 'Hebridean Sky' at the time. We had a fun Ukrainian receptionist on board called Elena, and she had long reddish hair. I don't think she had heard of Anne of Green Gables before, but I persuaded her to style her hair in a similar way that morning. She was happily stunned when every passenger complimented her on her appearance as they filed past Reception to the gangway. I wrote to Elena just before England kicked off against Ukraine in the quarter-final last week. I haven't heard from her since the final whistle.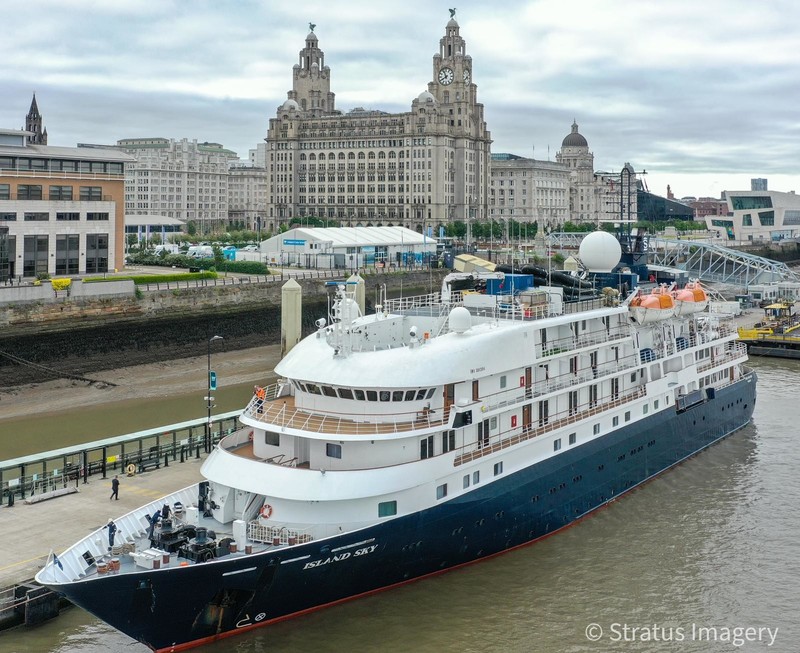 "Island Sky" in Liverpool on 26th June 2021. Photo courtesy of Stratus Imagery and City of Liverpool Cruise Terminal.
Another wonderful thing to have happened during the previous fortnight since I last wrote, has been to see the "Island Sky" and "Hebridean Sky" sailing again. I have received regular updates from both crew and passengers who are on board and enjoying the chance to explore the UK via our beautiful ships. You may have seen in the news, or read in the newspapers, that Scotland is currently out of bounds. That rule only extends to going ashore, so we are still able to explore Scotland via coastal cruising and using Zodiacs. One passenger sent me a photo of being on board a Zodiac in flat calm conditions and viewing Fingal's Cave on the island of Staffa. That is undoubtedly the best way to experience it. I can only remember one occasion when I've been anywhere near Staffa and we have had a flat calm sea. The good people of Liverpool were so delighted to see a vessel arrive that they sent up a drone to capture some images, one of which I have included above. The last time I arrived at that pier was after I had caught the ferry from Douglas to Liverpool. No offence to the Isle of Man Steam Packet Company Limited, but I think the "Island Sky" would be a slightly more luxurious and leisurely way to arrive!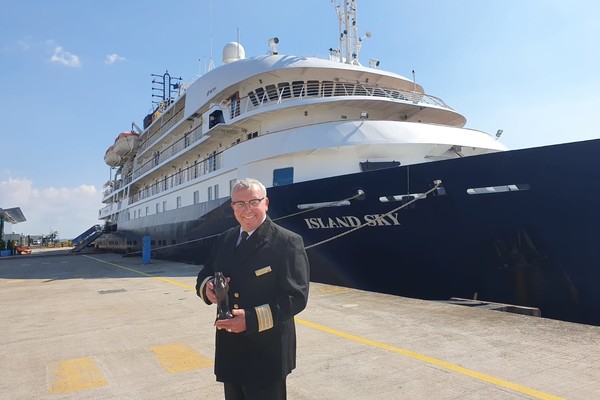 Hotel Manager Antony Chorley with the replica Liver Bird. 26th June 2021. Photo: Mike Deegan.
Not only were the authorities in Liverpool delighted to welcome our ship, and allocate her such a prime berth, but they also presented the ship with a replica Liver Bird. Noble Caledonia's Operations Manager, Mike Deegan, has worked all over the world, including sailing in and out of Liverpool with the Isle of Man Steam Packet Company. He tells me that the Liver Building (seen behind "Island Sky") has only two Liver birds. Should they fly away, then a great disaster will befall the city. The one which looks out over the Mersey is female, and is looking to see if the menfolk are back on their ships. The one facing inland is the male, and is checking to see if the pubs are open. Another part of the legend is that when a virgin walks beneath either of the birds, they flap their wings. Since they were installed in 1911, they have never flapped their wings once – so make of that what you will! It was kind of Mike to send me the photos, and great to see my good mate Antony Chorley on top form. He is a superb Hotel Manager, and I can't wait to work with him again. His Louis Armstrong impression has to be heard to be believed!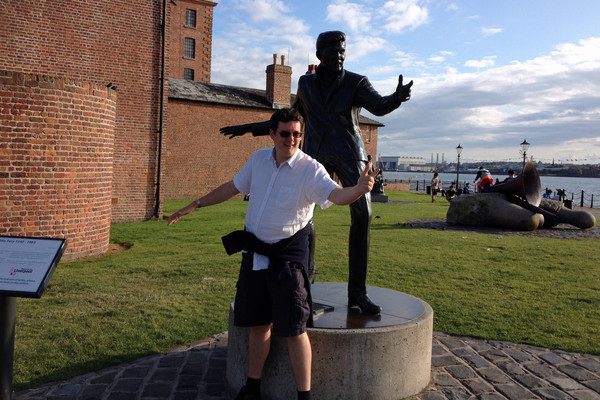 Me with Billy Fury on Liverpool waterfront. 4th August 2014.
And finally… whilst on the subject of Liverpool, I thought I'd conclude this week's blog with a photo of me with one of my dad's musical heroes – Billy Fury. The vaccination process is continuing apace, the weather is improving, and our splendid "Sky" ships are operating again, albeit at 50% capacity. Perhaps we really are "Halfway to Paradise". Roll on the other half! Until a fortnight's time, goodbye for now. As I conclude, we are just over a quarter of an hour from kick-off against Denmark. Good luck England!