Ghosts of Christmases past...
In the famous words of Shakin' Stevens… "Merry Christmas Everyone!" I had absolutely no idea when, back in April, I was offered the chance to write a weekly blog for the Noble Caledonia website, that I would still be writing it at Christmas. Then again, as recently as this summer, if you'd told me that Kent, where I live, would be in virtual lockdown in December then I doubt I would have believed that either. However, here we find ourselves. It is Tuesday 22nd December as I write this, and I hope that in spite of all the concerns over the latest Covid-related news, that you have some form of Christmas to look forward to. On Saturday, I was on the 2pm to 11pm delivery shift. You tend to deliver to more families at the weekend than you do during the week, so I thought I would make an effort and dress up as a snowman…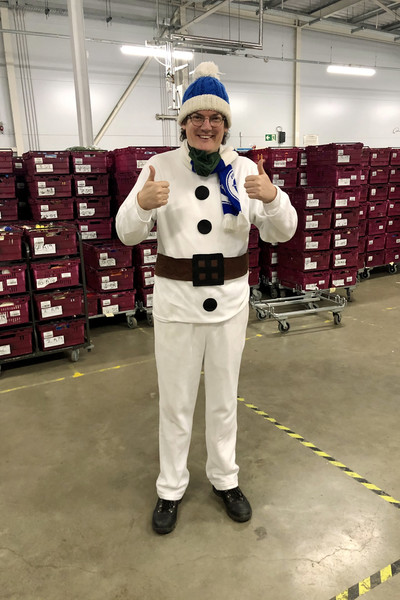 Heading out on my deliveries. Saturday 19th December 2020.
Along with each delivery, once I had finished placing the crates on the doorstep and social distanced myself, I pulled out my trusty harmonica and performed a rendition of "Silent Night" whilst the customers unloaded the crates. All was going very smoothly, but then the Prime Minister delivered his press conference at 4pm regarding Kent moving into this new tier and Christmas being all-but cancelled. For the rest of the delivery run, it turned into a case of convincing people that they still wanted their shopping – as for many it had become a useless order given that they would not be able to have friends and family to visit. My plans have gone out of the window as well. As you may be aware, I live on my own, and had planned to go and visit my 95-year-old Grandma up in Suffolk, and meet up with my parents whilst there. However, those plans are now shelved. I have not had the chance to see Grandma since last Christmas, and I feel bad that it will be an entire year without seeing her, but we all agreed it was for the best and are hopeful that we can have an Easter celebration instead. In more positive news, Grandma was administered the first dose of the Pfizer vaccine last Thursday, so hopefully that means that we will be in a position to be able to visit her sooner rather than later.
For this blog, I thought I would look back on previous Christmases whilst I have been on ships. I joined my first ship in 2001, and was the only one of the 'cruise staff' to be given shore leave at Christmas. Therefore my first Christmas away from home was in 2002. In those days, when I was with Fred Olsen, I seem to recall that Christmas often tied-in with our trans-Atlantic cruise to the Caribbean. We would have been doing Mediterranean cruises in the autumn, and then head over at Christmas to begin the Caribbean season in January. 2004 was my only Christmas with Celebrity Cruises, and we were sailing out of Galveston, Texas at the time. I was on the ship, 'Galaxy', which is the ship where a film crew were sent to record a documentary in 1998 and it made a star of Jane McDonald. We did the same route every cruise. My favourite stop was Grand Cayman, purely because it was British. The only other two British crew (out of the one thousand crew on board) were the Executive Chef and the Sous Chef. Colin and Malcolm are still good friends to this day. We would head ashore together in Grand Cayman to a British pub that served an ice-old pint of Caffrey's Irish Ale, and for the duration of that pint it felt like we were home again. From 2005 until 2013 I was with Saga. Christmas Day was always an "at sea" day. This was partly because of the understandable extra costs of docking somewhere on Christmas Day, and the fact that few, if any, venues would be open anyway. I have all the old itineraries so can quickly look up where I was:
2005 – Saga Rose – Between Madeira and the Canary Islands
2006 – Spirit of Adventure – We departed from Ho Chi Minh City in the early hours and sailed along the Mekong River on Christmas Day.
Immediately that has sparked an amusing memory. We had had a wonderful Christmas Eve overnight stop in Ho Chi Minh City.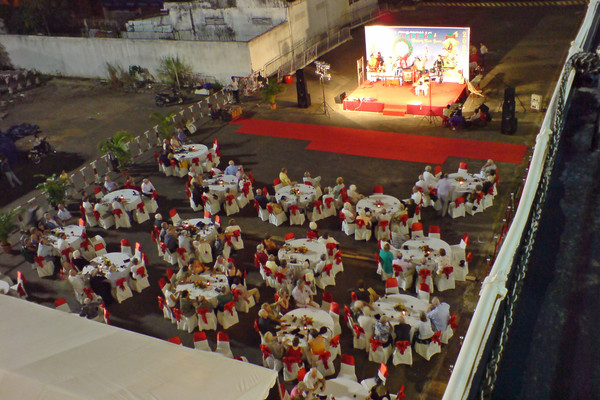 Looking down from the ship at the quayside festivities on Christmas Eve in Ho Chi Minh City. 24th December 2006.
It really is an incredible place to visit. I had watched Michael Caine's superb performance in the film adaptation of Graham Greene's "The Quiet American" before I visited Vietnam. Greene's line, "They say you come to Vietnam and you understand a lot in a few minutes, but the rest has got to be lived", still resonates with me. If you ever have the chance to visit, then I strongly recommend you do. Back to the subject… our overnight visit had been great fun, and you won't be surprised to know that we were a little tired when it came to the morning Christmas Day service. As we were to be sailing down the Mekong River, I decided to hold the service on the vast aft deck, with the river as the backdrop. I had the keyboard and speakers set-up outside. The crew choir were on form, and the passengers sang with gusto. The river was providing entertainment too, with many small boats darting back and forth. I can close my eyes right now and take myself back to that moment. I was playing, "While Shepherds Watched" and everything was normal. Then, the congregation sang the third verse:
"To you in David's town this day,
Is born of David's line
The Saviour who is Christ the Lord,
And this shall be the sign"
As soon as the congregation sang the word "sign", the 2nd Officer on the Bridge blew the ship's horn as a local fishing vessel crossed our path. The timing could not have been more perfect. The service went from being a relative solemn affair, to seeing the passengers in hysterics. To this day, I have people who were on that cruise ask me if I had planned for that to happen. With both my hands playing the keyboard, there's no way I could have radioed the Bridge to tell them to do it. It was pure comedy gold and set the tone beautifully for the rest of the day.
2007 – I was at home whilst Spirit of Adventure was in South Georgia.
2008 – Spirit of Adventure – Between Dakar, Senegal and Natal, Brazil.
I remember that Atlantic crossing all too well. The air-conditioning suffered a malfunction on day one of our five day Atlantic crossing, and the engineers didn't have the relevant parts on board to fix it. You can imagine how well that was received as we crossed the Equator! On Christmas Day itself, we passed by the Brazilian archipelago of Fernando de Noronha.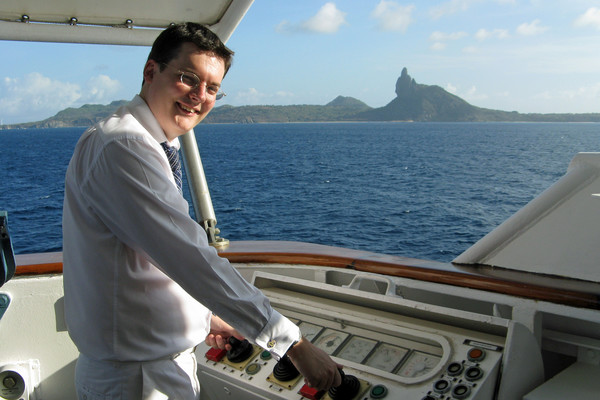 A younger me, pretending to drive, as we sail past the Fernando de Noronha. Christmas Day 2008.
2009 – I was at home whilst Spirit of Adventure was between Malaysia and Singapore.
2010 – We were sailing between Kochi, India and Kuda Bandos, Maldives.
I remember both Kochi and Kuda Bandos very well. In Kochi we went to see an incredible show by the most made-up gentleman I've ever seen. The entire show was performed by one man who sat still the whole time, but used his face, including his eyes, to act out the story. The art form is called "Kathakali" and really has to be seen to be believed. I must have a photograph somewhere…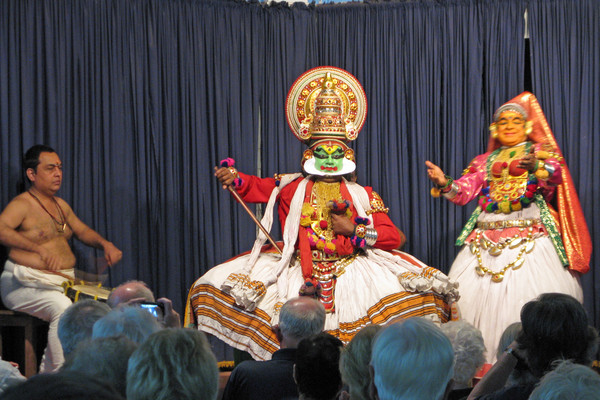 The Kathakali performance in Kochi (Cochin). Christmas Eve 2010.
On Boxing Day we landed on the island of Kuda Bandos. I had been there once before, in early 2006. On that occasion, it had only been just over a year since the Boxing Day Tsunami that had brought devastation to the low-lying Maldives. On this occasion, nearly five years later, the island was back at full strength and it was the perfect setting for Boxing Day. The Captain was Captain Frank Allica, later to become a Noble Caledonia captain. He was a proud Australian, and we had been gently winding each other up regarding the Ashes series that was then taking place in Australia. I can remember being stood on the sandy beach of Kuda Bandos and hearing his voice come on the radio. "Cruise Director Neil to Captain, come in". I replied that I was listening. Captain Frank continued, "Yeah Neil. Not sure how to break this to you, but Australia are reportedly 98 all out in the first innings in Melbourne. You'll have to come back on board to tell the passengers, as I can't bring myself to say it." I could have walked back to the ship, rather than use the zodiac, as I was feeling that elated! (England then scored 513 in reply, and won the match by an innings and 157 runs). It was decided we should have a cricket match on the beach, and to create two balanced teams we settled on England versus Everyone Else. If it landed in the sea you scored a four, and if it hit a palm tree over half way up it was a six. The star performer for 'everyone else' was undoubtedly our guest lecturer, and proud Northern Irishman, Ernie Rea. As captain of the England side, I decided to bring on the secret weapon among the passengers. I threw the ball to a dear chap who produced a beautiful delivery to bamboozle Ernie. The passenger? He was called Ossie Wheatley and was the former captain of Glamorgan. A tip – always get to know who your passengers are as you never know when you might need to call upon their experiences!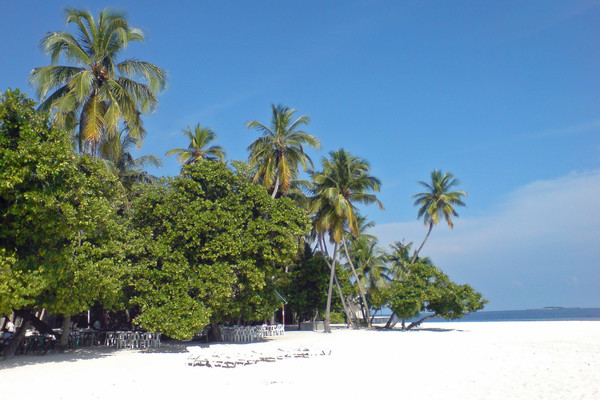 Kuda Bandos island all set for the passengers to arrive. Boxing Day 2010.

I remember being very excited about my first ever visit to New Zealand, as we headed east across a mercifully calm Tasman Sea. Sadly, there was very low cloud in Milford Sound when we arrived, which absolutely killed the effect for everyone. Thankfully, I have been back to Milford Sound on subsequent cruises and I realise just how majestic New Zealand's fiordland is.
2012 – Quest for Adventure – Sailing between Guadeloupe and Sint Maarten in the Caribbean.
2013 – I was at home.
2014 – Caledonian Sky – In the port of Wellington, New Zealand.
2014 was the first ever time I had been on a ship that had visited a port on Christmas Day. The cruise was an Auckland to Milford Sound cruise on board 'Caledonian Sky'. It was only my third cruise for Noble Caledonia, but they were keen to have me look after the Christmas cruise. Naturally, I questioned the wisdom of going into port on Christmas Day. I held my hands-up afterwards because, to my surprise it was a great success. We visited New Zealand's capital city, Wellington. Those of you who have sailed with me at Christmas will know that I put a lot more focus on Christmas Eve, than Christmas Day. I think there is much more of a festive feeling in the run-up to Christmas, than there is on the day itself. My usual Christmas routine is to have the evening meal, and then bring everyone together in the main lounge for a Carol Service combined with a Nativity Play. Trying to find Three Wise Men among the Expedition Team is usually the most difficult challenge. It is always a joyous occasion, with the Filipino crew keen to be involved too. The advantage of me being able to play the piano comes to the fore on Christmas Eve, as I can narrate the Nativity Play, and then play the carols too. Every year I am half-way through the first verse of "The First Nowell" and I realise the key is too high. I say to myself that I must make a note of that (pardon the pun). Then the following year, I do it all over again. Anyway, back to the story… so Christmas Eve night is usually a late one, so I was pleased that we had the morning 'at sea' before our arrival into Wellington. The streets were understandably very quiet as our guides walked us to the main sights, and then we finished at the superb Te Papa (Museum of New Zealand). It was open for the afternoon only, and I was surprised to see many families there. I spoke to a few of them, and it transpired that it was quite a popular thing to do with children after all the excitement of Christmas Day morning. I felt it was wonderfully cultural and very kind of the museum staff to open their doors to us all.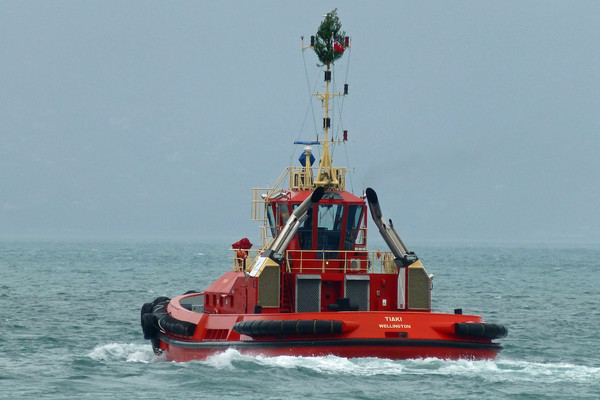 The tug "Tiaki", complete with Christmas Tree, preparing to assist us into Wellington. Christmas Day 2014.
2015 – Serenissima – At Sea between Curaçao, Dutch Antilles, and Cartagena, Colombia.
2016 – I was at home.
2017 – Serenissima – On the island of Aldabra, Seychelles.
The 'Serenissima' cruise from Dar es-Salaam to Mauritius is one I will never forget. I was on board as Cruise Director, and Jean-Pierre Els was the Expedition Leader. I had heard a lot about Jean-Pierre, but naturally we had never worked together. He was delighted that I would be looking after all the Christmas and New Year bits and bobs, and could lend a hand with the zodiac driving as and when required. I fully embraced the chance to visit an area of the world I had never explored, the remote archipelagos of the Seychelles. Not surprisingly, on Christmas Day morning I was very tired after a long Christmas Eve. I took the opportunity to sleep in as my presence wasn't required. I then found out from returning passengers that our stop at Aldabra was the one place where we encountering fellow humans. An idea planted itself in my head. I called up Jean-Pierre on the radio and he confirmed we still had an hour of zodiac running left in the day. I went to my cabin and changed into the Father Christmas costume that I had been wearing during dinner the evening before, and waited for Jean-Pierre to arrive with his zodiac. I clambered in, complete with a spare pillow stuffed up my front and a lifejacket just about stretching around me, and we headed ashore. All the passengers had now returned to the ship, but with permission from Jean-Pierre, I stood up as we approached the beach and shouted, "Ho Ho Ho!" to the two Aldabra wardens. They nearly fell over in shock and ran to the nearby hut to alert their colleagues. And so it was, on Christmas Day 2017, the staff who work so carefully to maintain the natural wonder of Aldabra, really were visited by Father Christmas.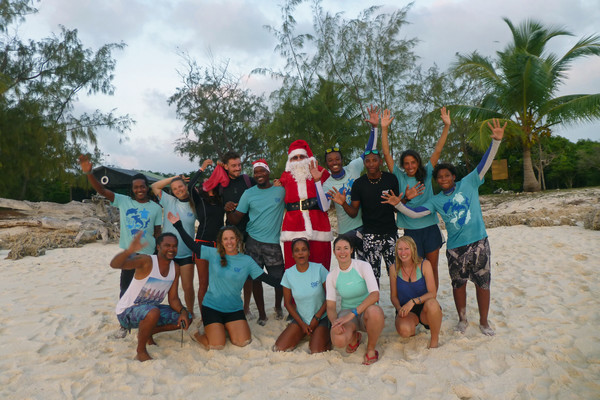 Father Christmas visits all the wardens on Aldabra in the Seychelles. Christmas Day 2017.
2018 – Caledonia Sky – At sea between Mount Maunganui and Napier, New Zealand
This was my (so far) last Christmas at sea. Once again I was paired with an Expedition Leader, this time it was Emma Hansen, and we were sailing around New Zealand. I remember it being rather dreary weather as we meandered along the coast of the Bay of Plenty. Christmas Eve, whilst still alongside in Mount Maunganui, had been another glorious success. Two of the Filipino crew were volunteered to be my elves. I apologise that I can't remember the man's name, but the lady is called Lovely. It's impossible to forget a name like that!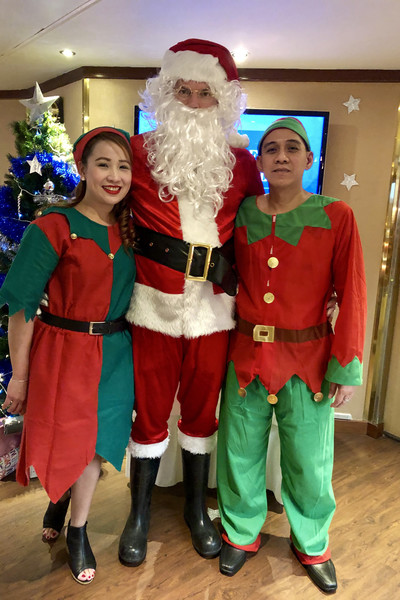 Father Christmas and his Elves on Christmas Eve 2018 in New Zealand.
So there we are, as I sit here now it is the early hours of the morning on Wednesday 23rd December. Later today I am on the long shift (2pm-11pm) and will wear the snowman outfit again as it is my last shift before Christmas Day. I wish every single one of you reading this, and all the crews, expedition teams, staff and land-based folk at Noble Caledonia a very Merry Christmas. No-one could have predicted this time last year what 2020 would bring. All we can do is keep believing that 2021 will bring much better times for all. Wherever you are in the UK or around the world on Christmas Day, raise a small (or large) glass and send a Christmas wish to all the wonderful crew who are chomping at the bit to back at sea. Cheers!
.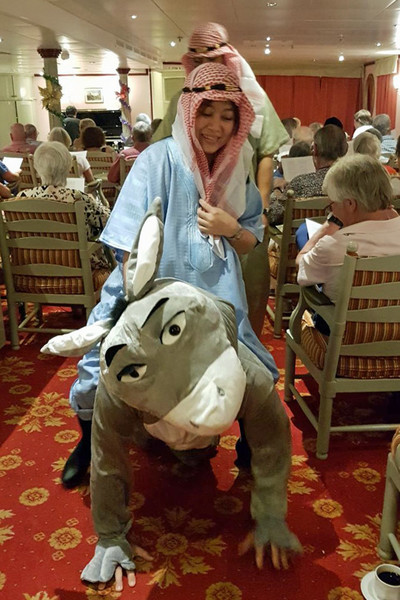 And finally… Mary rides the donkey to Bethlehem during the Nativity Play on Christmas Eve 2017 on board 'Serenissima'. I never thought the cast would take the narration literally!