Georgia on my Mind
Good evening everyone. It is now coming up to 1am on Thursday 17th December. I had intended to sit down to write this week's blog earlier this evening, but disruption at the Channel Tunnel and Dover Ferry Port meant that not only were my deliveries delayed, but I was subsequently delayed trying to reach my home. However, here I am, safe and sound, and I hope everybody has had a good week since I last wrote. No doubt we are all the same at this time of year, thinking of all the jobs that we need to do to prepare for Christmas. Notice I said "thinking", rather than "doing"! To be fair, I have been fairly pro-active. I've written and sent around two hundred Christmas cards. This year, more than any other year, I feel that the personal touch of a Christmas card is something to be treasured. Naturally I do not expect that many in return, especially as I don't really have any room to display them in my little terraced house, but I am a traditionalist in that sense and I felt a sense of achievement when I sealed the final envelope. (Of course, I have kept a few back as I'm sure I'll have forgotten someone!)
Thank you all for the emails. I will respond to everyone before Christmas, I promise. Whilst I have been working most days, I have been able to squeeze in a couple of social occasions. On Saturday, I was invited to join my colleague Megan's 'Baby Shower'. Apparently, this is normally a female-only event, but Megan decided that I could join in. The original plan had been to follow the "rule of six" and meet at a roughly equidistant venue for all the participants. However, those plans had to be cancelled, and so it was a Zoom meeting for the Baby Shower. We were all sent a small bottle of prosecco to open when the baby arrives (in mid-January), so that we can celebrate from our homes. We were challenged to all guess the weight of the upcoming arrival. I've no idea about such things, and from the raised eyebrows of Megan, I think my guess was rather on the heavy side! However, we'll all wait and see what happens.
On Sunday, similarly to most days on the current shift pattern, I was working the late afternoon and evening shift on my delivery run. I therefore offered my services to the railway up until the time that I would have to leave to drive to Ashford for work. Via some excellent re-jigging, forward thinking and planning, the Santa Specials are operating – albeit at enforced reduced capacity and socially distanced. I was stationed at Hythe and, dressed as an elf, was positioned on the arrival platform to guide the passengers in the right direction. Word has spread around the town and many locals were coming out to see what was happening at the various foot crossings along the line. Come nightfall, the last couple of trains of the day look rather splendid as they have been wrapped in twinkling lights. The train journey is eight miles from New Romney to Hythe. The railway has the rare advantage among the UK's steam railways of being double-track for those eight miles, and so for the last half a mile, Santa's Sleigh does a "parallel run" with the incoming train so that all the passengers have the chance to see him arrive, being pulled by "The Bug". The looks of wonder on the faces of the children really do make it all worthwhile, and many families have made it their tradition to come every year. Long may it last!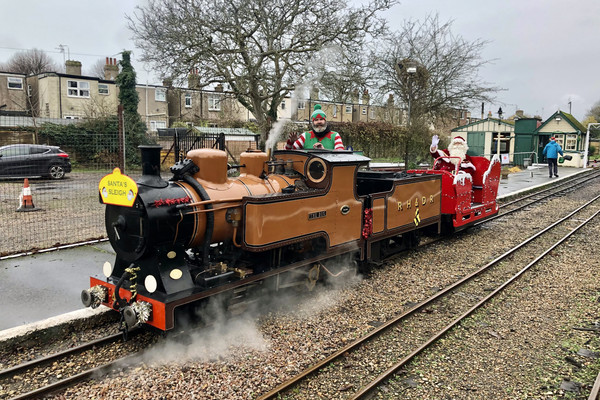 Santa's Sleigh arrives at Hythe station. Sunday 13th December.
Whilst on my rounds I've been listening to the radio rather a lot. I normally jump between BBC Radio 2, BBC Radio 4, BBC Radio 5 and Classic FM. On Radio 2 I enjoy Sara Cox on the 5pm-7pm slot, and Ken Bruce has the most wonderful sense of humour and timing. My Radio Heaven is if I time it right so that I can listen to a full episode of "I'm Sorry I Haven't A Clue". Whilst we all miss Humphrey Lyttelton, I think Jack Dee is the perfect replacement. I must mention (Noble Caledonia lecturer) Ernie Rea's "Beyond Belief", particularly this week's episode that looked into the spirituality of Beethoven. I feel a great sense of achievement if I reach the end of Ernie's excellent programme and understand what was said. "PM" with Evan Davis and "The World at One" with Sarah Montague keep me up to date with events. Radio 5, particularly if Brighton are playing (as they were tonight when they managed to not score again, at least this time without conceding either). Classic FM is my choice once the clock reaches 11pm and I am still driving and fancy something soothing. Naturally, with the job I currently have, I keep an ear out for any travel updates. Yesterday I was driving along and only half-listening, when I (thought I) heard how the "A68 could cause massive disruption in Georgia". This puzzled me. For a start, the A68 runs from Edinburgh to Darlington. That's quite a long way from the state of Georgia. And why would the traffic update be telling me of potential issues in Savannah or Atlanta? There has been a lot of mention of Georgia recently, with the senate run-off elections taking place shortly, which could determine who controls the Upper Chamber in Washington. I really hope to get back to Savannah someday, even if under my own steam, as I enjoyed our brief visit from Charleston with 'Hebridean Sky'.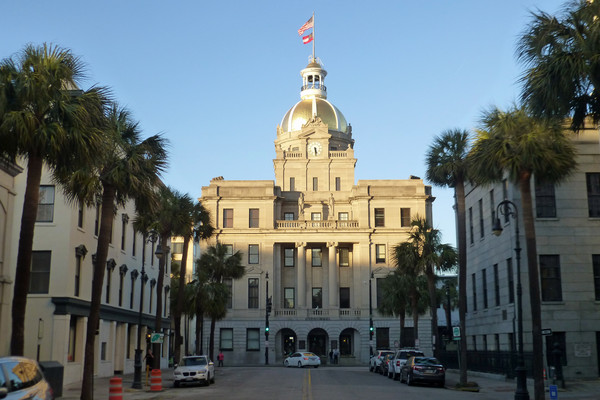 The imposing Town Hall in Savannah, Georgia. 7th February 2018.
If it wasn't regarding the state of Georgia, perhaps it was the country. I have been fortunate enough to visit the Georgian city of Batumi a few times. It is the main commercial port on the Black Sea coast for Georgia – and a "must-visit" on any Black Sea itinerary. I really like the place and the people. I have no idea why, but sometimes you arrive somewhere and you just get that feeling that all is going to go well. The guides were enthusiastic and had perfect English. The Archaeological Museum was well laid-out, with captions in English as well as Georgian. The Georgian alphabet is one of the most beautiful I have ever seen. It looked like Thai writing at first glance. I think I took a photo of a sign so that you can compare the two…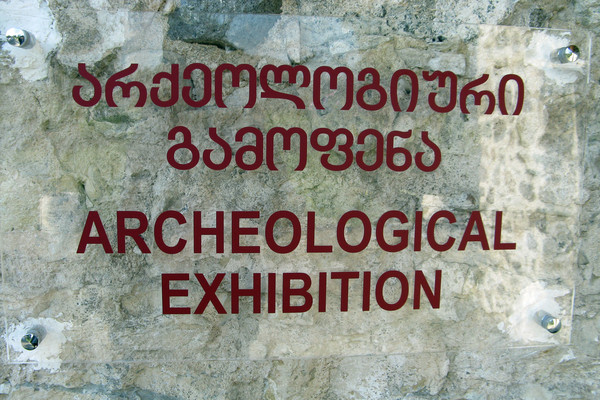 A demonstration of the beautiful Georgian language in Batumi. 27th September 2010.
Whilst in Batumi we visit various sights, and often have lunch ashore. During lunch, the Adjara State Ensemble sometimes perform for us and the dancers are incredible. There is immense pride in being part of the ensemble. I think of the UK population and wonder if Morris Dancing will ever have the same social standing. One memory I have of watching their performance was that I was left open-mouthed when I saw the ladies, wearing dresses that reached the floor, move across the stage in a perfect continuous gliding motion. I've no idea how they did it. It genuinely looked like they were on a conveyor belt. Apparently, it takes years of practice to perfect that particular skill, and it really does have to be seen to be believed. The architecture in Batumi also attracted my attention. There is a fabulous mix of old and new, with some instantly eye-catching designs. There is one high-rise building that appears to have a mini-London Eye in the middle of it, complete with revolving capsules. However, my personal favourite monuments are the two in the main square. One is a fountain of King Neptune. He is surrounded by mermaids, who have water shouting out of interesting places. The other is a huge column, topped by the Colchian Princess Medea, holding a Golden Fleece. Definitely worth pausing in the square if you are on one of our future Black Sea cruises.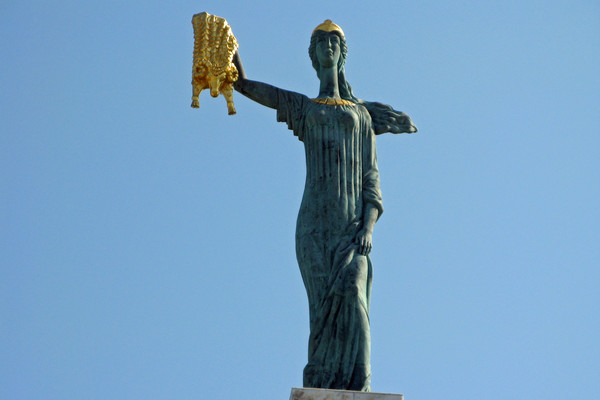 The statue of Princess Medea, holding the Golden Fleece. Batumi, 27th September 2010.
So, back to the traffic update on the radio. Having ruled out the American State of Georgia, and the Black Sea country of Georgia, I realised they were talking about the British Overseas Territory of "South Georgia". The A68 was, in fact, the A68a colossal iceberg which is on a collision course with the island. Immediately, memories of my one trip to South Georgia came back to me. It was early in 2009 that I was on a ship, "Spirit of Adventure", which ventured that far south and I am exceedingly grateful that we did. You might be puzzled as to why, being a Cruise Director rather than a Polar Expedition Leader, I would be on board at all. The reason is that the two Antarctic cruises were the only two cruises of the year where we had an expedition team deployed on board. Therefore, they didn't 'know' the ship, in terms of who was who, the best arrangements for scheduling activities, etc. Therefore, I was asked to stay on board to assist the Expedition Leader, Dr Beau Riffenburgh, in making the cruises a success. I have since had similar occasions with Noble Caledonia, most notably at Christmas time, when I've been asked to assist the Expedition Leader with the festive activities. Most recently, working with Emma Hansen on the 2018 Christmas Cruise around New Zealand. I really enjoy the opportunity to work alongside a fully-fledged Expedition Leader, as it is great to see someone else leading the Briefings. It all helps to gain further knowledge of the places we visit, and I welcome any opportunity to hop between the various styles of cruising that Noble Caledonia offer.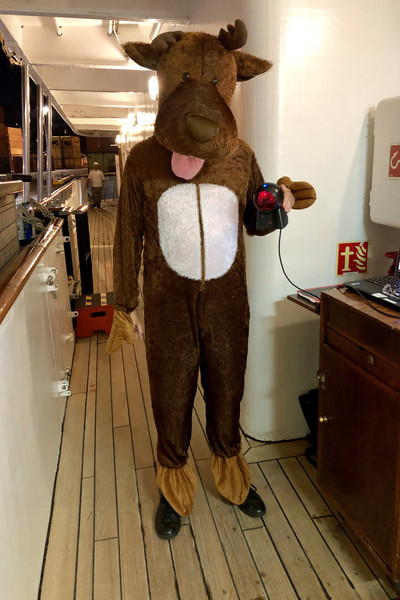 Me helping out on gangway duty in Nelson, New Zealand on the 2018 Christmas cruise.
Thinking back to South Georgia – I really liked visiting there. I have said before in these blogs that whilst I appreciate the natural world, I find myself more drawn to the human stories. Therefore, I was fascinated to visit the likes of Grytviken and Stromness and see the remains of the whaling stations. We anchored in the bay that provides shelter to Grytviken and I was on the first Zodiac ashore. This was because the crew were split into two groups. One group would go ashore first, have a look around, and then be stationed on the landing beach to scrub the penguin guano off the boots of the passengers before they returned to the ship. The other group would remain on board, helping the passengers get ready to go ashore, and then they would come over with the last Zodiac. That way, most of the crew would have the opportunity to go ashore at some point. I was surprised at how green Grytviken was. I don't know why, but I expected everywhere to be rocks and pebbles. I didn't expect green grass! Now, anyone that has visited South Georgia or Antarctica will be well aware of the strict IAATO (International Association of Antarctica Tour Operators) guidelines that must be followed at all times. One of the directors of Noble Caledonia, Dr Kim Crosbie, was the Executive Director of IAATO and is a recipient of the Polar Medal, so I best be careful here. I know she is also an avid reader of this blog. I can still remember Dr Riffenburgh delivering the lecture detailed the rules and regulations of stepping ashore. One of the rules was that you must not go within five metres of a penguin. Another rule was that you should not venture off any marked paths. That sounds simple. But what no-one mentions is that the penguins are well aware of said rules, and take great delight in creating merry havoc. Here is a photo I took whilst visiting Grytviken as an example: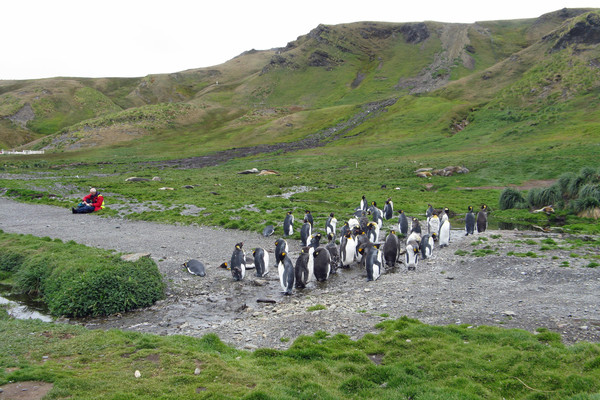 Penguins being awkward in Grytviken, South Georgia. 1st February 2009.
As you can see, the penguins are well aware of the rules. They are surrounded by beautiful, lush, soft-on-the-webbed feet, green grass. So where do they choose to stand? In the middle of the only path between the landing beach and the former whaling station. I love how there are even a few penguins lying down at the front of the group, as though they think they can't be seen and will leap up to surprise a poor, unsuspecting tourist. And then, when you retreat to your Zodiac in an attempt to find a landing beach the other side of the penguin blockage, they notice what you are doing and start shuffling to a new location. There is no pleasing some penguins! I found Grytviken to be an amazing, inspiring and harrowing place. Amazing because it felt impressive to me that humans had managed to inhabit what, at first, looks to be an inhospitable landscape. The museum, including a replica of the converted lifeboat that Ernest Shackleton and his men used to sail from Elephant Island to South Georgia, is also full of wonder. I certainly wouldn't have liked to see the questionnaire results of Shackleton's crew at the end of that particularly journey. Inspiring because of the great man himself. Shackleton's grave is at the back of the whalers' cemetery in Grytviken. Easily spotted from the ship due to the white fence that surrounds it. The cemetery was originally the burial place of 19th century sealers, but in the 20th century it became the whalers' cemetery. Sixty-four men are buried in Grytviken cemetery. Sir Ernest Shackleton was buried here on 5th March 1922, with his head orientated south towards Antarctica instead of east.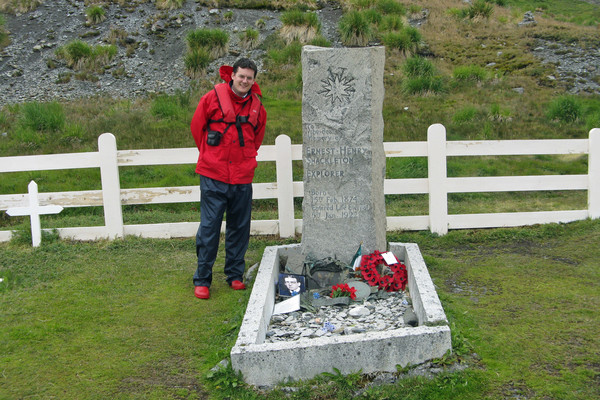 Me standing next to Sir Ernest Shackleton's grave in Grytviken. 1st February 2009.
Harrowing – until I visited Grytviken I hadn't realised the truly epic scale of whaling. I guess I should have done. You could hardly dissect a whale using a kitchen knife. However, it is only when you see the steam-driven saws, the array of coal-fired boilers, the vast tanks for storing the whale oil, that you fully appreciate the scale of the enterprise. It then dawns on you that this is just one of many whaling stations in South Georgia and Antarctica, and you can't help but feel numb for the way mankind has treated these majestic creatures. The whaling boat, "Petrel" lies abandoned on the shore at Grytviken. I captured this image, looking up towards the harpoon gun, and thought for a moment about what had gone before. Personally, I don't blame the whalers. It was something "of its time". I can remember asking my father what, when asked as a small boy what he wanted to be, he would reply. I had presumed he would have said a train driver, but he said that he wanted to be a whaler. He said that, at the time, it seemed like something out of a "Boy's Own" annual to be the harpoonist, little realising what the consequences for the whale population would be!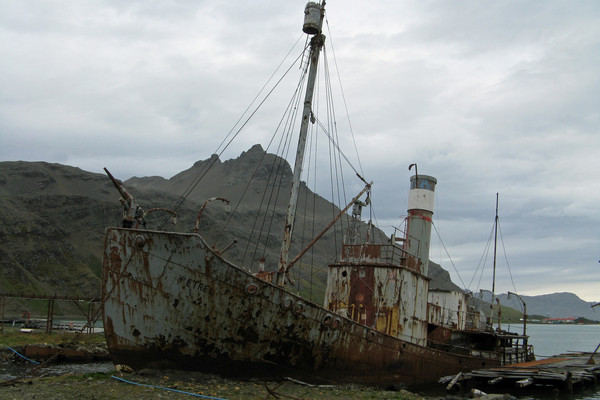 The former whaling ship, 'Petrel' in Grytviken. 2nd February 2009.
To conclude the visit to Grytviken, we gathered together in the Whalers' Church. The Norwegian Lutheran Church was fabricated in Norway and erected by the whalers in 1913. The typical Norwegian church is one of the most southerly in the world. It was consecrated on Christmas Day 1913. Until 1931 there was often a Lutheran pastor in residence. The church was near collapse when saved by extensive restoration work in the late 1990s. On the cruise which visited Grytviken, we had a lay preacher among the passengers. With permission from the local authority, I invited him to hold a short service for anyone who wished to attend. The church was full, and I pumped away at the pedal-powered organ to play, "Eternal Father, Strong to Save". I should have played harder, because a few days later we were hit by very rough seas as we returned to the Falkland Islands, but I wouldn't have missed the trip for anything. If you ever have the chance to visit South Georgia, possibly as part of an Antarctica itinerary, then I strongly recommend it.
.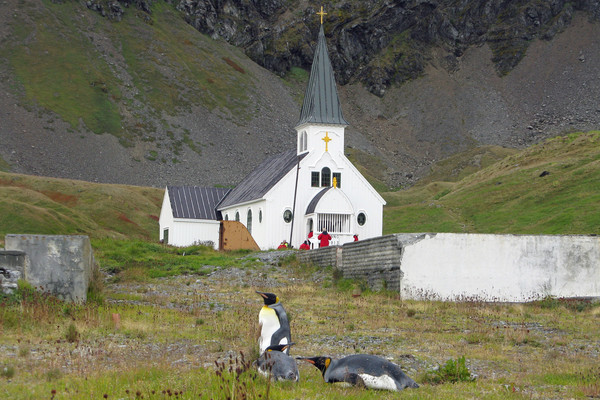 The Whalers' Church in Grytviken, South Georgia. 2nd February 2009.