From the North West to the Far East
And now I can truly say a "Happy New Year" to everyone. When I last sat down to write, it was the day before New Year's Eve. As you might expect, I've kept myself very busy since then. I embarked upon something of a tour of the northwest of England. I've celebrated New Year's Eve in Birkdale, watched Brighton win at Everton for the first time ever, visited friends and family in Ainsdale, Aintree, Widnes, Scarisbrick, Fleetwood, Chester, Partington, Northenden and Sheffield, and witnessed Brighton progress in the FA Cup at the expense of the 'other' Albion. That may seem rather excessive, but after the last two years of not being able to visit my friends and family in the north, I thought I would try and see them all in one week. I've had more lateral flow tests than I care to remember, but all has gone well and it was wonderful to be reunited with loved ones.
Hanging out on Mathew Street, Liverpool with John Lennon. 2nd January 2022.
I did have one spare morning amongst all of these adventures, and I decided that I should take myself for a walk. I remembered that, a few years ago, Dad had an old railway poster on the wall at home that depicted a viaduct in the Peak District. I saw a programme on television a while ago that showed people walking across the viaduct, now that the disused railway line has been turned into a trail. A little bit of research ensued and I found out it was Headstone Viaduct, part of the Monsal Trail that runs between Bakewell and Wyedale. The trail itself is 8½ miles long, so I decided to just walk the section from Monsal Head, crossing the viaduct and going through a couple of tunnels, to the former Millers Dale railway station, and back again. I'd seen reports that the path could be quite crowded, with walkers, cyclists and horses heading in both directions. Amid the snow flurries of a weekday January morning, it perhaps wasn't surprising that I passed only eight people on my entire walk. I was very grateful that the Millers Dale station tearoom was open, so that I could refresh (and warm up) halfway. On my return to Monsal Head, the car was completely covered in snow. Memories of last February, when I was stuck in the snow overnight in my Sainsbury's truck came back to me, but fortunately it was only light, and I must have averaged around 20mph before I reached the outskirts of Sheffield in order to visit my nephew. I've rarely been in the Peak District, but even through the snow you can tell what a stunning location it is. Definitely one to return to, but perhaps in better weather!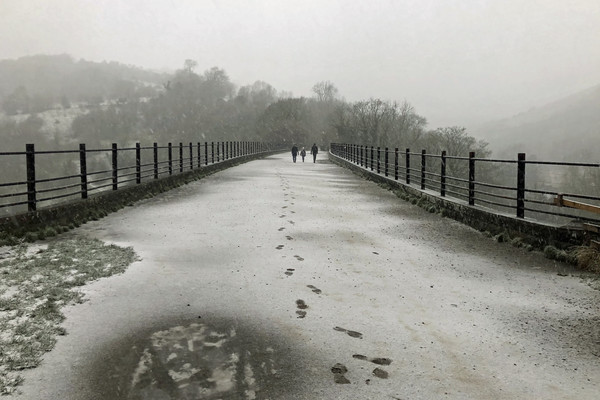 My footprints in the snow on Headstone Viaduct in the Peak District. 7th January 2022.
Earlier today, whilst thinking about where to look at with this blog, I received a message from a former shipboard colleague of mine. Marina lives in a suburb of Wellington, New Zealand, and was reminding me that it was exactly two years ago that I had invited her and her two daughters to come on board "Caledonian Sky" while we were docked in Wellington. I'll always remember them visiting, as Marina's father came past our berth on his jet-ski so that he could wave at his granddaughters who were on the Bridge wing. It's not every day that something like that happens. What did surprise me was that all this happened just two years ago. I always enjoyed my time on the "Caledonian Sky", and was so fortunate to sail on her during her Japan and New Zealand seasons, and a few areas in between. I was saddened to think that we would not be returning to Japan now that we currently don't have a ship permanently based in the Far East. The excitement was truly palpable among the Noble Caledonia staff when the news broke that we have chartered "Heritage Adventurer", formerly "MS Hanseatic", and will have a full Spring season in Japan next year.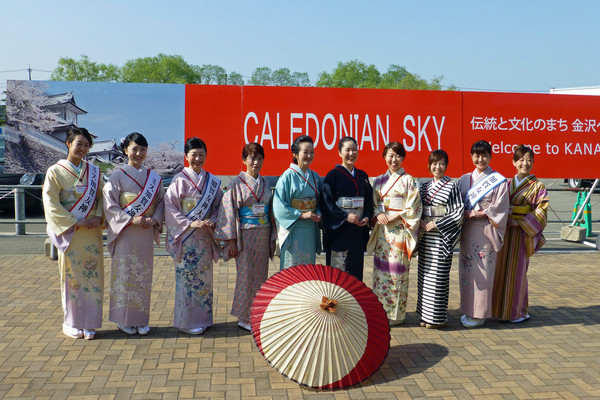 A friendly welcome to Japan from the people of Kanazawa. 2nd May 2015.
I loved working in Japan. There is so much to admire. I can remember when I arrived for the first time, landing at Kobe airport. I must have looked a little confused, as a kindly gentleman approached me and asked me, in perfect English, if I needed advice on where to go. To my amazement, the gentleman turned out to be a volunteer, who just wanted to help. I recall the moment I stepped into a taxi in Japan, and realised that the driver was wearing white gloves and a uniform. I recall riding on the Shinkansen (or Bullet Train) and noticing that the train's guard, on reaching the end of the carriage, turns round, faces the passengers he's just inspected, bows, and moves on to the next carriage. Japanese tourists who ride on the morning rush hour train into London must be quite shell-shocked at the comparative experience! Every footbridge across a road had a lift attached to it, to ensure that everyone had access to everywhere. It really is a model for how many would understandably like all societies to be – although I'll never forget the hour I spent in an Osaka hotel trying to work out which of the 37 buttons on the toilet was the flush!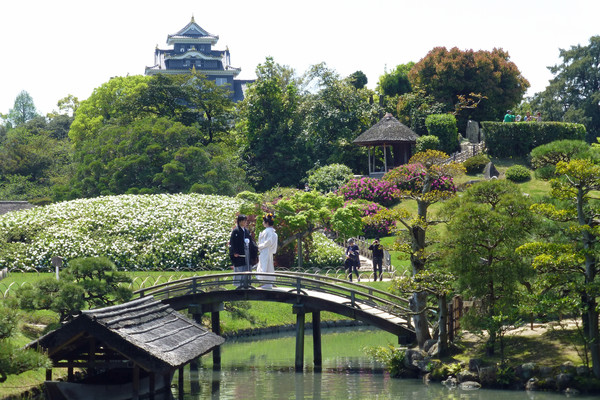 A couple pose for pre-wedding photos in Koraku-en garden. 22nd April 2015.
My favourite area to cruise in Japan was always their 'Inland Sea'. This calm sea separates three of Japan's four main islands, and includes many of the major tourist sites. All of the Spring 2023 cruises include the inland sea, with two of the three starting or ending within it, at the port of Kobe. Nearest to Kobe is the port of Uno Ko, from where we would head out on an all day tour to Koraku-en gardens and historic Kurashiki. I didn't really know too much about gardens, but I was impressed to discover the variation in how gardens are laid out in Japan. Some of the gardens are purely for viewing from a specific area, rather than meandering around. This is because the landscape artist has created a garden to be viewed as a whole, from a certain angle. Other gardens have paths linking various islands, structures and themed areas. One gardening 'trick' that I hadn't noticeably come across before was the way that some gardens had been designed to "borrow" from their surroundings. For example, in the photo I took of the young couple on the bridge, you would think that the castle on the top left was part of the garden. However, it was not. The garden had been deliberately built in such a way as to incorporate the castle, without including it. Very clever way of designing.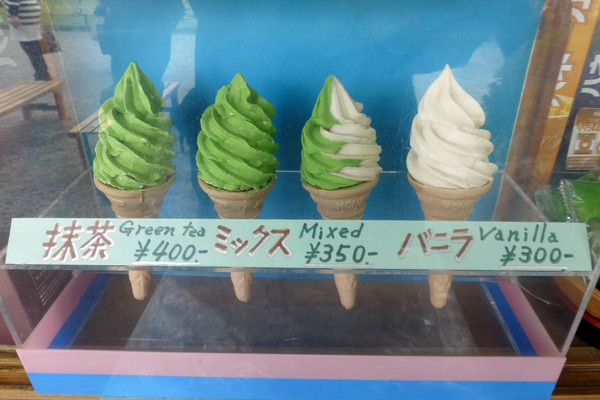 Green Tea ice cream in Ritsurin Garden. 4th April 2015.
We only tend to have one or two calls to Shikoku island, the ports in question being Takamatsu and Uwajima. I'll never forget the former, as it was where, for the first time in my life, I saw green tea ice cream. My immediate thoughts were that the locals had employed the character of Letitia Cropley from 'The Vicar of Dibley' as their catering consultant. You'll remember that she used to come up with the most bizarre combinations in her cakes and sandwiches for the poor vicar. As well as green tea flavour, there was also peach flavour. I understood why the latter might be appealing, but I remained confused by the former. From my further travels in Japan I realised that almost everything that can be flavoured with green tea, and many things that shouldn't be, are indeed flavoured that way. On my return to the UK after one Japan trip, I called into the Noble Caledonia offices in Belgravia and presented everyone with a green-tea flavoured Kit-Kat, just so that they could also share in the experience. Only one of the team asked me why I hadn't brought green tea flavoured ice-cream back on the plane with me. Another memory of Takamatsu is the amazing send-off we received. Almost every single Japanese port had either a welcome or farewell ceremony, or in some cases both. Often, the farewell ceremony would be something that was put-together by an after-school club. In Nagasaki we had a superb school band playing on the quayside. In Kanazawa we had huge flags on extremely long bamboo poles being waved. In Takamatsu, the local girls' school calligraphy club appeared on the scene. I don't remember my old secondary school having such a club, and when I was informed that it would be happening, I didn't really know what to expect. However, it was fabulous. As the passengers returned to the quayside, the girls showed everyone how to write their name in Japanese. Once we were on board and had the vantage point of the open deck, the girls used various paints to create a huge banner to say farewell to us. If only every port in the world could be as welcoming and charming as those in Japan.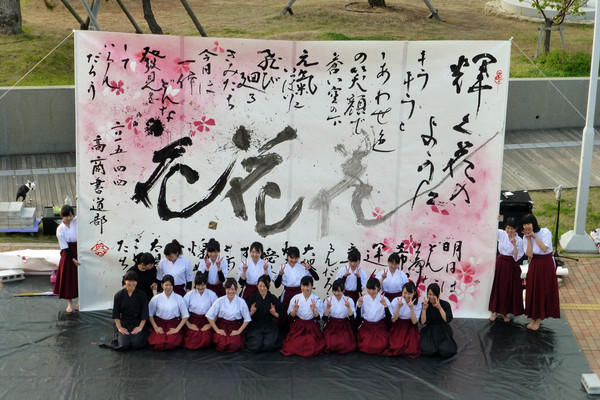 A wonderful send-off from Takamatsu by the local school's calligraphy club. 4th April 2015.
Moving further westwards through the inland sea, we usually have two stops in one day, namely Miyajima and Hiroshima. The former is always a fun occasion as it's the only time we regularly use the Zodiacs whilst in Japan. Whilst some people like Zodiacs, and others aren't quite so keen, I think everyone enjoys a Zodiac ride when you're all-but guaranteed calm still waters. The name 'Miyajima' translates as 'Shrine Island' and there are various historical buildings throughout the island. A stunning five-storey pagoda is worth the trip alone. Wild deer roam the island and will eat anything that may be protruding from your coat pocket. I even saw one deer being shooed away after it had wandered into a shop. However, the most famous landmark of Miyajima has to be the torii, as shown below. The torii is a traditional Japanese gate that marks the transition from the normal world to the sacred world. A torii has stood here, marking the entrance to Miyajima, since 1168, although due to the torii standing in water for some of the time each day, the current version dates back to 1875. When I was Cruise Director on the Japan voyages, I would check what the tides were doing on our day in Hiroshima and Miyajima, so that we would change over the order of our visits if it meant we could be at Miyajima at high tide. The torii looks much more impressive surrounded by water at high tide, than it does at low tide when one can walk out to it. I remember driving my empty Zodiac, having dropped off my passengers at the landing beach, round to the torii to take the photo below. I was tempted to drive underneath it, and there is no rule or law saying you can't, but I decided not to risk it.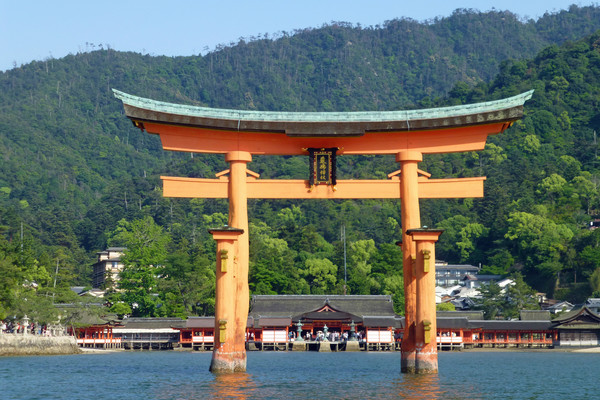 The historic Torii that guards the entrance to Miyajima shrine. 14th May 2016.
Hiroshima. Whatever happens in the next few millennia, the name 'Hiroshima' will always make you think of 6th August 1945. This blog is not the time or place to debate what happened, but what I will say is that the memorial park is beautifully laid out and truly an area where you can take time to think about the events of that day. The only building that remains from that era is the Hiroshima Prefectural Industrial Promotion Hall. Movingly, it has been kept in a state of arrested ruin so that it serves as a memorial. After viewing the hall from the opposite side of the river, you walk through the Hiroshima Peace Memorial Park, passing by the Peace Flame and the Peace Bell, until you reach the cenotaph in front of the Peace Memorial Museum. I remember just walking around in silence. The guides, who are always so kind and helpful, sensed the mood of the passengers and allowed as much time as we needed. The coaches were positioned outside the museum to return to the ship whenever people were ready. I remember looking at the cenotaph and realising that the cenotaph has been cleverly constructed so that the Peace Flame and the ruined dome of the memorial line up perfectly – and so I took the photo below, looking through the arch of the cenotaph. One thing the guide did say, which I'll never forget, is that the flame is not an 'eternal flame'. It is due to the extinguished when the last nuclear warhead is destroyed. We smiled back at her optimism.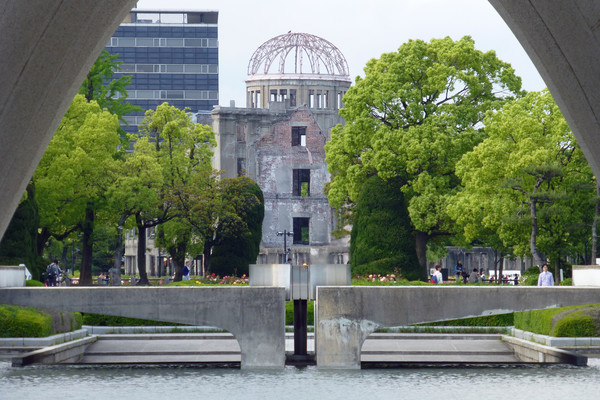 Looking through the Cenotaph at the Hiroshima Peace Memorial Park. 9th May 2015.
After our day in Hiroshima and Miyajima, we would sometimes call back onto Shikoku island and visit Uwajima. I loved visiting Uwajima, because it included one of the most amusing shore excursions I've ever undertaken. Years ago, I used to play 'Call My Bluff' on the ships with various guest speakers and cabaret artistes on the panel. One of the words we often used was "Flitterbick" – which is a mythical flying squirrel that flies so fast, that no-one has ever seen one. However, our excursion in Uwajima included a visit to the Dairaku-ji Temple. The temple is known locally as "the Flying Squirrel Temple" and, sure enough, we were shown night-time footage of what appeared to be squirrels with bat-like wings swooping down from the temple's roof. If you don't believe me, you'll have to take one of the trips to Japan to discover for yourself! Also in the temple was a collection of 650 cameras that had been established by previous Buddhist priests who lived there. The garden contained 400 year old ginkgo trees, the current priest claimed to have invented various machines, and he served a delicious green tea with sweet treats. I loved every crazy moment of our visit! The alternative venue on the morning tour is the Doi Pearl Farm. They are very happy to see us, especially if Elaine Weddick is the tour manager, as I think her entire family are gifted pearls each Christmas when she has been to Uwajima during the year. It was fascinating to see the process step-by-step of the mollusk being opened, all the way to the production of the finest pearl jewellery. Back on the quayside, another wonderful send-off awaited…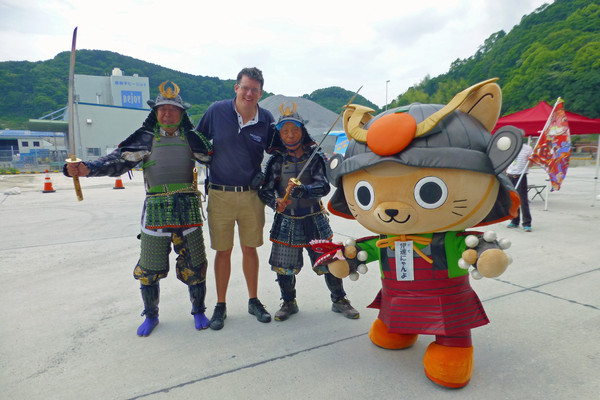 A colourful collection of characters wishes us safe travels from Uwajima. 15th May 2016.
And finally for this brief look at Japan we will head out of the inland sea to the island of Yakushima, to the south of Japan. The circular island is dominated by a vast cedar forest called Yakusugi Land, including some trees that are over 3,000 years old. For many years, the island was an important source of wood for the Japanese economy. Much to the relief of the islanders, the chopping down of the ancient forest stopped just before mechanical chainsaws were invented. Nowadays, the island is a pristine nature reserve with some wonderful walks. The main local guide is, somewhat surprisingly, a chap called Steve with a soft Geordie accent. It transpired that he visited once, liked the way of life so much, and has now settled there and has a family. Most of the walks are on boardwalks through the woods, but I once did take my group on the longest advertised walk. I looked at the distance involved on the chart and felt we would have plenty of time. The chart didn't mention the altitude gain though. At times we were climbing incredibly steep paths and I soon realised that we were going to be very late back to the ship. Fortunately, the ship waited for us, but I was advised by Steve that perhaps we should stick to the more commonly trodden paths in future. Lesson learned! However, on our way up to start the walk we did stop the minibus on the mountain road to admire the Yakushima Macaques that had gathered by the side of the road to warm up after a passing shower. There has even been instances of the macaques being seen riding the deer as though they are jockeys riding a horse. That is one photo I would love to be able to take! In the meantime, I will leave you with this photo of a younger macaque undergoing a thorough inspection from the older macaques. I've really enjoyed looking back at some of our Japanese adventures, and am delighted to know that we will be returning in Spring 2023. If you haven't been to Japan before, I cannot recommend it highly enough. I hope I can be there too!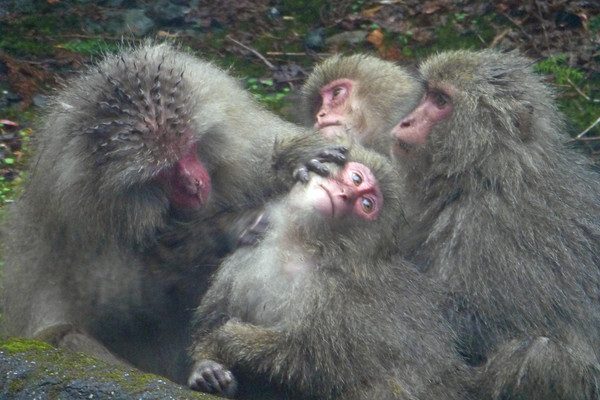 Mum knows best! Inspection time on the road side in Yakushima. 7th April 2015.