From Greatstone to Guanaja
Good evening everyone! I say "good evening", but looking at the clock it is only 3.57pm on Tuesday 17th November. However, as I look out of my window, the sky is already darkening and it feels like winter. I have been fortunate to have a few early shifts since I last wrote. Although I'm renowned for not being a morning person, I am finding the early starts to be much better in terms of work. Firstly, although you leave the house in darkness, by the time you are loaded and have completed your vehicle checks, it is daylight. To deliver whilst being able to look for house names and numbers in daylight is definitely much easier than creeping along the road with torch in one hand and steering wheel in the other. It also means that you finish mid-afternoon and have the opportunity to do something constructive with the rest of the day. The only snag is having to remember to go to bed early as you're usually doing it all over again the next day. Today and yesterday have been a rare two consecutive days off. Whilst it has been overcast, it has remained dry, and so I went for a socially distanced walk along the beach at Greatstone-on-Sea with a friend yesterday afternoon. My friend is far more knowledgeable than me about marine life, and spotted what she called a "sea mouse" lying on its back on the sand. I have never heard of, or seen such a creature. To look at it, I presumed it was merely some form of marine flora that had washed ashore. My friend used the discarded shell of a razor clam to carefully pick it up and place it in a channel leading to the sea. We saw no signs of life and then, to my amazement, the creature started to move and headed in the direction of the open sea. We both felt elated. It shows just how important knowledge is. If I had seen it on my own, I would have done nothing about it, not realising it was a living organism. However, due to my friend's superior wisdom on such things, he or she is hopefully now back out to sea and enjoying life. I did look up the term "sea mouse" on Wikipedia and discovered that its scientific name is "Aphrodita". I would tell you why they are called "Aphrodita", but I'm too embarrassed to type it out, in front of me.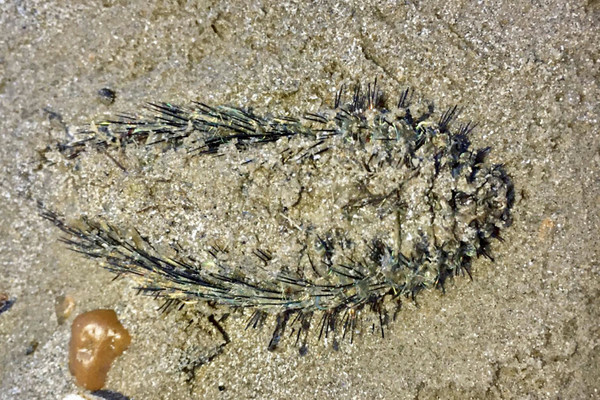 The Sea Mouse stranded on the sand (above) and happily swimming away once returned to the water
Last week, I had started my introduction to the Honduran island of Guanaja when I ran out of space. I hope you won't mind if I continue waxing lyrical about one of my favourite island destinations. As I mentioned before, with constant tweaking of the order and arrangement of activities, we ended up with passengers having the morning option of either a snorkel or a nature walk, as well as everyone having the chance to visit the main town, Bonacca. The afternoon was then a direct transfer over to "Graham's Place".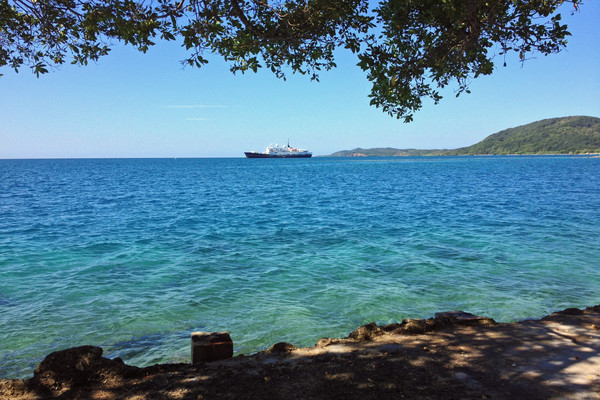 Serenissima sits at anchor in crystal clear waters off the coast of Guanaja
There are numerous nature walks that you can do in Guanaja. Some of the most popular involve climbing up to the various waterfalls that are dotted around the island. Once I was told how long such a walk would take, and what the terrain was like, and how much insect repellent we would need, I decided it would better if we could have the passengers back on board before midnight. Therefore I selected the shorter option of sticking nearer the coast. Local boats collected us from the ship and took us on a panoramic trip along the coast, passing by idyllic cays and the village of Savannah Bight, before we landed at 'Manatee Restaurant' in Sandy Bay. Carla, the local agent, and I had arranged for the passengers to do a loop walk. I always prefer to offer a loop walk, so that what you see is always something new, rather than do a there-and-back walk. Some of the Expedition Team went on the walk along with the knowledgeable local guides. Rather charmingly, before we had arrived, the local guides had checked the route themselves, and also collected some fruits of the forest for our passengers to try at the end of the walk. I bravely guarded the life jackets whilst the passengers went on their walk, and was on hand at the end to enjoy the fruits with them.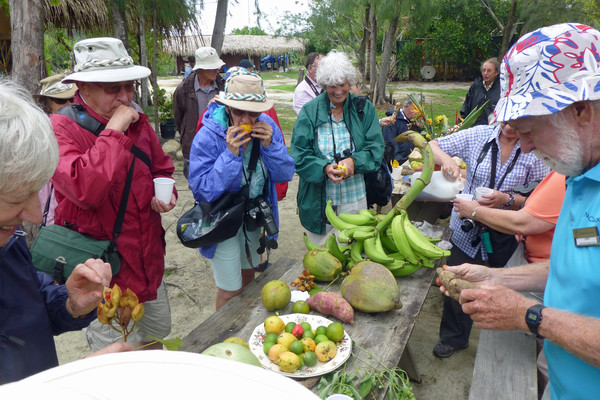 Passengers enjoy some very local refreshments after their nature walk. On the right is John Harwood, explaining what they are eating.
Whilst we were on our nature walk, another group had chosen to go snorkelling. I didn't go snorkelling as I don't like water in my ears. Ok, I'm not really that pathetic, but obviously with a full expedition team there are expert snorkellers among us, so it seemed the sensible thing to allow them to escort that group. That is one of the many things that I admire Noble Caledonia for – the way the expedition teams are compiled. It might seem an easy task from afar, but with more and more companies branching into the world of small-ship expedition cruising, it is quite a challenge to assemble a team that are all Zodiac drivers and have different specialist knowledge. Unless of course you are legendary Costa Rican Conrad Weston – one of my personal heroes – who appears to have specialist knowledge on every single discipline of Natural History! I was reliably informed that the snorkellers had a very good trip and enjoyed the clear tropical waters surrounding Guanaja. The island's warm waters support an extensive coral reef that is part of the Mesoamerican Barrier Reef and second only to the Great Barrier Reef.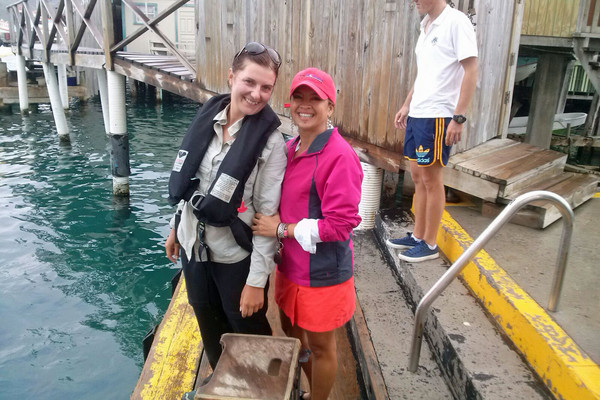 My then Assistant Expedition Leader, Andrea Machacek, and our local agent, Carla Flores-Gomez, await the arrival of the next Zodiac into Bonacca.
Whilst half of the passengers were either nature walking or snorkelling, the other half had the opportunity to use the Zodiacs to transfer across to the 'Venice of Honduras'. The main town, and home to the vast majority of Guanaja's population, is built on the cay of Bonacca. The total population of the island is around 5,500, and the islanders are referred to as being "Caracol" people. Caracol literally translates from Spanish as conch, snail or shell and is used for all those who live in the Bay of Islands. Unlike mainland Honduras, the Caracol people have English as their first language, and Spanish as their second language. This stems from the Bay of Islands being populated mainly by families of British-Caribbean descent since the early 19th century. When we arrived with our Zodiacs, the City Council of Guanaja had arranged for the award-winning High School Band to perform, in full pristine uniforms, on the quayside for us. Whilst it made radio communication somewhat tricky, the band created a carnival of glorious noise and enthusiasm. A photo of the band, ready to perform, was featured in the previous blog. Once past the band, we were greeted with this sight…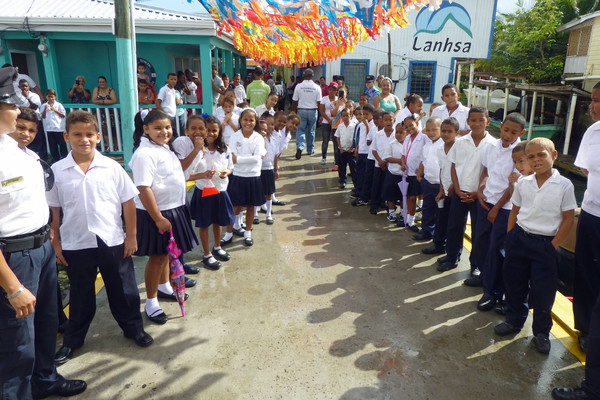 The local children welcome us to their island
Carla had arranged with the local high school that the prefects of the school would be allowed to guide our passengers around the town, and answer any questions that they had. You could truly sense the feeling of honour that these youngsters had in being awarded this task. I had primed the passengers accordingly. I was fearful that our passengers might not have any questions to ask during or after their tour, so I was delighted to see how the passengers embraced the opportunity to ask questions with alacrity. In the photo above, you can also see the bunting that had been erected to mark the occasion of our visit. The bunting continued all the way around the town in a circular route, so that the passengers could find their way through the maze of boardwalks and alleyways without getting lost. I can't express how much I appreciate little touches like that. As soon as I, as a Cruise Director and/or Expedition Leader, see that level of attention to detail, you know that everything else is going to go well. I briefly joined one group of passengers as they were guided around Bonacca. I couldn't tell who was more excited to see who! Whilst the passengers were taking photos of the town and its people, the locals were busy taking photos of the passengers.
The zodiacs were tied up at the pier whilst the passengers were walking around the town, and the band paused for a well-earned refreshment. The children from the primary school (shown in the photo above) were still standing around, waiting for any more passengers to come ashore. I explained to their teacher that we would have a thirty minute gap before the next group of passengers arrived. She looked slightly wary of having the children there for that length of time with nothing to do. I decided I would try and entertain them with stories about the ship and where we had been sailing prior to our arrival in Guanaja. Carla gathered them around and they made for a very appreciative audience!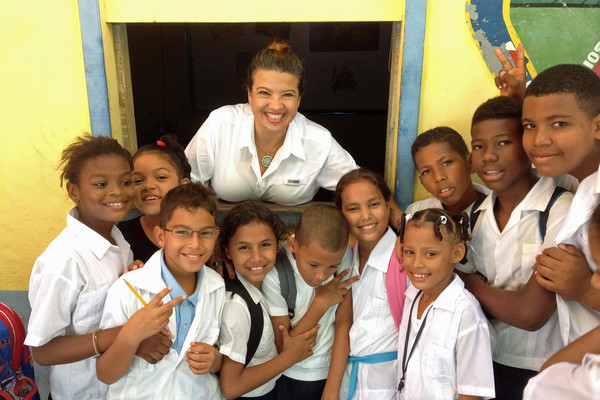 The local schoolchildren with our agent, Carla, whilst the passengers enjoyed the town.
Everyone was back on board for lunch, and then in the afternoon we operated a direct transfer from the ship to Graham's Place. You'll recall from the previous blog, the photo of me standing in the shallows on the beach at Graham's Place, wearing my West Indies cricket hat. I miss that hat. It blew off my head into the sea whilst on a local ferry to the Greek island of Spinalonga and the captain refused my request to spin round and collect it. Anyway, the first time we went to Graham's Place, back in 2015, all I knew was that it was a private cay housing a resort. Little did I know what a stunning location it is. Mr Graham himself was there to greet us and explain that all the facilities were available to us. In true British holidaymakers abroad fashion, many of our passengers stripped off to their swimwear and then careful manoeuvred the deck chairs so that they were in the shade.
Meanwhile, I had a walk around the resort, with its villas, bungalows and chalets, and enjoyed a cocktail as I learnt about the journey Mr Graham (formerly of the Cayman Islands if my memory serves me correctly) had taken to end up owning the cay and building the resort. He was a splendid raconteur, and I was pleased that he was also keen to talk about the marine conservation projects and how the area had been designated a nature reserve, both above and below and water line. He kindly offered me a cocktail and suggested that we sat in the sea to drink it. I was slightly puzzled by the latter part of his offer, but Carla winked at me and implied I should go along with it. Sure enough, it all made sense when we strolled around the corner of the main resort building and I saw what he meant by "sit in the sea".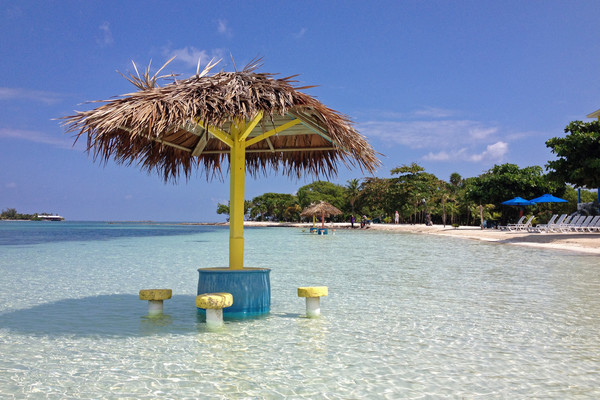 The best venue for a meeting I have ever been invited to.
We spoke at length about how he was keen to encourage more ships to come to Guanaja, but I was impressed with how he explained that he didn't want mass tourism and all that comes with it. He wanted to help Guanaja encourage cruise ships, but the right size and style of cruise ships. It was refreshing to hear this. Too many times I tell people that I work on a cruise ship and they immediately presume it is one of those currently at anchor off the Dorset or Devon coast which can hold thousands of people. Little do they realise the beautiful gems that we have sailing the ocean (when it is not 2020!) All too soon it was time to leave Graham's Place and head back to 'Serenissima' and say farewell to Guanaja. It seemed rather poignant that just as we were embarking the tender to leave Graham's Place, a friendly pelican landed atop the floodlight as if to say goodbye.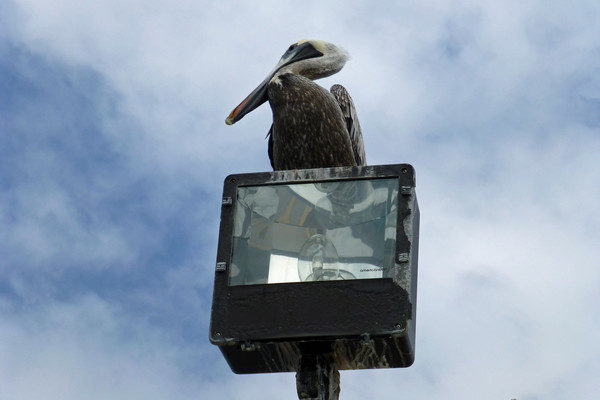 A friendly pelican in Guanaja.
A few days later, Carla sent me a scan of a page from one of the national newspapers in Honduras. It featured a photo of the 'Serenissima' at anchor off Guanaja and an article about how the local townsfolk were celebrating welcoming their first cruise ship for many years. It also mentioned how the primary schoolchildren had been treated to a ride on a Zodiac. The mayor had commented that our passengers had been friendly, engaging, courteous, and just the kind of people that they hoped to attract. It certainly made me feel proud of all that we had achieved, and whilst we may not be visiting Guanaja again for a little while, I sincerely hope that some day we will be back! My heart also goes out to the wonderful townsfolk, as the threat of Coronavirus in a community where everyone lives so compactly is ever-present. Naturally, as with everywhere in the world, it has also had a devastating effect on tourism. I was delighted to be able, at the invitation of Carla, to make a personal donation to a fund that has been established to help provide essential supplies during this time. Having met the people of Guanaja on three separate occasions, I know their resilience will pull them through, and I wish them all the very best of luck in the world.