From Flying Boats to Formula One
Good afternoon everyone! It's currently 2.43pm on Wednesday 17th March 2021. A happy St Patrick's Day to all of our Irish friends. I have been fortunate enough to do a couple of circumnavigation of Ireland cruises, calling into many ports along the way. Looking back at my photos, the likes of Dublin, Belfast, Galway, Glengarriff, Waterford, Foynes, Derry/Londonderry, Cobh, Killybegs and more appear in the list of visited ports. All of them have their own distinct memories, but if I had to choose a most memorable, it would arguably be Foynes. That may well come across as a strange choice, but I will endeavour to explain. I remember arriving there, having sailed up the Shannon estuary, and seeing the coaches lined up on the quayside to take our passengers to nearby Adare and Limerick. On the cruise line I was working with back then, twelve years ago, there was no obligation for me to participate in the shore excursions, and my job was such that I was usually busy on board throughout the morning. Hence, those things I did see tended to be in relatively close proximity to the ship. We had an Irish television crew appear, broadcasting live from the deck, as at that time we were one of the first cruise ships to dock in Foynes. Off-air, I mentioned to the interviewer that I had an interest in transport heritage and he replied that I had definitely come to the right place. A stone's throw from the bow of our ship were the mothballed Foynes Railway Station and the fascinating Foynes Flying Boat Museum.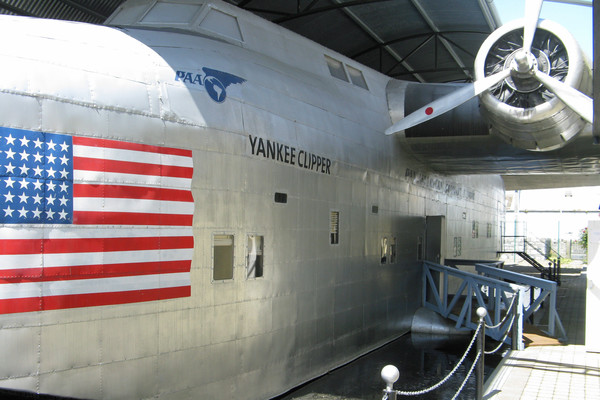 A replica Boeing 314 flying boat is the centrepiece to the Foynes Flying Boat Museum.
An early lunch ensued and then I set off to explore the railway station and the museum. The railway station was at the end of a branch line off the Limerick to Tralee railway. The line closed to passengers on 4th February 1963, but freight had continued until 2000. I was amazed that I was free to meander around, across the rusting tracks, and peer into the signal box, complete with all its seemingly well-maintained instruments. Across the road from the abandoned station was the Flying Boat Museum. I didn't know much of the history of the flying boats, and found the entire story fascinating. On the northern bank of the estuary lies Shannon Airport, the third busiest in the Republic of Ireland. However, its origins lie on the opposite bank, at Foynes. The first trans-Atlantic seaplane flights took place between Foynes and Newfoundland in July 1937. Foynes was soon connected to New York, Southampton, Montreal, Poole and Lisbon, meaning Foynes became one of the largest civilian airports in Europe during World War II. The first non-stop service to New York operated on 22nd June 1942, and took a mere 25 hours and 40 minutes. The advancement of technology meant that Shannon Airport was opened in 1942 and the Flying Boat Station closed in 1946. However, it does have one everlasting claim to fame. Joe Sheridan was the head chef at the restaurant and coffee shop at the Foynes Flying Boat Station. He realised that passengers were often cold and, on the frequent rainy days, rather wet when they stepped into his restaurant. To warm them up and put a spring in their step, he would pour a shot of whisky into their coffee, and so the Irish Coffee was born. Not surprisingly, the museum has its own coffee shop which serves the original Irish Coffee, and all three that I tried that afternoon were delicious. I feel it often pays to see what the immediate vicinity in the area that we dock has to offer, as well as those places of interest that are further afield.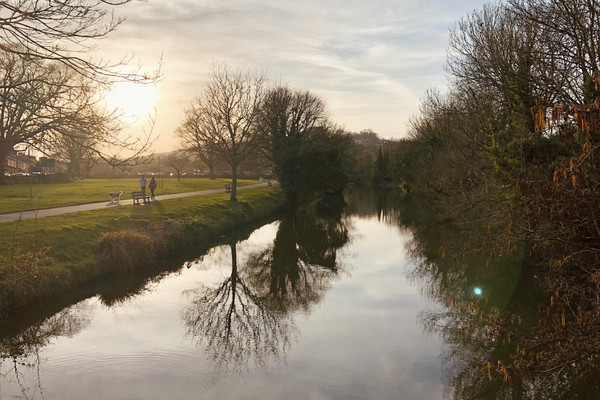 The Royal Military Canal, Hythe, Kent. 17th March 2020.
I've included the above photo, because it is exactly a year since I took it. The day before, I had arrived back in London with all my passengers from 'Serenissima'. I had flown out to Jordan on 4th March, and the world was still relatively normal. I landed back in London on 16th March and it was a ghostly experience. It was quite late by the time I reached home, and so it was not until a year ago today that I ventured out to the shops. Naturally, as I had expected to be away for a few months, I had left the house rather bare. My diary entry that day comments that my house was positively brimming with food and toilet roll, compared to the shelves on the supermarkets in Hythe. I took the above photo whilst in something of a daze, meandering back from the town to my house, empty bags in hand, and trying to make sense of it all. I remember writing an email to Laura Cochrane, suggesting that I could perhaps write a note to all the passengers who had been on that cruise, in order to share our thoughts about the shock of coming back to this barren land. Laura kindly evolved that idea and hence you have had this blog since April last year. I thought this blog would only last a few weeks, but thanks to your emails and messages, it appears to have developed something of a following. Thank you all. As though perfectly on cue, we had a Noble Caledonia zoom meeting yesterday. It was lovely to have the chance to see everyone again, and be amused and/or impressed by the do-it-yourself haircuts and such things. The general gist of the meeting was to ensure that everyone is doing well, and re-confirm the news that, whilst we are keen to get started as soon as is safely possible, like every other business we have to wait to see what the next government update (due in April) will allow us to do. Fingers crossed!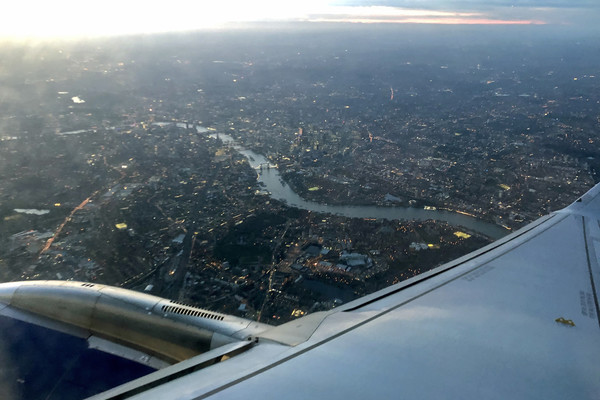 Looking down on London as we arrived back from Turkey, wondering what the UK would now be like. 16th March 2020.
Fast-forwarding back to the here and now, the deliveries continue apace in my corner of Kent (with an occasional dash of East Sussex). Recently I have been on the afternoon and evening shifts. A couple of days ago I noticed my deliveries included an accommodation block of a highly-respected private school. Having entered the school grounds in the dark, I stopped my truck by a map which indicated where the various accommodation houses were located. Finally I found the block I was looking for and, sure enough, it was a delivery for one of the students. I had to arrange for the adult tutor of the block to accept the delivery and all was well. However, it did make me think about my own education. I attended the Littlehampton Community School (now turned into "The Littlehampton Academy") and was delighted to have the chance to spend 20p in the tuck shop. Never would I have dreamt of having pre-smashed avocado, organic Japanese matcha tea and Goatsbridge rainbow trout caviar delivered to me. I must have gone wrong somewhere along the line!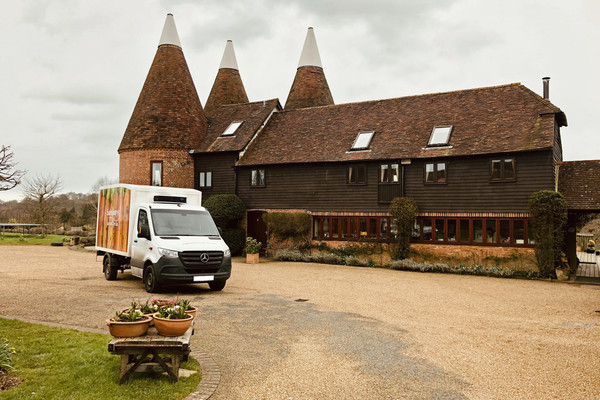 A charming rural delivery in deepest Wadhurst, East Sussex. 14th March 2021.

Also on Monday, I noticed that my evening break coincided with me being very close to a good friend of mine. My friend is an excellent travel journalist who has written articles about trips where I have been cruise director on a couple of occasions. I took the chance of calling by unannounced in the hope that I might be able to have my tea mug filled up. Sure enough, my friend was only too obliging and we had a good socially-distanced chat about the cruise industry whilst I sipped on the welcome English breakfast tea. I think I was more stunned than anything to discover that my friend keeps an eye on my blog, and, without prompting, commented to me on various aspects of the most recent entry. I had finished the tea, and my break time was coming to an end, and she offered to kindly re-fill my mug to take with me on the road. I gratefully accepted. Around fifteen minutes later I had dropped off the next delivery and was sat in my truck. Light rain had started to fall and so I thought I'd take a first sip of my tea. My friend had had the last laugh – I've never had Earl Grey tea with milk before. Still, it was hot and I made it to the end!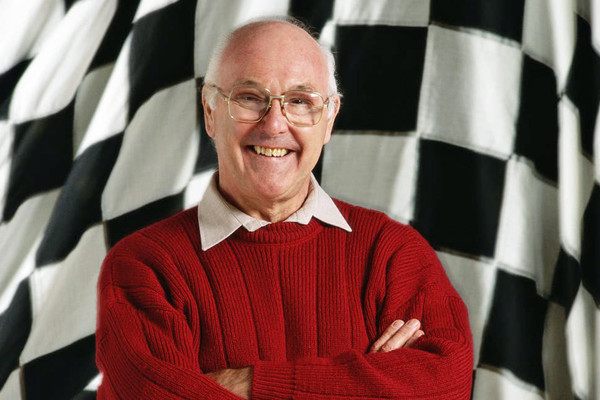 Murray Walker OBE (1923-2021).
Last Saturday, I was again out on the afternoon and evening delivery run and half-listening to the radio. My ears pricked up when I heard mention of Murray Walker, and then I realised that it was because they were announcing that he had passed away at the age of 97. I was running ahead of time, so I pulled into a lay-by and listened to the various heartfelt tributes that filled the airwaves. I sailed with Murray two or three times about ten years ago. He was an absolute gentleman. He and his wife, Elizabeth, enjoyed cruising and were on board as passengers. I hadn't known he was going to be on board that first cruise, partly because like many of his generation, Murray was actually his middle name. I can remember seeing him climb up the gangway on embarkation day, and I dashed to the ship's library as I knew we had a copy of his autobiography, "Unless I'm Very Much Mistaken". I've never read a book so fast in my life – and a superb read it was too. A week into the two-week cruise, I invited him and Elizabeth to dine with me, and he graciously accepted. We immediately got on like a house on fire (or rather "trousers on fire", as Clive James memorably described Murray's style of commentary) and he was clearly impressed that I'd read his book. He was interested to learn that my mother had grown up on a street in Cheam almost directly opposite from James Hunt's family. James was 1½ years older than my mother, and my grandma recalls that James drove rather too fast along the road.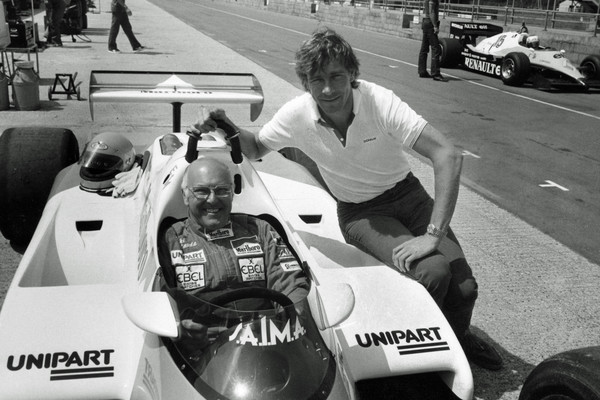 Murray Walker and James Hunt. A most unexpected but perfect pairing.
I am always wary of asking anyone who is a passenger if they would mind sticking their head above the parapet and do something publicly. I ventured to Murray that a few passengers had asked me if he would be willing to do a short Q&A about motorsport. Murray was very happy to do so, but was concerned that only a few people might be interested, and he didn't want to appear to be courting publicity. He needn't have worried. We decided that on a quiet sea day, I would interview him in the bar area in the middle of the ship. By the time we started, every extra chair had been brought in from the library and it was standing room only. We followed the simple formula of me highlighting some extracts from his autobiography and then Murray embellishing upon them. Whilst much of the talk was dominated by his relationship with Hunt and Murray's thoughts on previous and then-current drivers, my favourite story that Murray told involved his wartime exploits. Being interested in motor vehicles, Murray had ended up in command of a Sherman tank and participated in the Battle of the Reichswald with the 4th Armoured Brigade. His father, motorcycling champion Graham Walker, had got himself accredited as a war correspondent, and appeared on his motorbike on the banks of the Rhine to see how Murray was doing in the midst of the Allied advance. Not surprisingly, Murray described it as being an "emotional meeting". We last exchanged emails only a year ago, and his closing phrase was "take care and keep smiling". God bless you Murray and my thoughts are with Elizabeth and all his friends and family.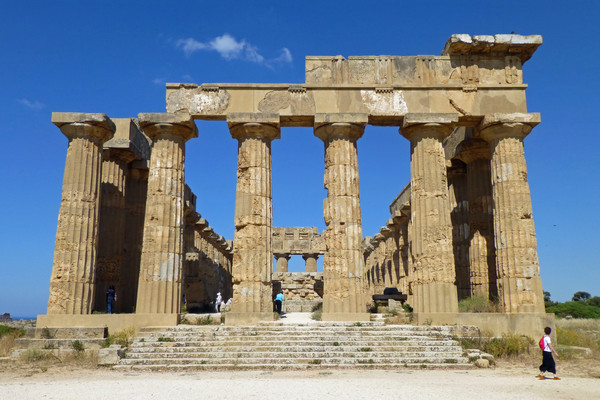 The Temple of Hera at Selinunte, Sicily. 17th May 2017.
In the last two blogs, we have been circumnavigating Sicily. I realise I have already taken up a large portion of this blog, but I thought I would include a further Sicilian port. This time it is Mazara del Vallo. I have only been there once, on 17th May 2017 with 'Island Sky'. However, the port proved to be a useful landing point for us to reach the ancient city of Selinunte. I can remember it being a scorching hot day, and there being little shade at the site. The temple shown, which dates back to 460-450 BC is actually the result of a reconstruction using the original fallen material that took place in the late 1950s. Whilst such reconstructions are understandably controversial, I personally feel that it helps to be able to gauge some sense of the scale of the buildings that once stood so majestically. After taking a land-train to reach the temple, we were given free time to survey the remains of the city. I can remember everyone appearing to be interested in the remains, but at the same time aiming towards the one area of shade that was nearby. An entrepreneurial chap, complete with a pedal-powered "stop me and buy one" made a fortune selling frozen lemon sorbet in a choux bun to the passengers. They were so welcoming that I appear to have even taken a photo of my one…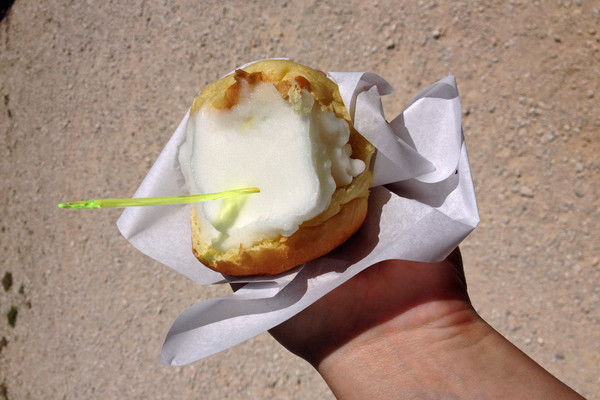 A welcome refreshment at Selinunte, Sicily. 17th May 2017.
I promise to press on with my voyage around Sicily next week, but I wanted to end this week with three birthday mentions. Firstly, back on Monday 15th March, it was the birthday of both Josyl and Nina, who will be well known to many readers as two of the bar waitresses on 'Serenissima'. Along with Jeaneth, two of the three of them are always on board to ensure that the complimentary wine at lunch and dinner keeps flowing. Whenever I would be asked in my biennial seafarers' medical how many glasses of wine I would have with dinner, the answer would always be one. I just didn't mention that it never emptied! A couple of years ago, I was on board 'Serenissima' in the Caribbean on the day that Josyl and Nina share their birthday. I said I would take them both, and their crewmates, anywhere they would like for lunch ashore. We were docked in Pointe-à-Pitre, Guadeloupe. Their venue of choice was a KFC within walking distance of the ship, and so the staff were quite surprised when a dozen of us crew descended on their premises for an impromptu birthday party. Happy Birthday Ladies!
Josyl, Rene and Nina with the St Patrick's Day 2019 buffet lunch on 'Serenissima' in Montserrat, British West Indies. Photo: Rene Pardillo.

The other birthday I want to mention is that of one of my best friends and, without doubt, one of the greatest musicians I have ever worked with. Today is Rene's birthday. If you have sailed on 'Serenissima' in recent years then you will probably have come across Rene in the Andrea Lounge. He can switch effortlessly between singing pop ballads to having a full operatic range. A couple of years ago I had planned a deck party, but a passing tropical squall had led to that idea having to be abandoned. Instead, we moved the party into the Andrea Lounge. Rene on the keyboards and vocals, and me on the piano. I had no idea which songs we would play, and Rene kindly motioned to me which keys they were in, but ever since then we have always tried to jam together a couple of times on each cruise. He is extremely patient with me, and we have shared some wonderful times together when we've both been in full-flight boogie-woogie mode. I can't wait for those days to be back, but in the meantime, Happy Birthday Rene!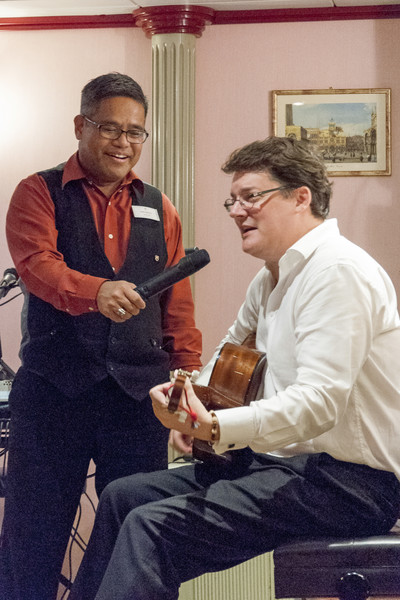 Rene kindly holds the microphone for me whilst I play guitar on the 'Serenissima'. Photo: Geoff Shute.