Friends & Fjords
Good evening everyone. It's Wednesday evening and I've just got home from a day of volunteering on the railway. For the first time since March, I had a ride on the train! I was appointed as guard today, proudly doing a safety critical role, and in total we covered 65 miles. That might not sound very far, but remember that the gauge is only 15 inches, so that is equivalent to 245 miles of standard gauge. Steam-hauled all the way by "Green Goddess" and then "Winston Churchill". The former locomotive always has passengers asking why she was named that. Obviously she is coloured green, but the name was chosen before the colour was applied. I've had suggestions of it being named after the 1947 built Cunard ship RMS 'Caronia'. I've also had people ask if the railway's original owner was an admirer of legendary breakfast television fitness guru Diana 'Green Goddess' Moran. Some clutch at straws and enquire if the owner had a passion for salad dressing that contains anchovies. The answer is, in fact, that Captain Howey, who built the railway, named the first locomotive after his favourite West End play. "The Green Goddess" was a popular stage play, written in 1921 by William Archer. The play toured England and America. The Broadway production ran at the Booth Theatre (named after 19th century American actor Edwin Booth, rather than his more infamous brother) from January to June 1921. The other locomotive I had pulling me today, "Winston Churchill" was built in 1931 and, you won't be surprised to learn, didn't originally carry that name. She was renamed in 1948 for a tour of Canada (her outline is that of the Canadian Pacific Railway). Her original name was "Doctor Syn", the character created by Russell Thorndike in 1915 as the smuggler hero and reverend of Dymchurch. The August Bank Holiday weekend that we've just had is normally celebrated as the "Day of Syn" in Dymchurch. Battles between smugglers and 'The Revenue' are re-enacted on the beach. (It often ends as a draw and they all retire to the nearby pub). Sadly, with everything that is happening this year, the Day of Syn events did not take place, but whilst on my deliveries in Dymchurch I was pleased to see that many houses had placed homemade scarecrows in their front gardens in a gesture towards the event. As with many things, next year it'll be back!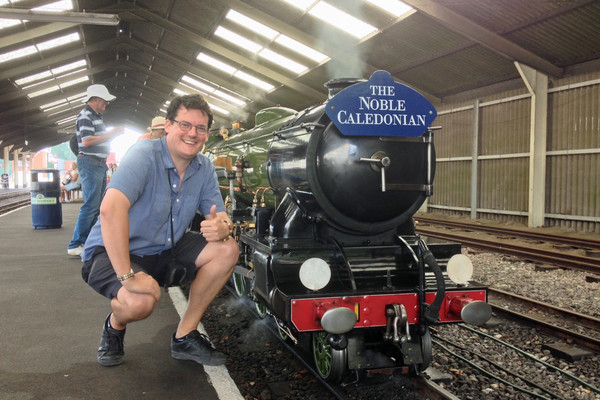 Me with 'Green Goddess' and a very appropriate headboard at New Romney on 13th August 2016

It was good to be out and about again and travelling on the railway for the first time since walking the entire length whilst litter-picking back between April and June. I also called in at my local supermarket on the way home. Last Friday marked the end of my three-month probationary period. I'll be honest, I never expected that I would be there for three months as I had hopes and dreams that we would have started operating cruises again by now. However, every cloud has a silver lining, and the end of my probationary period means that I have a few more privileges, which I am enjoying taking advantage of.
One of those privileges was that I was able to take some paid holiday for the first time, which I did last weekend. My three closest friends at the Noble Caledonia office have been Aurélie, Megan and Abbey. Back in 2015, I started something of a tradition, whereby we would enjoy a summer and a Christmas day out together. We have completed various trips – examples include a day out in Littlehampton with a Morris Minor convertible; a minibus trip to Kent for a day on the Romney, Hythe & Dymchurch Railway; a masterclass experience at the Bombay Sapphire distillery; and many more that I probably can't mention here. Aurélie is now living abroad with her young family, but Abbey, Megan and I still keep the tradition alive. Naturally, this year was rather scaled back. Our original plan had been to go to a concert in Hyde Park together. With all such things cancelled, we opted for a fancy lunch in Royal Tunbridge Wells, as it is fairly equidistant for us all. It was wonderful to have the chance to talk to familiar faces again. One of the many joys of cruising, for me, is the interaction with other people. I think all those who were in public-facing, entertainment or hospitality roles will be feeling the effects of not being able to indulge their passion of making people smile and feel happy. Today, being the guard on the train, I made a point of going along the platform and talking to all the passengers. It felt good to be back! I thoroughly enjoyed catching up with Abbey and Megan. Abbey now works for an NGO which coordinates work in developing countries from their office in London. Megan is thankfully still at Noble Caledonia and looks after all the field staff. I know that might sound strange, given there are no trips at the moment, but she is kept very busy on various other tasks and is primed and ready as soon as we have the go-ahead to launch again.
My wonderful friend Hazel came over from Dorset to visit on Sunday and Bank Holiday Monday, and we made the most of our free time. Hazel was a wildlife expert, working for the Orca charity, on a Noble Caledonia cruise to Alaska last year aboard "Le Soléal". With her keen interest in nature and wildlife I found a woodland walk that we could navigate our way around. By sheer chance, it happened to be in Shepherdswell and adjacent to the East Kent Railway. You won't be surprised to learn that we took the train ride to Eythorne and back. At Eythorne, a herd of alpacas were engrossed in feeding time and made for a rather surreal scene.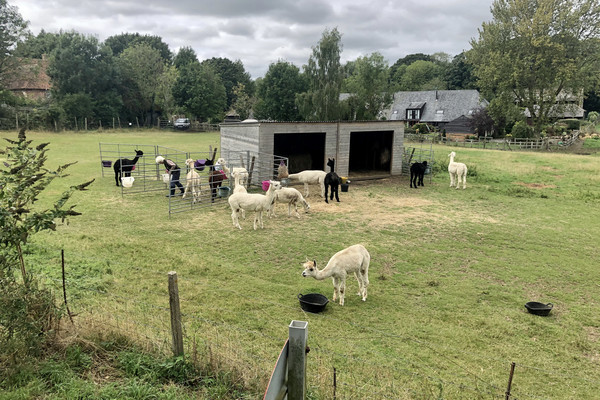 Alpacas next to Eythorne Railway Station

The East Kent Railway was opened in the 1910s to primarily serve the Kent coalfields. I had no idea that Kent used to produce coal. When I was growing up and became aware of the news, it was towards the end of the miners' strike and I thought that collieries were only in the Midlands, North and Wales. I didn't realise that Kent had collieries, and that Tilmanstone remained active until as recently as 1988. Interestingly, the coal fields were only discovered during borings for an early attempt at a Channel Tunnel in the 1890s! After our day out it was a thrill for me to able to try one of the many restaurants in Hythe. Of course, I could have gone on my own to one of them, but I would not feel comfortable doing that. Hence, it was a delight to enjoy the fresh catch-of-the-day with a view overlooking the Strait of Dover and splendid company.
Determined to make the most of the Bank Holiday, I decided to take advantage of a 2-for-1 offer from English Heritage and visit somewhere nearby that I hadn't been to before. On Bank Holiday Monday, 31st August, I had originally been due to disembark 'Hebridean Sky' in Dover after completing three consecutive Baltic cruises. Instead of driving home from Dover, I found myself driving to Dover. I must have performed around fifty turnaround days in Dover since 2001, and yet I had never been to Dover Castle. One of the joys of this time when overseas travel is not particularly recommended, is that it makes you sincerely appreciate what we have in this glorious country of ours. I had not realised how large the site of Dover Castle is. Henry II's castle is impressive, with its Great Tower (built in the 1180's) in excellent condition. However, it is the various additions that took place right up until the end of the Second World War that mark out the site as something rather special. Going back in time, before the Great Tower was built, you have the Saxon church of St-Mary-in-Castro and, another thousand years before that, the Roman lighthouse. So much to admire. Sadly, with social distancing proving impossible, the Second World War tunnels were not open to the public, but the people who staff those areas were in full costume and available to talk to. Hazel and I spent a few hours wandering and wondering and were very impressed with the whole set-up. If you are ever embarking or disembarking a future cruise in Dover, then it really is worth staying an extra day to explore the castle and its surroundings.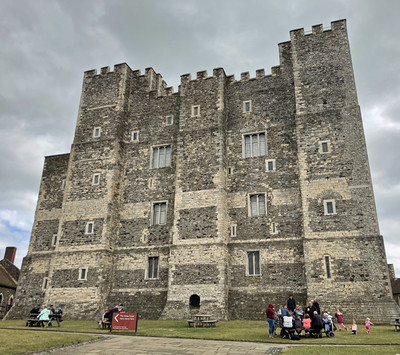 The Great Tower of Dover Castle (c1181-1188)
Last week I wrote about Kotka in Finland as I completed a trilogy of Baltic themed blogs. I thought that today I might venture elsewhere. Looking back on what I was doing on this day in previous years… seven years ago today I was beginning jury service at Chichester Crown Court. I remember looking around and thinking how it hadn't changed since the days when Mick Jagger and Keith Richards made a highly-publicised appearance there in 1967. I tried to take a photo in the same place as they were stood, but I certainly wasn't as successful in looking as hip and trendy as they were, and still are!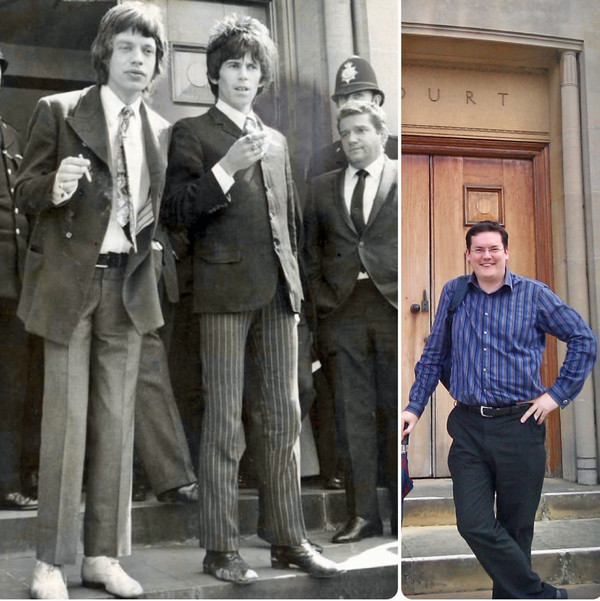 Pretending to be a Rolling Stone after finishing Jury Service in 2013
Two years ago I was on a Baltic cruise with 'Serenissima', visiting Sassnitz in Germany, on the German island of Rügen. I had always wanted to go there, for reasons that will become obvious. After a morning panoramic drive around Putbus we arrived at the railway station and boarded the "Rasender Roland" narrow gauge train for a half-hour journey to Binz. I bravely decided to abandon the tour and continue on the train all the way to the far end of the line at Göhren, where I took this photo of the train waiting to depart back towards Putbus. I then went with this train back to Putbus to make the connection with the mainline. The 'Rasender Roland' opened on 22nd July 1895. The gauge is 750mm or 2' 5½", and the length of what is left of the system is 15 miles. At its peak, it stretched for over 65 miles. I was a very happy bunny that day!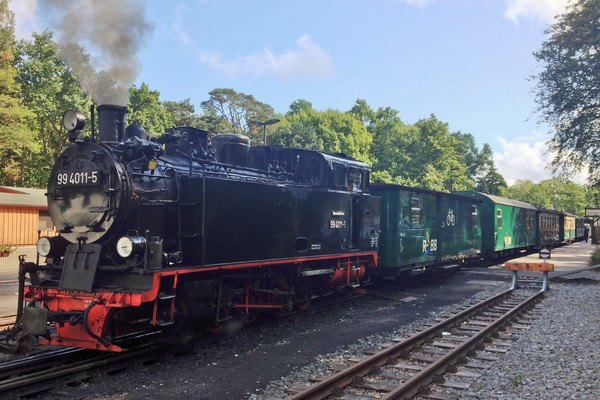 The 'Rasender Roland' shore excursion from Sassnitz
On this day last year I had embarked 'Serenissima' on a very soggy day in Oban, Scotland and was welcoming the passengers for our trip down to Plymouth – as detailed in earlier blogs. Three years ago I was on something of a busman's holiday in the Norwegian fjords. Now that is an area to which I could devote many blogs. Whenever I meet someone who has not been on a cruise before, and they find out what I do/did for a living, they often say something along the lines of, "we have thought about a cruise, but are not sure where we should go". My response is always the same… if it is your first ever cruise, then a trip to the Norwegian fjords is the best place to go. There are so many advantages. Firstly, it is sometimes possible to start and/or end the cruise in the UK. If not, then the flight to Norway is very short and not much of an inconvenience. Secondly, if you go with a ship of the size that we operate, then you will hardly spend any time "at sea". The large ships have to come out of the fjord system, sail in the open Atlantic, and then head back into whichever fjord they intend to visit next. Meanwhile, the small ships can take the route known as the "inner lead" and avoid open waters. Thirdly, the scenery is guaranteed, whatever the weather. As the Norwegians say, there is no such things as bad weather, merely bad clothing. Fourthly, it is a well-travelled route for Noble Caledonia so we always have a very experienced team to be bring the best out of the areas we are visiting. Fifthly, the locals are always charming and friendly and make us feel very welcome. The only possible downside is the cost of anything you want to buy ashore – but it is the same wherever you go in Scandinavia… and don't even get me started on Iceland!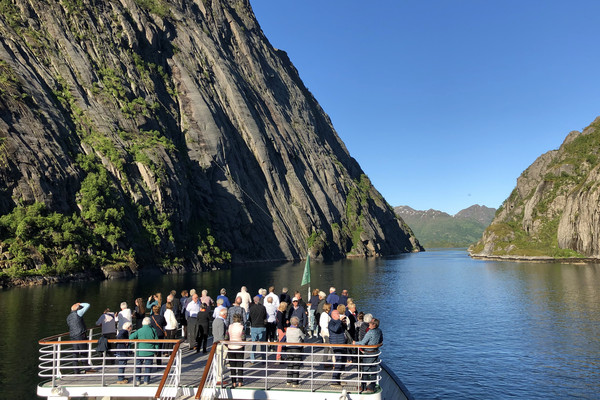 The passengers enjoy the view from the Observation Deck as we sail along Trollfjorden

I have a deep love of the fjords. Perhaps it is partly because my first ever cruise went there. I can recall being docked in Olden. The cruise had begun in Dover, called at Lerwick, and then Molde. Olden was our first location within the fjords. Somewhat bleary-eyed I walked on to the aft deck of 'Black Watch' to host a game of shuffleboard and can, to this very day, remember standing there and feeling my mouth drop open at the sheer natural beauty that was all around. In one view you had snow-capped hills, bare mountain rock, rich evergreen forest, agricultural land, vast waterfalls, grass-roofed huts, the cool still water of the fjord, and air so fresh that it felt like you could taste it. From that day (3rd June 2001) to this, I am always happy to head back to the fjords. I confess that I prefer to sail "up" the fjords – heading northwards. You begin in familiar surroundings and gradually see the coastline change as you head further north into the Arctic Circle. The trees become fewer and far between and eventually all but disappear completely. Passengers start staying up until midnight to catch a glimpse of the Midnight Sun, and people start drinking Aquavit for the first time in their lives!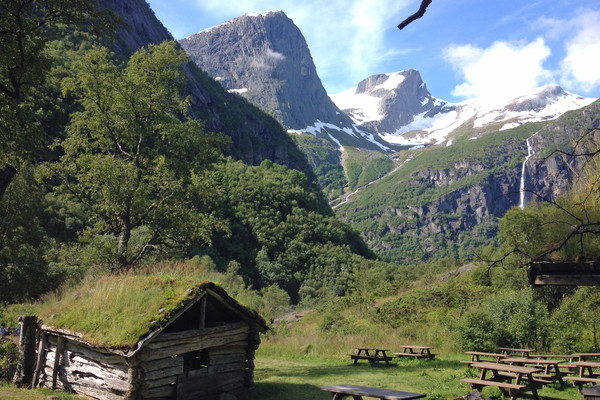 A scenic view on a walk from Olden

That just about brings me to the end of the blog for this week. Next week I'm going to look at the fjords in more detail and pick out some of the more memorable destinations and experiences within. I hope you will join me then, but in the meantime, I hope this blog finds you and your loved ones well and that, someday soon, we'll all be back doing what we do best! Goodbye for now…