Faroes or Pharaohs?
Good evening everyone! It's Tuesday 11th May 2021, and I'm sat here on the evening of my 43rd birthday writing to you all. It might seem slightly strange to be writing the blog this evening, but when I sit down to write, it feels like I am having a conversation with you all. Admittedly it is a rather one-sided conversation, but I try my best to bring your kind emails into the mix. I was awake early this morning in order to drive down to Romney Sands to meet and greet the passengers who were embarking on the only departure we currently have from that station. The sun was shining and it was a pleasant way to start my birthday. Their train set off for Dymchurch and Hythe, and I returned to my car and headed to my home in Hythe. The road more-or-less follows the railway, and as it was such a delightful morning I stopped at Dymchurch station to surprise the passengers by greeting them there. One lady said to me that she'd seen my identical twin when she got on the train. Feeling mischievous, I told her that I did have an identical twin and he was working at Romney Sands. I managed to keep her convinced for about a minute before she realised her family were in fits of laughter and she smiled at me and said, "Get away with you" and started laughing. After seeing off the passengers, I made my way home and have been home-working for the rest of my birthday. I had one local friend knock on the door and kindly deliver a card and present, but other than that it has been very quiet and peaceful. Tomorrow evening I am going to visit a friend who shares the same birthday as me, and we will have a socially-distanced little celebration.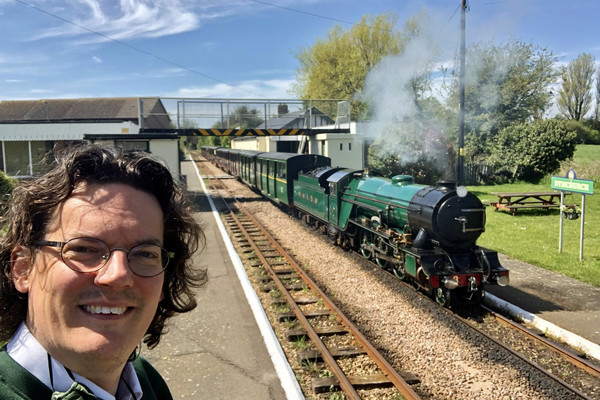 A beautiful morning at Dymchurch as 'Southern Maid' brings the "Seaside Special" to a halt. 11th May 2021.
The only two points of note since my last blog is that I did indeed have my first Covid vaccine on Thursday, and then a day of signaller training on Friday. Two milestones in two days! The vaccine took place inside the empty shell of the huge former Debenhams store in Folkestone. The nurse was impressed that I had taken the bus to Folkestone, as she recommended against driving for fifteen minutes after she'd administered the vaccine. I felt absolutely fine that evening. Over the weekend though I found that I was feeling rather weary. I was becoming tired earlier in the day than I normally would be, and my upper arm felt sore. It still feels slightly sore now, but a lot better than it did. It is certainly a small sacrifice to pay for being on the road to full vaccination. The following day, I was thrilled to formally begin the process of hopefully becoming a qualified signalman on the railway. As with anything in this day and age, there is theory to be done before any practical lessons. I am fortunate that I learnt a lot of the theory when I was around 18 or 19 years old. I think that things you learn at that age have a far greater tendency to stay in the mind, and so it proved with the theory test. Onwards and upwards! Yesterday I was out and about on my now weekly delivery run. Just west of Rolvenden I drove along a country lane and came across this scene.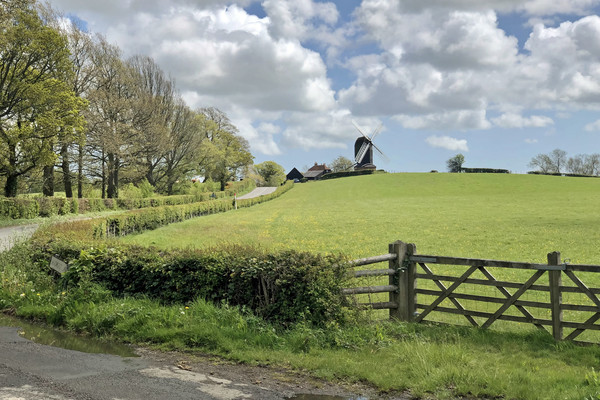 A windmill catches the sunlight on a country lane near Rolvenden, Kent. 10th May 2021.
Apart from perhaps the road surfacing, this scene surely can't have changed much in the last few centuries. Whilst I always tried my best to be enthusiastic with all my deliveries, I did notice more of a spring in my step. When it is only once a week, and it is a beautiful spring day, it is rather joyous to be driving around delivering to good people. In the world of politics we had the local election results come in over the weekend, but the government announcement I was more interested in was that pertaining to which countries would be included on the "green list" from 17th May. I'm sure you have all read the list in the papers or seen it on the news, but for those that might have missed it, as of today the full list is: Portugal, Israel, Singapore, Australia, New Zealand, Brunei, Iceland, Gibraltar, Falkland Islands, Faroe Islands, South Georgia and the South Sandwich Islands, St Helena, Tristan da Cunha and Ascension Island. One of my favourite stories as a result of this list being published was that travel websites reported a surge in British people searching for package holidays to the South Sandwich Islands – not quite realising where and how inaccessible they are! Reading the list also made me think about how fortunate I have been to visit all but two of the destinations listed. The South Sandwich Islands and Tristan da Cunha are the two that I am yet to visit. I should have visited the latter of those earlier this year, but am very hopeful of being able to try again in future years. I am sure that someone will correct me, but I don't know of any cruise ships that visit the South Sandwich Islands. However, if anyone does, at least you won't have to quarantine if you come back directly to the UK!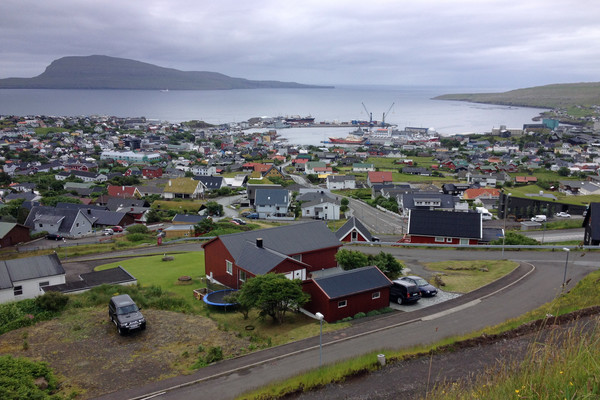 Looking down on Tórshavn city and harbour. 17th July 2016.
I thought I would take inspiration for today's blog from that list. One of my favourite stories from my time at sea dates back to only my second year on board ships. The ship I was working on was quite large, and could not fit inside the harbour at the Faroese capital of Tórshavn. As a result, we would anchor off shore and use the ship's tenders to transfer us into the port. I was sat on a tender as we made our sure but steady progress into Tórshavn, when I noticed a fellow crew member who was new to me and sat opposite. I commented to him that I hadn't seen him before and he confirmed it was his first ever cruise. I replied that I was surprised to see him heading ashore, particularly as it was only a half-day call. He replied that he'd been told that, "there are some pyramids that are worth seeing". I was confused and let out a gentle nervous laugh. Then I saw the look on his face and that he wasn't laughing. Sure enough, he had fallen hook, line and sinker for the traditional first cruise wind-up. Using an abysmal play on the word "Faroes", his boss had convinced him that it was connected to "Pharaohs" and that, as a result, there were some form of pyramids on the islands that were worth visiting. To be honest, that was one of the less evil tricks that I've known to be played – and I certainly have had a few played on me. A passenger who was on the tender with us overheard our conversation and burst out laughing, and then it dawned on the poor chap that he had been set-up. To his credit, he took it in great heart and, once we'd stepped ashore, he happily went off to the post office and bought a few souvenirs.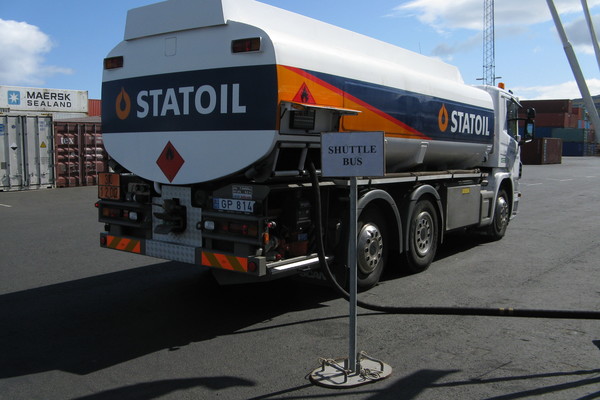 Don't always believe the signs you see on the quayside! Tórshavn harbour, 8th June 2009.
My most recent visit to the Faroe Islands was an overnight stay in Tórshavn on 16th and 17th July 2016. One of the most memorable things about it was that it was an unplanned overnight stay. We had been intending to visit Tórshavn during the day, and then sail overnight with "Hebridean Sky" to one of the more remote Faroe Islands for a Zodiac landing the following day. However, the forecast swell conditions would have made landing impossible, and it was deemed that the best course of action would be to remain overnight in Tórshavn and operate the next day's shore excursions from there. Another unique aspect of this cruise was that I was simply a member of the Expedition Team. Someone had had to pull out of the cruise at the last minute, and I had been drafted in as a replacement Zodiac driver. Jamie Watts was the Expedition Leader and it was rather enjoyable to watch someone else deliver the Briefings and write the Daily Programme. The cruise included visits to various Scottish islands and highlands, including Oban, Iona, Staffa, Lunga, Skye, Shiants, Stornoway, St Kilda, Papa Stour, Foula, Lerwick, Mousa, Kirkwall and ending in Leith. Our visit to the Faroes occurred between our visits to St Kilda and Papa Stour.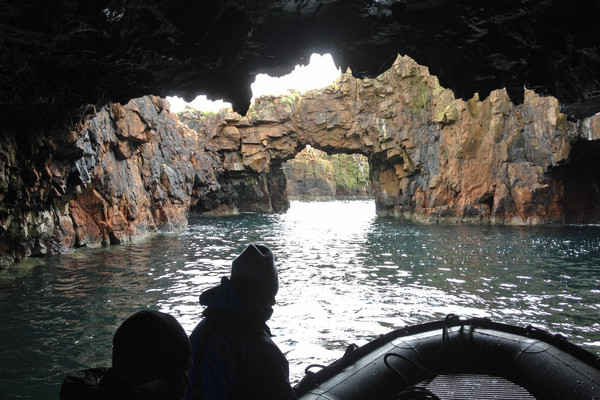 Zodiac cruising through rock arches at Papa Stour, Shetland Islands. 18th July 2016.
Another of the reasons for our overnight stay in Tórshavn being so memorable was that it happened to be a Saturday night, and so some of us in the Expedition Team took the opportunity to sample the Faroese nightlife. By chance, we were an all-male party who wandered into Tórshavn that evening. As with every city in the world, the most happening place turned out to be an Irish Bar. I can vividly recall walking in to the bar, and there were two local gentlemen singing and playing acoustic guitars. To my surprise, they were playing "Far Far Away" by Slade, and whenever I hear that song I am immediately taken back to that Saturday evening in Tórshavn. The other thing I particularly remember is that we, as a group, were amazed at how kind, forthcoming and friendly the locals were. I chatted with one local lady and said how, in the UK, people don't really talk to strangers on a night out, and that it was a pleasant change to have some attention. We were all feeling quite good about ourselves, but then the lady replied to me and somewhat burst our collective bubble. She pointed out that the population of the Faroese is such that everyone who goes out on a Saturday night already knows each other, so if you are new in town, you immediately attract more attention. I hadn't thought of that!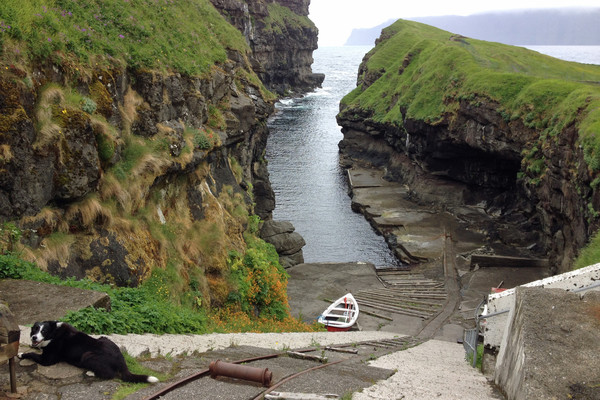 The inclined winch-hauled railway to the natural gorge harbour at Gjógv. 17th July 2016.
Our first day in Tórshavn had been mostly focused around the capital itself, including various viewpoints and their excellent combined tourist information and museum. I have always loved seeing the houses with grass roofs. I am not entirely convinced of how practical they are, but I remember we passed a village which had a row of such houses. One of the houses had a goat on the roof. Our guide pointed out that the owners of the four houses each had a quarter-ownership of said goat, and that once it had chewed the roof lawn of one house, it was moved onto the next one. By the time it had finished chewing on the fourth house, the first house was overgrown and it would start again. I guess that would be the goat equivalent of having to paint the Forth Bridge. On the Sunday, we headed further afield, as we would have done with the ship had conditions allowed. We visited the settlement of Gjógv. I have no idea how you pronounce it. The village is at the opposite end of the Faroes to Tórshavn, being located on the northeast shore of the island of Eysturoy. It is 39 miles by road from Tórshavn, although undoubtedly a much shorter distance as-the-crow-flies. The village is famed for its natural gorge (which is where the name of the village comes from) which provides a natural harbour for the village. Also in the photo, you can see the only working railway line in the Faroe Islands, which runs from the harbour via a cable and winch system to the coffee shop in the centre of the village. Perfect! Now that paved roads have access to the village, the incline is not in use as regularly, but it is still very much serviceable and is kept in good condition, and with pride, by the villagers.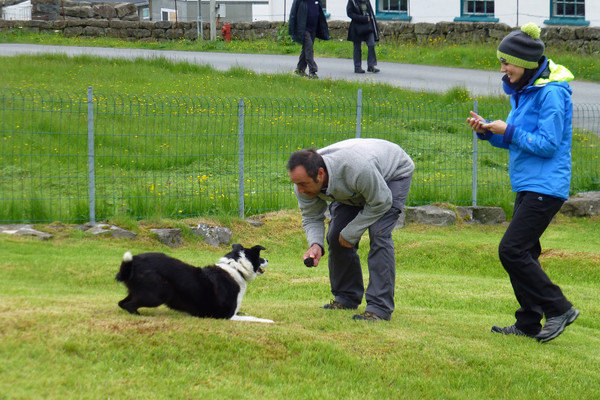 David and Jen make a new friend in Gjógv. 17th July 2016.
One of the main attractions of anywhere we visit, is if there is a friendly local dog. It is amazing how many passengers and crew instantly switch off from what they are supposed to be looking at, and focus their attention entirely upon the dog. Gjógv was no exception. You can see the dog lying down by the incline railway. He (or she) decided that he liked our group, and accompanied us on our tour of the village. He appeared to have a black ball with him, which looked more like a piece of coal after his incessant chewing of it, and was eager for people to throw his ball for him. One of our team, David O'Riordan, couldn't resist and fellow expedition member Jen Beadle is standing next to him as he tries to hold an intelligent conversation with the dog. I think it is those who have dogs at home, and miss them while they are on their cruise, who most like to make a fuss of local dogs they encounter.
St Olav's Church, Kirkjubøur. 16th July 2016.
On the Sunday, as just mentioned, we had been visiting Gjógv. However, on the Saturday, as well as our tour of Tórshavn, we had also proceeded to southernmost tip of the main archipelago at Kirkjubøur, on the island of Streymoy. The village of Kirkjubøur is considered to be the most important historical site in all of the Faroe Islands. A ruined cathedral (Magnus Cathedral) dominates the site, and the nearby farmhouse was intriguing to visit. My personal favourite was the relatively simple church as shown in the above photo. St Olav's Church was built in the 12th century and is the oldest church in the Faroe Islands that is still in use. Many restorations have taken place over the centuries, and I thought that the gate leading into the churchyard was something special, the like of which I hadn't seen before. Of particular note was the fact that the church nearly disappeared. In 1863 the church was condemned because of the threat of the sea eroding the shore. However, in 1870 the coast was secured by a bulwark and in 1874 the church underwent a thorough restoration and was greatly altered – it was built in a new gothic style. The church was restored again in the mid-1960s and regained its original appearance.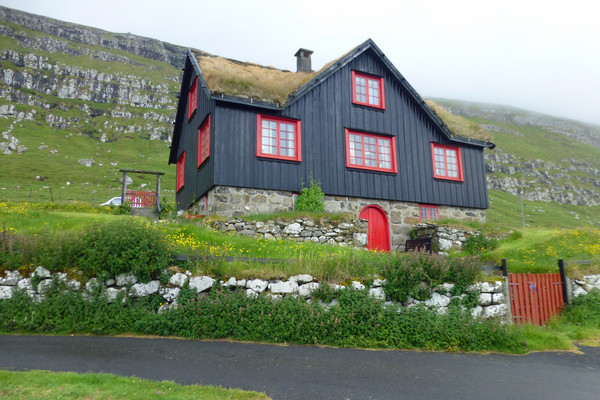 The restored grass-roofed farmhouse at Kirkjubøur. 16th July 2016.
And finally… I remember coming home from the Leith after that cruise from the Faroe Islands. I received my mobile phone bill and was alarmed that it was about 800% higher than it normally would have been. I had been charged an extortionate amount for using my phone during that overnight stay in the Faroe Islands. Fortunately, I had saved a text message from the mobile phone company when I had arrived in Tórshavn stating that all texts and calls were 'included' in my regular package. Puzzled by this, I called the mobile phone company. I can remember being told that, whilst in Tórshavn, perhaps I had gone close to a border with another country and picked up a signal from there by mistake. I challenged the person at the other end of the phone to pick up an atlas and tell me which other country I could have gone near whilst in Tórshavn! It took some persisting on my part, but after a couple of months of hassling them, I was finally refunded the amount. All in all, it was a memorable time in the Faroe Islands, and I'm pleased to say I'm still in touch with a local Faroese lady who I met on our evening ashore. Now they are on the UK's green list, and hopefully will soon be welcoming tourists again, it would be wonderful to have the chance to re-visit the Faroes, admire the pyramids, freely use my phone, and catch up with Olga. Until next week, goodbye for now!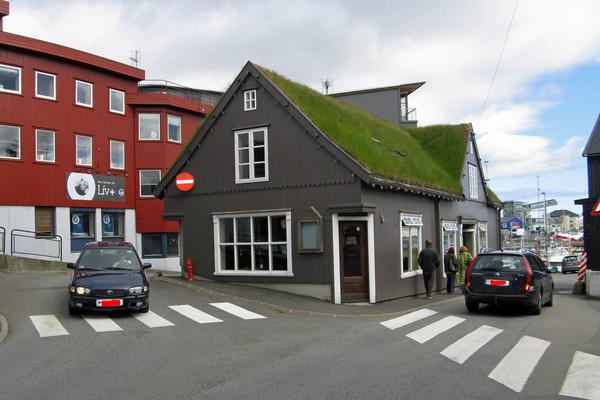 A grass-roofed building in the centre of downtown Tórshavn. 8th June 2009.