English Channel Hopping
Good evening everybody! It's 6.30pm on Wednesday 23rd June as I write this. I had intended to write this blog yesterday, but I spent the day compiling the Antarctica Quiz that you can find elsewhere on this week's Travel Post updates. I only did one season in Antarctica, in early 2009, and so I had to think back to come up with questions that might tax seasoned Antarctica travellers. As ever, it is always difficult to judge whether a quiz is too easy or too hard. The best way to tell is when you receive complaints which claim it is too easy and too hard, and then you know you've got it just right! One of the joys of compiling the quizzes is that it means that I look back through photos that I have not seen for many years. One of the places I researched was a former whaling station on South Georgia. I won't mention its name here as it forms an answer to one of the quiz questions. Among all the photos I discovered was one where I must have handed my camera to someone else to take a photo for me.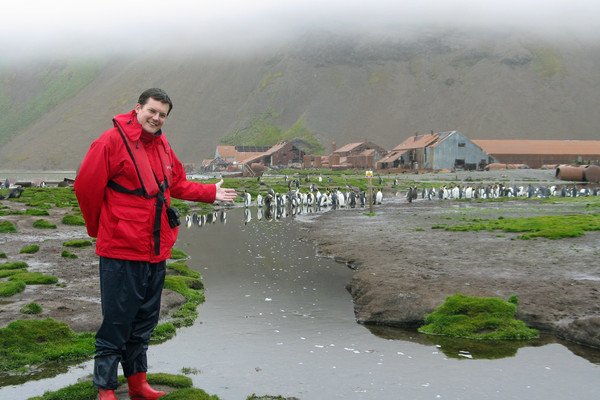 Me, penguins and an abandoned whaling station on South Georgia. 2nd February 2009.
Finding photos like these, especially in these times when international travel is so heavily restricted, does lift my spirits and remind me how fortunate I have been to lead the life I have thus far. It made me wonder how many of you, my fellow travellers, have taken the opportunity during these past 15 months to look back through photo albums of previous cruises. Personally, I have found it a very pleasurable way to remind myself of the world that is out there, and hope that these places are taking advantage of the chance to reset and recharge themselves, in readiness for the return of tourists in the future. Since I last wrote, we had Fathers' Day on Sunday. During a previous visit to my parents' house I had left a card for my father with my mother (saving the price of a stamp) and also given my mother a book about Littlehampton during the Great War to present to him. I wanted to find something else that he would like. My father is a great fan of jigsaw puzzles, but unlike anyone else I've ever met, he insists on completing them without making any reference to the image on the box. He'll look at it when he receives it, but then once the pieces are emptied from the bag onto his purpose-built board, he won't look at it again until it is complete. When I saw the puzzles from the Noble Caledonia Charitable Trust for sale, I realised they would make the perfect Fathers' Day gift for him. Chantal kindly sent the puzzle post haste and he was very pleased to receive a puzzle featuring a ship that he has sailed on. There are still some of the limited edition puzzles for sale if you look elsewhere on this website. I hope all of those who read this who are fathers had a wonderful day.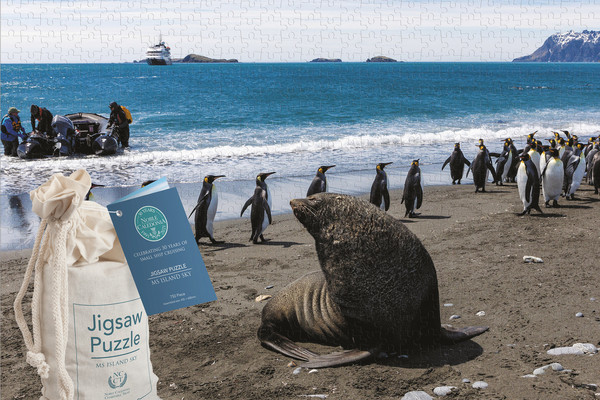 Noble Caledonia Charitable Trust Jigsaw
On Fathers' Day itself I was working at New Romney. We had a special double-headed express running from Hythe to New Romney to Dungeness and then non-stop back to Hythe. While the train was in New Romney station there was various shunting to do and so I narrated what was happened and guided the passengers accordingly. I had a sneaky suspicion that some of the families might have been there more for the children than the fathers, but all were very much welcome. I have been continuing my cycle of juggling the supermarket deliveries with the railway and compiling the quiz and writing this blog during the past week – all of these jobs being tasks that I find enjoyment in. It might seem twee of me to say, but I am something of a believer in the Mary Poppins principle. That being, "In every job that must be done, there is an element of fun. You find the fun and snap! The job's a game". With the deliveries, having been on the road for the past year you learn of places that are ideal to take your breaks. With the railway, I appreciate that once I have 'passed out' in the various competencies, I will be able to revert to volunteering and fulfil these more challenging roles in future. With the quizzes and the blogs, I enjoy the mental challenge of compiling them and trying to keep the subject interesting. Judging by the kind emails I receive, I'm glad to be part of many a weekend ritual where you lovely people take the time to peruse these meanders of mine.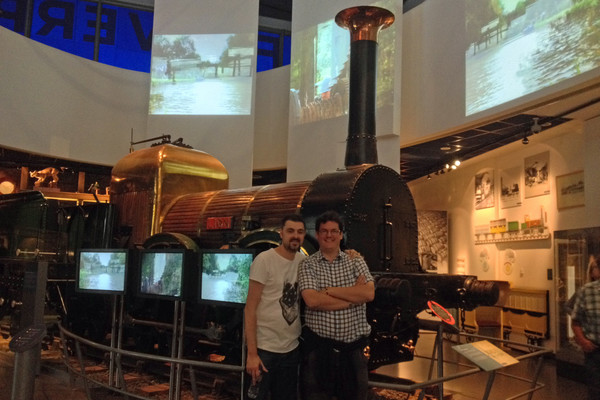 Me and Simon with the "Titfield Thunderbolt" (aka "Lion") on 28th August 2017.
As you will no doubt be aware, "Hebridean Sky" and "Island Sky" are both now sailing again. My dear friend, Fiona, is currently on board the latter as part of the Noble Caledonia team. She reliably informs me that their next turnaround day will be in Liverpool on the day this blog is published – Saturday 26th June. I have had many an enjoyable trip to Liverpool. My best friend from my university days, Simon, lives in nearby Southport. When we first met in September 1996, I thought his accent was the most Scouse accent I'd ever heard. It wasn't long after that that I made my first trip to Liverpool itself, and realised how light his accent was in comparison to those closer to the centre of Liverpool! Speaking of friends, I was asked by another friend of mine, Mary Virginia, who lives over in Savannah, Georgia, to name my favourite film of all time. She commented that she would watch whichever film I named and let me know her thoughts. My initial reaction was to say the "Titfield Thunderbolt", but I thought that might be rather tricky to find in an American DVD store! However, it was on a previous visit to Liverpool that I went with Simon to the excellent 'Museum of Liverpool' and was thrilled to discover that the star of that film, the 1838-built locomotive "Lion" was preserved and on display. The museum was excellently laid out and I would thoroughly recommend it to anyone who is either embarking or disembarking in Liverpool and has some time to spare.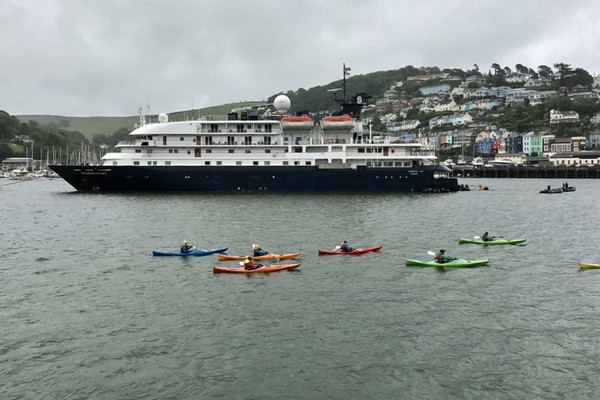 "Hebridean Sky" off the coast of Dartmouth, Devon. 21st June 2021. Photo: Tina Harrison.
It has been marvellous over the past week to see my colleagues sharing photos of our two beautiful Sky ships visiting ports with passengers again. I was amused to receive a flurry of messages on Monday from my colleague and friend, Tina Harrison. She is currently on board "Hebridean Sky" and they were spending the day in Dartmouth. I have only ever visited Dartmouth once before with a ship, and that was nearly ten years ago. It is a stunning location to take a small ship into. You sail round the bend that forms the mouth of the River Dart, and then you tie the bow and stern onto buoys which are placed almost midstream – directly between Kingswear to the east and Dartmouth to the west. You then have to use either tenders, local boats or zodiacs to ferry your passengers ashore. With the ship firmly tied up at both ends, you do not need to worry about having room for the ship to swing on an anchor. Therefore, you are tied up quite close to all the anchored yachts and pleasure craft, and within less than a hundred yards of the landing jetty. It is undoubtedly one of the shortest Zodiac rides you will ever have. It definitely takes longer to embark the Zodiac than the ride itself!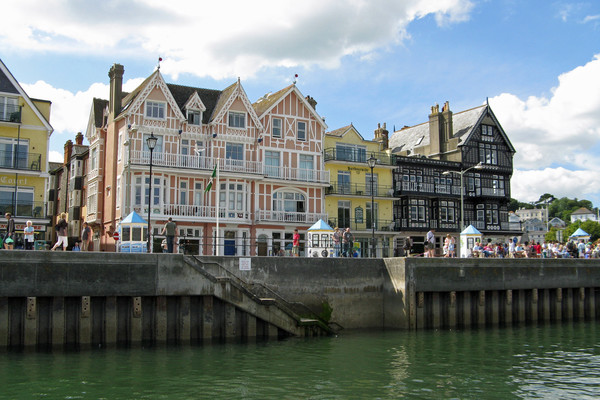 The ornate buildings adjacent to the landing stage in Dartmouth. 23rd July 2011.
During the visit of "Hebridean Sky" to Dartmouth, the passengers had a choice of excursions. They could either head off to 'Greenway', the historic house and garden that was home to Agatha Christie; or they could visit Coleton Fishacre – the 1920s country retreat of the D'Oyly Carte family. Free time was then offered in the afternoon. On my previous trip to Dartmouth, you won't be surprised to learn that I took full advantage of the available free time and treated myself to a trip on the Dartmouth Steam Railway that runs along the former BR branch line from Paignton to Kingswear. Tina had tried to send me a few photos of the train, which runs along one of the most scenic routes in the country, as it skirts the eastern shore of the River Dart on its way down to Kingswear. The sound of the whistle echoes across the valley, but the myriad of yacht masts make attempts at photographing it from the ship rather difficult. Thank you for trying Tina! The other memory that springs to mind from that day in Dartmouth is that I had lunch on the aft deck with Paul Jones, lead singer of Manfred Mann. He was a guest entertainer on that cruise and is easily the best blues harmonica player I have ever seen – and one of the most charming gentlemen I have ever met. I'm fairly sure there were not many pop stars in the 1960s whose alma mater including Portsmouth Grammar School, the Royal Naval School in Malta, Edinburgh Academy and Jesus College, Oxford!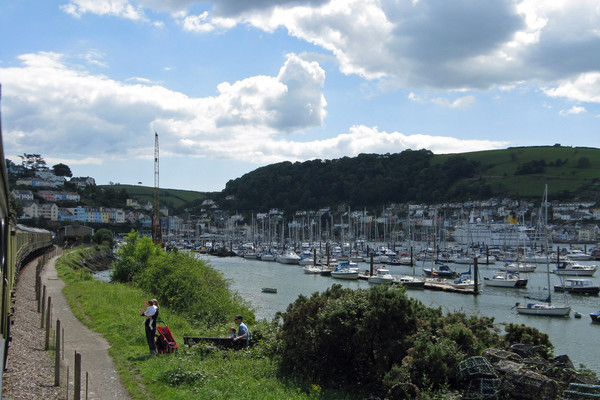 Looking out from the train as we skirt the River Dart and arrive in Kingswear. 23rd July 2011.
I must take a moment to thank one of your fellow passengers, Joan Kemp-Gee, for writing in to inform me about the (in my view) strangely-coloured ladybird that was sipping on the leftover bubbles of my drink a couple of blogs ago. Whilst it was disappointing to learn that my sighting was not a rare one, I was relieved to be informed that I wasn't unusual in thinking that all British-based ladybirds are red with black spots! If I ever feature on "Who wants to be a Millionaire?" (and I have applied a couple of times) then I think I will nominate 'all the passengers of Noble Caledonia' as my phone-a-friend. Someone out there would definitely know the answer to any question I could be posed! Speaking of emails, do please keep them coming in. It is always lovely to hear from you all, and know that it is not just my parents that read the blog. Having said that, I know they are a few weeks behind because I do test them occasionally on my most recent output. In return, they exact revenge by pointing out grammatical errors on my part. I guess that's what you get when your parents were both teachers!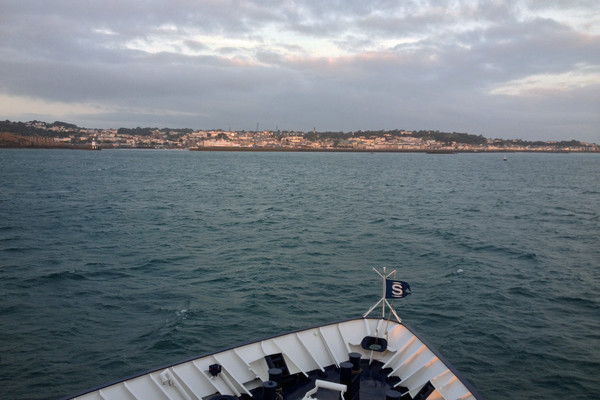 Strong winds prevent us landing on Guernsey. 7.05am, 19th September 2018.
Looking further ahead at the "Hebridean Sky" itineraries, they include scheduled visits to Saint Peter Port, the capital of Guernsey. My last visit to Guernsey wasn't too successful. I had embarked "Hebridean Sky" the previous day in Portsmouth. It is always an ominous sign when you embark a ship and there is already a note waiting for you at Reception, requesting that you head to the Captain's office immediately. Sure enough, very strong winds were forecast for the following day's visit to Guernsey. The crossing of the English Channel wouldn't be a problem, however, we would need to use our Zodiacs to land at Saint Peter Port, and the forecast strength and direction of wind were not looking favourable. As we usually do, we set sail from Portsmouth on time and at the Welcome Briefing that evening I explained the situation to the passengers. I was up early on the Bridge the following morning, and the pilot came up the ladder and conferred with me and the Captain. In these situations, reliable local knowledge is key. The pilot said there was no chance of launching the Zodiacs, but that by late afternoon or early evening there may be a possibility. This is when the Captain then turns to me as the Cruise Director and/or Expedition Leader. I informed him that I had been able to make provisional arrangements for Saint-Malo, which was four hours sailing from Guernsey. As you can see from the billowing flag in the photo above, the wind was fierce at this point. It was decided that it would be better to offer a guaranteed landing at Saint-Malo, than to sit off Guernsey in gale-force winds and hope that they died down.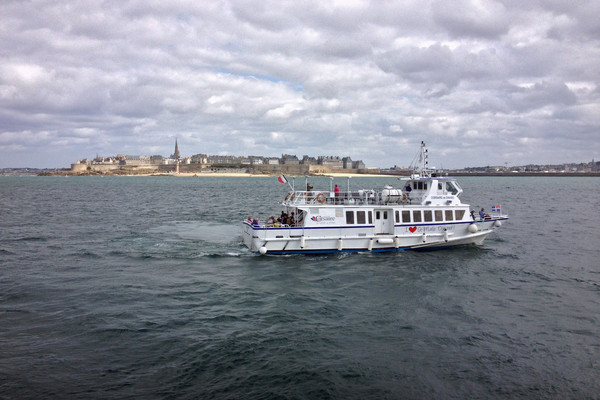 A commandeered local sightseeing boat takes our passengers into Saint-Malo. 1.29pm, 19th September 2018.
The rapid preparation I had completed the previous evening paid off, and we arrived in Saint-Malo so that the passengers could finish an early lunch on board before heading ashore for a few hours in this most enchanting of French walled towns. You may recall that only a couple of weeks prior to this visit to Saint-Malo, there had been an unsavoury scallop fishing dispute in the English Channel between French and British trawlers. I remember welcoming the passengers back on board after they had been ashore in Saint-Malo. One gentleman said to me that he had been cursed at in a local restaurant. I asked why and he replied that he'd requested scallops, but been told that they were not available at that time. He had responded by saying he'd eaten some delicious French scallops in England a few days before. I was all set to dash ashore wearing a blue beret to try and restore peace between our nations, and then I saw him wink and confess that he was only teasing me. I was relieved that we hadn't started a diplomatic incident!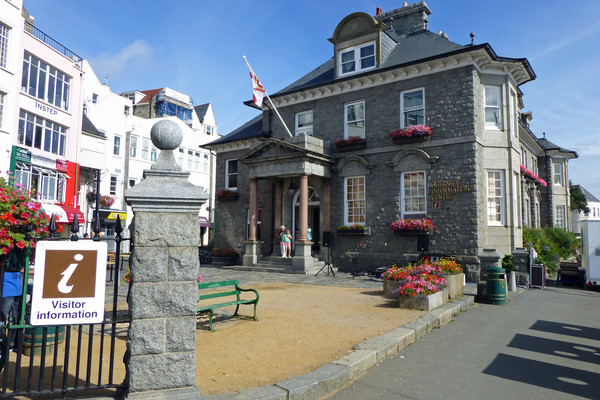 The Guernsey Visitor Information Centre. 4th August 2013.
The last time I successfully landed on Guernsey was on 4th August 2013. I don't even need to check my diary to recall that it was a Sunday. I know this because I remember that we were at anchor with Cunard's "Queen Mary II". You would have thought that the merchants of Saint Peter Port would be rubbing their hands with glee – but no. Sunday is strictly observed, and everywhere was closed. A few thousand, mostly American, QM2 passengers were wondering the quaint streets of Saint Peter Port with nowhere to spend their money. Whilst I fully appreciate Sunday trading rules, it does seem odd that a large ship would schedule a call into a port that, with a small amount of research, they would have known to be mostly closed! The one place that was open was the Guernsey Visitor Information Centre, housed in a beautiful building along the seafront.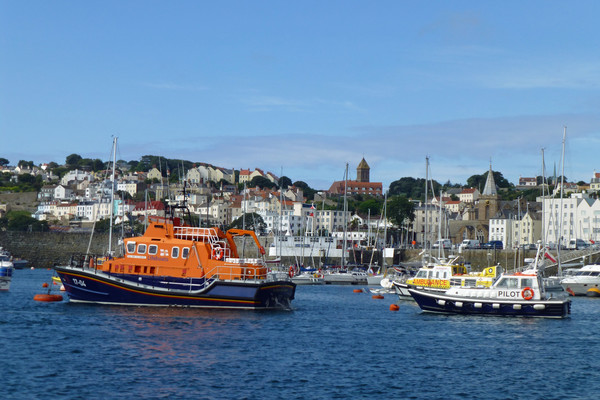 The lifeboat and pilot boat rest in Guernsey harbour. 4th August 2013.
I always enjoy visiting the Channel Islands. They hold a unique place in British history, both medieval and modern. The scars of World War II are still very much there to be seen, with German gun emplacements dotted around the islands. I have only had the privilege of landing on Guernsey and Sark so far. I sincerely hope to have the opportunity to visit the likes of Herm, Alderney and Jersey on upcoming cruises. And finally… I have been advised that, now that 'Hebridean Sky' and 'Island Sky' have started operating again, that this blog will be changing to a fortnightly publication. It has been an amazing literary journey for me since the first blog was written back on 23rd April last year. Every week I think it will be difficult to produce 2,500 words to write and ten photos to include. And yet, every week it appears from somewhere. There are still many tales to tell, although I've understandably withheld a few as they are far more fun to tell in person on the ships. I will therefore continue, as long as I'm given the opportunity to do so, with a fortnightly blog and the monthly quiz. Thank you all for your kindness and support so far, and please keep the emails coming. Until a fortnight from now… make the most of these long summer days!
View details of our small ship cruises around the British Isles