Delivery Dogs and Scilly Dogs
Good evening everyone! I hope this week has passed by happily for everybody. As I sit down to write this it is the evening of Tuesday 25th May 2021. I have been working as a guard today on the railway, completing 54 miles on the 15 inch gauge – that's the same distance as from Charing Cross in London to the Royal Pavilion in Brighton. Like many of us, I still have no idea what has happened to the weather. I was fully wrapped up against the elements, and felt a little bit sorry for those passengers who were booked on our 'Seaside Special' and had three hours to find fun things to do in Dymchurch. Over the weekend, I took on the new role of "Heritage Guide" at New Romney station, so that those passengers who took a shorter journey from Hythe to New Romney had someone there to tell them about the history of the railway, and co-ordinate with the drivers to put on a few pieces of 'railway theatre'. Beforehand, I had asked the drivers what the most common questions are that they are asked. To my surprise, the most common question they are asked is, "Is it real coal?" I guess there is indeed a generation growing up now who are not sure whether to believe their own eyes! I was amused that the driver's usual answer is to offer to let said person hold a piece and find out for themselves.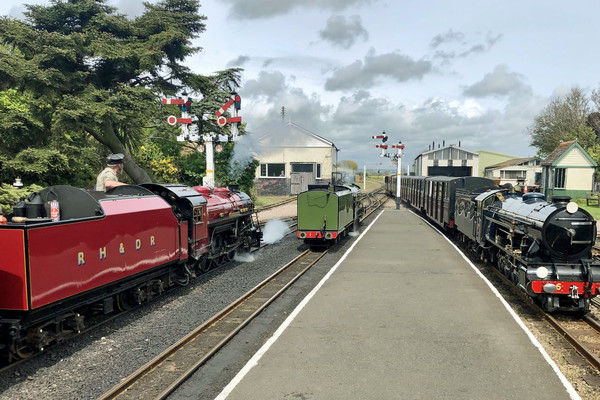 A busy scene at New Romney station. 23rd May 2021.
The weather was awful on Saturday, but it still felt good to be doing a public-speaking role for the first time since I stepped off 'Serenissima' in Turkey back in March last year. On Sunday, the weather improved from showers to sunshine and showers. During one of the moments of sunshine, I took the above photograph at the Hythe end of New Romney station. "Winston Churchill" is departing for Hythe on the left. "Samson" is arriving from Hythe with an empty coaching stock working (ie no passengers are on board), and "Green Goddess" is waiting in the middle to shunt on to the back of "Samson's" train to put the carriages away for the evening. Whilst it is on a smaller scale to the standard gauge railways, it is lovely to have a living breathing example of what mainline steam would have been like all those years ago. All fingers are crossed that the weather finally breaks in time for the upcoming bank holiday and half-term week. After all those months of lockdown and home-schooling, the nation's children (and parents) deserve a sunny half-term!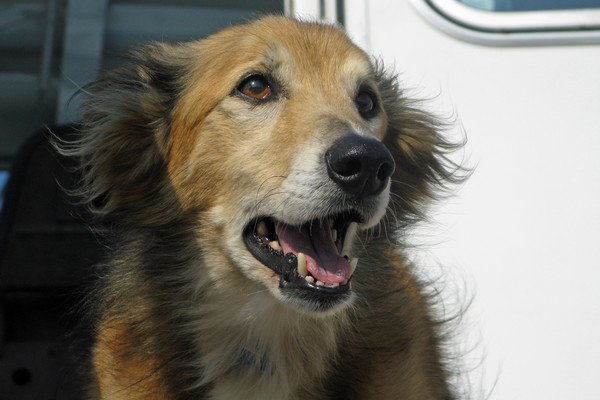 A Scilly boatman's dog, taking us to Tresco. 12th May 2008.
Yesterday (Monday) I was out and about on my deliveries again, mainly in Wye and Ashford. Near Wye I delivered to a manor house that was in fairly remote countryside. As I drove through their gates (having opened them first) I was greeted by a guard of honour from a couple of friendly dogs. Whilst that is a lovely sight, it does make me nervous that they might not keep out of the way of my moving vehicle. Cautiously, I edged up the drive, trying to keep both dogs in sight. After reaching the tradesman's entrance, I climbed down from the truck and one of the dogs playfully leapt up and wrapped its forelegs around my waist. I'm always a big softie for a friendly dog. I then realised that said dog was being very friendly. Very very friendly. With all this social distancing and such things, it has been a long time since I have received such affection, and my left leg was flattered, if not a little surprised. At this moment, the lady of the house appeared and rather belatedly asked, "Are you alright with dogs?" I couldn't help but feel that she was a little late with that question. I replied, "I love dogs, but I usually only make their acquaintance!" She then realised what her dog was doing to my left leg and turned a deep shade of red and ordered her dog inside the house. The lady then turned to me and said, "Sorry about that. I don't what came over him. He never does that to the Waitrose driver". Over 24 hours have now passed since she said that to me, and I am still trying to work out whether it was a compliment or not. Please feel free to email in with your thoughts! Personally, I'm going to stick with taking it as a compliment.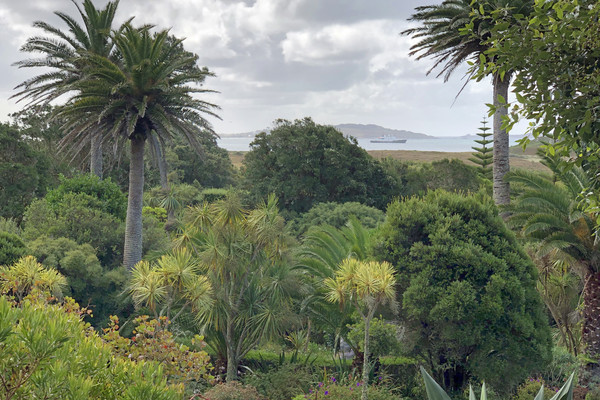 The 'Serenissima' sits at anchor in the distance as we look over Tresco Abbey Gardens. 9th September 2019.
The story above of the very friendly dog, and mentioning in a recent blog about the dog on the Faroe Islands that tried to play ball with every passenger, made me think about some of the dogs that our cruises have brought us into contact with. Undoubtedly the best place for guaranteed quality dog contact is the Isles of Scilly. We are allowed to use the ship's Zodiacs for some of the isles, but for others we need to use the local boatmen, and every single one of the boats appears to have a resident dog. In the course of the transfer from our ship to the shore, I reckon the dogs ensure they are patted by every passenger on board their boat. You begin to get the impression that the skipper of the boat is really under the command of his dog. Normally at this time of year, we would have begun the UK season in earnest, with many calls to the Isles of Scilly. It is wonderful that, if we continue on the right path, we are soon to be heading back there. I have only made it successfully on to two of the islands, namely Tresco and St Mary's, but I know that the plans for this summer are to also include St Agnes, Bryher and St Martin's.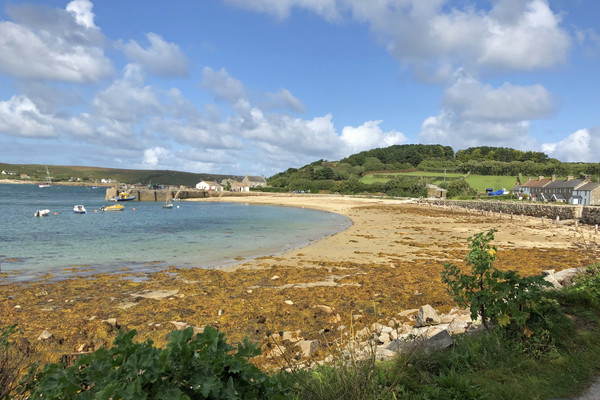 The sun shines down on New Grimsby, Tresco, Isles of Scilly. 9th September 2019.
Not surprisingly, the main highlight of visiting Tresco is the chance to explore Tresco Abbey Gardens. One of the things I noticed about bringing Noble Caledonia passengers to the gardens is that, unlike other cruise lines, we hire the garden's team of horticulturalists to conduct the guided tours. It is always so much better to have a knowledgeable person lead the way. The curator of the gardens, Mike Nelhams, is a very good friend who I've been in contact with for over thirteen years. Whilst, as you would expect, he is the leading expert on all things to do with Tresco Abbey Gardens, he is also a wonderful raconteur and I can still remember his tales about living on the island. He told a story about his two young daughters on their first trip to London. They were excited to go on a double-decker bus for the first time in their lives. Mike, with a slight sense of trepidation, granted their wish and they boarded a double-decker bus and sat next to a smartly dressed businessman who was engrossed in the financial markets of his broadsheet newspaper. Mike's daughters had been brought up on the island to say hello to everyone they passed. They decided that just because they were on a double-decker bus in the heart of London, they shouldn't break from this tradition, and so they said hello to the businessman. As those of you who have used public transport in London in the last few years will know – to say hello to a stranger is considered highly unusual behaviour. However, the girls were not deterred. "We've never been on a bus before", they told the gentleman. To their surprise, he lowered his paper and said to them, "Really? What kind of transport do you usually use?" Brilliantly, the girls replied, "We use a helicopter". I would have paid good money to see the expression on the gentleman's face! Indeed, the girls were right, as until recently (and thankfully now started again) the most convenient way on and off Tresco was via helicopter to Penzance.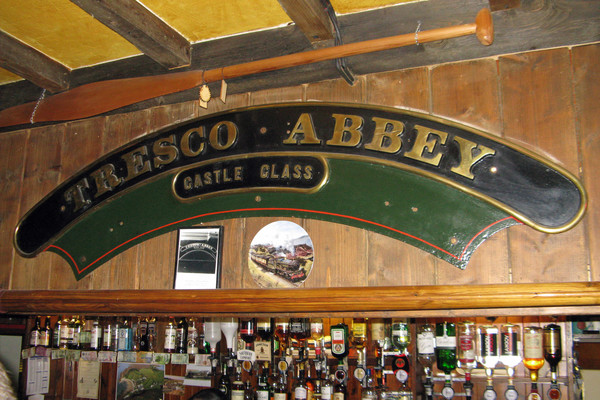 The GWR nameplate above the bar of the New Inn, Tresco, Isles of Scilly. 10th May 2010.
The Abbey Gardens are a must visit, but if you have the chance, it is also worth exploring further into Tresco. The two main settlements are New Grimsby (on the western side) and Old Grimsby (on the eastern side). The only other settlement is the gorgeously named hamlet of Dolphin Town, which houses St Nicholas's Parish Church. I took a holiday on Tresco a few years ago, and can remember that there was a sign on the church noticeboard requesting any organ-playing holidaymakers to make themselves both known and available on Sundays. I nearly put my name forward until I saw how many pedals there were, and I beat a hasty retreat. On the occasion of my most recent visit to Tresco, Mike picked me up in his converted golf buggy and drove me to New Grimsby. As we arrived the mail boat came in from St Mary's, and I was able to buy a selection of daily newspapers for the ship's library. I also put my face against the window of the New Inn (it was rather too early in the morning for them to be open) and was pleased to see the nameplate of GWR Castle Class 5092 'Tresco Abbey' was still proudly on display. The locomotive was built in 1923 and withdrawn in 1938, but the nameplate survives. I wonder if they realise how much such items raise at railwayana auctions.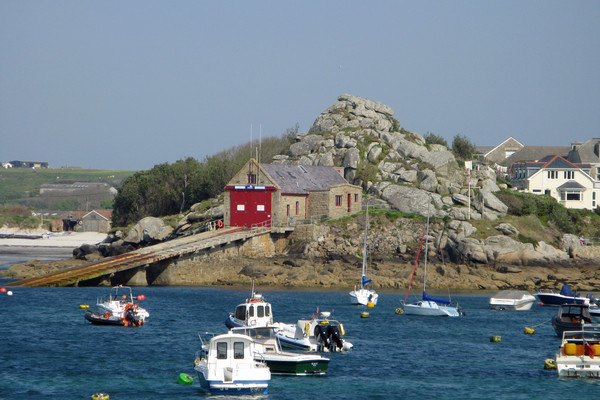 The St Mary's lifeboat house, built in 1899. Isles of Scilly. 12th May 2008.
As I mentioned earlier, the only other Isle of Scilly that I have been fortunate enough to set foot on is St Mary's. St Mary's is the main island, housing all the amenities that the archipelago needs, including the airport and main harbour. I remember coming in to St Mary's, whilst stroking the boatman's dog, and half-hoping that we might get to see a lifeboat being launched down the slipway. It was pointed out to me that these days the lifeboat sits on a buoy in the harbour. The last slipway launched boat at St Mary's was the 46ft 9in class Watson lifeboat "Guy and Clare Hunter". This boat had a top speed of eight knots and was the station's lifeboat from 1955 to 1981, when an Arun class lifeboat, "Robert Edgar" with a top speed of 18½ knots took over.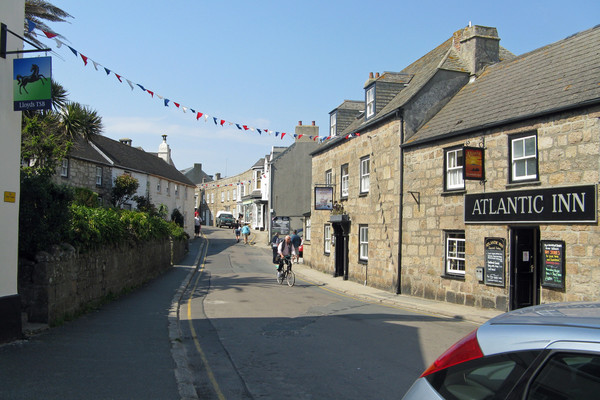 Hugh Street, St Mary's, Isles of Scilly. 12th May 2008.
When we visit St Mary's, we land in the 'capital' of Hugh Town. The town is the most populous on the Isles of Scilly, with just over a thousand inhabitants, and sits on a fairly narrow isthmus, connecting the island to the east with the Garrison to the west. You may be surprised to learn that the branch of Lloyds TSB shown on the left of the above photo is still in operation – albeit only from 9am to 3pm, Tuesday to Friday. I remember going in to the Co-op store in Hugh Town and buying a vast amount of things that I didn't need. It was our first call to a UK port in about four months, so the chance to buy UK chocolates and such things was too tempting!
One of my all-time favourite signs. Hugh Town, St Mary's. 12th May 2008.
As you can see from the above photo – things are a little different in the Isles of Scilly. The pace of life is indeed slower, but there is a warm sense of humour on the islands, as evidenced by the wording of the poster. Fortunately, we didn't need to make use of a taxi, as everything in Hugh Town is within walking distance. When I visited the Isles of Scilly under my own steam in early 2012, I made use of all sorts of transportation to get to and from the islands. I caught the night sleeper train from London Paddington to Penzance. (I swear the locomotive driver deliberately jolted the train when we stopped at every station from Truro onwards to ensure we were all wide awake!) On arrival in Penzance, I walked to the nearby helipad for the helicopter over to Tresco, which was where I stayed (at the New Inn). On the day it was time to leave, I took the island shuttle boat over to St Mary's, and then used the mobile number I had saved from the poster a few years before to summon a taxi to take me to the island's airport. From there I flew to Newquay, had lunch with a good friend of mine, and then flew on to Gatwick and caught the train home to Littlehampton. Maybe not the most carbon-footprint friendly way to do things, but I like to try out all varieties of transport.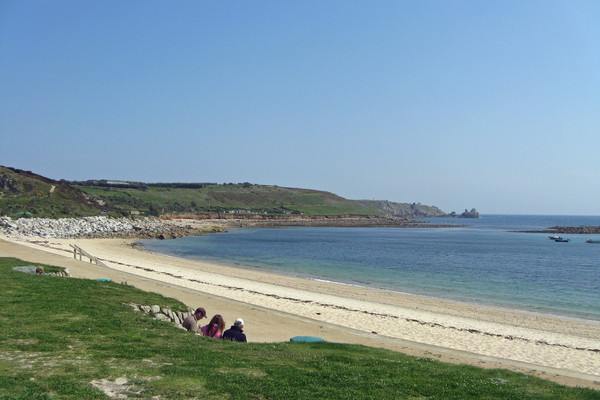 Hugh Town's southern beach, Porthcressa. 12th May 2008.
With Hugh Town being built on an isthmus, it has the rare feature of a beach on either side of the town. The northern beach (called Town Beach) is along the bay which is shared with the island's main harbour – where both the ferry arrives, as well as our local boatmen. The southern beach is unspoilt and has the rather charming name of Porthcressa. One of the things I particularly liked about being in the Isles of Scilly was that wherever you went, the ship was never too far away. You could purely rely on your bearings to ensure that you ended up back at the landing stage. Whilst I enjoy guided tours, I do greatly appreciate places like Hugh Town where we can simply have free time ashore to do as much or as little as we like.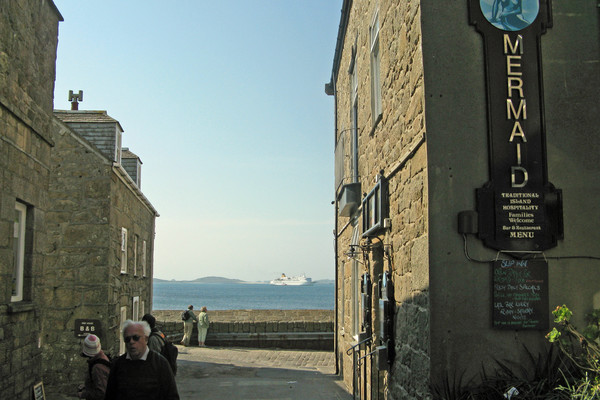 The ship sits at anchor in the distance, as viewed from Hugh Town. 12th May 2008.
And finally… I hope this blog has whetted a few appetites to either visit the Isles of Scilly, or return there. Many of you reading this blog will have perhaps cruised the archipelago, but have only had the chance to visit Tresco. In these current times of domestic cruising, I cannot recommend the Isles of Scilly highly enough. They seem to get things right down there – after all, remember that they were the only place in the whole of the UK that was allowed to have a pub open on New Year's Eve! They were also the first place to offer me a job last summer, when I eventually turned down the offer to become Tresco's postman. I will leave you this week with another photo of one of the boatmen's dogs. This was taken in the harbour in Hugh Town, with RMV 'Scillonian III' (launched in 1977) in the background. I wish you all a very pleasant week ahead. This coming Sunday (30th May) would have marked my 20th anniversary of being at sea. I'll dig out a couple of photos of those early days and share them with you next week. For now, all the very best and watch out for any overly affectionate dogs!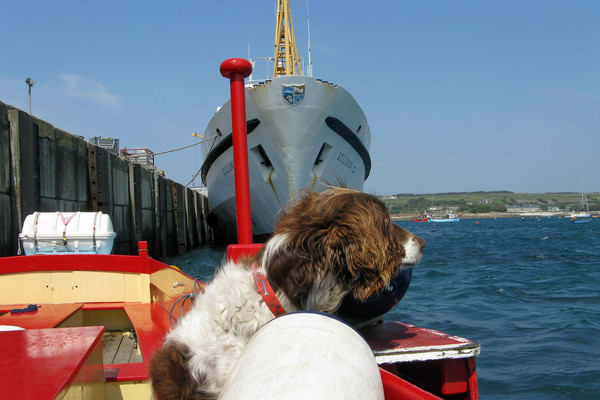 A boatman's dog casts an over of the ships in the harbour. St Mary's, Isles of Scilly. 12th May 2008.
View details of our small ship cruises to the Isles of Scilly
Previous Blogs