Childhood Memories and Future Ambitions
Good evening everyone! It's twenty past midnight on what is now the morning of Thursday 26th November. I hope everyone is doing well out there. I have been working the afternoon and evening delivery runs all this week, which means I only reach home at around 11.30pm. I did have one day off on Sunday, but devoted that to compiling a new quiz for you all, which you will find elsewhere in the Travel Post. I hope you have the chance to attempt it – and good luck! Normally, that would have been my blog-writing day, and I promise Claire, Stef and Laura in the office that I will have it to them each week before I retire to bed on Wednesday evening. Hence, I think I have a long night ahead of me. Fortunately, tomorrow is another day off so I can work late and have a lie-in. What has happened since I last wrote? Well, last Wednesday (18th November) I was thrilled to see that the episode of the documentary about Kent, that included the Romney, Hythe & Dymchurch Railway, was broadcast. Regular readers may recall that Paul O'Grady came to Dungeness on a day when I was volunteering as a guard. I talked about it in the blog titled, "How a Noble Caledonia holiday could make you a Millionaire". As he appears on camera, he is the same in person. A warm, generous, professional chap. Naturally, I was watching it, eagle-eyed to see if I appeared in the background at any point. Sadly I didn't, but it was an excellent piece of free publicity for our corner of Kent. Paul certainly knew his stuff. I can remember chatting with him on the platform at Dungeness and he was discussing how he knew that one of the railway's founders was Count Louis Zborowski. As well as being a narrow gauge railway enthusiast, Zborowski was also a racing car driver and had built three hugely powerful cars which he had christened "Chitty Bang Bang". A young Ian Fleming (of James Bond fame) had watched Zborowski racing at Brooklands. This later inspired Fleming to write the book series "Chitty Chitty Bang Bang", and the screenplay for the subsequent musical film. In the third book, Zborowski is a major character, where his relationship to Chitty is explored and his future deadly crash (at the Italian Grand Prix in Monza in 1924) is alluded to. Paul had trodden the boards of the London Palladium in 2002, performing as the Child Catcher in a twelve-week run of the stage musical, "Chitty Chitty Bang Bang", co-starring with Michael Ball and Brian Blessed. Hence, Paul was telling his production team how, in a somewhat bizarre fashion, he'd come full circle by being on the railway. If you missed the broadcast, then I'm sure you can catch-up on ITV player. He also visits Dungeness Nature Reserve and 'enjoys' taking part in a yoga session whilst surrounded by alpacas.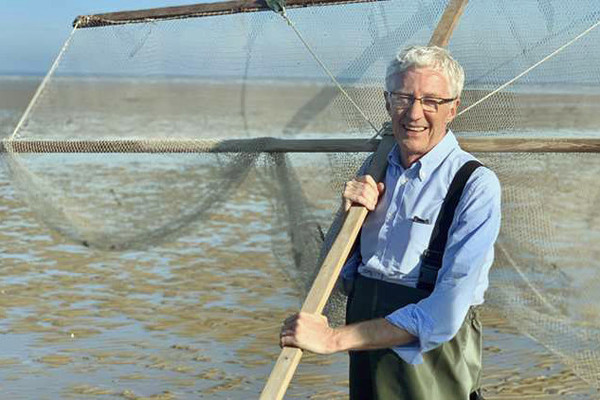 After arriving by steam train, Paul goes shrimp catching off the coast of Dungeness.
In other news, we have had the update from the government about Christmas. I hope that it is good news for all those reading this. Obviously, as I write, we are all waiting to find out which tier we will be in, and how the restrictions will then apply. I hope that we all have the opportunity to visit loved ones in a safe and secure manner. Whilst on my evening break yesterday, parked in a petrol station in St Michaels (part of Tenterden), I called my Grandma to wish her a happy 95th birthday. Due to her age and the various travel restrictions, I have not been able to visit her in Suffolk since last Christmas. I sincerely hope that I will have the chance to see her again this coming Christmas, even if it has to be at a required distance. Next year I am scheduled to be on a Noble Caledonia cruise that calls into Southwold on the Suffolk coast. I am tempted to invite her on board, but having discovered that it will be a zodiac landing, I'm not so sure if that's a good idea! I don't recall ever visiting Southwold before. The closest I think I came was when Grandma and Grandpa would take mum, dad, me and my brother over to Dunwich for fish and chips by the sea. I'm pretty sure I remember being told tales of how the coast used to extend further out and entire villages had been lost to the sea. Certainly mind-boggling for a child to comprehend!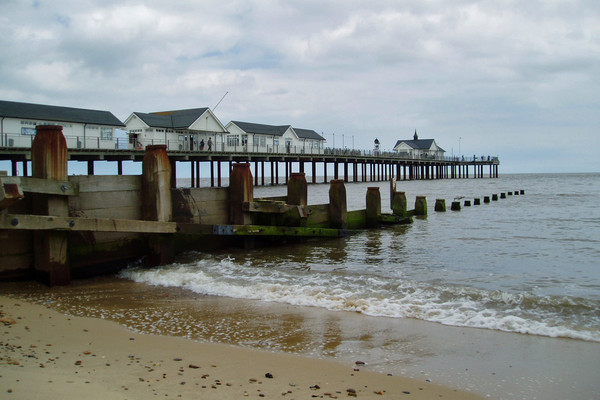 Southwold Pier – which we are scheduled to visit in 2021.
Last Saturday, I was delighted to listen, between deliveries, to Brighton & Hove Albion record only their second league win of the season. A 2-1 victory away to Aston Villa. The circumstances at the end were somewhat fortuitous, with the referee overturning his decision to award Aston Villa an injury-time penalty. However, I am one of those who feels that luck balances out over the course of a season – so it was about time some went our way. Speaking of football, whilst on my deliveries this evening, news broke that Diego Maradona has passed away at the age of 60. Undoubtedly a controversial figure, there was no denying his incredible talent. Hearing of his passing immediately reminded me of my first memory of watching football on television. It was the infamous "Hand of God" match at the 1986 World Cup. From a quick bit of research, that match between England and Argentina took place on Sunday 22nd June 1986. I was only eight years old, so the fact I remember it puzzled me as I would surely have already been in bed by the time it was shown. However, I've just looked up the details of the match, and it kicked-off at midday on the North American Central Time Zone, which would have been 6pm UK time. I can recall seeing the "Hand of God" as it happened and saying straight away that Maradona had punched it into the net. As an eight year old, I could not understand how I could see it immediately, from thousands of miles away, but the referee and linesman couldn't. Whilst, as a modern football fan, I may curse the use of VAR at times, it would be interesting to know what would have happened had the technology been in place all those years ago. I loved playing football as a child. The only problem was that I wasn't particularly good at it. The mental torture of being lined up against the wall of the gym at lunchtime while the two best players in our class picked their teams – and inevitably having to wait until the end – still lingers. However, when I became a Cub Scout, aged eight, in May 1986, all that changed. There was a wonderful league set-up between the cub packs of Arundel & Littlehampton District. Our joint managers, Ray Cudlipp and Barry Collimore, were utterly brilliant. Looking back, it was the first time I had ever seen teamwork in action. Our football team became the all-conquering heroes of our corner of West Sussex. We won the league and cup double and I still have the photo from the local newspaper somewhere…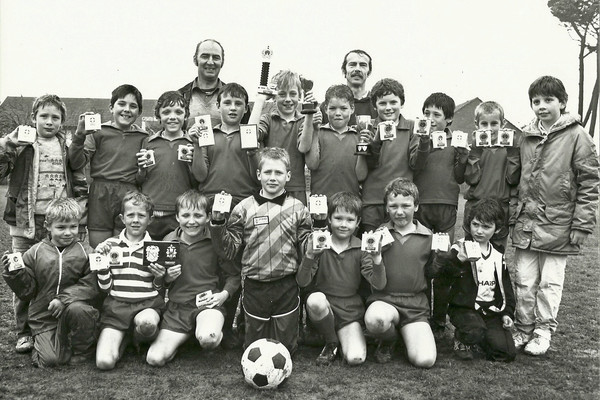 The superb 7th Littlehampton Red Pack football team in 1987
I will tell you which one is me at the end of this blog, in case you want to guess. I was quite tall for my age, but even then I had little speed. I therefore made for the ideal central defender. I think I ventured over the half-way line twice in the entire season, but I can well remember making several goal-line clearances and being determined that no-one would get past me. Very very happy days! As for the present day, I hope that soon we will be able to return to our various spectator sports. I didn't realise how much I would miss going to Falmer to see Brighton play. It's not just the match, but the chance to feel like you belong somewhere, and are part of a greater scheme to push your team on to glory (or at least avoid relegation). Fingers crossed for these new vaccines and let's get back to normal as soon as we can!
I'm sure that Noble Caledonia will not mind me telling you that I had a half-hour long phone conversation with the Head of Fleet Operations, Capt Mike Deegan, this morning. We were discussing the plans for 2022 with regards as to which cruises he would like to place me on. I'm not saying that I probably sounded enthusiastic, but given the current circumstances, I think I replied that if Noble Caledonia chartered the Gosport Ferry for an entire year then I would be happy on that right now! Writing that has just brought back memories of when I last took the Gosport Ferry. My best mate from university, Simon, lives up in Southport. He was a newly-qualified pharmacist back in 2000, having graduated in 1999. I graduated in 2000, and was then working at the Lloyds TSB share registrars in Worthing. Simon had been seconded down to Gosport for a short period. Back in May 2000, I had queued overnight in Manchester – on the night of my 22nd birthday and during my finals - to obtain tickets to Britney Spears' first UK tour. I clearly had my priorities sorted out. The concert was to be on Saturday 14th October 2000 at (what was then called) the Manchester Evening News Arena. I finished work on Friday 13th, went home to change and collect my bag, and caught the train from Littlehampton over to Portsmouth Harbour. I then boarded the rather splendid Gosport Ferry and met up with Simon on the other side of the harbour.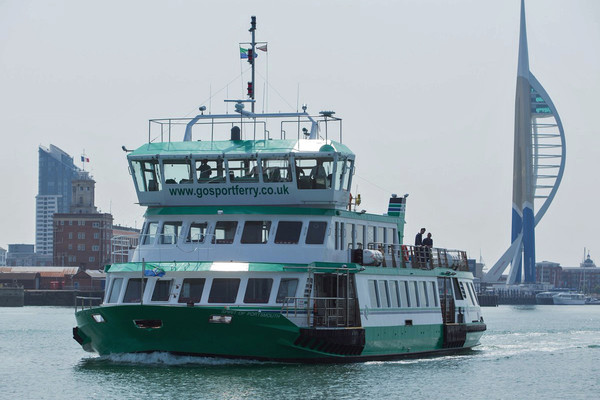 The Gosport Ferry with the Spinnaker Tower in the background
Maritime enthusiasts will be able to tell me if that is the Gosport Ferry I remember, as it looks rather modern in that photo! Anyway, Simon then drove us up to Southport and then next evening we were on the front row to see Britney on her first UK tour. I've always joked that, the moment she walked out on stage to sing "Lucky" whilst wearing a sailor's outfit, was the moment I decided I should leave the registrars and venture out to sea. I might add that we did bring Simon's younger sister with us to the concert, so that we didn't look completely mad! I think it was then that I also managed to create a vast Mexican Wave around the arena whilst we waited for Britney to appear. I wouldn't put it past me!
My other memory of the Gosport Ferry was that Simon and I hadn't realised that it was not always the rather plush green vessel as featured above. On the occasion of another visit, we decided to venture out to a few of the pubs in Portsmouth and Southsea. On returning to the pier for the Gosport Ferry, we asked a local fisherman, who was tied up to the pier with his rather ramshackle looking death-trap of a boat, when the next ferry would be departing. He replied, "The ferry's finished for the night lads. Us local boatmen take over from now on. Hop aboard". I never knew, up until that point, that it was possible to be seasick on a 'ferry' crossing a flat-calm harbour. I think it might have been nerves more than anything!
Thinking back to the phone conversation with Mike, it was obviously wonderful to be able to briefly lose myself in thoughts of being back at sea and doing what I love best. Itineraries that were mentioned included the likes of Sicily, the Black Sea, the Mediterranean, the Baltic and more. There was even the possibility of me being asked to accompany one of Noble Caledonia's fabulous private train holidays. I think Mike is concerned that I will spend more time trying to convince the driver to let me join him in the cab, rather than looking after our esteemed passengers. I'll keep my fingers crossed.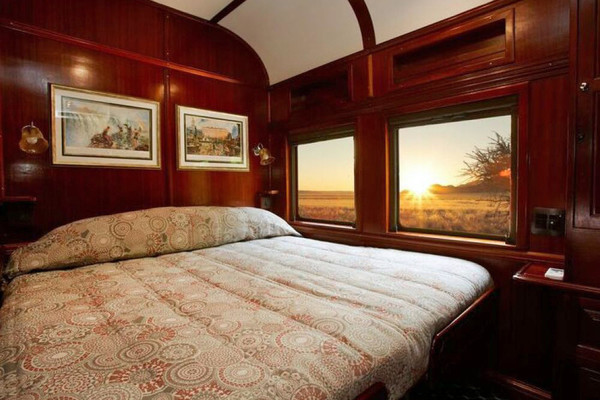 One of my life's ambitions will have been fulfilled if I can join a private train tour with views from the bedroom window like this!
I must also say a big thank you for all your kind emails. I endeavour to respond as soon as I can, and I have had various email chats with fellow passengers about all manner of subjects. Amusingly, in spite of my attempting to write about places that Noble Caledonia visit, I think the majority of the queries are about how to obtain a delivery slot with one's local supermarket! If I could offer any trade secrets then I promise I would let you know. In the meantime, I've already come to the end of this blog. It's just gone 3am and tomorrow is the day when I must make a start on the pile of Christmas cards that I have neatly assembled on my kitchen table. They have been resident there for about a fortnight now, so it is time I did something about it. I heard Jo Whiley on the radio yesterday evening, whilst on my deliveries, saying how she was encouraging everyone to send Christmas cards this year instead of text messages and emails. I didn't realise that I was so old-fashioned, as I have always used the medium of actual cards at Christmas! My first two have already arrived – one from my cousins in Vancouver and the other from Megan, who is the Field Staff Manager at Noble Caledonia and one of the most brilliant friends anyone could wish for.
And finally… I did say that I would tell you which one in the 7th Littlehampton Red Pack Cub football team was me. I am fourth from the right, holding up the league winners shield in one hand, and the cup winners shield in the other. Our goalie Colin, front and centre, went on to play professionally for Coventry City and later for Napier City Rovers in New Zealand. I visited the stadium in Napier whilst on 'Caledonian Sky' in New Zealand earlier this year and sent photos to him. Next week, I promise to return to writing about some of the places we have visited or visit, but I hope you'll forgive me for this week. All the best to everyone and thank you, as ever, for taking the time to read this. Bye for now!