B
rownsea and Beyond
Good evening everyone. It's 8.19pm on Tuesday 22nd September. I am sat here at home, having just watched the Prime Minister's address to the nation, and coming to the realisation that there is potential for this situation to roll on into next spring. When I took on the delivery job, it was because I wanted to do something constructive to help those who couldn't necessarily help themselves and with the presumption that it would be akin to a summer job, and that come the autumn we would all be able to revert back to life as we knew it before. From a purely selfish perspective, I have quite enjoyed delivering since early June, but I never thought that I might still be doing it during winter. There will undoubtedly be a stark contrast to delivering to a beautiful stately home, as I did today at Godinton House, in perfect weather – with delivering to an address that I can't find whilst driving in the dark on icy roads in the depths of winter. At this moment, a famous Churchill quote comes to mind, "If you're going through hell, keep going." Whilst I full acknowledge that there are those whose experiences are far worse than mine, the ultimate message is the same. There is no point standing still and dwelling on the misfortune of the situation we find ourselves in. Keep going, and hopefully sooner rather than later we will come out stronger on the other side. I find myself occasionally daydreaming about the day I can welcome people on board a ship again. In the meantime, make the most of whatever free time you have, and that is precisely what I have been doing since I last wrote…
On Thursday and Friday last week, I was only working the Friday evening shift (7pm to 11pm). The weather was wonderful, and so I decided to head away from Kent for a day and a half. I finished late on Wednesday, but was then up early on Thursday morning for the 164½ miles drive from Hythe to Wimborne. I adore having days out with Hazel, and we have included each other in our 'bubble'. On my last visit to Dorset you may recall we went to visit the Cerne Abbas Giant. I promised Hazel that I would arrive in Wimborne by 11.30am, and that she had to plan thereafter. After picking her up, we drove down to Poole and I said hello to an old friend on the quayside.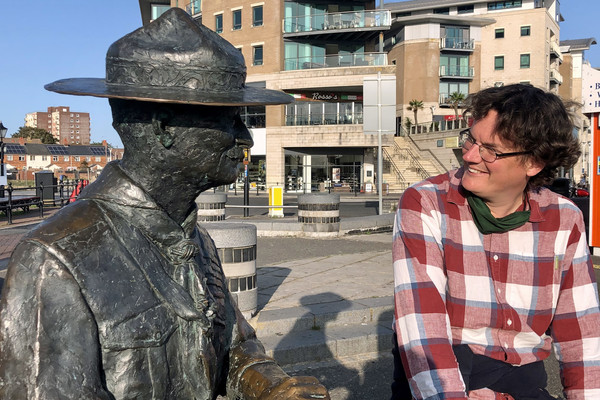 Having a chat with Lord Robert Baden-Powell at Poole Harbour

There has been quite a lot of media attention to the statue in recent times. I was fortunate enough to have been a cub scout, scout and venture scout. My time in the cubs, aged 8 to 10½, are undoubtedly some of the fondest memories of my life. Everything was new and exciting, and we had brilliant leaders to inspire us. You'll forgive me for not wishing to comment on the recent press coverage concerning the statue, but I will say that I am a proud former scout, and will forever be grateful to Lord Baden-Powell for founding the organisation that taught me so much. Those of you who know Poole harbour will be aware that his statue appropriately faces Brownsea Island. That was where Hazel had decided we would go on our afternoon adventure. We boarded the 1.30pm ferry (having missed the 12.30pm sailing because I wanted a homemade cheese scone from a local café) for the 15 minute transfer to the island. We sat on the open deck, wearing face masks, and with every other row of seats left vacant to facilitate social distancing. This may seem utterly ridiculous, but I felt a tinge of emotion to be on a boat again (not a ship, definitely a boat). The skipper announced that the emergency alarm is seven short followed by one long blast on the alarm bells and whistle. I looked at Hazel and said, "I could have told them that". A short while later, having had Harry Redknapp's house pointed out to me, we docked on Brownsea Island. I had been here once before, with my parents and brother, whilst on a day trip from a family holiday in Swanage about 30 years ago. I can't remember much of that visit, so it was good to be able to return and experience the island with (slightly) more mature eyes.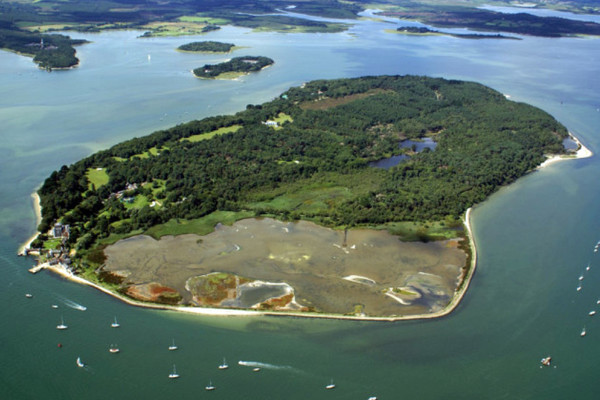 Brownsea Island Aerial View

As you may recall, Hazel is a wildlife enthusiast and expert. I had presumed, with her surprising me with a trip to Brownsea Island, that in my 30 year absence, a steam railway must have been built on the island – otherwise, what was the point in me being taken there! It transpired that there isn't a steam railway, or even a pretend one, on the island. It was then pointed out that all but one of our previous days out had involved some form of railway, and perhaps it was Hazel's turn to do something she enjoyed. Fair comment. I had a quick scan of the wildlife notice boards and decided that, instead of a steam railway, I would devote my passion to seeing a red squirrel instead. The weather could not have been more perfect, and the ferry sailings meant that you had three hours on the island. Our sailing was the final departure, and so the island had hardly any people on it. We meandered over to the area that is run by the Dorset Wildlife Trust. Hazel worked for the trust in previous years, and friends of hers live on Brownsea Island to tend to their part of this wildlife paradise. I sat patiently by the bird / red squirrel feeders and waited. And waited. And waited. Nothing. A few birds, yes, but no sign of a red squirrel. We continued our walk and Hazel was excited to see a Peregrine Falcon circling above us. We paused by a bench where an older couple were sitting, who had been on the same ferry as us. Converting instantly into 'Cruise Director Mode', I asked them how they were whilst Hazel continued to track the falcon. In the midst of our chat, they asked Hazel what species of bird she was looking at. Hazel replied, "It's a Peregrine Falcon – the fastest bird in the world". Feeling slightly more confident now that I had an audience, I replied to Hazel, "No it isn't". She spun round, looking puzzled, and enquired as to when I had ever had any knowledge about birds. Rather than confess my ignorance, I continued my argument. "The fastest bird in the world is a duck", I said, whilst nudging a wink to the gentleman sat on the bench. "A duck?" replied Hazel. "Yes, a duck", I said defiantly. "Ok then, what speed can a duck go?" Hazel asked me. With alarming certainty in my voice, I announced, "On 3rd July 1938, a 'Mallard' was recorded at 126mph." The gentleman on the bench laughed, his wife sighed, and Hazel brilliantly responded by saying, "But the highest measured speed of a Peregrine Falcon is 242mph". The smile left my face as I realised I had ventured into territory that I should never have entered and I admitted defeat.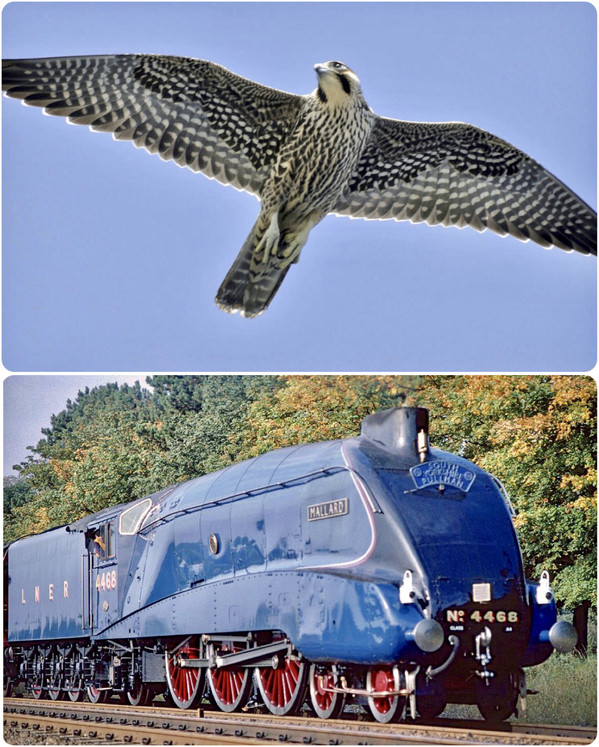 Easy to confuse a Peregrine Falcon and a Mallard!
We continued our meandering around Brownsea Island, still without a glimpse of the elusive red squirrel. We passed by another couple and they suggested that we try the patch of woodland behind the church. We wandered that way and I sat upon a fallen tree and half-jokingly said, "I'm not moving until I see a red squirrel". I turned to my right and there, about 1½ feet from my right hand, was a red squirrel looking directly at me! I used to think grey squirrels were cute, but nothing compares to these little fellas. From that moment on we seemed to be surrounded by them. At least half a dozen were around us. The trick seemed to be that you just stayed still, and then they would continue with their work as though you weren't there. One brave chap even came over and hugged my leg!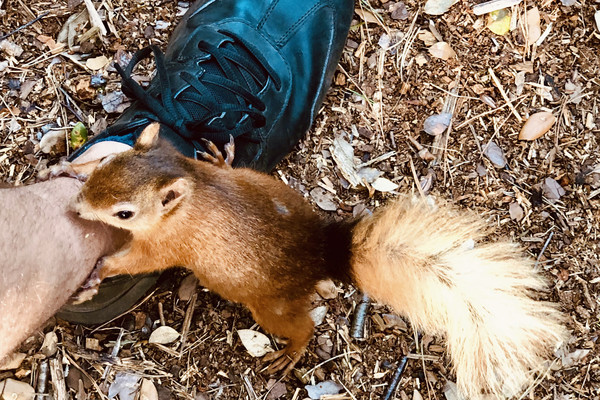 Feeling loved by a beautiful Red Squirrel
After taking far too many photos, we walked back to the church, only to come cross an incredibly tame Sika Deer who was happily crunching his teeth on some fallen chestnuts. Add the various peacocks, including a family with chicks, and it was a fabulous day.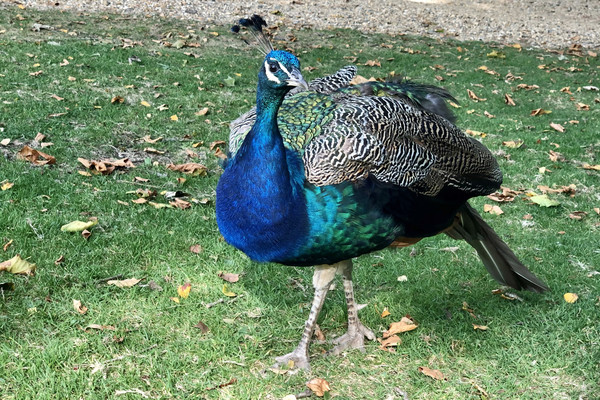 A Brownsea Island Peacock
All good things have to come to an end, and having bought a few postcards from the National Trust shop we boarded the return ferry to Poole. The skipper delivered a commentary on this occasion, and as we were approaching our destination he said that he would be grateful for any show of appreciation. With his commentary finished I burst into applause – but then realised I was the only one clapping. I thought that was what "showing your appreciation" meant. I hadn't twigged that it was a request for a tip.
Tired from the long drive in the morning, we had dinner at a charming Italian restaurant in Wimborne and then the next morning I headed off bright and early. I was on the evening shift that Friday, and had the idea that I could drive back to Ashford via lunch with my parents. So it was that mum, dad and I met in Rustington at their favourite café for lunch. The owner of the café is a hoot and it's always good fun to be there – and the food and drinks are fabulous. Afterwards, I came back to mum and dad's house with them, and took the opportunity to have a little tinkle on the ivories of my old piano. I do miss not having a piano at my house. As I am the only one in the family who can play, the logical thing to do would be to transfer the piano to my house, but I live in a terrace and wouldn't want to disturb the neighbours. Whilst I was playing, my parents being as kind and lovely as they are, took it upon themselves to transform into a Formula One pit crew and all-but service my car. Dad had topped up everything and mum had cleaned all the windows by the time I'd finished playing. I know I'm very lucky.
I made it back to Ashford in time to drive the evening shift, and collapsed on my bed once I finally reached home at midnight. The weekend saw various activities. I worked both Saturday and Sunday afternoons and evenings, but on Saturday morning I had my first 'zoom' meeting with the Romney, Hythe & Dymchurch Railway Heritage Group. It was a pleasure to be invited as they look towards the opening of a new display centre charting the railway's history. On Sunday lunchtime, I very happily listened to radio commentary as Brighton ran out 3-0 winners at Newcastle United. I went to St James's Park last season, the evening before I flew to Iceland for a Noble Caledonia trip on 'Ocean Diamond'. It was a heck of a long way to go for a goalless draw. What I would have given to see a 3-0 win instead!
Yesterday, Monday, was another brilliantly sunny day down here in Kent. The historical expert on the aforementioned railway is a dear friend called Andy Nash. I can remember Andy from my time as seasonal staff back in the mid-1990s, but interestingly it turns out that we now have many mutual friends. Andy has recently been a 'Gentleman Host' on board a former cruise line of mine, and we have since struck up a good friendship. Andy's house backs on to the Romney Marsh Model Engineering Society, which houses a loop of track that is 1/9th of a mile long. He is the rightfully proud owner of a 3½" gauge steam locomotive called "Spitfire" and had invited me to 'have a go' at driving her. With a free day, I took up the opportunity and drove down to New Romney. Andy took me through all the preparation. There is so much that goes into bringing the locomotive round so that she is ready to run that it would take an entire extra blog to cover. Suffice to say, she looked magnificent on the stand as her boiler gently warmed up.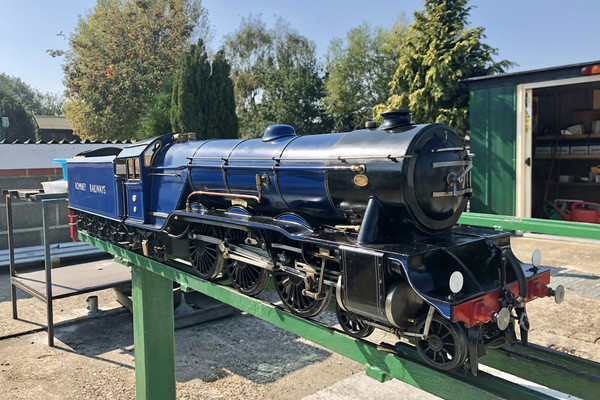 'Spitfire' being prepared for her run

Using the traverser we carefully transferred her to the running line, attached a carriage for the driver to sit on, and Andy took her (at a maximum allowed speed of 8mph) round the loop. I had presumed that I would be allowed to drive her but with Andy either sitting with me or jogging beside. I've never felt quite so nervous as when we said, "right, your turn". The locomotive was built in 1934 and was once driven by no less a figure than Sir Nigel Gresley himself. I had never driven a steam locomotive before on my own, and the sense of responsibility was unlike anything I can recall. I put her in forward gear, eased the regulator open, and away we went. I'm still smiling now just from thinking about it. After we had both completed numerous laps, it was time to learn how to put her to bed. Dropping the fire, letting out the water, cleaning her off, and much more had to take place before she was carefully placed back in her box. Thank you Andy – it's one small but significant step towards my ultimate dream!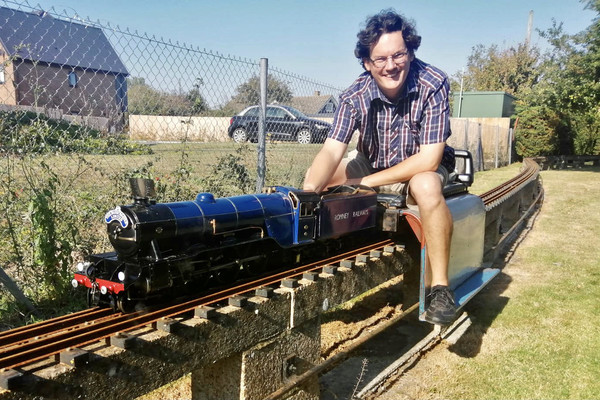 My first ever solo attempt at driving a steam locomotive!

With that, ladies and gentlemen, I have reached the blog limit and not mentioned any places of interest to cruise ships. Sorry about that. I hope you don't mind on this occasion. Maybe one year we will dock in Poole Harbour and visit Brownsea Island? I am working every day from now until the time I have to write the next blog, so will revert to type in next week's edition. To leave you with a happy thought, here is one of the red squirrels who came by to say hello on my trip to Brownsea Island. Goodbye for now…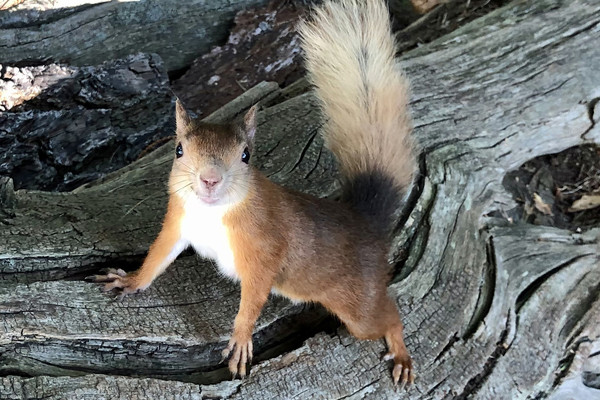 An utterly adorable Red Squirrel on Brownsea Island