Bordeaux & Beyond
Good morning everyone! It's currently Thursday 6th May and I have just over 2½ hours left until the deadline for sending this blog into the Belgravian office of Noble Caledonia. I appreciate that I might have just made up the word "Belgravian", but I like it so I'll leave it in. The reason I am running slightly behind my usual schedule, is that my usual schedule has taken a twist as of the start of this month. Whilst I was very kindly invited back to Noble Caledonia at the earliest opportunity, I had lengthy discussions with Tim Cochrane and others, and I decided that I would rather wait until I had received both doses of a vaccine before I head out to sea. Being one of the younger members of the on board staff who looks after the destination cruising, I knew that many others will have already been vaccinated, and therefore it seemed logical to me to bring them back first, and I will await my turn. Speaking of turns though, later this afternoon I will be heading into Folkestone to receive my first dose of the vaccine. I was relieved that I didn't book further afield immediately, and waited a few days until a more local appointment appeared. However, I did have to book the second dose at the same time (for late July), and the closest place was Chatham. Maybe the Historic Dockyard, where they film "Call the Midwife", will be open and I can make a day of it!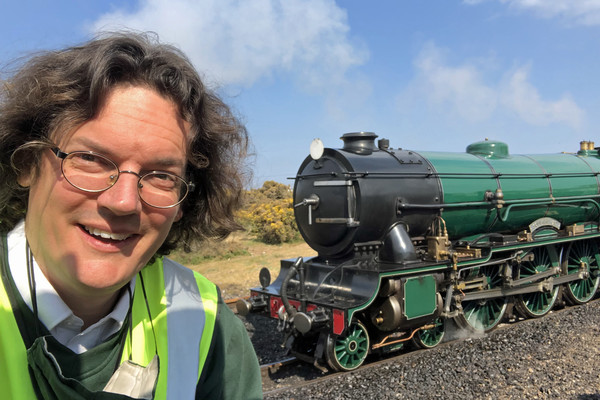 An ever-hairier me at Dungeness with 1926-built 'Southern Maid' on 1st May 2021.
In light of my decision to remain here in the UK, I realised this was a golden opportunity to make the most of a rare novelty for me – a summer at home. In the summers of 1996 and 1997 I had a paid job as a seasonal member of staff on my beloved Romney, Hythe & Dymchurch Railway. I feel very fortunate to have been able to take a position as a member of the seasonal staff for this summer. Pictured above is my on my first day in my new job. However, at the same time, the supermarket have been good to me since I have been working for them for almost a year. When I told them that I was thinking of leaving, they were surprisingly saddened, and asked me if I could remain with them for one day a week. After a bit of amicable toing and froing, everything was agreed upon. I now work my deliveries every Monday (and perhaps occasional extras), and I work for the railway for the rest of the week. I also write this blog, and compile the monthly quiz. Definitely enough to keep me occupied! Speaking of the quiz, thank you very much for your emails. Amusingly, some said that it was too hard, others said that it was too easy. When you receive that response, you know you've got it about right!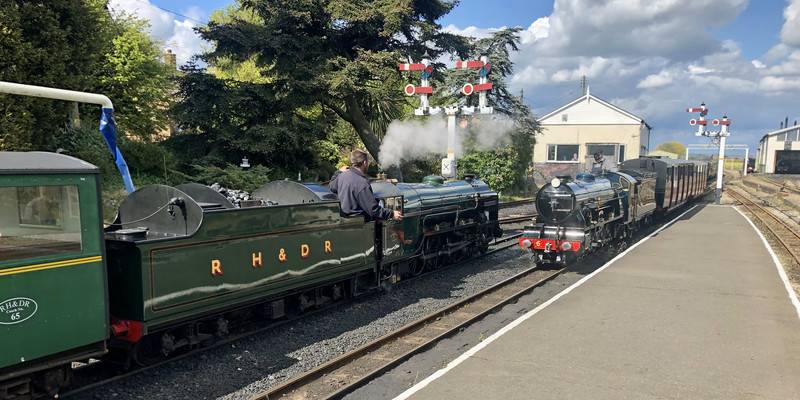 'Northern Chief' and 'Samson' pass each other at New Romney, 4th May 2021.

So it was that on Bank Holiday Monday just gone, I was out on my rounds, delivering in Ashford, Folkestone and Sandgate. I was climbing up the steps from a basement flat in Sandgate, and when I reached the road level a kind lady turned to me and said, "You're Neil Horrocks, aren't you?" Her husband then appeared as well, and it transpired that they were former Noble Caledonia passengers who had sailed with me, and have booked a "Summer in the Isles" cruise aboard 'Hebridean Sky' at the end of June, visiting Devon, Cornwall and the Isles of Scilly. It was wonderful to meet them and have a chat, but in my haste to keep up with my deliveries I forgot to ask their names. I hope they are reading this blog, and if so, thank you for being the highlight of my day! The previous day I had been asked to man the phones on the railway to deal with any queries. All manner of questions come in, from booking tickets, to asking about lost property, to checking which station they should be boarding at, etc. My favourite though had to be the person who rang up and asked if it was possible to purchase a ticket from Dymchurch to London Victoria. Said person had been looking on a map on their mobile phone, and the symbol that is used for the railway's stations by the tech giants is the old British Rail 'Double Arrow' logo. Perhaps those in Silicon Valley need to pay Romney Marsh a visit and they will realise the scale of things!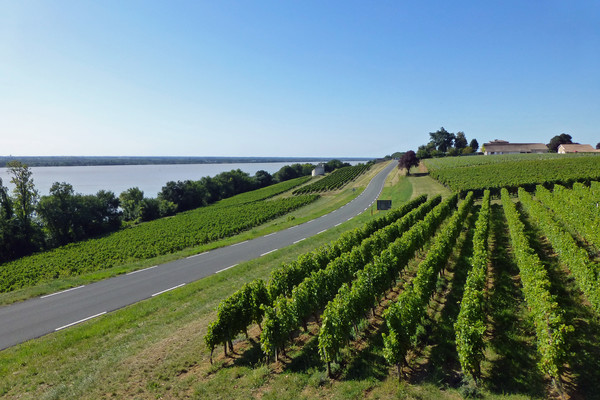 Looking out over the Gironde from Blaye, 7th September 2015.

Staying local, I thought I should conclude the monthly delivery statistics. I have evaluated all the details, and can tell you that I delivered on 24 days of April. I dropped off 378 deliveries, and the total truck mileage covered was 1,796.9 miles. If you take a route as-the-crow-flies, then that is the equivalent of going from my house to the Russian Black Sea resort of Sochi, or south to Mauritania, or down to Tenerife in the Canary Islands, or even to the southernmost tip of the Arctic archipelago of Svalbard. Alternatively, using a popular road route planner, I could have driven from my house in Hythe, Kent to Land's End, Cornwall, and then to the Glenmorangie Distillery in Tain, Ross-shire, Scotland, and back to my house again – and still have thirty miles to spare. The maths works out at a delivery every 4¾ miles. In order to achieve this, from the time of clocking-in to clocking back out again, I took a total of 202,663 steps (or 536 per delivery). Writing 'Glenmorangie' immediately made me think of Guest Speaker John Love. He was the first person to tell me that the emphasis should be placed on the second syllable "mor", and not on the third syllable "ang". It is lesson I will never forget.
Looking down from the belfry into the heart of Saint-Émilion. 8th September 2015.


Last Sunday, as per the new rules, I was invited to a friend's house to have a catch-up over nibbles in their back garden. Although I was driving both ways, I still feel it is courteous to arrive with a bottle of something, even though I can't drink it. I only have wine if I am sharing it, and naturally that has not been very possible since March last year. Hence, my stock of wine has remained quite healthy. Without realising it, the bottle I had picked up was from Saint-Émilion. My friend's back garden opens out onto the River Stour that runs through Chartham. Nearby, the river passes underneath a paper mill. It was previously a fulling mill, but became a paper mill around 1730, and is still in use today. Interestingly, it is where tracing paper was invented, after a worker accidentally added too much starch to the mixture. Sitting in my friend's back garden, with them drinking my Saint-Émilion wine, whilst watching the river gently flow past, immediately brought back memories of a Noble Caledonia river cruise I was fortunate enough to enjoy in September 2015.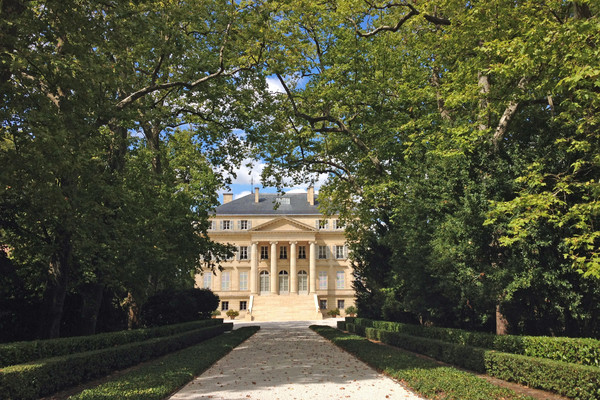 The beautiful approach to Château Lanessan, 6th September 2015.

I am sure that many readers of this blog will have been to Bordeaux. Perhaps many times. It is definitely one of my favourite destinations. I just wish that it could be moved away from the Bay of Biscay! One of the reasons for it being a favourite destination is that you have to have an overnight stay in the city. The reason is that, due to the tidal difference in the river, you can only arrive or depart on the high tide. With the sea-going vessels, you dock within easy walking distance of the centre of the town, and it makes for a fabulous night out. Back in 2013 my birthday coincided with an overnight stay in Bordeaux. I felt very lucky. Next week, my birthday will be spent in Kent, which ironically is rapidly developing into a famous wine region of its own! The main stumbling block in progressing up river from Bordeaux is the Pont de Pierre which crosses the Garonne and greatly reduces access upstream. It was no mean feat to construct the bridge in the first place, given that the tidal range is 20ft (6m). An interesting point, but one that no-one seems sure as to whether it is true, is that the bridge has 17 arches because that is the number of letters in 'Napoleon Bonaparte'. It is one of those stories that I like to believe, as it makes for a good tale.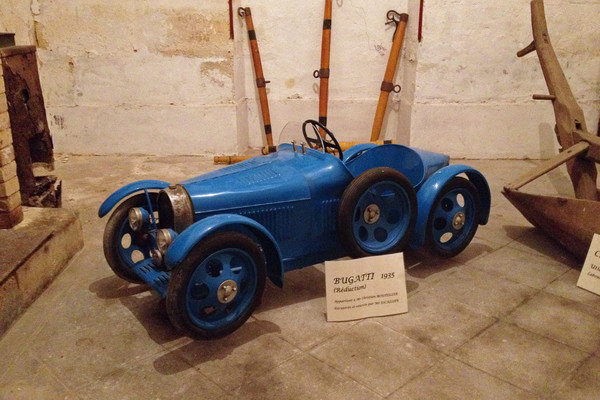 A stunning child's version of a 1935 Bugatti in the stables at Château Lanessan, 6th September 2015.
In order to reach the wine regions further upstream, a few beautiful luxurious vessels have been constructed that can pass through the arches of the Pont de Pierre when the tidal conditions are right. I was on one of these vessels, on behalf of Noble Caledonia, back in September 2015 and had a most joyous week. I hadn't realised, until I was on board, that the basic itinerary was that we would leisurely sail along the river in the morning, dock at lunchtime, explore either a château, a town, a vineyard, or a combination of all three in the afternoon, and then remain docked overnight before sailing off again the next morning. Perfect way to travel, especially if you're not much of a morning person – which is an allegation that has rightly been thrown my way at times.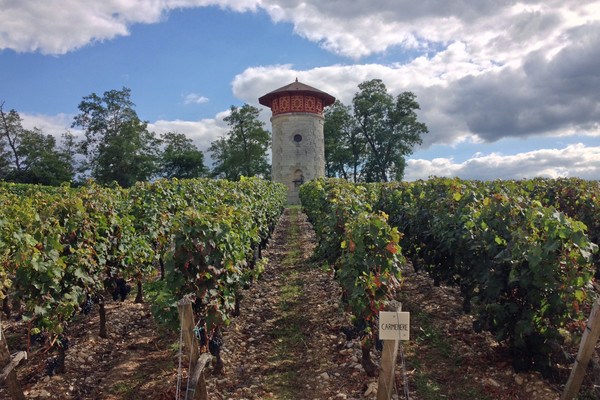 The vineyard at Château Lanessan, which we visited from our berth in Pauillac. 6th September 2015.
The three previous photos have all been from our afternoon visit to Château Lanessan, which is located in the commune of Cussac near Fort Médoc. Our visit there was one of my favourite visits of the week-long river cruise. The château itself was built in 1878 by André Delbos in a mock-Tudor style. However, the earliest records of the estate indicate that Dame Paironne la Montagne, the widow of Henry de Lanessan, sold the estate on 15th January 1310. In addition to building the château in 1878, stables were added. When we visited, parts of the stables now housed historic pieces from the château, including the amazing model of a Bugatti car from 1935. Whilst the 'Top Gear' team might like to race a Bugatti Veyron at up to 253mph, I'd much rather have the version pictured here. No doubt the car insurance would be a lot more manageable too!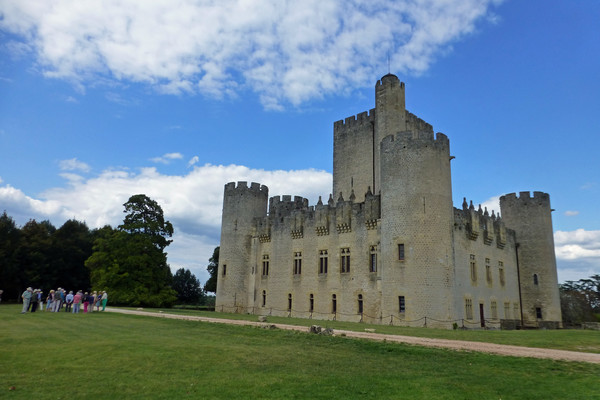 Visiting Château de Myrat, having already been to Château Fort de Roquetaillade. 5th September 2015.
As with all these visits to the châteaux, there would be a look around, a guided tour, and most importantly a complimentary wine tasting. I can recall one of the guides, who was wonderfully flamboyant, telling me how much he loved the way the English do wine-tasting. I remember being puzzled, and thinking how can it be any different to how others do wine-tasting? He then explained that after he has conducted a wine-tasting with a French group, they have to allow time to wash and clean all the spittoons. However, when he hosts an English group, the spittoons are always still immaculate after every class. I didn't know whether to apologise or to feel proud! The photo above was taken on our visit to Château de Myrat, which is part of the Sauternes appellation in Gironde, in the rather serious-sounding region of Graves. I remember this visit in particular because we were offered the chance to sample a sweet white wine (not something that springs to mind on a Bordeaux river cruise). The sweet white wine had been ranked as a Grand Cru of Second Growth class in the original Bordeaux Wine Official Classification of 1855 – and very nice it was too. You won't be surprised to learn that there is always the opportunity to purchase wines at the end of the tastings. I can remember being shocked at how cheap the wines were, but then of course there are no transportation costs involved. There is even often the opportunity to place a large order and they will deliver directly to your home. Splendid!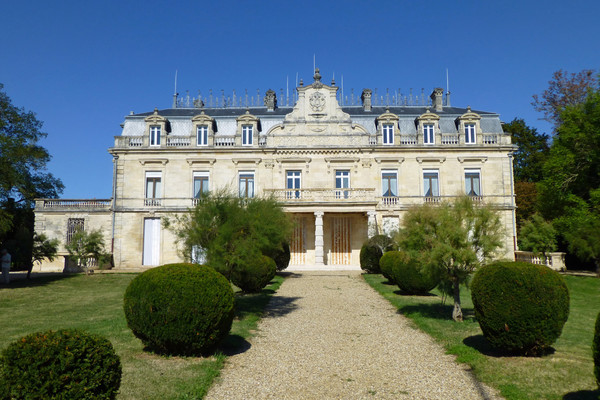 The ornate façade of Château de Tayac. 7th September 2015.
The photo above was from our day trip to Bourg-sur-Gironde. We included visits to Blaye, Bourg and also Château Tayac. We had to be careful not to confuse it with Château de Tayac, which was a nearby castle that had been cut into a cliff. During the course of the Hundred Years' War, it was held alternately by the English and the French, suffering successive sieges. Having enjoyed the Bordeaux river cruise, I can quite understand why the area was such a prized asset. My main memory of visiting Château Tayac was that they had an array of bottles on display containing their Cotes de Bourg wine. One of the bottles had a capacity of 18 litres. I had never seen a wine bottle that was so large. I don't think anyone would have had a suitcase that could accommodate one of them. It truly was a beautiful piece of glasswork.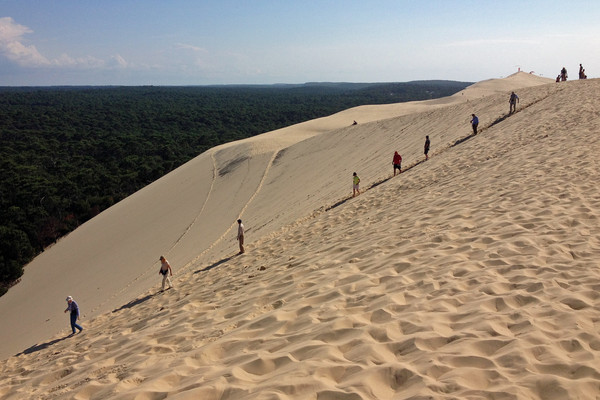 Our brave passengers head down Europe's largest sand dune in Arcachon. 10th September 2015.
And finally… whilst little to do with wine, on one of our days in Bordeaux we headed 34 miles southwest to the shores of the Bay of Biscay. We arrived in Arcachon Bay and the photo above depicts an unexpected highlight of the trip. There, apparently surrounded by lush forest, appeared Europe's largest sand dune, the Dune du Pilat. It is nearly two miles in length, 1,600ft wide, and reaches a height of 360ft. It is also a moveable feast, heading inland at a rate of 16ft a year. Bravely, my intrepid fellow explorers scaled the side of the dune to admire the view of Arcachon Bay from the summit. We then slowly but surely walked, or in some cases slid, back down the dune and headed into the town of Arcachon. The bay itself provides perfect conditions for growing oysters, with almost two hundred hectares of the bay dedicated to oyster farming. Although I was 37 years old at the time of this trip, I had never tasted an oyster in my life. Given I was in the ultimate oyster-growing region, and we were being offered a complimentary tasting, I thought I better have a go. What I learnt from that experience is that you are meant to taste oysters with something else. Simply eating an oyster on its own doesn't really do much for one's taste buds. Still, it was a lesson learnt. With that, I have come to the end of this week's blog. I know that Noble Caledonia still offer river cruises from Bordeaux, and even if like me, you only have a passing interest in wine, then I would still recommend the trip. Smooth seas guaranteed, and the scenery and buildings are stunning. I would love to travel from Bordeaux again, but I might stick with the pain au chocolat rather than the oysters, if you don't mind!