Bon Voyage!
Good evening everyone! It's the evening of Wednesday 15th September 2021 as I write this, and I'm happy and sad to say that I have been told this is my last blog. "Happy" because it means that my return to a life on the ocean wave is becoming ever closer. "Sad" because the blog has become a good friend. To sit here every week, or more recently every fortnight, and write about whatever has come to mind has been a joy. I say it has 'become' a good friend because I was wary of compiling this blog at first, not knowing whether tales of my personal life, along with those of the places we have visited, would be of interest. However, soon after publication of the first blog, the emails started to come in and I realised that there was an appreciative audience out there – and I will always be grateful for that. Two days ago I completed my last delivery run for the supermarket.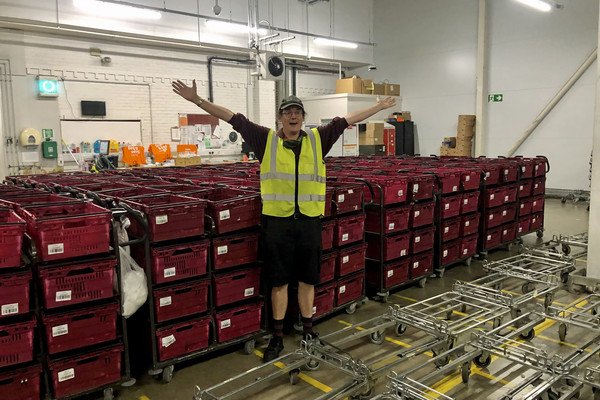 My last shift is complete. 10.01pm, 13th September 2021.
My final run was relatively simple. It was only ten deliveries spread over 37 miles on an eight-hour shift. As regular readers will know, I kept tabs on the number of deliveries I made and distances that I drove on each shift. The final tally from my first day (5th June last year) to my last day (13th September this year) tells me that I made 3,827 deliveries and drove a total of 18,520.6 miles. That is the equivalent of London to Auckland and over half way back again! I will always be thankful that the supermarket took a chance on me, and I hope I repaid them. I lost count of the number of last-minute overtime shifts that I completed for them, and I'm pleased to say I never had a day off for being unwell. I presented a couple of large chocolate selection boxes to the chaps who do all the loading of the trucks, and wished everyone well. Whilst you work individually, there is a camaraderie among the drivers, who particularly during the pandemic came from all walks of life. Maybe one evening in the ship's lounge I will be able to tell you some of the stories that I rightly wouldn't be allowed to type here!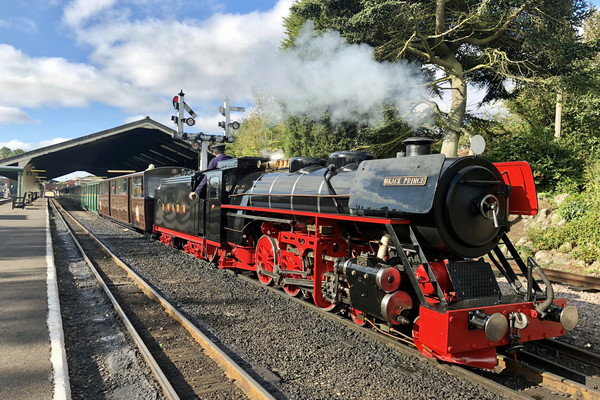 'Black Prince' waits to depart New Romney with the 9.50am to Hythe. 15th September 2021.
Yesterday, today and tomorrow I am the signal man at New Romney. Bizarrely, after quite a dull August, the weather has picked up and these first two weeks of September have been much more summery. As you can see from above, the sun was out this morning and I took the opportunity to take a photo before "Black Prince" – which returned to service within the last month after a long overhaul – headed off to Hythe. She (yes, the locomotive is a 'she' in spite of its name) is the only steam locomotive that is not part of the original fleet. Whilst all the other mainline locos were built in England between 1925 and 1931, "Black Prince" was built in Essen, Germany in 1937. She came to the Romney, Hythe & Dymchurch Railway in 1976 and a local newspaper ran a competition to choose a new name for the locomotive, to replace her German name "Fleißiges Lieschen" ('Busy Lizzie'). As many people have found out since, it is not always the best idea to ask the general public for their suggestions. Much to everyone's amusement, the most popular choice was "Spitfire". Whilst appropriate for a steam engine, it was understandably considered rather undiplomatic for a German built locomotive, and so the name "Black Prince" (which had previously been carried by another loco at the railway) was used instead. At least she didn't end up as "Steamy McSteamface"!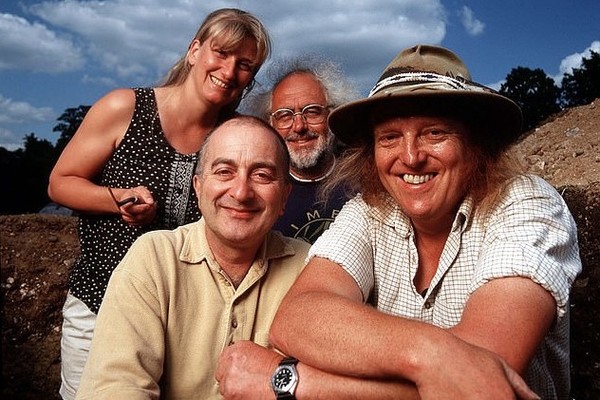 The main cast of Channel 4's "Time Team".
Back on Wednesday 8th September I was again the signal man at New Romney when the 2.35pm train arrived from Hythe. One of my tasks is to check the rear of the arriving train, to ensure that the train has arrived complete and therefore I can issue 'line clear' to Hythe and they can send another train to me. As a result of this, I tend to have a brief chat with the passengers in the last couple of carriages. As I approached, I heard a voice come from inside the carriage that I instantly recognised. It was renowned archaeologist Phil Harding, of "Time Team" fame. His strong Wiltshire accent and enthusiasm for archaeology made him something of a household name during the peak of "Time Team". I was at sixth form college and then university at the time it was broadcast, and it was always a delight to have that moment on a Sunday when I could switch off the outside world and be transported back hundreds or thousands of years in the company of Sir Tony Robinson, Professor Carenza Lewis, Professor Mick Aston and Phil Harding. Phil was wearing his trademark hat and was full of enthusiasm about the railway. He was asking me so many questions during the train's brief pause at New Romney that I delved into my bag and gave him my copy of the railway's guide book as a gift, and encouraged him to take the time to view the engine once his group reached Dungeness. When the train returned from Dungeness, the driver informed me that he had indeed had a long chat with "a lovely chap with a strong country accent". I asked if they had come back on the train, but was informed that they had noticed the pub which is a couple of hundred yards from Dungeness station and not returned. Still, it put a spring in my step to have met and briefly chatted with someone who I always thought must be one of the nicest gentlemen ever to grace our screens.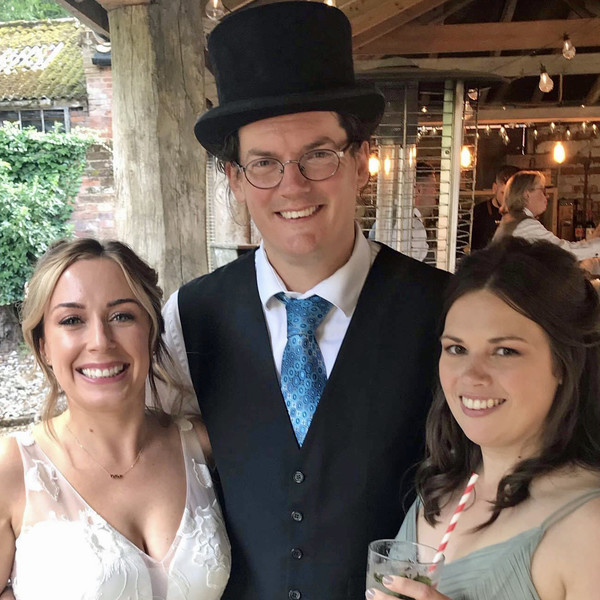 Abbey, me and Megan at Abbey & Rhys's wedding. 9th September 2021
It was pointed out to me the other day that I haven't taken any paid time off from the supermarket or the railway this summer, and so I was granted three days off at the end of last week. The timing was perfect as it meant I could do something different, but splendid, on each day. On the Wednesday evening I took myself to the Marlowe Theatre in Canterbury. I was a member there and have seen many shows, but the most recent was the pantomime on New Year's Eve 2019. It felt good to be back in a live entertainment venue again. The show was comedian Jack Dee, who I enjoy listening to when he hosts, "I'm Sorry I Haven't A Clue". Whilst the show was officially sold out, there were quite a few empty spaces. Given the show had been postponed three times, Jack mused as to whether the absentees were not yet comfortable with going to the theatre, or had forgotten that they'd bought tickets over two years ago. The following morning, I set out to deepest, flattest Suffolk to attend the wedding of my good friend, Abbey to her now-husband Rhys. The weather was perfect, and the setting at Belstead (near Ipswich) was idyllic. Back in June I had been sat with Megan in Abbey's back garden in Dartford and joked that I could play the piano for Abbey's wedding. Earlier that day I had played the piano on Ebbsfleet railway station, which was the first piano I'd played publicly since leaving the 'Serenissima' in March last year. Abbey and Megan dismissed the idea, but then Abbey wrote to me a few days later saying how she would love to have me play for the welcome drinks and the mixing and mingling after the ceremony. Sadly, the venue didn't have a piano, so I decided that my wedding present to Abbey and Rhys would be that I would hire a piano and play it for them. Wanting to look the part, I found my top hat, but left the tails at home, and everything went swimmingly. Abbey and Megan both worked for many years at Noble Caledonia. Abbey has now ventured on to pastures new, but Megan is still with Noble Caledonia and we look forward to welcoming her back after her maternity leave.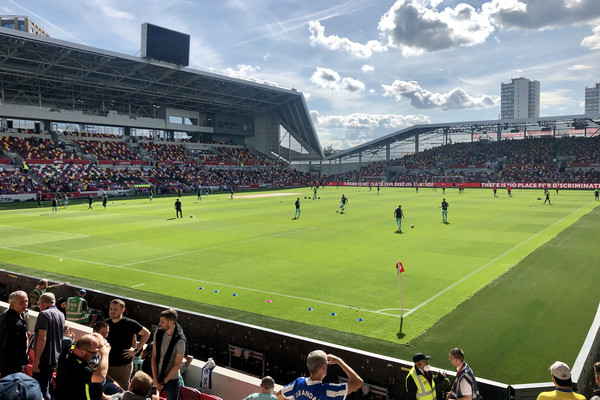 Waiting for the match to start. Brentford v Brighton, 11th September 2021.
I stayed overnight in a hotel near the wedding venue, and then walked back there the following day to retrieve my car. My grandmother lives in Suffolk and, now that I'm finally double-jabbed, I felt confident enough to visit her. I also took a lateral flow test on the morning that I drove up to the wedding, to give myself the extra peace of mind. I hadn't seen Grandma since Christmas 2019 and it was wonderful to be in her company again. One of my Noble Caledonia colleagues, Cassie, happens to live opposite my Grandma and has been incredibly kind in looking out for her and assisting her with all manner of things. Thank you Cassie! My Grandma has always had high standards, and so on the drive to her house from my hotel, I called in at a car wash in Stowmarket so that the car would look splendid when I arrived. One of the things I hate most in life is wasps. I appreciate they have a right to exist, but preferably not near me. I had lined up the car wheels and put the gear in neutral as the conveyor started to haul the car through the washing apparatus. I suddenly felt a stinging pain in my arm and looked down to discover a wasp. My immediate reaction was that I should open the car window and encourage it to leave. However, at that moment the colourful mix of chemicals started to hit my windscreen as we edged further into the car wash and I knew my fate was sealed. I think the wasp must have used up a lot of energy in its initial sting, as it put up only brief resistance to my complete panic. After leaving the car wash I had to go back into the adjoining petrol station and buy some sting relief cream, and even now, almost a week later, I still have a rash where I was stung. That is definitely one of the highlights of being at sea – no wasps! Grandma and I had a wonderful time together and we enjoyed lunch out at 'The Dog' in the nearby village of Norton. I then headed back down the A12 and the M20 and was home later that evening. The next day, I went into London for the first time since I arrived back in the UK from 'Serenissima'. I caught the train from Sandling to Waterloo East, walked across to the main Waterloo station, and then continued to Kew Bridge to go and watch Brighton & Hove Albion play at Brentford's new stadium. To win an away match, as a Brighton fan, is rare. To win an away match with a goal in the 90th minute is unheard of. However, it came to pass that we did just that and I was one of the 1,500 or so Brighton fans who felt very happy that day. I managed to get home in time to watch Emma Raducanu's majestic triumph in the US Open and then switch over to 'Match of the Day' to see our winning goal on television – having only seen it from the opposite end of the ground earlier in the day. Suffice to say, I made the most of the three days off, and went back to work on Sunday feeling re-energised and ready for this final week before my preparations begin in earnest for heading back to sea.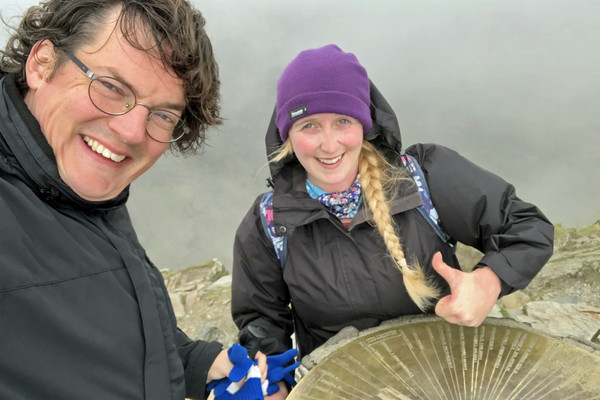 A blustery selfie on the summit of Mount Snowdon with Hazel. 14th October 2020.
As I now start to think more about heading back to sea, I have scanned through all the blogs that I have written since April last year. Whilst it has at times been very difficult, more due to the uncertainty of not knowing when things might change, it has also been very rewarding. I never thought I would do a "manual" job, and I am certainly fitter for it. I have increased my levels of competency at the railway. I now know far more than just the M20 and the A259 when it comes to the roads of Kent and East Sussex. For the first time in my life I went on a week-long holiday with someone – and that week in west Wales with Hazel was easily the highlight of my forced extended stay in the UK. How on earth she got me to climb up Mount Snowdon when a perfectly good railway was available, I'll never know. It's said that, "love can move mountains", but in this case it made me climb one instead. Thank you Hazel. Overall, being made to stay local, or at least domestic, this past year-and-a-half has increased my appreciation of what we have here in this country of ours. However, being denied the opportunity of international travel has also meant that I feel I will never again take for granted the ability to travel to far-flung places and experience everything the world has to offer.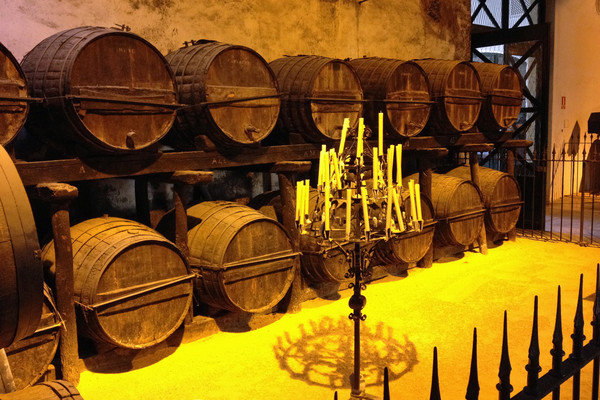 Inside one of the historic bodegas near Cádiz, Spain. 7th November 2015.
I noticed recently that the "Hebridean Sky" has now added a selection of short cruises from Málaga to Seville and vice versa in November and December. I like the idea of having the ship based in port at the start and end, with the cruise section in the middle. Those particular regions of Spain, with a one-day visit to Gibraltar in the middle, are delightful. My favourite moment would be the visit to Jerez de la Frontera, when we head inside one of the stunning bodegas. The photo above was taken on one of the many visits to the bodegas. The quality of the sherry is so good that I am now going to pause this blog whilst I pop downstairs and pour myself a small glass. Bear with me… I am back now, and it feels appropriate to be finishing this last blog with a sweet sherry. I remember that the souvenir shop within the bodegas were very good value for money, so if you are thinking of a pre-Christmas get-away and the opportunity to purchase some unique Christmas presents, then these are definitely the cruises for you! I would be tempted to ask to be on them myself in December, but I have no doubt they are already fully staffed, and selling fast. As a last few words… I would like to thank every single person who has taken the time to email in response to these blogs. I apologise for the replies being somewhat erratic, but I intend to fully catch-up during the upcoming days of isolation. Thank you to all those who read these blogs but haven't felt the desire to be in contact – I look forward to chatting with you once we are sailing together again. Thank you to Laura Cochrane, Claire Matin and Stephania Sportelli at Noble Caledonia who have been so kind in allowing me to write this blog and make it appear with all the photos in the right order. And finally thank you to all those I have unexpectedly worked alongside in these past 18 months. As you can see from this final photograph, the one thing I won't miss is when the satnav device tells me to go straight on at the roundabout and I end up in a random field. With tears genuinely welling up in my eyes as I type, I'll end with… "Bon Voyage!"
Never trust a satnav. On an impromptu "Field Trip" near Dover. 6th September 2021.