Birthday Memories

Hello everyone! Thank you again for the lovely comments regarding the blogs so far – particularly the epic tome that was my most recent effort. I have been given quite a few ideas for future blogs and I will try and include them in future posts. So, what to write about today – Monday 11th May 2020. Well, as most of us are, I'm still at home. I've been keeping myself busy around the house and garden. For my daily exercise I've been litter-picking along the route of my beloved Romney, Hythe & Dymchurch Railway and looking forward to the day when it can re-open and I am able to volunteer again. In thinking of a subject for today's blog, I decided to reflect on the fact that it's my 42nd birthday today. A dear friend of mine, who lives near Canterbury, surprised me by ringing my doorbell yesterday (the only time I think it's been rung since I came home in mid-March) and she had baked a cake for me and included a candle. Emma and I met on a cruise from Reykjavik, Iceland to Halifax, Canada back in 2013. She was part of a choir from the University of Cambridge that we had on board to help entertain during the many sea days. We have been friends ever since, and we share the same birthday, although quite a few years apart. Some of you reading this may have met Emma as I flew her out to the Caribbean to join me on Serenissima from Antigua to St Lucia in March 2016. Needless to say, I was deeply moved yesterday to be so beautifully surprised. Thank you Emma!
Now, since I joined Noble Caledonia, where have I been on my birthdays? 2015 – I was disembarking from Caledonian Sky in Osaka, Japan and flying home; 2016 – I flew from Manila, Philippines where I had been visiting my Goddaughter, to Kobe, Japan to embark Caledonian Sky the next day; 2017 – I visited Serenissima in Portsmouth before having dinner with my parents in Littlehampton; 2018 – I was in Wilmington, North Carolina, USA with the Hebridean Sky; 2019 – I visited my Grandma and my parents; 2020 – here I am in Hythe. The most memorable of those has to be 2018, partly because it was my 40th, and partly because it was a delightful day…
My first encounter with Wilmington, North Carolina had been in the February before our May visit. Saskia Vrolyk, who was the person at the office looking after the cruise, had asked me to fly out to visit Savannah, Charleston, Wilmington and Morehead City and meet with the local agents. It had been many years, if at all, since Noble Caledonia had visited these ports and Saskia had felt it would be useful to have me meet with the local agents and go through the planned shore excursions – in terms of logistics and practicality – and also see what we could offer during free time. It proved to be an invaluable experience as it meant I already had a working relationship with the local agents when we subsequently arrived with the ship, and could react knowledgeably to any changes that we needed to incorporate. The local agent in Wilmington was a wonderful lady called Patty Rogers, who runs her own local tours company, charmingly titled, "Trips by Patty". We are still in touch to this day and enjoy catching up with each other's news. I had been impressed with Wilmington from the outset. It was a delightful town, and the sail up the Cape Fear River made for a very sheltered berth. The nearby tourist attractions were interesting and varied, and the enthusiasm of Patty and her colleague towards the ship's upcoming visit was transcendent upon me. And so it was that we left Charlestown on 10th May and sailed up the coast, crossing from South Carolina to North Carolina, up the Cape Fear River, and, having turned the ship in the river, docked in Wilmington on the morning of Friday 11th May 2018.
I had not told any of the passengers that it was going to be my birthday, as I am always wary of doing so in case it gives the impression that you expect something. Obviously the ship's company were aware, because when you sign on to ship's articles you have to give your date of birth. The cruise itself was from Nassau, Bahamas to New York, USA. The passengers had joined the ship in Nassau on 6th May, and they had enjoyed an overnight stay in Nassau, followed by a day at sea, and then visits to Port Canaveral, Savannah (from Charleston), Charleston itself and now Wilmington. The Hotel Manager, the legendary Antony Chorley who does the best Louis Armstrong impression you will ever hear, had seen my date of birth and told me that he'd kindly bring a birthday cake on to the aft deck as we sailed away after our visit to Wilmington. That would be more than enough for me! People often ask me if I prefer having a birthday at home or at sea. I confess that being at sea is far more fun – and the cake is infinitely better than anything you could buy in a shop! There were a couple of passengers who were aware of the significance of the day, and they were my parents. I promise it is only by chance that they were on board the cruise that I wrote about last week too. They average one a year with me. However, they had never been to the USA and my father had previously told me how he'd always wanted to visit Cape Canaveral and New York. When this cruise came along, which included both, I persuaded them to sign up for the trip.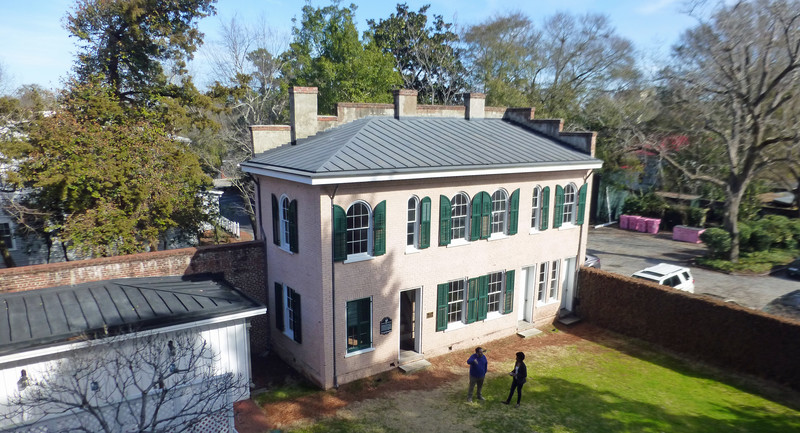 So it was that I dispatched the shore excursion in Wilmington and then headed down the gangway to join the last coach. As I stepped on board, Patty announced over the coach's public address system, "Isn't it wonderful to be here on Neil's 40th birthday! Let's sing to him". And with that, the secret was abruptly out. The shore excursion proved very successful. We visited the Bellamy Mansion Museum, the Thalian Hall and then the USS North Carolina. The Bellamy Mansion was constructed from 1859-61. It was a classical style house, built by slaves and free black artisans, for John Dillard Bellamy (1817-96) who was a physician, planter and business leader; and his wife Eliza McIlhenny Harriss (1821-1907). After the fall of Fort Fisher in 1865, the mansion was commandeered as Union Army HQ during the occupation of Wilmington. After the American Civil War, the mansion was returned to the family and remained in their possession until 1972. In 1993 it opened to the public as the 'Bellamy Mansion Museum of History and Design Arts'. The key word that I learnt in the first half of the cruise was "antebellum". I confess that I had not heard of the word before, which is from Latin and means "before the war", but it is used all over the southern states to describe any architecture that pre-dates the American Civil War.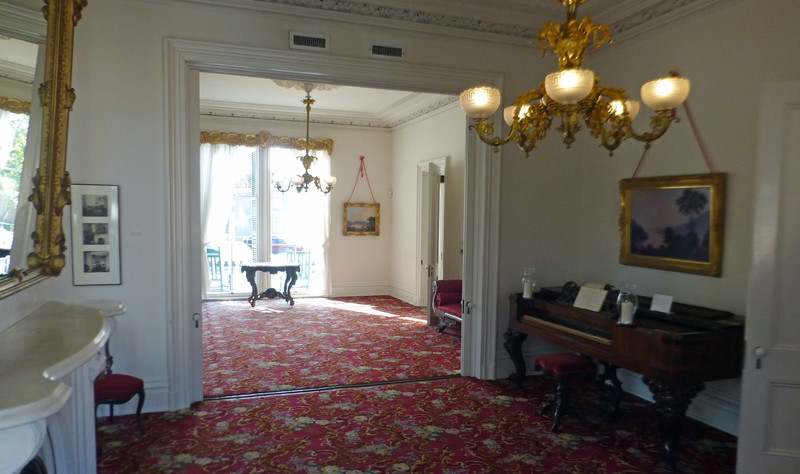 The second visit of the morning took us to the ornate Thalian Hall. I had met with the fabulously flamboyant Executive and Artistic Director, Dr Tony Rivenbark, on my visit in February, and was delighted that he would be available to personally show our passengers around the venue. One of Tony's claims to fame is that he attended school with the cowboy from the 'Village People' and they still have a riotous time whenever they meet up in New York. The theatre is one of the oldest theatres in the United States and has been in almost continuous use since its opening in 1858. Some of the artists who appeared in the Hall in the 19th and early 20th centuries were Lillian Russell, Buffalo Bill Cody, John Phillip Sousa, Joseph Jefferson, Maurice Barrymore and Sir Henry "Harry" Lauder. Tony did a superb job in both guiding and entertaining the passengers as he showed them around the theatre that he is rightly proud of. The one thing I find unfortunate about visiting theatres is that, whilst they look impressive, it would be better if something could happen on stage. I can well remember visiting the stunning 'Teatro Amazonas' in Manaus, Brazil, many years ago and the guide being very apologetic that the orchestra were having a run-through of an upcoming operatic performance. There was definitely no need to apologise as the passengers were invited to sit in the stalls and listen for a few minutes. An hour later we managed to drag the last person out. With this in mind, I had asked Tony if it would be possible to have the stage used whilst we visited. There was a bluegrass concert scheduled for that evening, but the performers were not due to sound-check until later in the day. I wanted the passengers to be able to experience the acoustics and so I asked Tony if the Steinway grand piano could be placed centre stage and then I would have someone play it. He kindly agreed, without realising it was me that would be playing it, and so I gave myself the once-in-a-lifetime birthday treat of playing the Steinway on the stage of the historic Thalian Hall with my passengers in the stalls. In case you are wondering what I played, I chose a Scott Joplin rag as we were in the southern states. Even from the piano I could sense my mother wincing at the one wrong note that I played. The thrill of being able to play that piano, in that setting, on that day, will never leave me. Thank you Tony!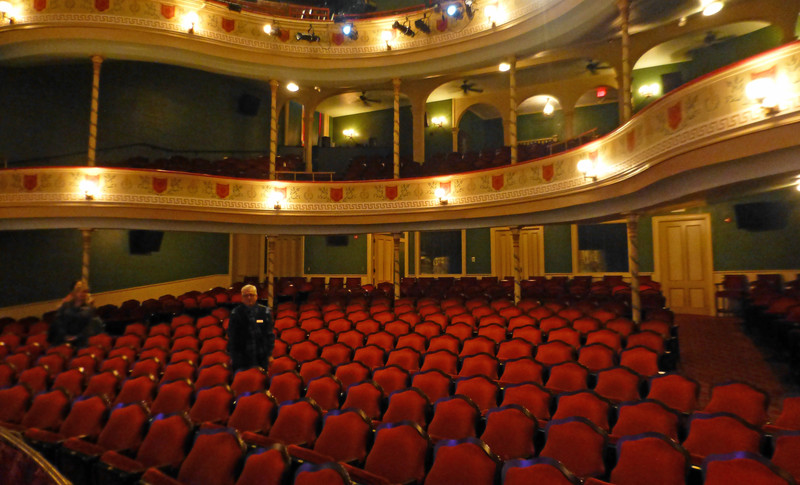 With the visits to the Bellamy Mansion Museum and Thalian Hall complete, we set off across the Cape Fear River to visit the USS North Carolina. She was laid down in 1937 and commissioned in April 1941, whilst the USA was still neutral in World War II. She was the lead ship of the North Carolina class of fast battleship (top speed of 28 knots). She saw most of her action in the Pacific, and was finally struck from the Naval Vessel Register in 1960. Fortunately, she was saved from being scrapped by a campaign to preserve the ship in her namesake state, and upon conversion she opened to the public in Wilmington in 1962. Whilst the visit to the ship was very interesting, Patty and Saskia had hatched a scheme to take things a step further. We had been granted exclusive use of the original Ward Room, and Patty had arranged caterers to provide a full southern states style barbecue lunch for everyone. It was an honour to be allowed to use the Ward Room, which was not normally open to the public, and we all enjoyed our taste of traditional fayre. Patty had kindly written a short guide to the various options on offer, explaining their place in the local cuisine. With lunch finished we began to meander back to the Hebridean Sky in our coaches.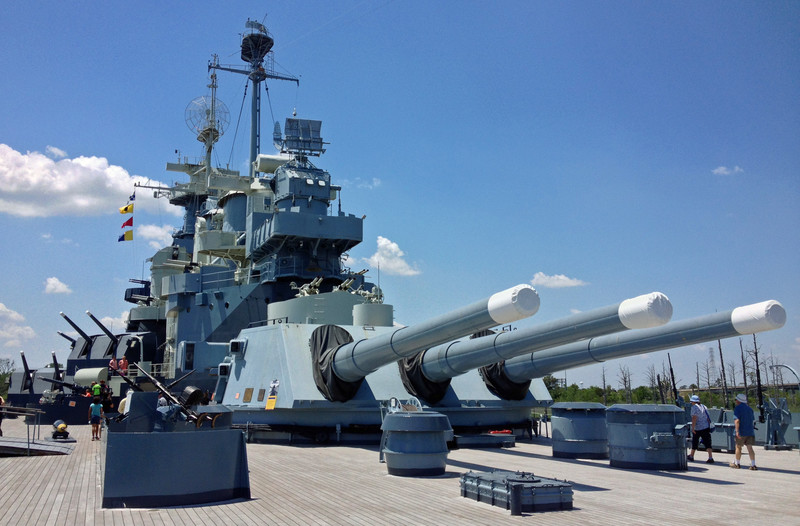 Our berth in Wilmington meant that, whilst we did utilise a shuttle bus, there were many attractions within walking distance. The nearby historic Cotton Exchange housed a plethora of independent little shops, and also accommodated quite a few ghosts according to the warning sign on the wall outside. For some reason, I was more interested in the neighbouring Railroad Museum. Housed in an original large Atlantic Coast Line Rail Road Company goods shed, which is all that remains of the vast station and marshalling yards that once reached down to the waterfront, the Railroad Museum was a delight. The major highlight being the superb model railway, where I could have happily spent many hours. The museum is justly proud that its model railway holds a Guinness World Record. On 23rd April 2011, the world's longest ever model train was run on their layout. The train length was 925½ft (282m) and featured 31 locomotives pulling 1,563 trucks and carriages. That is certainly no mean feat! I was also amazed to discover that the model railway adapts to the seasons. When I had visited in February, there was a light sprinkling of snow all around the railway. Now in May, the snow had cleared and everywhere was lush and green. There is certainly a very dedicated group of volunteers who tend to the museum, and I hope their deserved success continues.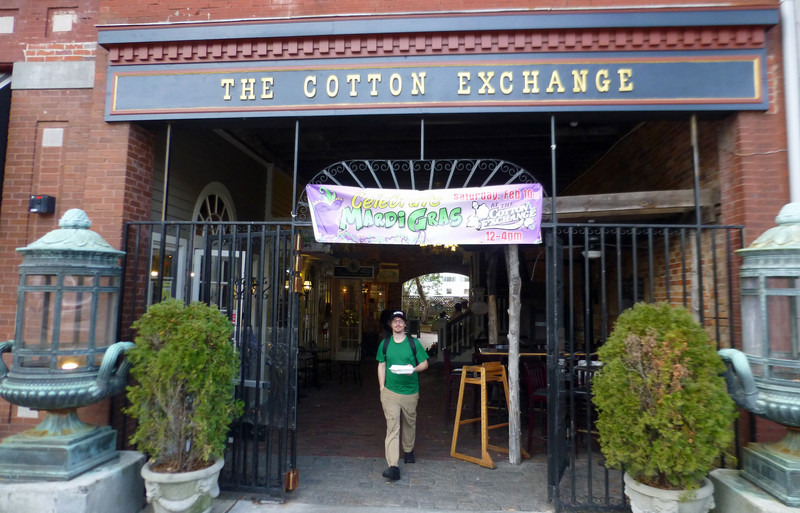 Sadly, all too soon it was time to leave Wilmington. Antony and I had arranged for a sail away party on the aft decks as we left the port. This included another first for me, as we sailed underneath the Cape Fear Memorial Bridge. I cannot recall sailing underneath a raised lifting bridge anywhere else in the world. I have sailed over bridges that have lowered to the sea floor to allow us to pass – at both ends of the Corinth Canal – but cannot recall sailing underneath a lifting bridge. Please email me if you can think of somewhere I have forgotten! I was very moved when Antony brought out two large cakes for all the passengers to enjoy. One was shaped as a "4" and the other as a "0". Champagne flowed and, as we were leaving during the early-evening Friday rush hour, we waved up at the drivers who were queuing at the bridge which carries the Coastal Highway over the river. The drivers waved back at us, but perhaps not quite in the same manner.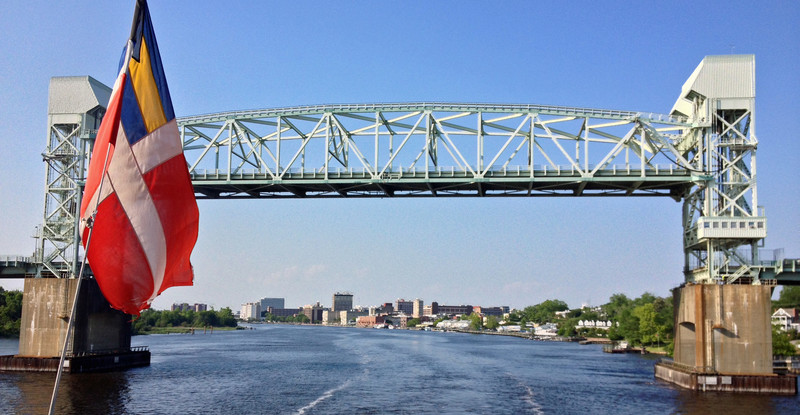 That evening I can recall we sailed on up the eastern seaboard towards our second port in North Carolina, Morehead City, from where we would be visiting Beaufort to learn about Captain Blackbeard. It was a calm clear night and I was joined for dinner by my wonderful team on that cruise: Wendy Malan, Angie Carpenter and Alice Brun. My parents also joined us, and I was thrilled that our guest speaker, author and broadcaster Martin Sixsmith and his wife, Mary, joined us too. The perfect end to the best way to turn 40!
In conclusion, a big thank you to Patty and her guides and drivers, Saskia, Antony, Captain Peterstam and all my team for a celebratory day that I'll never forget. Just as I wrote that conclusion, my doorbell rang again (an unprecedented twice in consecutive days). Two of my closest friends, Abbey and Megan, have somehow managed to have a homemade afternoon tea delivered to my door! So for at least one day I can pretend that I am at sea with calm waters, sunny skies, a scone and a few sandwiches. Cheers everyone!