Cruise Director's Corner with Neil Horrocks
Dear Traveller,
I have kindly, or foolishly, been given free rein to cover anything I feel might be of interest in my new weekly column for Travel Post. Therefore, if there is anything in particular you would like to ask then I would be very happy to hear your questions and will do my best to answer them in upcoming columns. Whether it is about the ships themselves, the places we visit, things that have happened, I will leave it up to you. Obviously I cannot guarantee to respond to every question, but I will do my best.
On behalf of all of us seafaring staff we hope that soon we can welcome you all back on board a Noble Caledonia cruise. In the meantime, stay safe and well and we really will meet again some sunny day.
Yours sincerely,
Neil Horrocks
Anniversaries: Both Happy and Sad
Good evening everyone. It is ten minutes to midnight on Wednesday evening and I've only been home for a quarter of an hour after completing the afternoon and evening shift. I spent the morning, and yesterday afternoon and evening, compiling the latest instalment of the travel quiz. I hope you enjoy testing your knowledge of the Mediterranean and the Black Sea.
One of the questions in the previous edition of the quiz featured the flag of Lebanon. I am sure that most readers will have seen the footage of the huge explosion that has cost many lives and left thousands injured and homeless. My heart goes out to all those caught up in the devastation. I was fortunate enough to visit Lebanon in 2006, shortly before the conflict with Israel that took place that same year. The passengers all visited the fantastic Roman site of Baalbek. It has been a UNESCO World Heritage Site since 1984 and features two of the largest and grandest Roman temple ruins, namely the Temple of Bacchus and the Temple of Jupiter. Below is the Temple of Bacchus.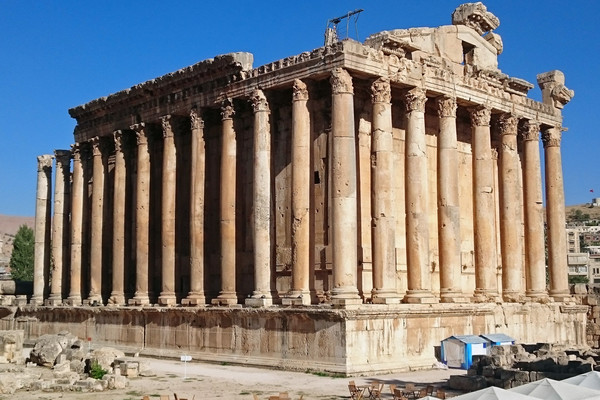 While the passengers were visiting Baalbek, I borrowed one of the ship's bicycles and rode into the centre of Beirut. I remember a policeman stopping me as I reached the pedestrianised centre and asking me to walk with my bike instead of riding it. The centre was beautiful. It was very clean, with little coffee shops spilling on to the pavements. Various cities claim to be the "Paris of the East", but I could see why Beirut was ranked, in a Daily Telegraph article published as recently as April last year, as the best candidate for said title. Chris Leadbeater wrote, "It is perhaps fair to say that the Lebanese Civil War still dominates perceptions of Beirut. It raged between 1975 and 1990, and turned the country's capital into a byword for death and destruction where westerners were likely to be kidnapped and held hostage. It echoed into the new millennium too – Lebanese president Rafik Hariri was assassinated by car bomb in 2005, in the year when the Syrian occupation of this little Mediterranean state finally ended. Even now, Lebanon still has its issues, and FCO advice for UK visitors is a patchwork of troubled red hotspots. But Beirut has slowly been reclaiming its image as a 'Paris of the Middle East' – and is a splendid option for a city break on the beach. There are excellent restaurants and luxury hotels galore – including the five-star Four Seasons Beirut."
Beirut seems to always have something happen to it, just as it is starting to become a popular destination. Indeed, I remember in 2006 being stunned to see a Royal Navy warship in Beirut harbour helping to repatriate British citizens when the conflict with Israel started, and thinking that I had been docked with my ship on that very same berth only a month before. My other distinct memory of visiting Beirut in 2006 (whilst being Cruise Director on "Spirit of Adventure") was that the ship lost all power whilst we were coming off the berth. The Captain looked on helplessly as we bumped harshly back into the pier we had been trying to leave. All the lights went out inside the ship, and I was in an inside corridor at the time, and can recall the complete blackness in the seconds before the back-up generator came online. A short investigation led to a quick fix and we were under way again in good time. I hope the Beirut can overcome this latest tragedy, and that all the lessons are learned and the future will be much brighter for everyone.
Speaking of troubled times, I saw on the news that poor Wilmington in North Carolina has been hit by another hurricane. I wrote to our agent there from the 'Hebridean Sky' cruise in May 2018 to see how they were coping. Patty was delighted to hear from me and replied, "You are so super nice to always check on me during these times of trouble. Wilmington managed the hurricane pretty well. The nastiest challenge is always the post-storm loss of power when the storm leaves terrible humidity in its wake. We were without power for almost 24 hours and just as I was getting really cranky and tipsy from compensating with wine, voila, the power came back on. Southport, which as you may recall is located at the mouth of the Cape Fear and Atlantic Ocean, did not fare so well. The storm surge and tornado destroyed the Marina!" I was relieved to hear that Patty was fine and that Wilmington had not been affected as much as it was when the previous hurricane hit.
It's been a busy time for me since I last wrote. On Thursday (30th July) it was last of fifteen consecutive days of deliveries. I only have myself to blame, as I had agreed to do the overtime that was offered to me. However, it did mean I was ready for the three days off I had from Friday to Sunday inclusive. Early Friday morning I drove over to Wimborne Minster for a brief visit to my friend, Hazel. Sadly, it being a sunny day, the rest of the world appeared to also be descending on the New Forest and Bournemouth. Eventually I made it through the traffic and then Hazel, myself and another friend ventured further into Dorset. I had never seen the Cerne Abbas Giant before, but not only have I now seen it, but I've also walked all the way around it. Quite understandably, you're not allowed to walk on the carving itself, but I didn't mind that as I felt inadequate enough just from looking at it.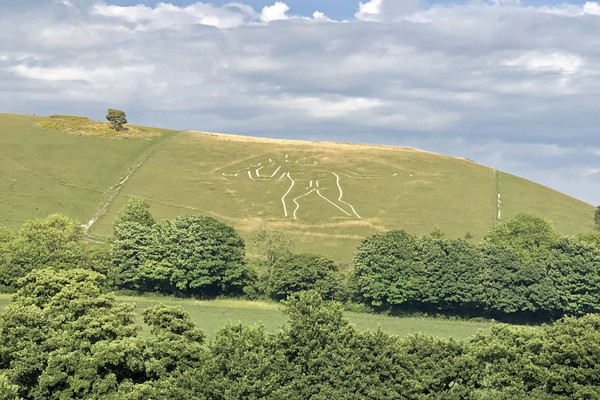 After our long, and incredibly steep in places, walk we meandered through the quaint village of Cerne Abbas. Heading back to Wimborne, we paused for a refreshment at the pub in Milton Abbas. Another village that I had never visited before. The village comprises 36 almost identical thatched cottages, and was designed by architect Sir William Chambers and landscape gardener Capability Brown. The Hambro Arms sits at the top of the street, and it was delightful to catch the evening sun as we looked down upon a village that has barely changed since the 1780s.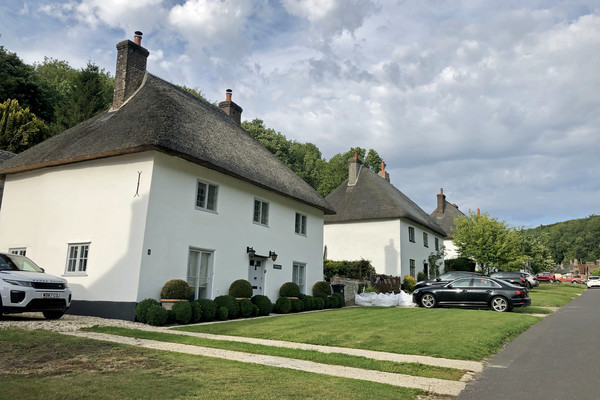 Saturday morning saw us visit one of those attractions that, I guess, either appeals to you or it doesn't. I've always enjoyed visiting Model Villages, and on discovering that Wimborne's own model village had re-opened, we headed there. The enthusiastic volunteers were keen to tell us, from a suitable distance, how the model was perfectly to scale for how the town looked at the time of its construction. I managed to capture a photo of the model of the Minster, with the real one in the background.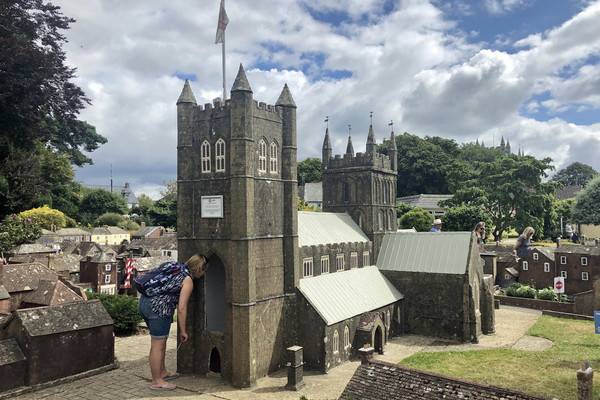 In addition to the model village, the site had a small crazy golf course. I challenged Hazel and Jess to a round of six holes. Hazel wasn't keen, and then scored a hole-in-one. Why is it always the person who doesn't really want to play that wins? My mother was always the same whenever we played crazy golf. "Oh, did it go in?" she would say to a deathly silence from me! I then left Hazel and Jess to raid the shops of Wimborne and drove to Fareham to collect my nephew, Brandon, from the railway station. I'd sent him a ticket to come on the train from Cardiff so that we could surprise my parents. We arrived in Littlehampton and rang their doorbell, and, whilst my parents had been expecting me, they hadn't been expecting one of their grandsons, so it was fun to be able to surprise them. I hadn't seen my parents since saying goodbye to them at Heathrow Airport on 16th March after coming home from 'Serenissima'. The reason I wanted to see them on this day, 1st August, was because it was their Golden Wedding Anniversary. Exactly fifty years ago, at St Dunstan's Church in Cheam, Surrey, mum and dad had tied the knot. For the first time ever, they had found their original Wedding Album (in black and white) and I viewed the photos. An important tip to anyone reading this… always label your photos! I was surprised at how few people I recognised, and realised that had I not seen the album with mum and dad present, there's no way I would have been able to tell who the guests were. It was hard enough to recognise my father as I've never seen a photo of him clean shaven!
It was a day of double celebration in the family, as my beautiful third cousin, Kylie, who is the oldest granddaughter of Margaret, who I wrote about in a previous New Zealand based blog, married on the same day – albeit many hours before. I only have the one photo so far, which features Kylie with her father, who is holding Kylie's daughter, Sienna, but it certainly looks like a wonderful occasion. I had fully intended to attend the wedding, but who knows when any of us will be able to realise our travel plans! I hope they are enjoying their honeymoon in Napier.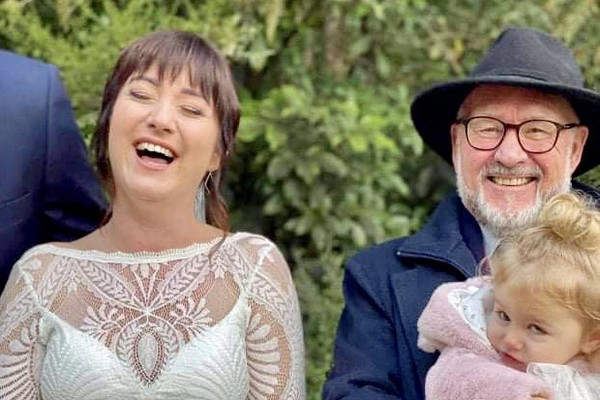 On Saturday afternoon, with mum and dad recovered from the shock of me bringing Brandon to see them, we walked along Littlehampton seafront to the end of the pier. They sat on the bench and held hands and I took the opportunity to take a photo. All around the pier, there were families enthusiastically crabbing in the mouth of the River Arun. It's such a simple thing, but it made me feel very happy, that in this day and age of video games, computers, huge televisions, internet, etc… that there are still families who get just as much joy out of a hook, a line, a bucket and some bait. Long may that be the case. That evening, mum, dad, Brandon and I headed up Highdown Hill, near Worthing, so that we could have dinner together on this special day.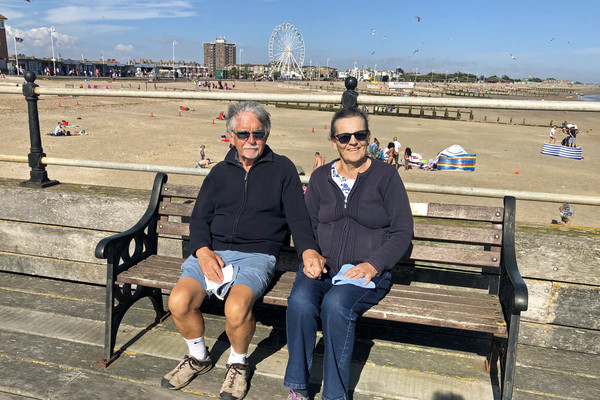 Brandon and I stayed overnight in Littlehampton, and then more family, including my brother, sister-in-law and uncle, arrived the next day so that we could have lunch together to formally mark the occasion. I was very impressed with all the social distancing and use of PPE that was taking place in the eateries we visited. It must be hard for the waiters and waitresses to wear face shields, gloves, etc and not be able to converse as freely as they normally would. With the meal complete, I dropped Brandon off at Angmering station for his train home, and then drove back to Hythe.
Monday and Tuesday were early starts, with deliveries as far afield as Royal Tunbridge Wells, Folkestone and Saltwood. After I had finished work on Monday, I did my weekly shop at the supermarket where I work. I'm always nervous of doing that because I panic that someone will spot me and ask me where something is, and I haven't got a clue. Fortunately, no one did on this occasion. I took the opportunity to purchase some sunflowers as I had something I wanted to do that afternoon. All of you reading this will know that I volunteer on the Romney, Hythe & Dymchurch Railway whenever I have the chance to do so. I first started volunteering when I was about 13 years old, and then had a seasonal staff role when I was 18 and 19. There were not too many young volunteers in those days, but the closest in age to me was a lovely guy from Mottingham, in south east London, called Kevin. He worked as a postman during the week and was then always at the railway every weekend. He was exceptionally cheerful and kind. I remember one day in the summer of 1997 I was rostered to spend the day as ticket collector at Hythe. It is definitely one of the less glamorous roles. I had a friend from university coming over from Brighton, via a very long bus journey, and we had planned to go out in Folkestone that evening. I realised that my duty as ticket collector would mean that we would be late for our evening appointment. I mentioned this to Kevin, and to my amazement he replied, "no worries, I'll come up on the late-afternoon train and cover you for the last couple of hours". He undoubtedly had more enjoyable and worthwhile things to do, but that just showed his kindness to all. I continued to volunteer sporadically until I went away to sea in 2001. A couple of years later, on 3rd August 2003, I was at home and turned on Ceefax (showing my age). The news included a line that said there had been a fatal accident on the railway. I can still feel the shiver that went through me as I tapped in the number to make the page appear on the screen. A car had ignored (or as the driver claimed, "not seen") the level crossing lights and tried to make it across the road before the train. This was in spite of cars waiting on the other side of the crossing. Tragically, Kevin, who by this stage had fulfilled his boyhood dream of becoming a driver on the railway, was on the footplate of 'Hercules' and collided with the car. The train derailed and Kevin was killed on the footplate. The car driver, who had her baby on the back seat, suffered only minor injuries. She was found guilty of careless driving and fined £500 and banned from driving for a year. A beautiful memorial was later unveiled at the crash site, and I took a bucket, warm water, Jif and the sunflowers and gave it a good clean and tidy-up on the anniversary of the accident. Rather sweetly, whilst I was there a lady came along with her grandson in a pushchair and sat on the nearby bench to watch the last train of the day go by. Since that tragedy, barriers have also now been installed at all the level crossings. God bless you Kevin.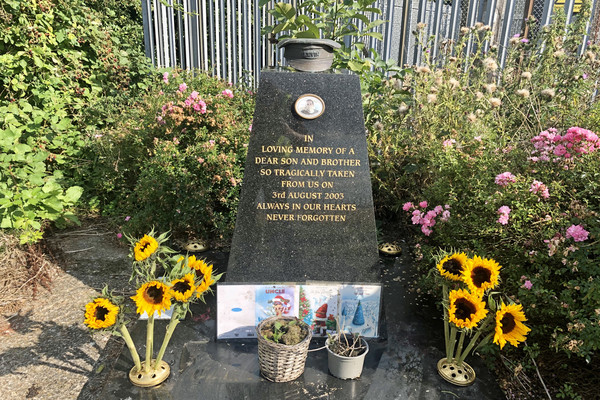 From yesterday onwards, I have been either at work or writing the quiz or this blog! I've already reached the word limit and I haven't looked at a previous destination in detail yet. I'll save it for next week. In the meantime, I hope all those reading this are managing to make the most of the summer weather and that those working on a vaccine continue to do so as swiftly as possible! And finally, to end on a happy note… I was on my rounds this evening and, as you would expect, one sees many cars of all different shapes, sizes and colours. Well, if there was a prize for most original colour scheme, then I think this would be the winner. I hope that whoever is learning to drive in this car doesn't mind the attention they're bound to receive! Bye for now…