A Hidden Gem of the Baltic
Good afternoon everyone. It's another Monday afternoon on the sunny Kent coast. I can tell you that it's raining in Southampton, as the Test Match Special time are running out of ideas on the radio. I found myself laughing out loud in my delivery truck late last week. Phil Tufnell was talking about his experiences of wing-walking on a bi-plane. His co-commentator wasn't paying much attention, and then asked him if wing-walking was something he had done, or just attempted. Phil rather amusingly pointed out that wing-walking was not really something that could just be attempted. It's very much an all-or-nothing activity!
I've had to have a quick look back over my diary to see what I've been doing since I last wrote. As this strange parallel life continues, it becomes harder to remember what I've been doing other than going to work. I've had a couple of days off since the last blog, and have been productive with both of them. Last Friday I made the 213 miles round trip to see my parents for the day. Naturally, there was an ulterior motive. I arrived in time for a late lunch at their favourite eatery in Rustington. Officially, I was born in Rustington, although at the time it was considered part of Littlehampton. This distinction only occurred between the birth of my brother (who is 2½ years my senior) and myself. Therefore, even though we were born in exactly the same maternity hospital, he has 'Rustington' as his place of birth whereas I have 'Littlehampton' in my passport. There was not much envy about this difference, until a few years ago when Waitrose closed their Littlehampton branch and moved to Rustington. It genuinely had an impact on my deciding to move away. I know that sounds pathetic, but it was very convenient to have an excellent Waitrose store a mere 90-seconds walk from my front door (and yes, I did time it one day).
After the late lunch with my parents, we wandered down the road where they live to Mewsbrook Park. Connecting the park to Norfolk Gardens (everywhere in the area has some connection to the Duke of Norfolk), since 1948 has been the Littlehampton Miniature Railway. The slightly unusual 12¼" gauge has meant that not since I was a very small boy have they had a working steam engine resident on the line. After a few failed attempts, a new heritage society of local volunteers have taken over the running of the half-mile railway and have made many improvements. One of the volunteers has had a new steam locomotive built for the railway, and as members of the society, mum, dad and I were invited to a private running on Friday. As a youngster on my school holidays I used to help out on that railway, and it is one of the principle reasons that I caught the 'train bug'. It felt wonderful to see live steam in action on the line again. Good luck to them!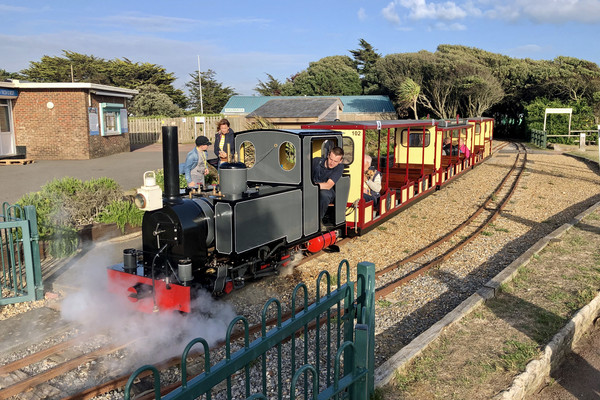 The Littlehampton Miniature Railway in action at Norfolk Gardens

On my other day off, which was yesterday (Sunday 23rd), I was volunteering down at Dungeness station again. Always good to see the happy smiling faces of the travelling public. Well, I say smiling, but no-one really knows what facial expression they have under their masks. They seemed cheery enough though!
After my day off yesterday, this morning saw the painfully early 4.45am alarm call so that I was clocked-in and raring to go by 6.15am. This morning was a delightful delivery run though. Some are much more enjoyable than others. You have no idea where it is you'll be sent until you sign-in to the system in the loading bay. It could be anything from the long drag over to Royal Tunbridge Wells, to simply pottering around Ashford. This morning was a pleasurable trek around Romney Marsh, visiting Hythe, New Romney, Burmarsh, St Mary in the Marsh, Greatstone-on-Sea, and such like. The only mistake I made was that I accidentally delivered my lunch to a lady in Saltwood. I had been keeping it in the chiller unit and forgotten that it was there. Fortunately, I had not gone far when I remembered so I was able to drive back and retrieve it. Some mothers really do 'ave 'em!
Another piece of news since I last wrote is that Fred Olsen have announced that, with immediate effect, they are retiring 'Black Watch' and 'Boudicca'. Whilst all cruise lines evolve, and understandably so, it is such a shame that those two ships will not have a proper send-off. The 'Black Watch' was my first ever ship and, therefore, will always hold a special place in my heart. I can still clearly remember so much about that first day I embarked her. Wednesday 30th May 2001 at Dover Cruise Terminal 1. As we prepared to sail away from Dover, I stood there, feeling slightly awkward in my white shirt and red jacket, and was told to go on the aft deck and talk to the passengers. My initial feeling was why would someone who has paid a lot of money to go on a cruise want to have me engage them in conversation? With some trepidation I headed out on deck. I think I had only walked about ten yards when a couple approached me and immediately engaged me in conversation and told me all about the ship. It was fairly late by the time we finished on that first day (en route to Lerwick) and I was told I had to be very careful as I was staying in a cabin which had passengers next door. For reasons that still surprise me, I knocked on their door at about 10pm. My thinking was that I would say to them to let me know if I was making too much noise next door, so as not to disturb them. The gentleman answered the door in his dressing gown and I turned a bright shade of crimson and felt awful that I had disturbed them by trying to make sure I didn't disturb them. That couple in the adjacent room to me were a wonderful Scottish couple called Leslie & Jim, and to this day we have remained good friends. I regularly receive postcards from 'Auntie Leslie & Uncle Jim'. So I guess it was on day one that I got into the habit of getting to know people one way or another! Either way, it does feel sad to know that 'Black Watch' will no longer be sailing under the Fred Olsen flag. The very best Cruise Director I ever worked for, the late great Michael Burke, was on that first cruise. I owe so much to him, and I deeply treasure the wonderful friendship I now have with his amazing daughters, Leanne and Saskia.
Last week we concluded our look at St Petersburg and some of the many treasures that such a glorious city has to offer. This week, I'm going to continue with the Baltic theme. St Petersburg was certainly one of the more obvious destinations, so for this week I will consider one of the less obvious places that we visit.
For the large (and small) cruise ships, I mentioned that there is the geographical convenience that Tallinn and Helsinki are both an overnight sail away from St Petersburg. Whilst that is a bonus for Tallinn and Helsinki, it does result in the rest of Estonia and Finland being rather overlooked by the major cruise lines. That is where the likes of Noble Caledonia come to the fore. In Estonia, we also visit the island of Saaremaa and/or the resort city of Pärnu. In Finland, we occasionally add a visit to Kotka, and, officially at least, Mariehamn in the Åland archipelago is Finnish territory too, albeit an "autonomous territory under Finnish sovereignty".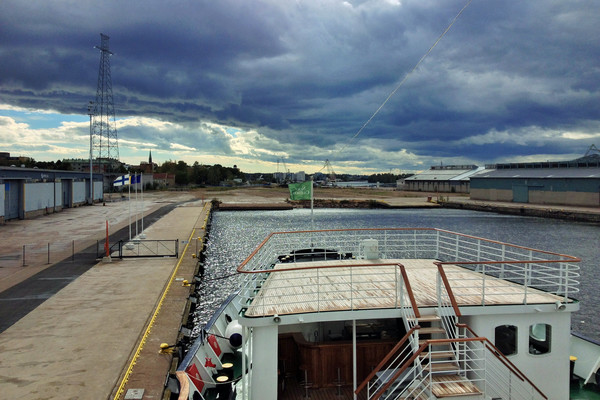 Threatening skies welcome us on our maiden call to Kotka

Kotka did not look too promising when we arrived for our maiden call. A barren quayside did not look very welcoming. However, in some ways this is a positive sign. I would rather be somewhere that prides itself on the places we are going to visit, rather than have a plethora of duty free shops to negotiate every time you enter the port. I have visited Kotka twice, firstly in 2018 with 'Serenissima', and then last year with 'Hebridean Sky'. On that first visit, under threatening skies, we were welcomed by five young ladies with pom-poms, accompanied by a duo comprising of a tubist and trumpeter. We must have impressed them with our enthusiasm for their performance, as we had six young ladies with pom-poms and a full brass orchestra the following year!
An orchestra and cheerleaders perform for our guests on our second visit

The shore excursion was well organised, and a 'land train' acted a shuttle service between the ship and the town. With so many famous sights to see in nearby St Petersburg and Helsinki, I remember wondering what Kotka would have to offer, and feeling nervous that it might be a rather poor relation. I needn't have worried. We made three stops on the excursion, and all three were truly excellent.
The first stop was at the gardens in the centre of Kotka. Our guide took immense pride in telling us all about the triumphs of Kotka, although most of it seemed to centre around the fact that Norwich City's star forward, Teemu Pukki, was born in Kotka and initially played for the local team.
The shoreline in this area was uninhabited until as recently as the late 1600s. Once industry and shipyards arrived, a Norwegian community settled in the area. They used the lake in the centre of what is now the Sapokka Water Garden as the landing for a ski-jump that they built in 1892. It was this community of Norwegians that introduced ski-jumping to the Finns. With the heavy industry that developed nearby, it wasn't surprising that the ski-jump became disused in 1953 and by the 1980s the Sapokanlahti Bay had become heavily polluted and eutrophic. A water garden was felt to be the best solution to rehabilitate the area, and after three years of construction it was opened in 1993. A waterfall was incorporated into the park, using the original base of the ski-jump. The waterfall, whilst looking delightful, serves as an important aspect of the bay's ecological water circulation and oxygenation system. The water for the waterfall is pumped from the sea beyond Sapokka's outer breakwater. A population of carp introduced into the bay also does its part in purifying the water. It felt very tranquil and peaceful to stroll around the water garden at the start of the morning of sightseeing.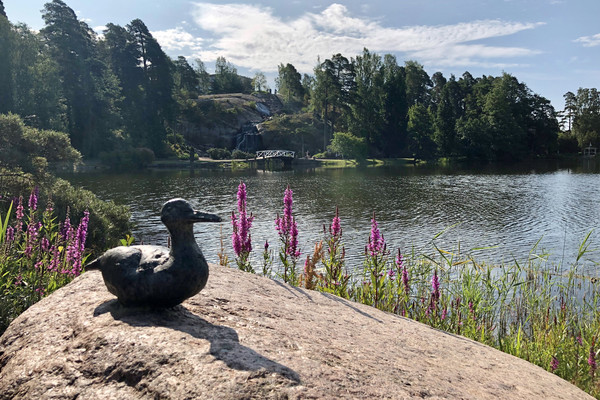 Our next stop involved a short drive out of town to the Langinkoski Fishing Lodge. A visit to a fishing lodge might not sound too inspiring, but this lodge had a fascinating history. It was built in 1888 by Alexander III, Emperor of Russia. The Emperor and his wife, Empress Marie Feodorovna (née Dagmar of Denmark) had heard about the quality of the salmon fishing at Langinkoski and paid a visit there in 1880. They clearly found the area to be desirable, not only for the quality of the fishing but also the surrounding scenery, and returned some years later to have the lodge constructed. Their family would take fairly rustic holidays there. The Emperor would fish or take his children on outings in the nearby countryside. They would wear relatively simple clothing, and the Empress, who was known for her love of cooking, would create soups and meals with the day's catch. It must have felt like a world away from the strict court etiquette of life in St Petersburg. Finland became independent in 1917 and the fishing lodge was taken over by the Finnish government. In the 1930s the lodge was restored as a museum by the National Museum of Finland, who still own and operate it to this day, and in the 1960s the entire surrounding area was designated as a nature reserve. The only consent to modernity is that the caretaker's house was converted into a delightful café in 2014. I remember being told that the café would not be open at the time of our visit as it was slightly too early in the day for their staff. I promised them it would be worth their while to open earlier, and thankfully they did. Free time is also so much more enjoyable when a fresh coffee is available!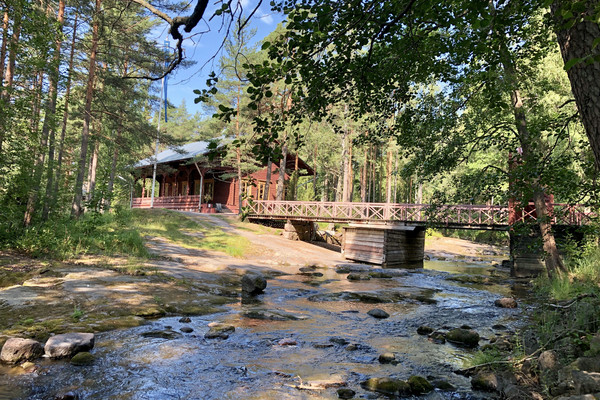 The Langinkoski Fishing Lodge
One other memory that has come back to me from visiting the fishing lodge… the wonderfully mellow Nicola Hewson was my assistant on that cruise. Nicola is from Vancouver Island, where I believe it is impossible not to be mellow. We had ventured into the café ahead of the passengers to thank them for being open early, and to do a quick quality check on the coffee. Whilst we were sat there, Nicola started sniggering, then giggling and then laughing. I couldn't understand what had come over her. She finally managed to motion that I should put the Quietvox (the system we use so that you can hear the guide without having to stand next to them) back in my ear. I did as she said and realised, to my
horror, that the guide had left his microphone on and he was now happily sitting on the toilet without a care in the world. Every possible sound effect you could think of was being broadcast directly into the ear of any passengers who still had the system switched on. I went outside and headed to the toilet block, passing passengers who had had to sit down on the bare ground to control their laughter. Finally I made it to the toilet block just as the sound of the flush penetrated our ears. Needless to say, the guide became something of a hero to the passengers and some were still laughing by the time we reached the ship. I have even had passengers from that cruise join me on subsequent voyages and say, "do you remember us? We were on the cruise where the guide broadcast his visit to the toilet." Clearly it became quite a highlight!
Back to more sensible things… I do enjoy our visit to the fishing lodge. It is completely understandable why the Emperor chose the setting. We were told that it is the only residence built by or for a Russian Emperor that is still standing outside of Russia itself. Well done to the Finnish authorities for preserving the lodge – and even going to the extent of having impersonators of the Emperor and Empress address us upon our arrival.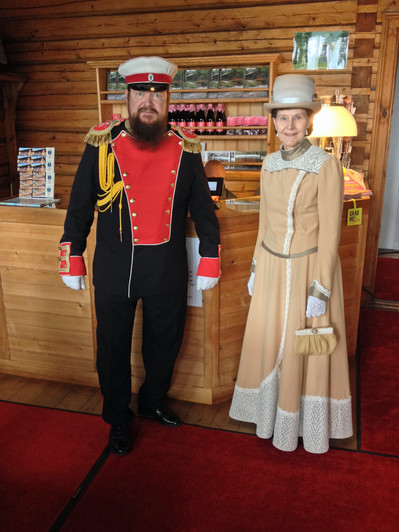 The Imperial Family welcome us to their Fishing Lodge
The final stop on our morning jaunt was at the superbly laid out Maritime Museum of Finland. The museum was located in Helsinki until 2008, when the decision was made to try and spread some of the cultural highlights around the country. A striking purpose-built complex was constructed and it is well worth a visit. Various exhibits chart the history of both the maritime and aviation sectors, as well as the history of the local area. Temporary exhibitions mean that when we came back the following year, there were many previously unseen items of interest. Outside the museum there are various ships of historical note. The most famous is the "Tarmo". She is a Finnish steam-powered ice breaker that was built in 1907 by Sir W.G. Armstrong, Whitworth & Co Ltd in Newcastle-upon-Tyne, England. She was the last steam-powered ice breaker to remain in service, and was finally decommissioned in 1970 and has now been completely restored. Sadly, I did not have the opportunity to go on board, but our museum tickets were valid all day, so that passengers could choose to venture back in the afternoon and explore further. I quite enjoy shore excursions that offer a sample of the various attractions and then you have time to decide where you would like to investigate further after lunch.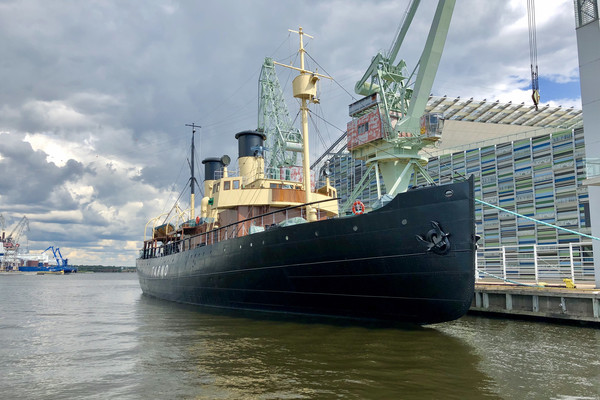 British-built steam-powered ice breaker "Tarmo" at the Maritime Museum of Finland

With our tour of the Maritime and History Museum complete, we headed back to the ship for lunch. Everyone could then choose how they wished to spend the afternoon. The local tourist authority had provided the complimentary shuttle land train, complete with local volunteers to entice passengers to visit the high street area. The land train also made a stop at the Maritime Museum. I did go back there, but only because I had noticed a narrow gauge train on static display at the entrance to the car park. Always worth a look!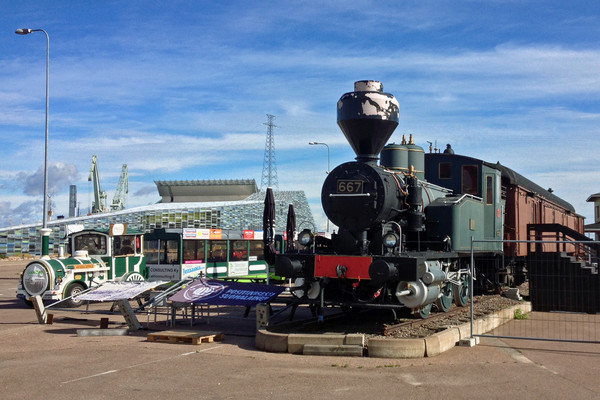 Narrow Gauge train, alongside the land shuttle train, on display outside the Maritime Museum of Finland

I've reached and, as is often the case, exceeded the limit for this blog. After the delights of St Petersburg, I was keen to point out that there are hidden gems in the Baltic that are also worthy of our attention and affection. I have only been to Kotka twice, but it is one that I look forward to in future – although perhaps I'll make sure the guide knows how to switch off their microphone! As I write this it is now Thursday morning, before I head off for the afternoon and evening shift. Yesterday I made a delivery to Willesborough Windmill, in Ashford, built in 1869. I thought I'd pose my truck next to it for a photo. Until next week, enjoy the Bank Holiday weekend and bye for now…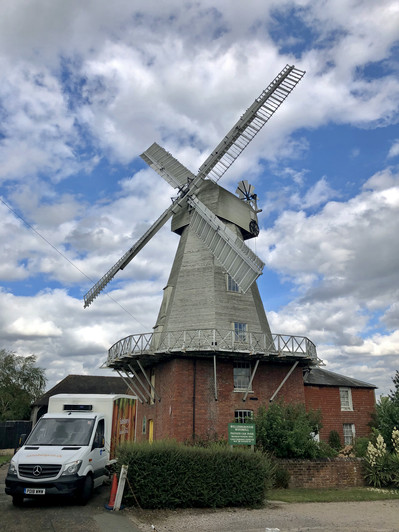 Willesborough Windmill with my run-around Mercedes in front