A Day in the Life of a Home Worker
In this post Noble Caledonia Cruise Operations Manager, Guner El-Dada, tells us about her experience of working from home during lockdown and what she has learnt in the process.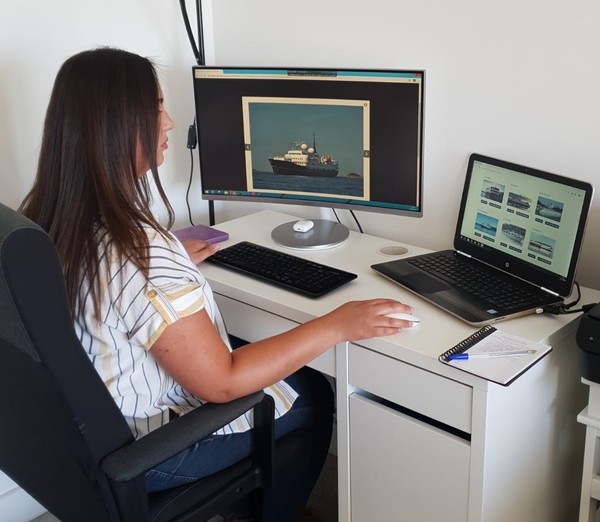 Hello everyone!
When lockdown began back in late March, many of us had to adjust to working from home. It's now been over two months since I swapped the office for my living room, so I wanted to share what I've learnt and how I'm staying productive from afar. The most difficult part of this process has been shifting my mindset. Going into an office gave my life structure. The office was where I focused my mind while home is where I switched it off. With no colleagues or buzzy business atmosphere, my thoughts switched to slow mo and distractions were everywhere: kitchen cupboards filled with snacks; new Netflix series; baking— finding my old focus required creating a brand new routine.
Firstly, I set about creating a comfortable (but not too comfortable) space to work from. This ended up being in the corner of my living room, overlooking the balcony where there's a serene view of luscious green trees, vibrant flowers and birds — even parrots! I can clear my mind when sitting here, inspired and relaxed. It also feels separate from the rest of my home, providing a clear distinction between my 9-5 and relaxation time.
Even though my environment has changed, I've found sticking to my old morning ritual helps to adjust my mindset. This includes setting an alarm for the same time every day, getting showered and dressed (even if that sometimes means pairing a smart top with jogging bottoms) and then having a quick gossip with my husband over a cup of tea. I also always write a to-do list that I can tick off throughout the day. It can be difficult to stay motivated when you don't have others around you to bounce off, so this has really helped me to be extra clear on what I need to achieve each day and then manage my time accordingly. My top tip here is to keep your to-do lists short — write out everything then highlight the three most pressing things so as not to overwhelm yourself.
Everyday my colleagues and I have video conference calls, updating one another on projects we're working on within the department, setting new goals and recreating a little bit of office life. Video calls have been a real game changer for so many during lockdown and in terms of my working-from-home life, they have given me some much-needed familiarity and added structure to my days. It's also really lovely to catch-up with much-missed faces!
This period of time has hit the travel industry extremely hard, and because we currently have no cruises operating, I have been left with more free time than I once had. In some ways, this has actually been a good thing. It's given me time to reflect and research, planning future cruises through seeking out new and exciting destinations for our customers. I have also been able to work on improving other areas of the business, such as adding more information to our system that helps to answer customer queries on excursion distances, terrain and more.
While we might not be able to operate as normal, I'm still seeing the silver lining in being able to perfect other aspects of the business and ensure that when things return to normal, we will be more prepared than ever to provide our customers with the best service.
Working from home has taught me a lot. It's made me realise that sudden change is manageable, even if it feels scary and overwhelming at times. I have also learnt the importance of structure and routine in my life, recognising what makes me most productive and inspired on a daily basis. This experience has proven to me that working from home isn't really that different from working in an office. Thanks to the genius of modern day technology and regular video chats, I feel just as connected to my colleagues and able to manage my workload efficiently. I'm hopeful that we'll see greater flexibility in workplaces going forward, because with or without an office we can still achieve great things.
Most importantly, I have realised that things won't be this way forever. Everyone at Noble Caledonia is working hard to get you back on board our beautiful ships for an even more exciting adventure— one where we can smell freshly baked bread prepared by our wonderful ship crew, spot fairytale castles as we cruise along the Rhine, witness the wilderness of remote islands yet to be discovered and plenty more.
Until then, stay safe