Now pay attention at the back - We're going to talk about the Spanish Armada
By Mike Deegan, Head of Fleet Operations
You know it is often said that teachers are vital to a young person's development – I am not sure their contribution to any of our early years is fully appreciated. I can recall a mathematics teacher who gave me a passion for numbers that is still with me and which helped when I was trying to learn Navigation and later ship stability which is pure mathematics and physics. I am convinced without having been taught by Charles Stubbings some 50 years ago I would never have made the grade at sea (some may believe I didn't anyway – so let me be realistic and state without Charles Stubbings I would not have scraped through and had even the modicum of success I enjoyed as a mariner!) I didn't realise it at the time but he set the course for Deegan Major (my brother, Deegan Minor was at the same school some way behind me and he too was taught by Charles Stubbings and he too became a mariner, in his case an Engineer) to run away to sea and achieve high rank in his chosen profession. Thank you sir!
My history teachers though were an altogether different matter: none of them had any idea how to instil a passion for history, ancient or modern (and don't get me started on when modern history commences – post-Roman anyone? I am told the 20th century is not history but current affairs!) in a group of unruly boys intent on listening for the end of lesson bell or working out or their next wheeze (which invariably landed me in detention! I think I still hold the record for the most in one term at that school, all of which were not for committing the crime but for being found out! Character building!). I have oft mused in later life that had my history teachers been able to do anything more than trot out a long list of dates and battles I would by now be a historian not a mariner and a naval historian at that! You need only to listen to any of our historian Guest Speakers to appreciate the gift or oratory or even the gift of being able to describe an event from all angles and in a way that will be retained for ever more.
So with that background, let me give you one date and one campaign : 1588 and the Spanish Armada. We all think we know a bit about this event in our 16th century history but how much do we know, what was the reality and why is it important? Oh yes and as we go track through the actual history we shall see that many of the locations that were important are places we visit today on our tours – it was not just off Plymouth after a game of bowls! So sit up at the back, pay attention and George dear, don't do that (memories of the wonderful Joyce Grenfull!)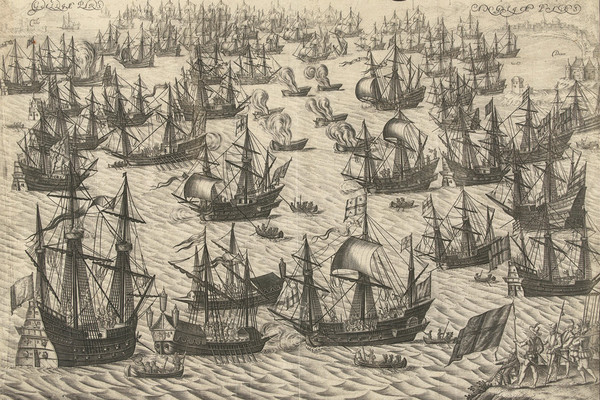 The origins of the Spanish Armada lay in 1585 (sorry another date!) when rivalry between King Philip II, the catholic King of Spain, and Queen Elizabeth I, the protestant Queen of England, intensified to what was in reality an undeclared war. Philip had been married to Elizabeth's half-sister Queen Mary and as such enjoyed a large degree of say in how England was ruled. When Mary died childless in 1558 at the age of 42, Elizabeth became Queen and sought to move England away from Rome once again which immediately put her at odds with Philip and Spain. Philip was also annoyed that Elizabeth was helping protestant rebels in the Spanish Netherlands and that English privateers were raiding Spanish ships in the Americas.
In 1587 Philip began to raise a fleet "a Great and most Fortunate Navy" with which to set sail and invade England, unseating Elizabeth, taking England for himself and returning the country to Catholicism. His plan was to sail north through Biscay and east through the Channel before a rendezvous with a force of 30,000 soldiers led by the Duke of Parma in the Spanish Netherlands with which to mount an invasion of England. However as we shall see, things didn't go quite Philip's way!
The Armada was formed in Lisbon and was led by Alonso Perez de Guzman y Sotomayor, the 7th Duke of Medina Sidonia. Not only was he appointed late (after the death of the previous commander) but it was an odd choice : the Duke was in poor health, was prone to terrible seasickness and had no military experience whatsoever, either at sea or on land. He wrote to the King to protest the appointment but it is doubtful that his letter was ever seen by Philip as the two Royal Secretaries were too afraid to show it to him. Of the 130 ships or so ships amassed, (crewed by 8,000 sailors and 18,000 troops) fewer than 30 were actually warships. Most were small and unable to sail at speed or were merchant ships. I don't know about you but the adage "fail to plan = plan to fail comes to mind! That said the Duke was a gifted administrator and planned the preparations meticulously which was certainly to Spain's advantage.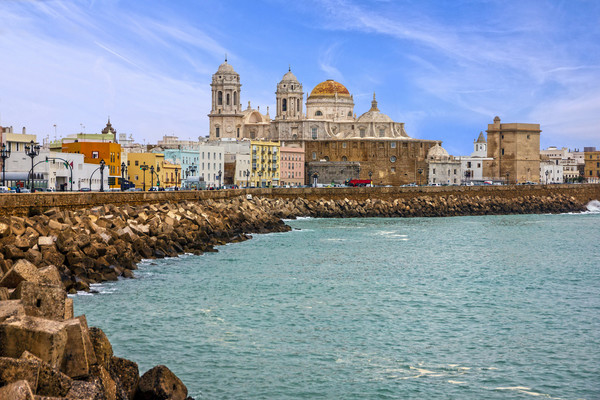 Cadiz
An English raid on Cadiz delayed the departure until late May 1588 and because of the slow speed of most of the fleet and bad weather only slow progress was made north through the notorious Bay of Biscay. This gave the English more time to prepare (sound familiar : Neville Chamberlain and Appeasement 1938?) It took until 29 July for the Armada to pass Lizard Point in Cornwall – it was then they were spotted and news was relayed to Plymouth via a system of coastal beacons – part of the preparations.
The English fleet was commanded by Lord Howard of Effingham with Vice-Admiral Sir Francis Drake as his senior commander. There is little evidence that Drake insisted on completing a game of bowls on Plymouth Hoe before setting sail : the "tall" tale was first noted in print some 37 years after the defeat of the Armada. It is more likely that any delay was caused by adverse tides and winds. The English fleet consisted of about 70 ships, almost all of them warships and highly manoeuvrable and fast. Indeed their manoeuvrability and speed surprised the Spanish when they were engaged on 31 July at a point in the Channel opposite a point on the Cornish coast roughly halfway between Plymouth and Fowey, close to the Eddystone Rock. The English bombarded the Spanish from long range but were not able to pierce the hulls of the solidly built Spanish ships. Even so the Spanish abandoned the Rosario and the San Salvador which were quickly captured by the English.
The Armada then headed around Start Point and east along the Channel with the English in hot pursuit. Further smaller battles occurred off Portland in Dorset and the Isle of Wight where the English prevented the Spanish from approaching the island or Portsmouth. The Spanish, who were used to a form of naval warfare where they boarded their enemy's ships and fought at close range, could not get close enough to the English ships that continued to pound them from long range. However in real terms all these skirmishes proved inconclusive and the Armada made for Calais where they arrived on 6 August. Here they discovered a blockade by Dutch privateers who evaded attack in the shallow waters of the inner harbour. This forced the Armada to anchor out at sea. Worse news was to come for the Spanish : the Duke of Parma had not yet assembled his invasion force up the coast in Dunkirk so the Spanish were forced to wait it out.
Under cover of darkness the English set 8 ships ablaze and set them to drift down onto the Spanish fleet at anchor ("fire ships"). In the ensuring chaos the Spanish scattered in disorder, most cutting their anchors adrift as they did so. On 7 and 8 August and with the Spanish trying to reform, the English closed in and fired at close range from the windward side during the battle of Gravelines off the French coast. In doing so great damage was inflicted on the Armada. The San Lorenzo was captured and the San Felipe and San Mateo ran aground between Dunkirk and Ostend. After 9 hours of battle the English, by now low on ammunition, broke off the attack. The Spanish were denied a dash back along the Channel due to south westerly winds thus Medina Sidonia turned his fleet north where he narrowly avoided running aground on the Dutch coast and attempted to return to Spain by sailing up the east coast of England and Scotland (they were pursued by the English as far as the Firth of Forth), then across the north and down the west coasts of Scotland and Ireland.
Over the next few weeks in August and September 1588 about half the Spanish ships that had survived the Channel battles were wrecked in Fair Isle, in the Hebrides and on the west coast of Ireland with great loss of life. Fewer then half the Spanish ships that set out from Lisbon in May that year made it home.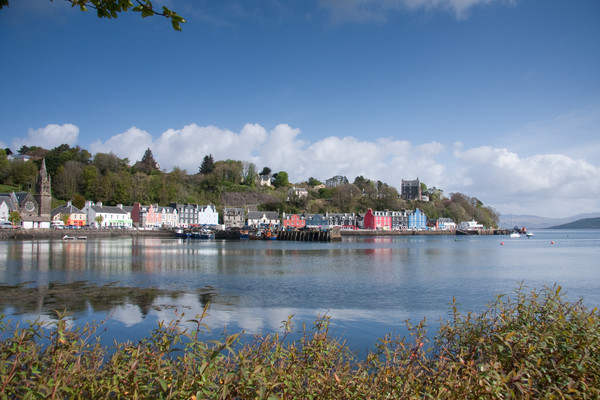 Tobermory
One of the most famous victims of the ill-fated Armada is the San Juan de Sicilia. She was armed with 26 guns and was crewed by 62 sailors and 287 troops. She was heavily damaged at the Battle of Gravelines and fled north. On 23 September 1588 she was spotted off Islay in the Inner Hebrides. A few days later she arrived in Tobermory Bay on Mull. She is believed to have had a fortune in gold bars aboard. Short of provisions and fresh water, the Captain negotiated with the local Clan Chieftain, Lachlan MacLean of Duart Castle, to replenish his ship in exchange for the troops to help Lachlan settle some of his scores with the surrounding MacDonalds and Maclans on Rum, Eigg, Muck and Canna and on the mainland where they laid siege to Mingary Castle which overlooked the entrance to the Sound of Mull. Widely believed to have been as a result of sabotage, the ship exploded on 5 November 1588 killing all but 50 (including 5 locals) on board. Lachlan MacLean continued to accommodate the survivors, using them in yet more incursions against his enemies, for another year before sending them home to Spain. Over the years many expeditions have attempted to salvage items from the wreck with greater or lesser degrees of success. A bronze cannon was salvaged in about 1740 (and bearing the emblem of the King of France suggesting it had been captured from the French sometime previously) and can now be seen at Inveraray Castle at the head of Loch Fyne, home to successive Dukes of Argyll, Clan Chieftain of the Campbells.
Back to the Armada itself : what of the aftermath? It is not generally known that Spain sent 3 further Armadas in 1596, 1597 and 1601 (sorry more dates and there's one more to come!) but all were defeated by storms and failed. Spain retained its European dominance and England and the Dutch never quite achieved the disruption in the Indies that they craved. Spain and England eventually settled their differences and signed the Treaty of London in 1604.
So ends our history lesson for today. We started in Lisbon but travelled to Fowey, Plymouth, Portland and the Hebridean islands of Mull, Islay, Rum, Muck, Eigg and Canna as well as the Scottish mainland on the UK coast as well as Calais and Dunkirk in France. We learned that the tall tale of Drake's game of bowls was just that – a tall tale, and that the main battle occurred not off Plymouth but off Gravelines in France. Spare a thought for this tale of naval derring-do as you visit those places with us and remember the poor souls of both sides (and the Slavs and Sicilians who fought on the side of the Spanish) who lost their lives not only in battle but in terrible storms on British and Irish coasts after fleeing.
Today each of the places mentioned is peaceful and historic and not only for their involvement with this piece of 16th century history – most can be visited in one of our small cruise ships in some luxury and with a dedicated and knowledgeable Guest Speaker or expedition team who will bring these stories, and many others linked to these locations, alive in a way that my teachers at school never could!